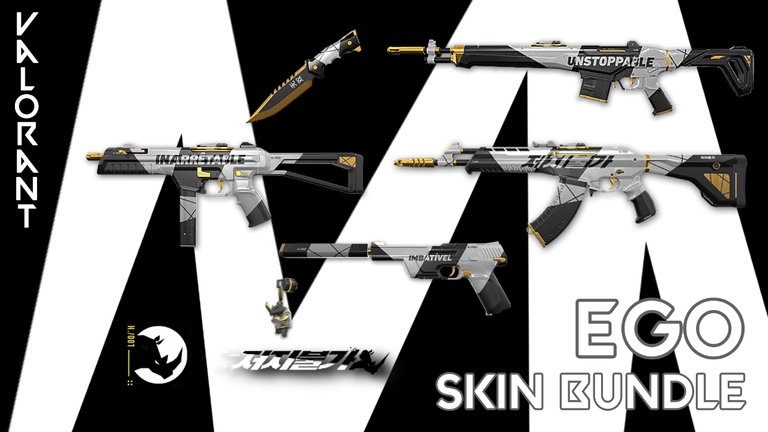 The EGO is out! If you like minimalistic yet cool looking style of skins, then this skin line is definitely for you. With its color combination, you'll really like to see it in your games always.
      (
Whisper
) Especially the black and white ones. I love them. (
Whisper
)
---
KNIFE
---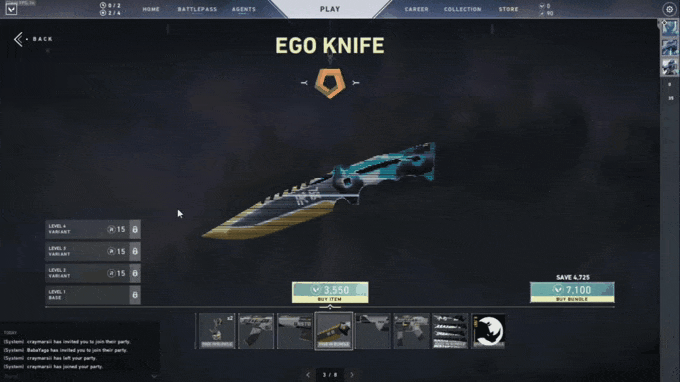 You want some cool looking, korean style knife? We got your back! EGO Knife will give you the vibe to slash and the rhythm to mince. Cool stuff!
---
GHOST
---
      Stealthy and calculated plays is what I like the most. So may I present to you the EGO Ghost! With its gold, black and white colors, you'll feel the smooth in your games. Accurate shots and confidence. You should never miss that. IMBATÍVEL!
---
STINGER
---
      I like how Riot made the Stinger look sharper in this skin line. The half white and black carves the gold colors to its finest. Especially on the nozzle. It looks so cool on first person. INARRÊTABLE!
---
GUARDIAN
---
      Long and accurate shots? This skin is for you! Not only it makes you look doper, but also it pleases your eye to perform better. Pay-to-win you say? It's a mental thing to drag you to your peak. But stay humble, get 1 taps and be UNSTOPPABLE!
---
VANDAL
---
      This is my favorite! The color combination on this is so cool that I'd like to throw money on skins like this. The gold color brightens everything. The black and white theme just gives of the vibes of yakuzas. It's just so good to not to be taken. It's a steal! Go and check it out right now!
---
MISCELLANEOUS
---
      I think miscellaneous on skin bundle is a thing now. Let's check it out.
| | Cost: |
| --- | --- |
| EGO Spray | 325 VP |
| EGO Card | 375 VP |
| EGO Bundle | 475 VP |
---
CHECK OUT MY LATEST CONTENT!