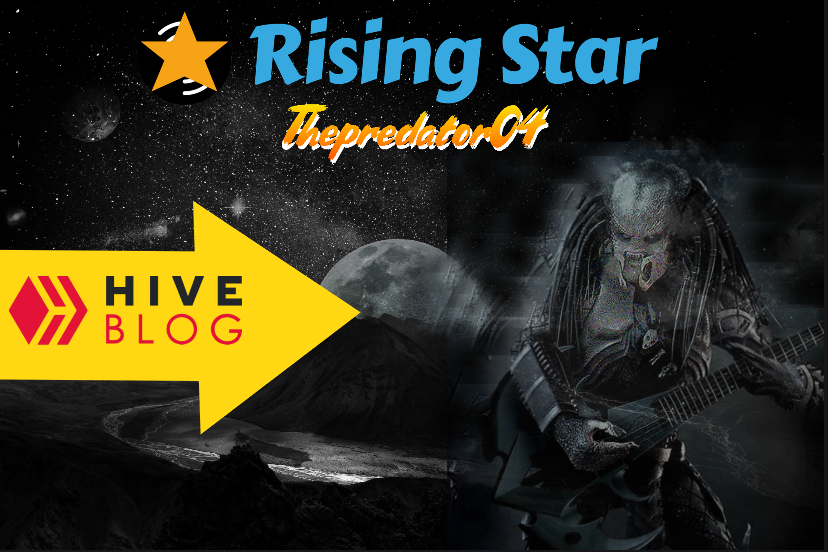 ¡Greetings to all players and observers of Risingstar! On this new day and opportunity, I will bring you a very rewarding anecdote, experience and achievement as a player, a goal reached after a long trajectory for a person like me who, mostly only does missions of high duration, the rise to level "100", the experience enhancer cards I own and would like to acquire:

This achievement was a goal I had in mind to reach for a while now, and I finally acquired it! It was not a short-time feat, as one of the disadvantages of doing 5-hour missions (which I usually do) is the difficulty of gaining experience in the game and moving up the level quickly or in the same way that you could do with other low-time missions, however this fact is variable according to the number of cards that provide experience bonuses, and as I currently only have 4 of these cards, a somewhat low amount.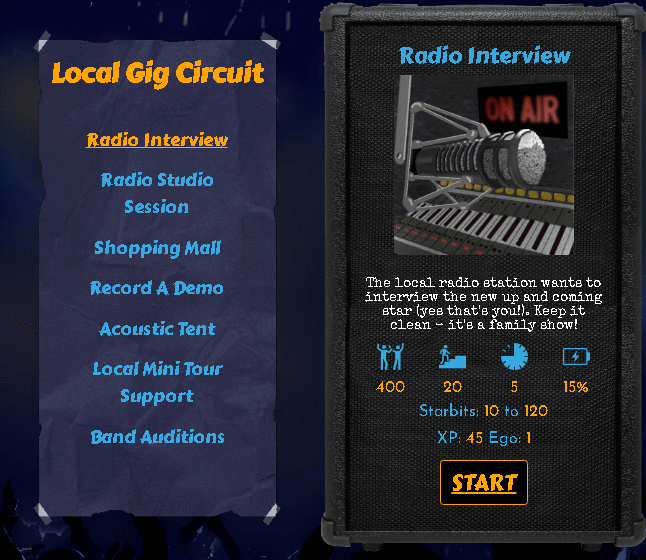 Comparison of difference in mission experience
As shown above, on a 5-minute mission, you would get 45 of experience, a stratospheric change compared to the 300-minute (5-hour) mission that provides 564 of experience; The wait time difference is something that probably generates an unknown about which is better to do, but due to my style of play, I prefer the second.

Experience booster Cards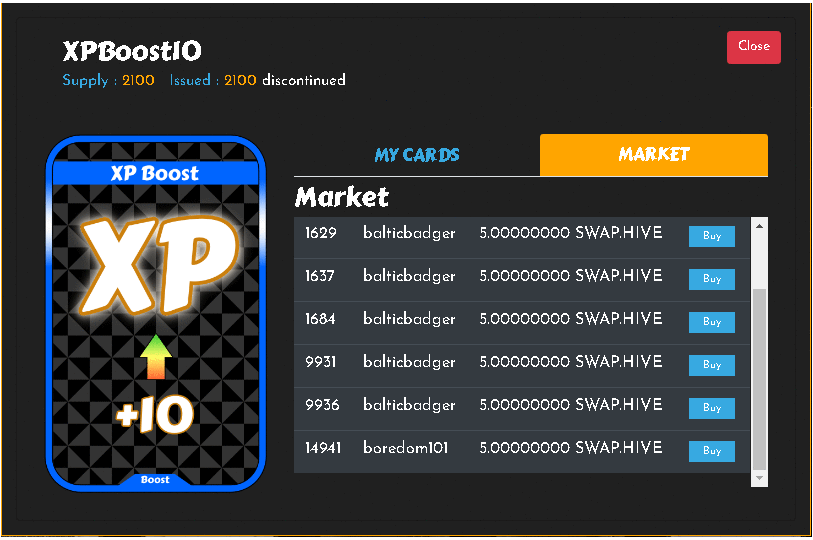 The prices of these XP booster cards usually vary between 5 HIVE for +10, 50 HIVE for +50 and 100 HIVE for +100. These amounts are a bit high, but considering their rarity and demand on the part of players, they are very considerable and profitable in turn to farmear Experience.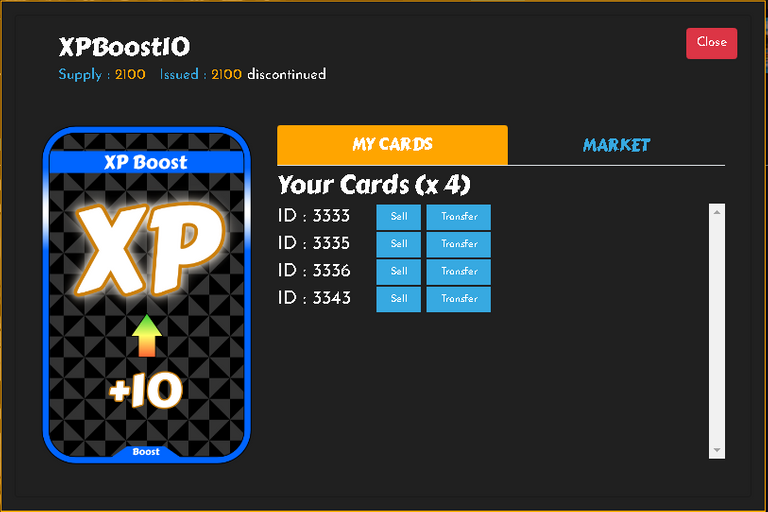 In due course, when they were relatively much more accessible compared to today, I only acquired 4 experience enhancer cards out of 10 each. Currently being one of the first promoters to raise our level by missions are highly coveted, adding value to the experience rewarded by missions, any kind of mission because for example, that of 5 minutes that currently provides me only 45, with an experience booster card of 100, you would get 145; a very convenient amount if our goal was to level up quickly, and yes, maybe many players want this, because reaching the following cities and scaling them progressively in missions requires more and more level.
I with level 101 right now, I could only do until the third mission of the third city: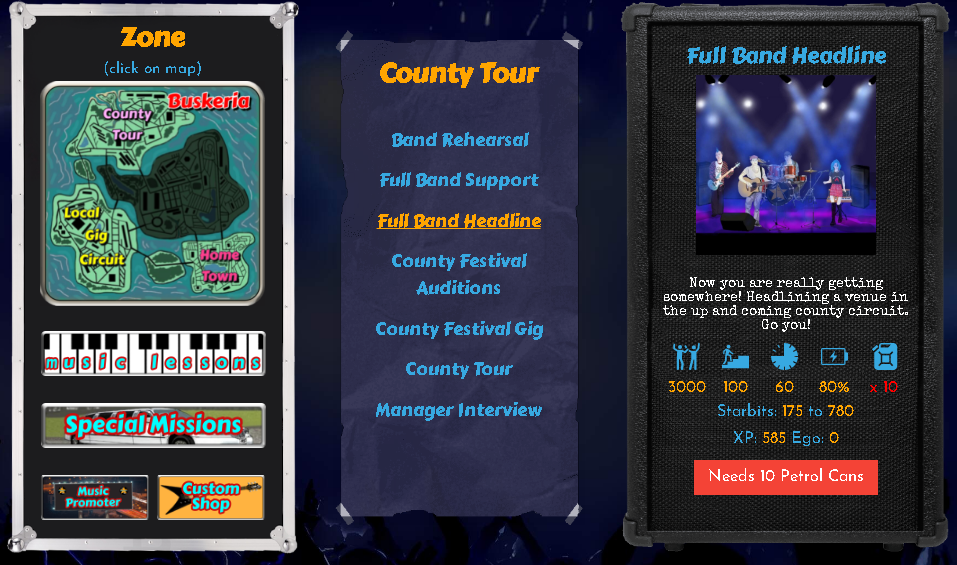 Already this mission with 60 minutes would get a very considerable amount of 585 XP (Experience) but should also use a greater amount of energy resources such as pizza boxes and slices of frozen pizza. I would still need 10 Cans of Gasoline (Petrol Cans) but this would be a separate requirement. This is one of the main reasons why I am not currently climbing between missions in this city.
At the end of the day, increasing the level provides me with an incentive as a player, and the thrill of achieving an acquired goal like reaching level 100, is brutal!



Greetings, the predator speaks to you, from the depths of the stars, observing the cosmos and circling the galaxies, playing the game of the stars; risingstargame, follow Rockanrolleando.


Images taken from Risingstar game edited by myself to illustrate.


Post made in English and Spanish in order to cover the possibility that anyone is allowed to read it.


Spanish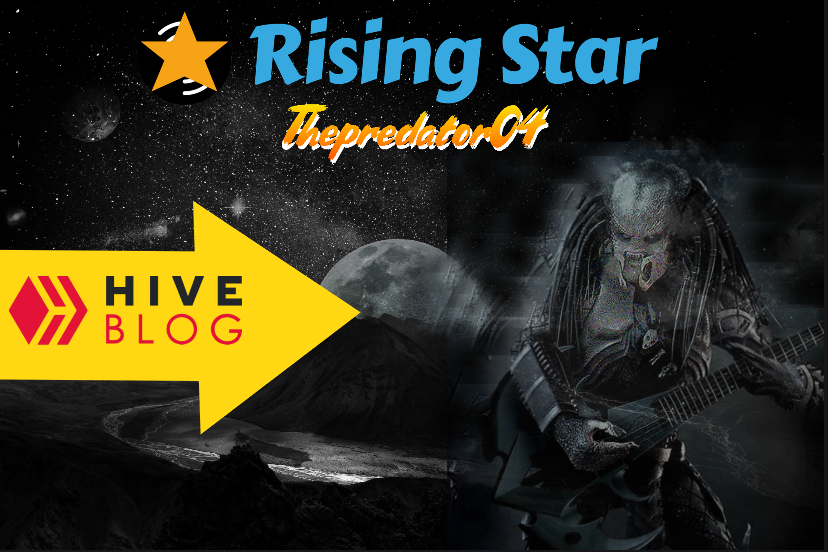 ¡Saludos a todos los jugadores y observadores de Risingstar! En este nuevo día y oportunidad, les traeré una muy gratificante anécdota, experiencia y logro como jugador, una meta alcanzada luego de una larga trayectoria para una persona como yo que, en su mayoría solo hace misiones de alta duración, la subida al nivel "100", las tarjetas de potenciadores de experiencia que poseo y las quisiera adquirir:

Este logro, era una meta que tenía en mente para alcanzar desde hace un tiempo ya, y finalmente ¡lo adquirí! No fue una hazaña de corto tiempo, pues una de las desventaja de hacer misiones de 5 horas (las cuales usualmente hago) es la dificultad para adquirir experiencia en el juego y subir de nivel rápido o del mismo modo que se podría hacer con otras misiones de bajo tiempo, sin embargo este hecho es variable según la cantidad de tarjetas que proveen bonos de experiencia, y pues yo actualmente solo tengo 4 tarjetas de estas, una cantidad algo baja.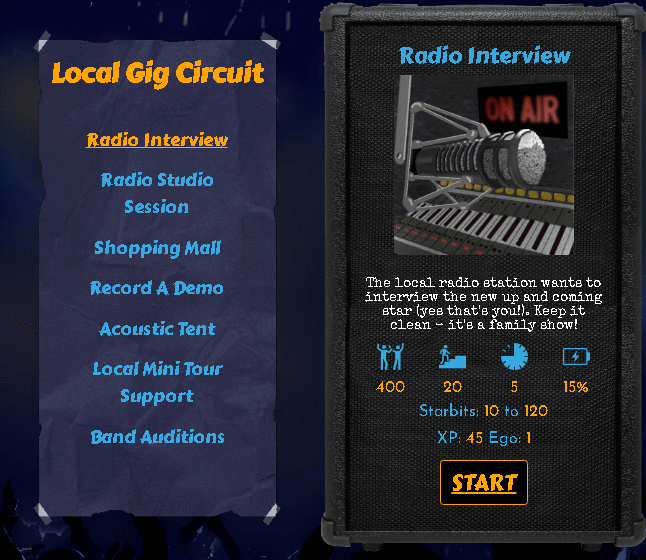 Comparación de la diferencia de experiencia obtenida en misiones
Tal y como muestra allí arriba, en una misión de 5 minutos, obtendría 45 de experiencia, un cambio estratosférico a comparación con la de 300 minutos (5 horas) que provee 564 de experiencia; la diferencia de tiempo de espera es algo que probablemente genere una incógnita sobre cual sea mejor hacer, pero debido a mi estilo de juego, prefiero la segunda.

####
*Tarjetas de potenciadores de Experiencia*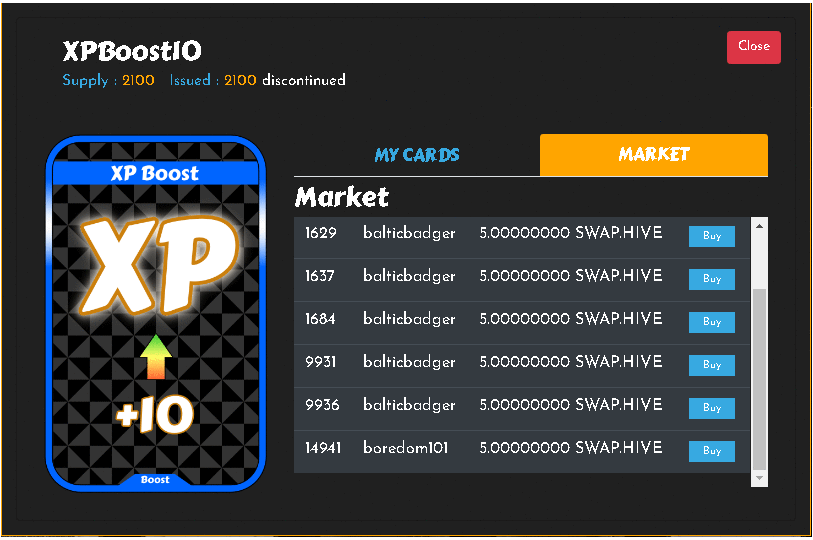 Los precios de estas tarjetas potenciadoras de XP usualmene suelen zarandear entre los 5 HIVE para las de +10, 50 HIVE para las de +50 y 100 HIVE para las de +100. Estas cantidades son un poco elevadas, pero considerando su rareza y demanda por parte de los jugadores, son muy considerables y provechosas a su vez para farmear Experiencia.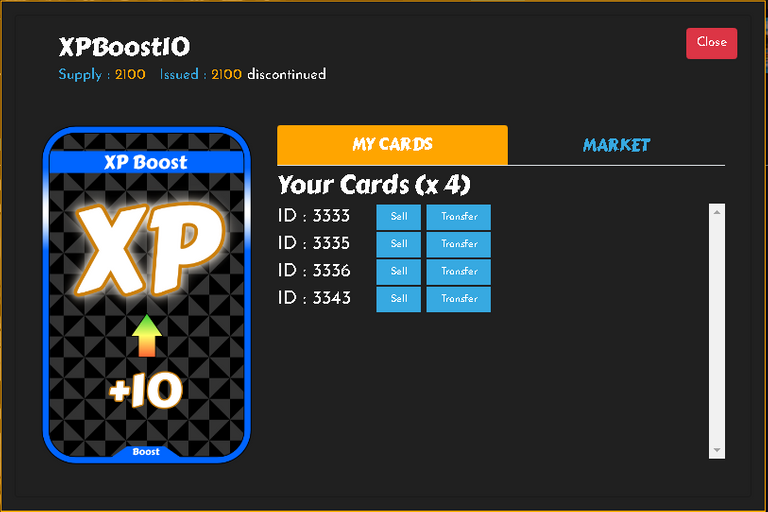 En su debido momento, cuando estuvieron relativamente mucho más accesible a comparación de actualmente, no adquirí más que 4 tarjetas de potenciadores de experiencia de 10 cada una. Actualmente siendo estas uno de los primero promotores a elevar nuestro nivel por misiones son muy codiciadas, sumándole un valor agregado a la experiencia recompensada por misiones, cualquier tipo de misión pues por ejemplo, aquella que de 5 minutos que me provee actualmente solo 45, con una tarjeta de potenciador de experiencia de 100, obtendría 145; una cantidad muy conveniente si nuestro objetivo fuese subir de nivel de manera rápida, y sí, quizá muchos jugadores deseen esto, pues alcanzar las siguientes ciudades y escalarlas progresivamente en misiones requiere mayor cantidad de nivel cada vez más.
Yo con nivel 101 en estos momentos, solo podría hacer hasta la tercera misión de la tercera ciudad: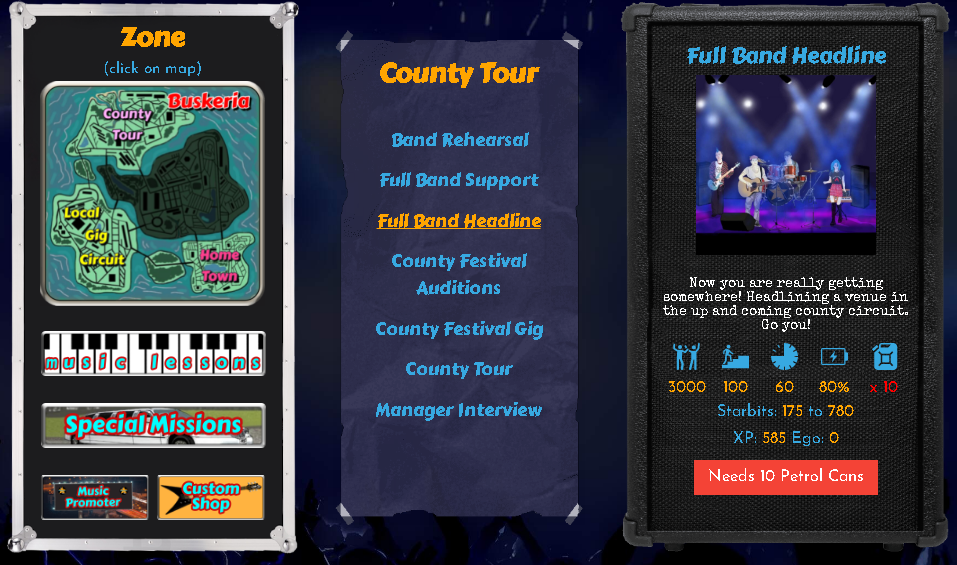 Ya esta misión con 60 minutos obtendría una cantidad muy considerable de 585 XP (Experiencia) pero también debería utilizar una mayor cantidad de recursos de energía tales como cajas de pizza y retazos de pizza congeladas. Aún así necesitaría 10 Latas de Gasolina (Petrol Cans) pero esto sería un requerimiento aparte. Esta es una de las principales razones por las cuales actualmente no me encuentro escalando entre misiones de esta ciudad.
A fin de cuentas, el subir cada vez más de nivel me provee un incentivo como jugador, y la emoción de lograr una meta adquirida como llegar al nivel 100, es brutal!

Saludos, les habla el depredador, desde las profundidades de las estrellas, observando el cosmos y rondando por las galaxias, jugando el juego de las estrellas; risingstargame, sigan Rockanrolleando.


Images taken from Risingstar game edited by myself to illustrate.


Post made in English and Spanish in order to cover the possibility that anyone is allowed to read it.