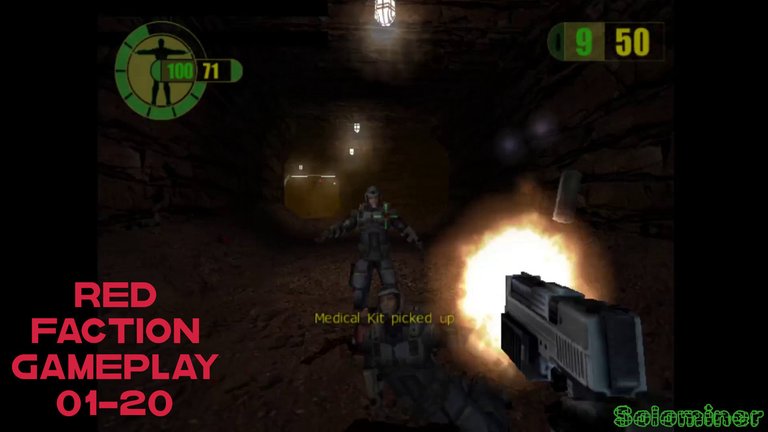 I start off a new game in my emulator on my PC, its a classic I played growing up. Its about being on Mars and a riot breaks out in the mines and from there the story starts.
My favorite part of the Red Faction series is how I can damage walls, buildings and other features. No other game had that kind of physics and even to this day most do not. So replaying this game but with better graphics has been on my to do list. Using save states I can get around the frustrating part of levels where otherwise I would be sent back to the beginning.
The game begins with a rebellion and I have to find my way through a series of caves deep under Mars surface. Shooting my way through guards I make progress through the tunnels. I find other members of the rebellion though they quickly die as we proceed. I have to cross a body of water and was not sure if I can swim.. In games its you swim and die or its okay, guess this is not Vice City lol.
Taking out guards up on towers I proceed door to door and use the pistol I have along with a stun baton. Rocket launchers seem to be common and I finally get one of my own. The textures of the game seem to have some issues at this point as all the walls turn black. Trying to figure out how to stop the force field blocking the door way was hard. Though as I found my way through the textures came back..lol thats emulation for ya. Sometimes the game slows down, or textures fail to load or the game just crashes. But still really cool I can do all this on my computer. Playing console games for the longest time could mostly only been done on the actual systems but with new advancements many times are now playable using applications like PCSX2 or RPCS2
I got my first taste of the damage I could do to the world when I found a stationary gun. It was a grenade launcher and blew chunks right out of the wall. Leaving the gun a little too early I battle the mines security using the shotgun and lose.
Playing this game again brings back memories, and having it upscaled using emulation technology gives it a whole new look and enjoyable on modern displays.
(Unsupported https://lbry.tv/$/embed/04302020marsgame1/ca5ec4ca4d5f3b7b8ca9baf18baa12d225baf271?r=3urrKhdN9iH7zyRX6cjYysCbSwPSAPus)
| Solominer Presents: | Red Faction upscaled to 1080p |
| --- | --- |
| Year | 2001 |
| Genre | First person shooter |
| Console | Playstation 2 |
| Platform | PCSX2 emulator |
| Coin | Address |
| --- | --- |
| BTC: | bc1qhfmvd2gywg4fvrgy2kkkkyqta0g86whkt7j8r7 |
| LTC: | ltc1qdyzm5cwgt8e2373prx67yye6y9ewk0l8jf3ys9 |
| DASH: | XkSqR5DxQL3wy4kNbjqDbgbMYNih3a7ZcM |
| ETH: | 0x045f409dAe14338669730078201888636B047DC3 |
| DOGE: | DSoekC21AKSZHAcV9vqR8yYefrh8XcX92Z |