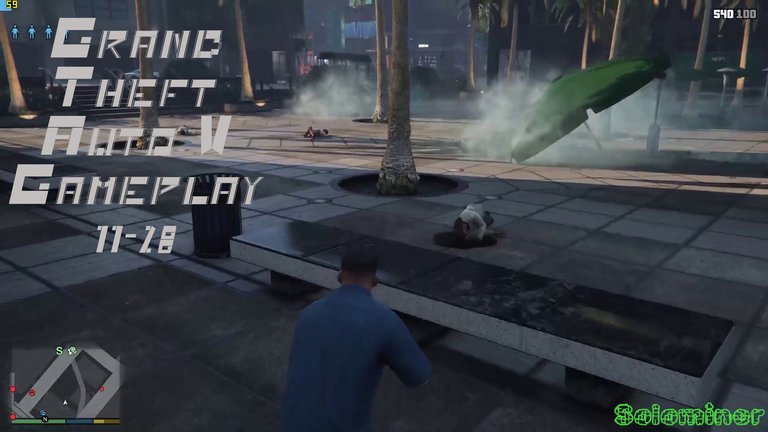 Taking what I think is a Jeep wrangler I flee from all the angry pedestrians. After running for awhile I stop and wait for them to gather. Playing a cat and mouse like game with the AI.
I drive down an office park area and wait for the angry pedestrians to come flooding in. Tossing tear gas I cut off the entry to one area for the bots. Though they find another way to get to me so I close off that area as well with more gas.
I turn on super jump and start to climb a building. I realize shortly after there were some stairs I could have used.
Finding the bodyguards on a ledge near by makes sense why they just stopped. Sometimes the bots will trap themselves in areas and have to be respawned to get back into the gameplay.
I find a news van and go about running through the city, dodging cars as I run through intersections. I jump onto the freeway and try to take a turn around 100+ MPH in the van and physics did not like that. I got thrown off the freeway and flung into a van at over 100 MPH. Amazing the van did not take more damage than it did. With the angry peds mod still on I find myself having to dodge roadblocks. I turned up the horsepower on the cars so I can really plow right through them using a delivery truck.
I trash that truck and make my way on foot, using super jump I can easily flee an area and jump unless I find a more safe area to be in.
| Solominer Presents: | Grand Theft Auto V |
| --- | --- |
| Year | 2013 |
| Genre | Action-Adventure |
| Console | PC |
| Platform | Windows 10 |
| Rig specs: | Main gaming setup |
| --- | --- |
| Processor | Ryzen 7 1700 Eight Core overclocked to 3.7 Ghz |
| Memory | Corsair DDR4 32GB overclocked to 3066 XMP 16-17-17-35 1T |
| Video Cards | 2x Gigabyte G1 1080 no overclock |
| Power Supply | Corsair 1000W |
---
| Coin | Address |
| --- | --- |
| BTC: | bc1qhfmvd2gywg4fvrgy2kkkkyqta0g86whkt7j8r7 |
| LTC: | ltc1qdyzm5cwgt8e2373prx67yye6y9ewk0l8jf3ys9 |
| DASH: | XkSqR5DxQL3wy4kNbjqDbgbMYNih3a7ZcM |
| ETH: | 0x045f409dAe14338669730078201888636B047DC3 |
| DOGE: | DSoekC21AKSZHAcV9vqR8yYefrh8XcX92Z |