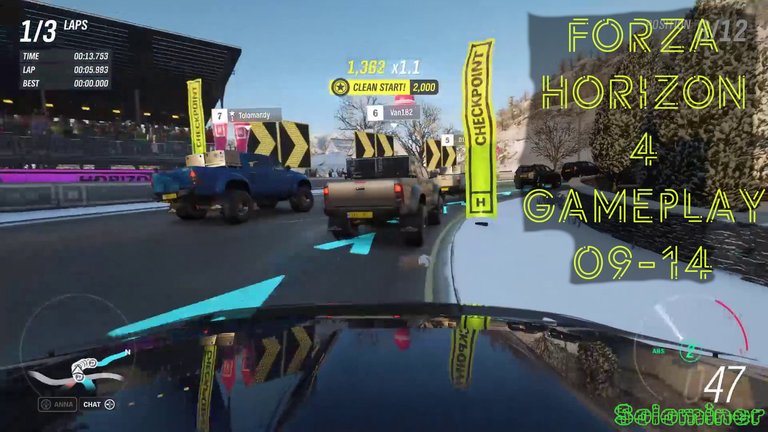 Racing trucks on small roads is rough, in this game there are little town roads and I had to pick a truck race with. It was pretty hard to make progress and I found myself trying to replay it multiple times. I eventually gave up to try a different event. I do alot better on the wide open courses not these town events. And when I have to choose to drive a truck makes it even harder to do those small town events. I tried with two different trucks but both were just making me feel to compact on the course. I had that problem with the long beach road course in Forza 7 as well.
I usually finish most of the races I start but this is one of the few where I rage quit and move to a different map as it was driving me nuts.
Enjoying this game is not hard, honestly I like it alot. But a few of the courses are just so small and without a tiny car it makes it frustrating to drive. The AI effortlessly glide though the turns but they are computers so id expect that from them. Not so easy for the human trying to play the game.
---
| Solominer Presents: | Forza Horizon 4 |
| --- | --- |
| Year | 2018 |
| Genre | Racing Simulator |
| Console | PC |
| Platform | Windows 10 |
| Rig specs: | Main gaming setup |
| --- | --- |
| Processor | Ryzen 7 1700 Eight Core overclocked to 3.7 Ghz |
| Memory | Corsair DDR4 32GB overclocked to 3066 XMP 16-17-17-35 1T |
| Video Cards | 2x Gigabyte G1 1080 no overclock |
| Power Supply | Corsair 1000W |
---
| Coin | Address |
| --- | --- |
| BTC: | bc1qhfmvd2gywg4fvrgy2kkkkyqta0g86whkt7j8r7 |
| LTC: | ltc1qdyzm5cwgt8e2373prx67yye6y9ewk0l8jf3ys9 |
| DASH: | XkSqR5DxQL3wy4kNbjqDbgbMYNih3a7ZcM |
| ETH: | 0x045f409dAe14338669730078201888636B047DC3 |
| DOGE: | DSoekC21AKSZHAcV9vqR8yYefrh8XcX92Z |