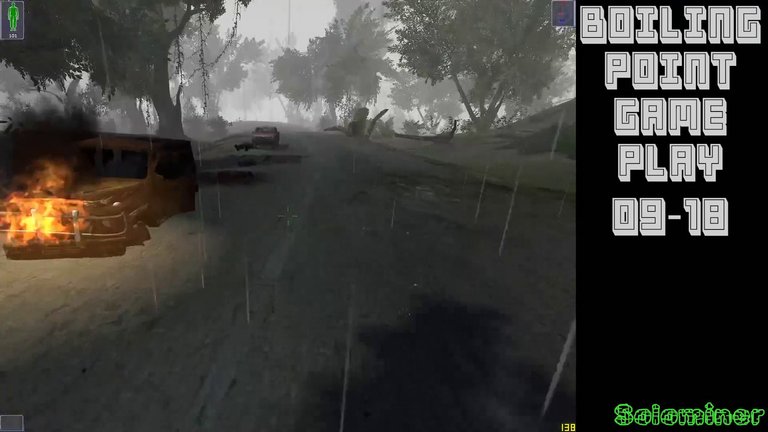 This early open world game at the time release had a lot of problems. Patches were released over many years it runs alot better now. So I am giving it another try. Driving along the roads I wait for firefights to break out and then loot the bodies after the shooting is done. It gives me alot to collect and to sell for money to dealers. I am not playing any missions yet, they can get pretty confusing so I am just driving around the map. I got a full tank of gas and can stop many times along the road for the wars between the government and the rebels. There are many factions in this game like mafia, government, guerrillas, CIA and more. But I do not understand how to find where I need to go on these missions. Maybe I need to try to find a guide that explains it. The markers I set are showing up but not the mission markers.
So in the mean time I am just driving around building up money and weapons. Eventually ill start attacking some faction and see how the game plays out. Since these missions are not working for me at the moment.
Maybe I will get tired of this game, but its just one of those I played in my childhood and I could never get enough of it. Glad I can revisit old games and see how they fare these days on much more powerful computers. Sometimes they do not age so well.. haha
This game also has some weird screen positioning issues, if I try to alt tab out it breaks the game. And OBS has trouble focusing on this old PC game. Maybe I should run it in a virtual machine next time, XP would probably be the way to run this game. Since revisiting many of the old games I played in my childhood I find it helps to virtualize the environments so the games do not freak out trying to run on Windows 10. For my screensavers I run them in Windows ME and 2000, so makes sense the games might fare better running on older operating systems as well.
| Solominer Presents: | Boiling Point: Road to Hell |
| --- | --- |
| Year | 2005 |
| Genre | Action |
| Console | PC |
| Platform | Windows 10 |
| Rig specs: | Main gaming setup |
| --- | --- |
| Processor | Ryzen 7 1700 Eight Core overclocked to 3.7 Ghz |
| Memory | Corsair DDR4 32GB overclocked to 3066 XMP 16-17-17-35 1T |
| Video Cards | 2x Gigabyte G1 1080 no overclock |
| Power Supply | Corsair 1000W |
---
| Coin | Address |
| --- | --- |
| BTC: | bc1qhfmvd2gywg4fvrgy2kkkkyqta0g86whkt7j8r7 |
| LTC: | ltc1qdyzm5cwgt8e2373prx67yye6y9ewk0l8jf3ys9 |
| DASH: | XkSqR5DxQL3wy4kNbjqDbgbMYNih3a7ZcM |
| ETH: | 0x045f409dAe14338669730078201888636B047DC3 |
| DOGE: | DSoekC21AKSZHAcV9vqR8yYefrh8XcX92Z |