Black Mesa Gameplay 09-06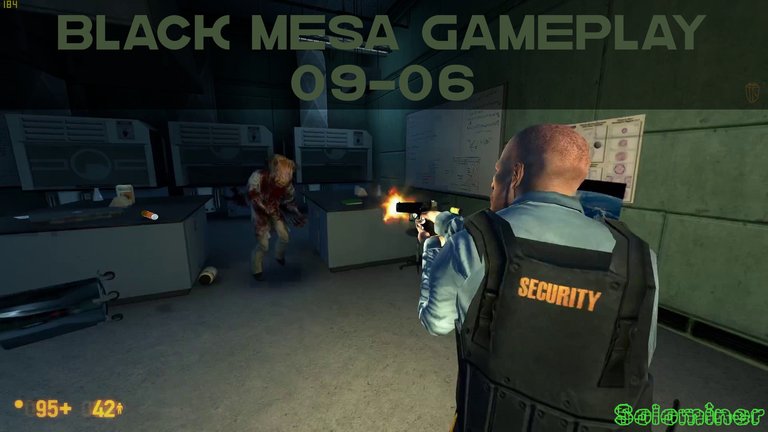 Working my way through the labs at this facility, with all the chaos its easy to get turned around and have to double back sometimes.
Luckily I played this game back in the late 90s and again throughout my life. So most areas I get through pretty easy. Though I did enjoy seeing how the levels are now rendered. Looks great!
I have to duck under some lasers that are burning out of control. A zombie gets cooked by a beam and starts crawling towards me. Making my way through the beams I crawl through a broken door. I find myself going back the way I came, but having to work around issues with power being disconnected.
Climbing a ladder on an elevator shaft I work my way up towards the entrance from where the tram dropped me off. Unfortunately its powered off and shut down due to the issues at hand.
A Barney helps me out with some zombies and takes them out for me. Since I only have a crowbar at this point ill let him do the work until he cannot follow me anymore.
Many Headcrabs have taken over the scientists and staff of the Black Mesa Complex.
Climbing through air vents I make my way through the rooms and find a Zombie working on a computer. I take it out with my crowbar without issue.
Finally I find some health and recharge, then keep moving through the complex. I jump into a elevator cab and ride it down to the next floor. Around this point I run into the rope tentacle monster things. And those dogs that make loud sounds, haha I do not know their actual names.
I solve a puzzle in the game and take the long freight elevator down. I try to cheat and jump down a few times but realize thats not going to work well. So I just press the button and ride down like I am suppose to do. Found some HEV suit power and some health in the next room. A crate to break open was there as well, actually there was alot of them in the room. So I broke them open to see if anything was inside.
Next I move onto the pipes I have to climb and then get into another air vent. I work my way through the ducts and come out by a tunnel.
| Solominer Presents: | Black Mesa |
| --- | --- |
| Year | 2015 |
| Genre | First Person Shooter |
| Console | PC |
| Platform | Windows 10 |
| Rig specs: | Main gaming setup |
| --- | --- |
| Processor | Ryzen 7 1700 Eight Core overclocked to 3.7 Ghz |
| Memory | Corsair DDR4 32GB overclocked to 3066 XMP 16-17-17-35 1T |
| Video Cards | 2x Gigabyte G1 1080 no overclock |
| Power Supply | Corsair 1000W |
---
| Coin | Address |
| --- | --- |
| BTC: | bc1qhfmvd2gywg4fvrgy2kkkkyqta0g86whkt7j8r7 |
| LTC: | ltc1qdyzm5cwgt8e2373prx67yye6y9ewk0l8jf3ys9 |
| DASH: | XkSqR5DxQL3wy4kNbjqDbgbMYNih3a7ZcM |
| ETH: | 0x045f409dAe14338669730078201888636B047DC3 |
| DOGE: | DSoekC21AKSZHAcV9vqR8yYefrh8XcX92Z |
---
---