The last of the trilogy: Donkey Kong 3 || El ultimo de la trilogía: Donkey Kong 3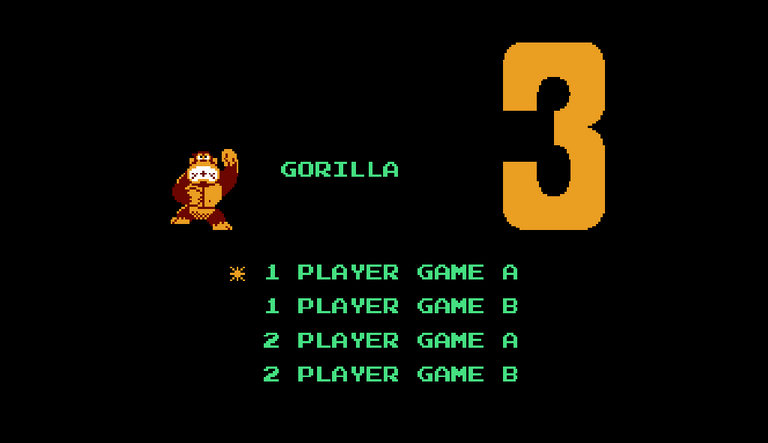 Capture made by me || Capture realizado por mi
English
Donkey Kong was a great influencer in the world of video games, being of the trilogy, the first Donkey Kong the most popular, with a very similar gameplay between each game, but with some small variations, mainly on the role of each character, being sometimes DK the villain, as happened in the first installment, and then Mario the villain in Donkey Kong JR., reviews that you can find in my blog, to read at any time.
Español
Donkey Kong fue un gran influyente en el mundo de los videojuegos, siendo de la trilogía, el primer Donkey Kong el más popular, con una jugabilidad muy similar entre cada juego, pero con algunas pequeñas variantes, principalmente sobre el rol de cada personaje, siendo en algunas ocasiones DK el villano, tal como sucedía en la primera entrega, y luego Mario el villano en Donkey Kong JR., reviews que puedes encontrar en mi blog, para leer en cualquier momento.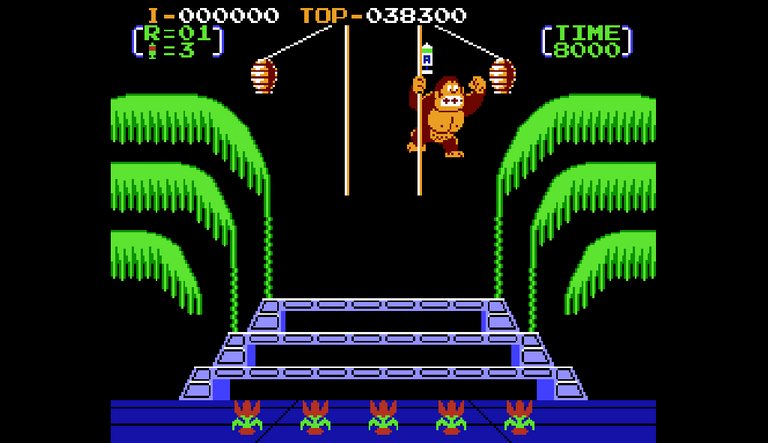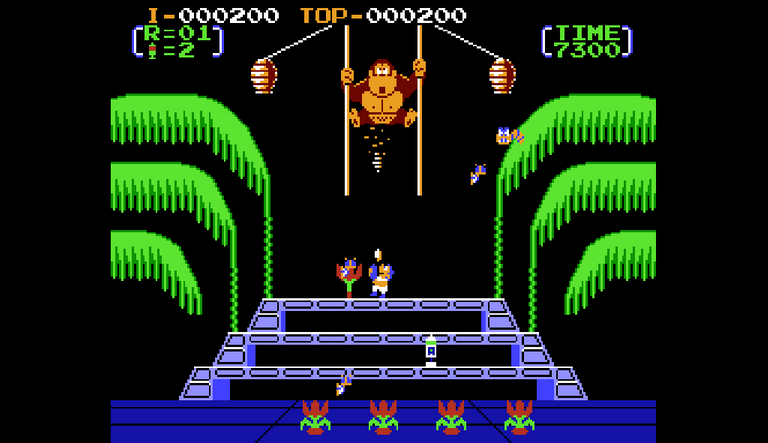 ---
Captures made by me || Captures realizados por mi
We assumed the role of Stanley, direct cousin of the great Luigi, in the game, we fought against Donkey Kong and his honeycombs with bees, the game menu was already well known, marking an "R" for the number of round in which we were going, just below that indicator, was our amount of remaining lives, at the top we saw our score and mark to overcome, and finally, we had a timer that was located on the right side of our screen.
At our disposal we had a container with insecticide, which we could spray on the bees to kill them, and under DK to scare him away and make him reach the top to complete the level. At the bottom of the screen, we could see a kind of flowers that we had to protect from insects, because when we lost all these flowers, we automatically took a life, the same happened if we were touched or attacked by any of the bees, or we let DK fall to the platform.
Asumíamos el papel de Stanley, primo directo del gran Luigi, en el juego, luchábamos contra Donkey Kong y sus panales con abejas, el menú de juego era bastante conocido ya, marcándose una "R" para el número de ronda en la que íbamos, justo abajo de ese indicador, estaba nuestra cantidad de vidas restantes, en la parte superior veíamos nuestro score y marca a superara, y por último, teníamos un contador de tiempo que se ubicaba a la parte derecha de nuestra pantalla.
A nuestra disposición teníamos un contenedor con insecticida, el cual podíamos rociar sobre las abejas para matarlas, y debajo de DK para espantarlo y hacerlo llegar a lo más alto para completar el nivel. En la parte inferior de la pantalla, podíamos observar una especie de flores que debíamos proteger de los insectos, pues al perder todas estas flores, automáticamente se nos quitaba una vida, lo mismo sucedía si eramos tocados o atacados por alguna de las abejas abeja, o dejábamos que DK cayera a la plataforma.
---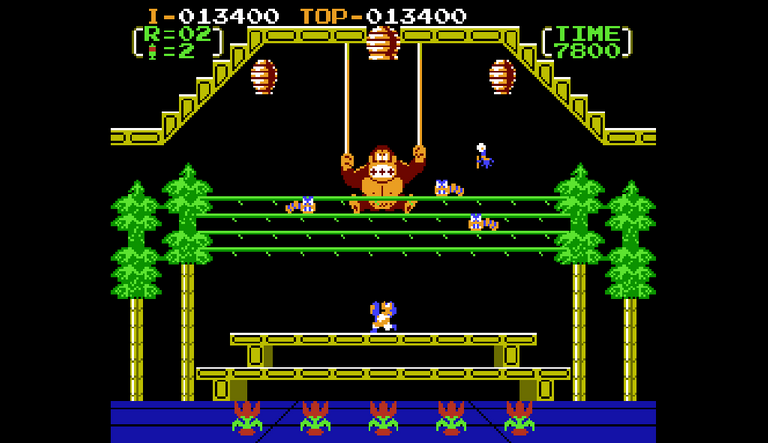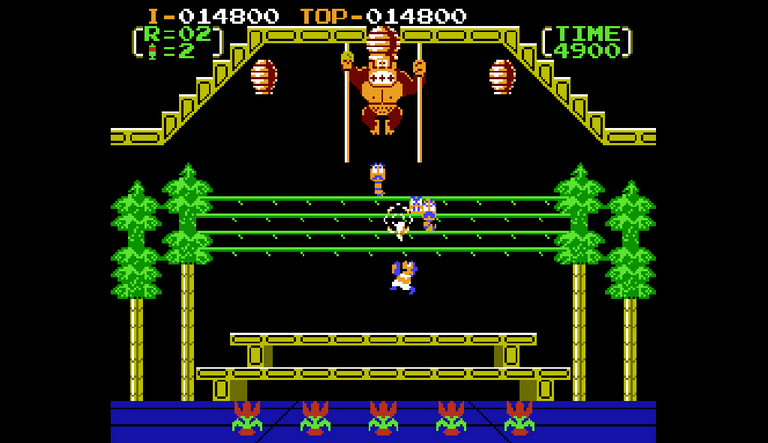 ---
Captures made by me || Captures realizados por mi
Each level was adding elements that made everything more complicated, in level 2, there was a kind of vine or branches that were suspended horizontally, where some worms moved and obstructed our way to shoot DK and make him climb to pass the level.
Cada nivel iba añadiendo elementos que hacían más complicado todo, en el nivel 2, había una especie de enredadera o ramas que estaban suspendidas de manera horizontal, por donde se desplazaban unos gusano y obstruían nuestro paso para poder disparar a DK y hacerlo subir para superar el nivel.
---

Capture made by me || Capture realizado por mi
It was difficult, but not impossible to pass each level, and although there was a fairly notorious difficulty for the more advanced levels, it was a very challenging game that could keep us hooked, looking for our part, some method that would allow us to have a little more success in the video game.
Era difícil, pero no imposible superar cada nivel, y a pesar de que existía una dificultad bastante notoria para los niveles más avanzados, era un juego de mucho reto que podía mantenernos enganchados, buscando por nuestra parte, algún método que nos permitiese tener un poco más de éxito en el videojuego.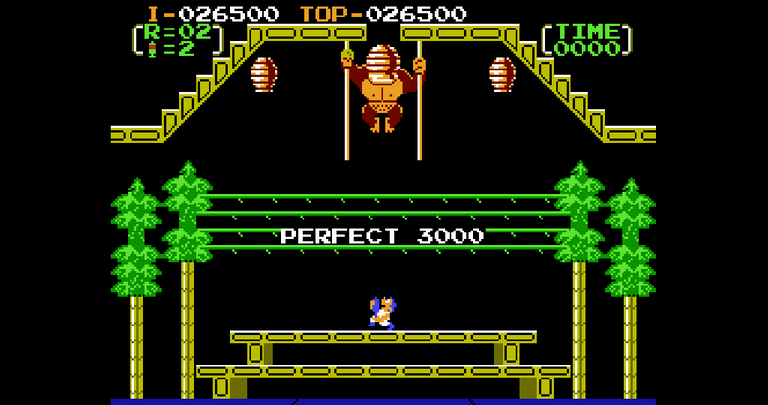 Capture made by me || Capture realizado por mi
On some occasions, and being skilled enough, we could finish the levels very quickly, reason that led the game to show us a message with the word "Perfect", and we were awarded a bonus of points.
Sometimes we had an insecticide that gave us an improved and faster shot, this appeared every few levels and only lasted for a short period of time.
En algunas ocasiones, y siendo lo suficientemente hábiles, podíamos acabar los niveles muy rápidamente, razón que llevaba al juego a mostrarnos un mensaje con la palabra "Perfect", y se nos otorgaba un bonus de puntos.
Contábamos en algunas ocasiones con un insecticida que nos daba un disparo mejorado y con mayor velocidad, esto aparecía cada ciertos niveles y solo tenía un pequeño período de duración.
---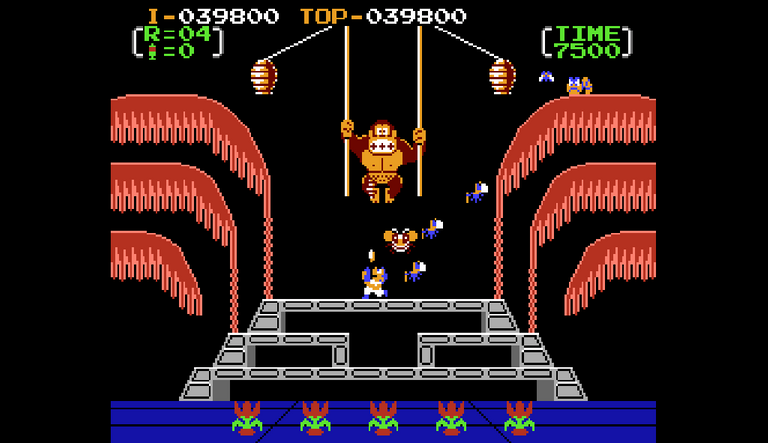 Capture made by me || Capture realizado por mi
Only in level number 4, we could already see a quite marked variable on the difficulty, in these levels, we had to take things a little more calmly, and although we had a time limit, we could not get desperate because that would only motivate us to get locked by the enemy bees.
All DK games were simple enough, but complete enough to keep us quite entertained, a Shigeru Miyamoto title that priced its success in the typical arcade with increased difficulty, a quite successful formula for video games in which they assumed this challenge.
Solo en el nivel número 4, ya podíamos ver una variable bastante marcada sobre la dificultad, en estos niveles, había que tomar las cosas con un poco más de calma, y aunque teníamos un límite de tiempo, no podíamos desesperarnos porque eso solo motivaría a que nos viésemos encerrados por las abejas enemigas.
Todos los juegos de DK eran lo bastante sencillos, pero lo suficientemente completos para mantenernos bastante entretenidos, un título de Shigeru Miyamoto que tasaba su éxito en el típico arcade con dificultad aumentada, una formula bastante exitosa para los videojuegos en los que asumían este reto.

Source of images || Fuente de imágenes
---
1 - 2


---