Star Soldier: The Galactic Massacre || Star Soldier: La masacre Galáctica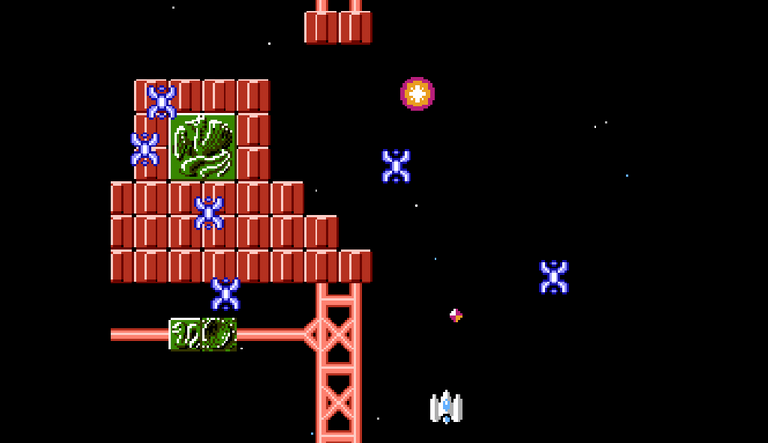 Capture made by me || Capture realizado por mi
English
A classic that was able to take advantage of its gameplay, being imported to various game consoles over the years, even with two remakes in their showcases, both for PS2, as for the Nintendo GameCube, a game with a lot of level and a lot of spice, becoming more than an arcade challenge for all gamers of the old school.
Its style, musical setting, upgrade items, variety of enemies, changing scenarios, and perfectly aligned ship control, moving in any direction, allowed Star Soldier to be a very well seen game, with a dynamic action-packed, in which we would face alien threats throughout 16 levels, where our main objective would be to demonstrate our abilities to achieve a Score never seen before.
Español
Un clásico al que se le supo aprovechar su jugabilidad, siendo importado a diversas videoconsolas a lo largo de los años, incluso con dos remakes en sus vitrinas, tanto para PS2, como para la nintendo GameCube, un juego con mucho nivel y mucho picante, convirtiéndose en más que un desafío arcade para todos los gamers de la vieja escuela.
Su estilo, ambientación musical, items de mejoras, variedad de enemigos, cambios de escenarios, y control de nave perfectamente alineados, en desplazamientos en cualquier dirección, le permitieron a Star Soldier ser un juego muy bien visto, con una dinámica plagada de acción, en la que haríamos frente a las amenazas alienigenas a lo largo de 16 niveles, en donde nuestro principal objetivo sería demostrar nuestras capacidades para lograr registrar un Score nunca antes visto.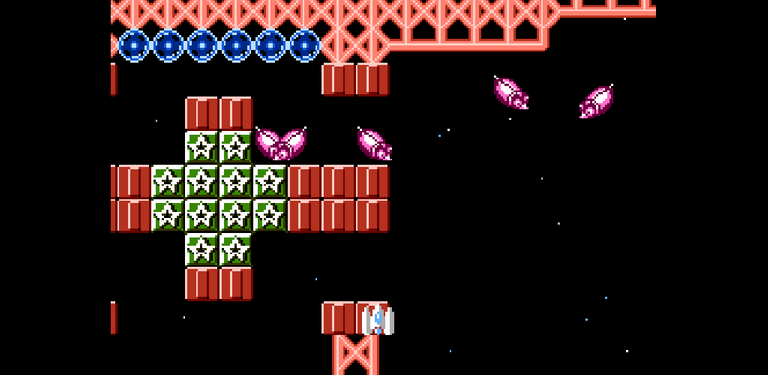 Capture made by me || Capture realizado por mi
Clearly, Star Soldier had a certain resemblance to the legendary Star Force of the Nintendo NES, although each had its own brilliance. With Star Soldier, we found a fairly intuitive story, where we would have to face many Martians, who were under the services of Starbrain, a mega space intelligence, these aliens sought to destroy the universe, and we aboard our ship named Caesar, we would seek to disintegrate all the plans of the main antagonist.
Claramente, Star Soldier tenía cierto parecido al legendario Star Force de la nintendo NES, aunque cada uno poseía su propio brillo. Con Star Soldier, encontrábamos una historia bastante intuitiva, en donde tendríamos que hacer frentes a muchos marcianos, que se encontraban bajo los servicios de Starbrain, una mega inteligencia espacial, estos alienigenas buscaban destruir el universo, y nosotros a bordo de nuestra nave de nombre Caesar, buscaríamos desintegrar todos los planes del antagonista principal.
---

Capture made by me || Capture realizado por mi
Throughout each Stage, we would collect items in the form of integrated circuits, these allowed us to evolve our ship, being able to improve our attack, something that was noticeable in the execution of our shots, with 2 evolutionary phases: double shots to the front and a single shot from the rear, the second phase consisted of shots in all directions, where we even got a kind of shield.
A lo largo de cada Stage, iríamos recogiendo items en forma de circuitos integrados, estos le permitían evolucionar a nuestra nave, pudiendo mejorar nuestro ataque, algo que se notaba en la ejecución de nuestros disparos, contando con 2 fases evolutivas: disparos dobles hacia el frente y un solo disparo desde la parte posterior, la segunda fase, constaba de disparos en todas las direcciones, en donde incluso obteníamos una especie de escudo.
---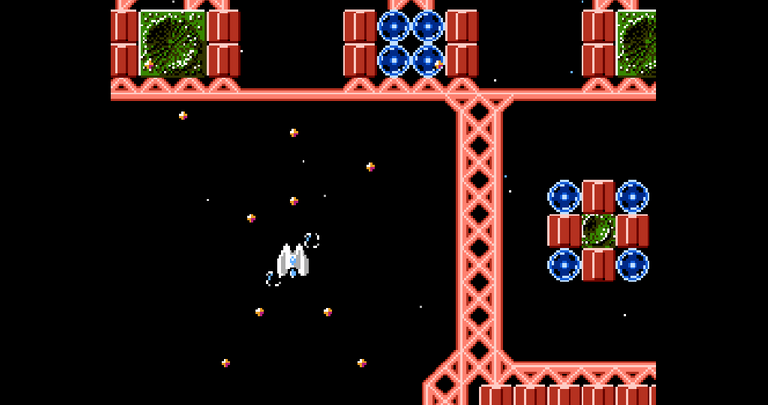 Capture made by me || Capture realizado por mi
When we obtained the last evolutionary stage of our ship, it was important to take care of it and maintain it, as this was a much easier way we had at our disposal to try to survive the more advanced levels, where enemies would be seen in greater quantity and variety.
Cuando obteníamos la última fase evolutiva de nuestra nave, era importante cuidarla y mantenerla, pues esta era una forma mucho más fácil que teníamos a disposición para intentar sobrevivir a los niveles más avanzados, en donde los enemigos se verían en mayor cantidad y variedad.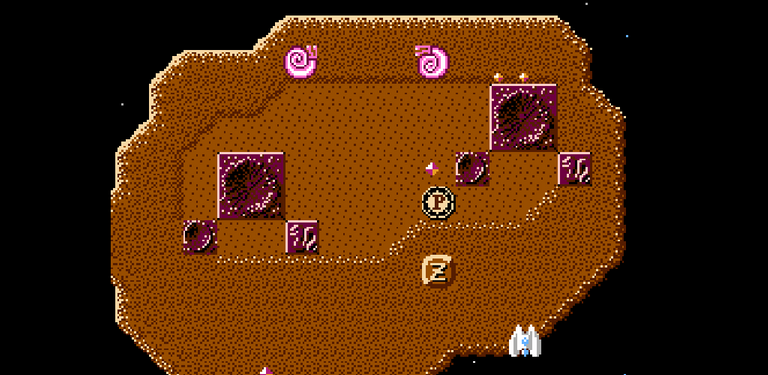 Capture made by me || Capture realizado por mi
The items that allowed us to improve the shooting performance of our ship, we found them in the bases that we were flying over, so it was more than important to keep our curiosity alert, to try to keep us as best equipped as possible. Sometimes, after defeating the final boss of the stage, the game would return us to the beginning, and this was a way of indicating that we had missed something to advance to the next level, mainly I would think that this was the fact of shooting a kind of giant eyes that appeared seconds before facing the boss of the level, so we had to be alert and not overlook any detail to continue.
Los items que nos permitían mejorar la ejecución de disparos de nuestra nave, los encontrábamos en las bases que nos encontrábamos sobrevolando, por lo que era más que importante, mantener alerta nuestra curiosidad, para intentar mantenernos lo mejor equipados posible. En ocasiones, luego de derrotar al jefe final del stage, el juego nos devolvía al inicio, y esto era una forma de indicarnos que nos había hecho falta algo para poder avanzar al siguiente nivel, principalmente creería que esto era el hecho de disparar a una especie de ojos gigantes que aparecían segundos antes de enfrentar al jefe de nivel, por lo que había que estar alertas y no pasar por alto ningún detalle para lograr continuar.
---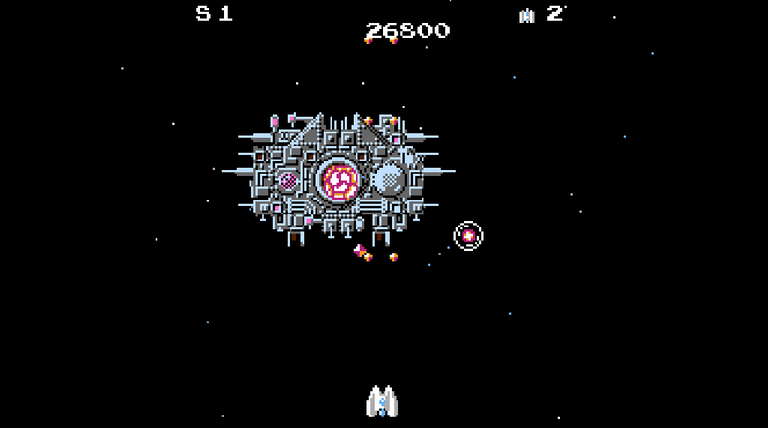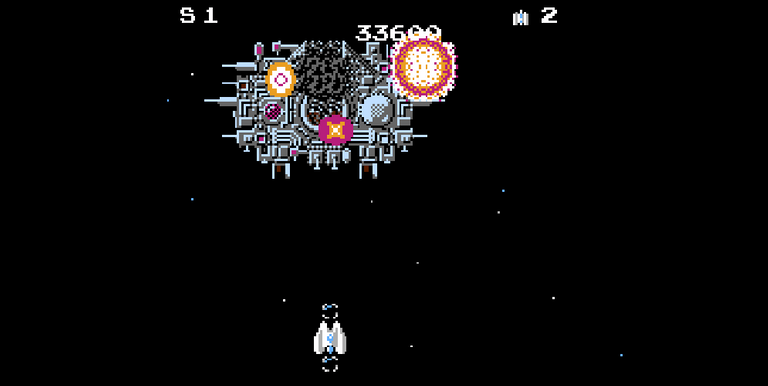 ---
Captures made by me || Captures realizados por mi
The final boss was the huge intelligence captain of the electronic aliens, the imposing Starbrain, which was quite easy to defeat, the main problem was to get to her, something that usually ended up becoming an odyssey.
The game allowed us to have a very pleasant experience, which contributed a lot to its musical scenario in the purest space style, where we were in tune with the scenario and we felt that we were really inside the Caesar ship.
El jefe final, era la enorme inteligencia capitana de los aliens electrónicos, la imponente Starbrain, la cual era bastante fácil de derrotar, el principal problema era llegar hasta ella, algo que por lo general terminaba convirtiéndose en una odisea.
El juegos nos permitía una experiencia bastante agradable, en la que contribuía mucho su escenario musical al más puro estilo espacial, en donde nos compenetrábamos con el escenario y sentíamos que nosotros realmente íbamos dentro de la nave Caesar.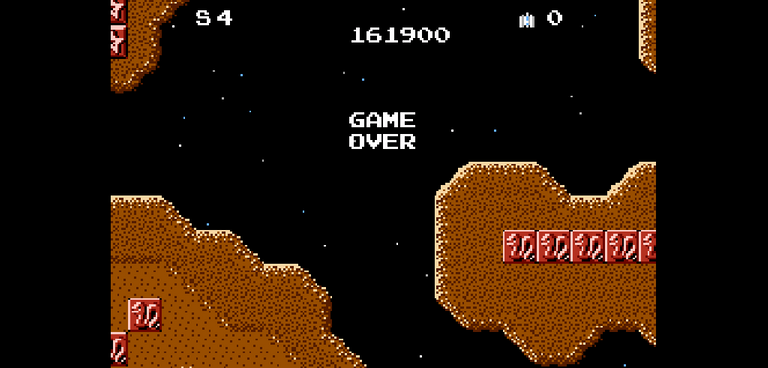 Capture made by me || Capture realizado por mi
In this new experience, where I practically remembered all the mages of Star Soldier, I was able to achieve a score of 161. 900 points, reaching only STAGE 3, something that even at the beginning when I started playing it, after more than 20 years, I thought that I would not get past the first stage, and this is because Star Soldier was and is a really complicated game, although this was compensated with the fact that there was the possibility of collecting lives in some points of the levels, so our curiosity and desire to destroy the space base was very well compensated, a game with which listening to its musical ambience and sound effects, allowed me to make a new trip back in time, to a great chapter of my childhood aboard the white ship.
En esta nueva experiencia, en donde prácticamente recordé todas las magestuosidades de Star Soldier, pude lograr un score de 161.900 puntos, logrando llegar únicamente al STAGE 3, algo que incluso, al principio cuando empecé a jugarlo, luego de más de 20 años, pensé que no pasaría del primer escenario, y esto es porque Star Soldier era y es un juego realmente complicado, aunque esto era compensado con el hecho de existir la posibilidad de ir recogiendo vidas en algunos puntos de los niveles, por lo que nuestra curiosidad y deseos por destruir la base espacial era muy bien compensada, un juego con el que escuchando su ambientación musical y efectos de sonido, me permitió realizar un nuevo viaje en el tiempo, a un gran capitulo de mi infancia a bordo de la nave blanca.

Source of images || Fuente de imágenes
---
1 - 2


---