English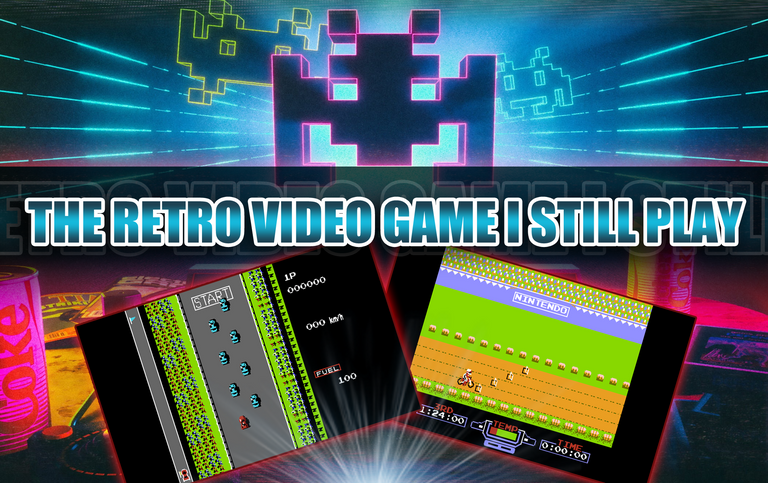 We are in a time where video games in 4K are becoming totally normal, something that used to be the same for when 8-bit games were the fashion and there was not something beyond it, pixelated characters, colorful scenarios and without texture smoothing, were the most epic thing there was, and it was not that we were satisfied with it, but it was simply the best that video game companies could offer us, and in our minds did not go through the idea that technology had such a high evolution to reach the historical point where we are today, however sometimes we have a nostalgic moment when we remember a great video game from our childhood and we just want to remember what made us happy at the time.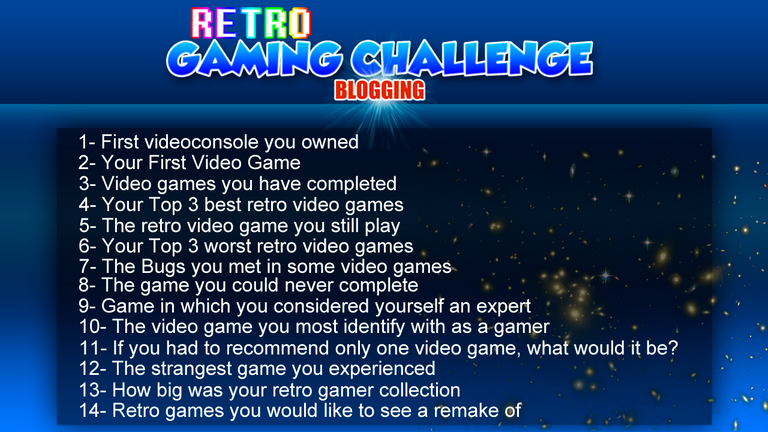 I could say that at least 70% of the game catalog of consoles like Atari, NES, SNES, and others, was pretty good, we did not have a radical preference, we simply went from game to game looking for entertainment or to know some video game that left us fascinated, that's how I met these two great classics that I will talk about today and that I still play: Exitebike and Road Fighter.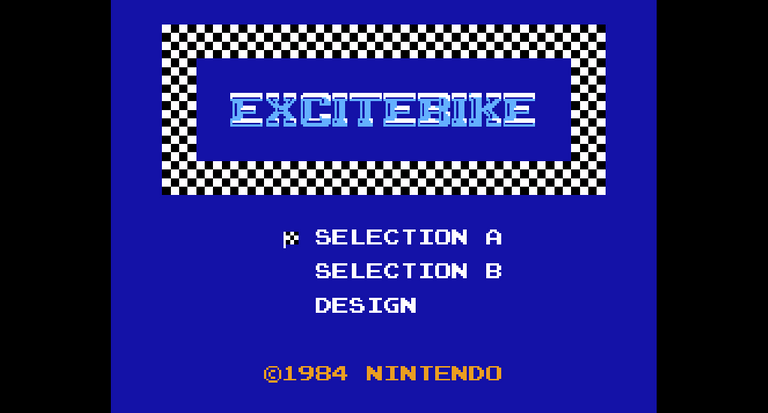 Capture made from the emulator of my game
When I met Exitebike I was fascinated, mainly because I have always been very competitive and in this video game I had as a goal to beat a time in each scenario, not to mention the multiplayer competitions with another friend, with some entertaining ramps and some dirty areas that took away our speed if we passed over them, we had to be very careful with each ramp, as we could fall and lose valuable seconds, a trick I learned in this game was to lift the bike on a wheel by pressing back arrow on each ramp to achieve a high and long jump, so we could make a lower time.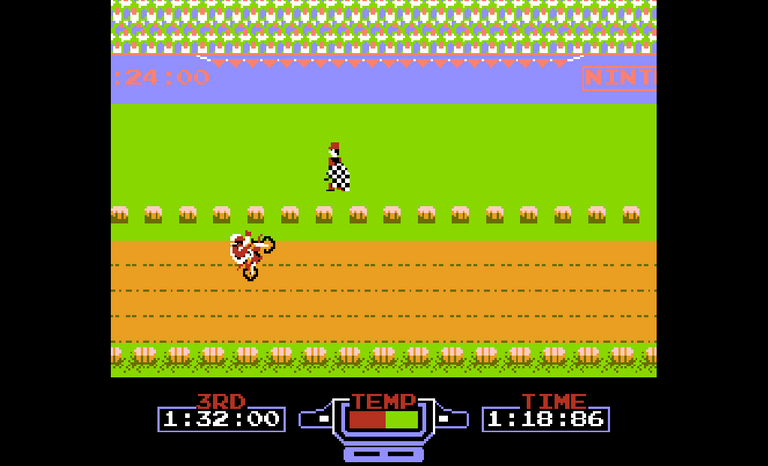 Capture made from the emulator of my game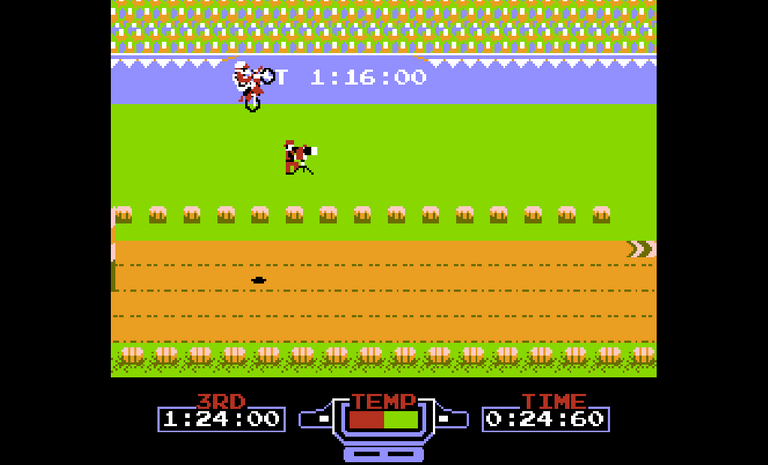 Capture made from the emulator of my game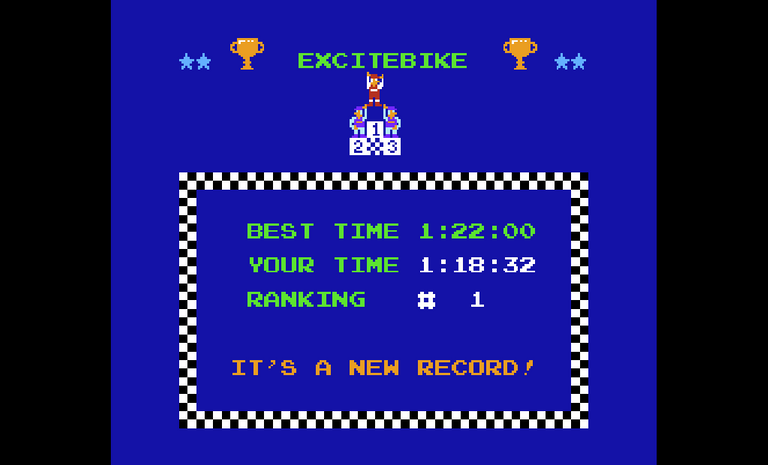 Capture made from the emulator of my game
I had a few weeks without playing it, but for this publication I went back to retake the game for a while and bring some good shots for you, although surely, many of my readers will also have played Exitebike and with these images remember a great classic, which probably was our first love for motorcycle games.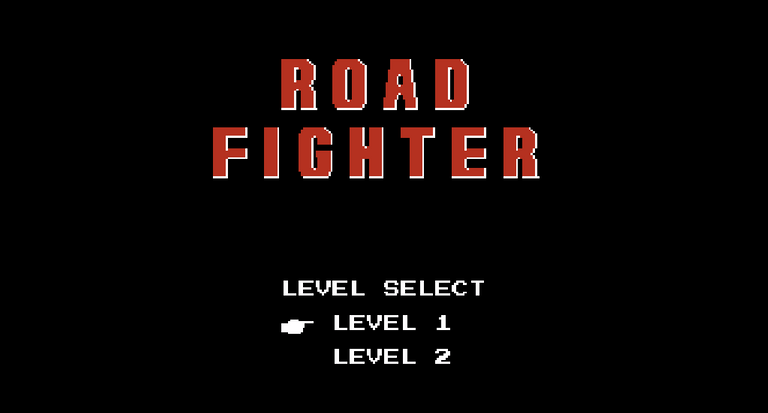 Capture made from the emulator of my game
One of my first hobbies for car games was Road Fighter, the popular red car with a peculiar sound that recreated the acceleration of the vehicle, the goal was very simple, and is that we had a specific time to complete the highway, dodging all the cars that were coming out, as well as some oil dumps that made us slip.
Something I loved and still love about this videogame, is the fact that it was a total challenge, because we used to go quite fast and we had to be very agile to dodge the cars, mainly those that moved towards our direction when we tried to pass them, so we had to have a very sharp eye and reflexes.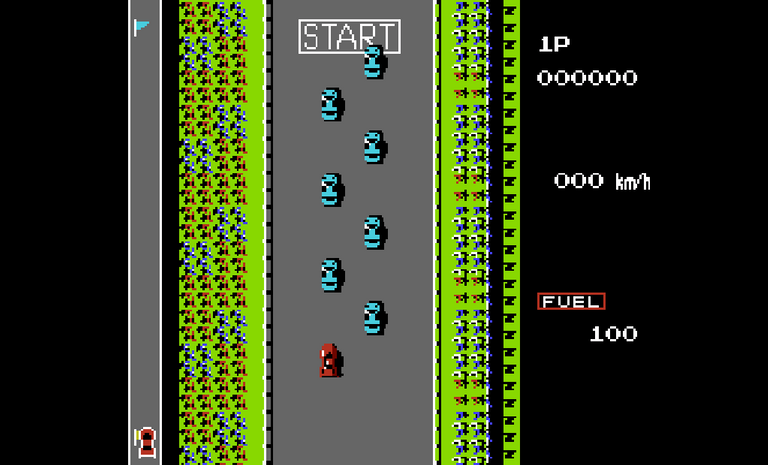 Capture made from the emulator of my game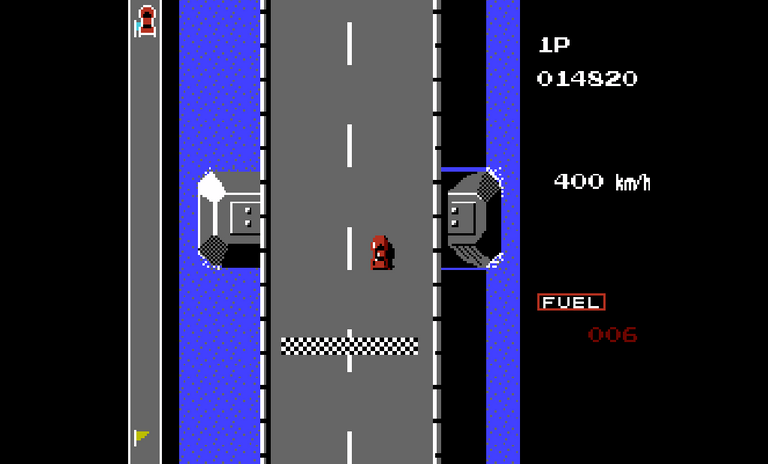 Capture made from the emulator of my game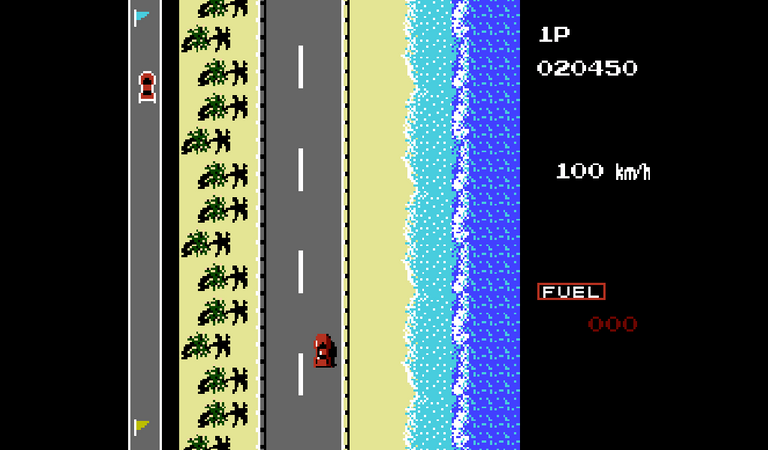 Capture made from the emulator of my game
Something that quite compensated the difficulty in the game, were some jokers that appeared in some sections of the highway, which gave us a few extra seconds in the countdown to complete the scenario, I do not really know how many scenarios has the game, I would estimate that about 15 or 20, although I would not imagine the final highway, when only the third track is already quite complicated by giving us a reduced space of two driving channels. Maybe I'll set as a goal to try to complete the game to discover on my own each scenario, and I know that on youtube or somewhere else we can find this information, but the best of a game is to surprise us with the things that we unlock ourselves.

Source of images
---
1 - 2 - 3

Español
El Videojuego Retro al que Todavía Juego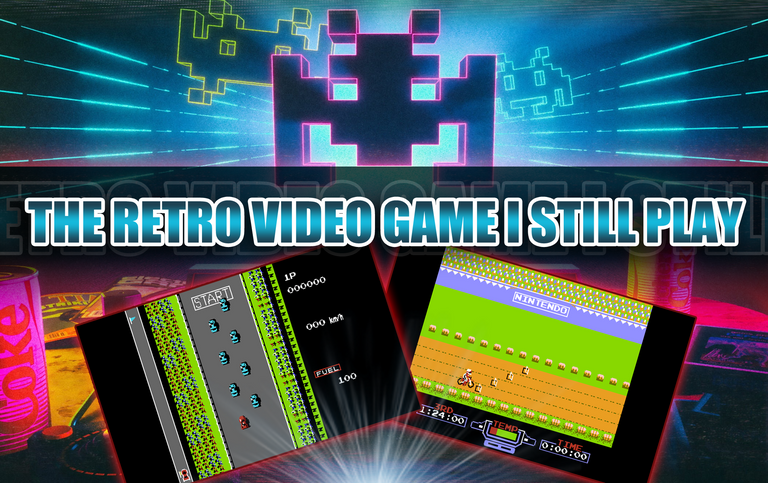 Estamos en una época en donde los videojuegos en 4K se están volviendo totalmente normales, algo que solía ser igual para cuando los juegos de 8 Bits eran la moda y no había algo más allá de ello, los personajes pixelados, los escenarios coloridos y sin suavizados de texturas, eran lo más épico que había, y no era que nos conformáramos con ello, sino que simplemente era lo mejor que las compañías de videojuegos nos podían ofrecer, y por nuestra mente no pasaba la idea de que la tecnología tuviese una evolución tan elevada para llegar al punto histórico en el que estamos hoy, sin embargo en algunas ocasiones tenemos un momento nostálgico en el que recordamos algún gran videojuego de nuestra infancia y simplemente queremos recordar lo que nos hacía feliz en su momento.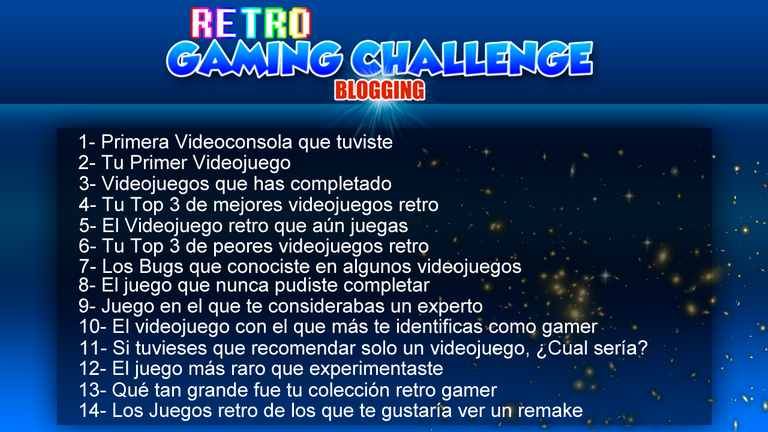 Podría decir que al menos el 70% del catálogo de juegos de consolas como Atari, NES, SNES, y otras, era bastante bueno, no teníamos una preferencia radical, simplemente íbamos de juego en juego buscando entretenimiento o conocer algún videojuego que nos dejara fascinados, así fue como conocí a estos dos grandes clásicos de los que hablaré hoy y que aún sigo jugando: Exitebike y Road Fighter.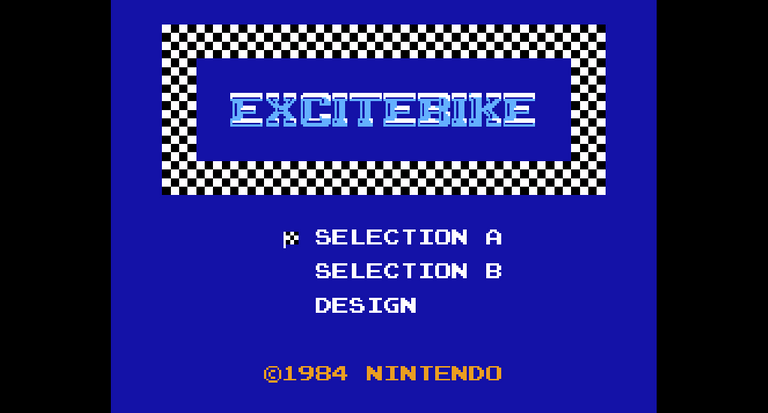 Capture realizado desde el emulador de mi juego
Cuando conocí Exitebike quedé fascinado, principalmente porque siempre he sido muy competitivo y en este videojuego tenía como meta superar un tiempo en cada escenario, y ni hablar de las competencias multijugador con otro amigo, con unas entretenidas rampas y algunas zonas sucias que nos quitaban velocidad si pasábamos sobre ellas, había que tener mucho cuidado con cada rampa, ya que podíamos caernos y perder valiosos segundos, un truco que aprendí en este juego fue el de levantar la moto en una rueda presionando flecha hacia atrás en cada rampa para lograr un salto alto y largo, con lo que podíamos hacer un menor tiempo.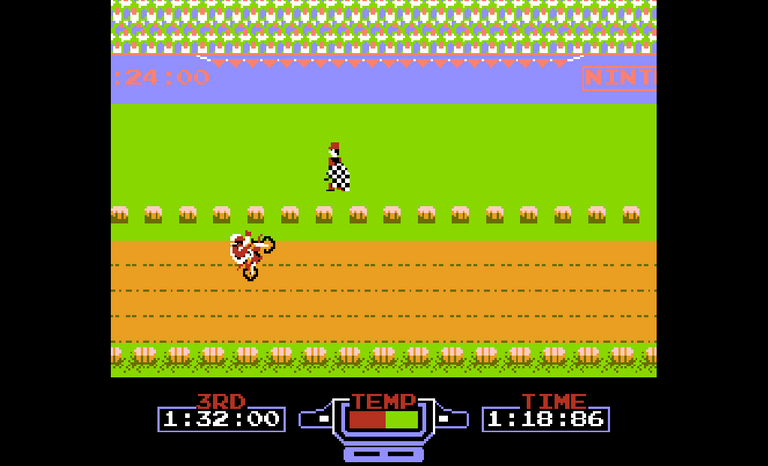 Capture realizado desde el emulador de mi juego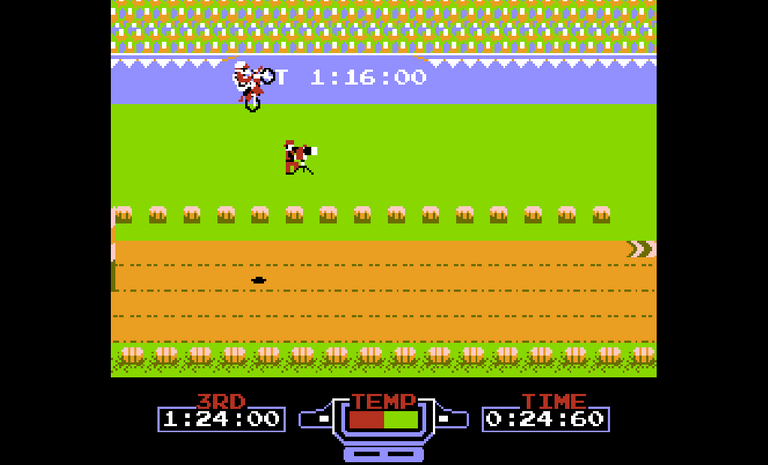 Capture realizado desde el emulador de mi juego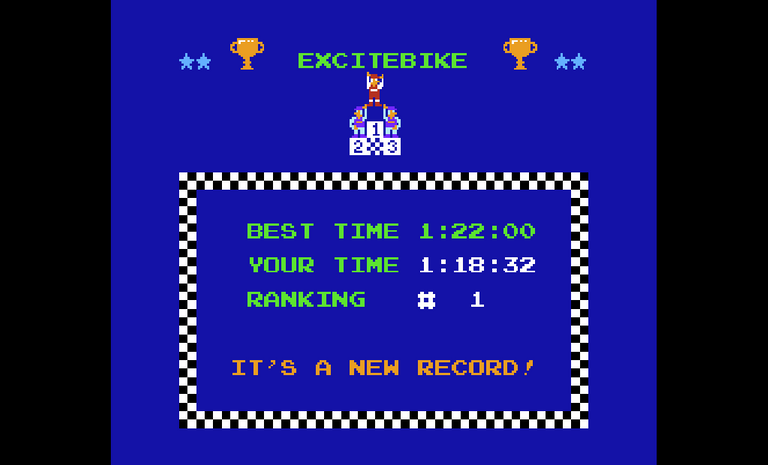 Capture realizado desde el emulador de mi juego
Tenía unas cuantas semanas sin jugarlo, pero para esta publicación volví a retomar el juego un rato y traer unas buenas tomas para ustedes, aunque seguro, muchos de mis lectores también habrán jugado a Exitebike y con estas imágenes recuerden un gran clásico, del que probablemente haya sido nuestra primera afición por los juegos de motocicleta.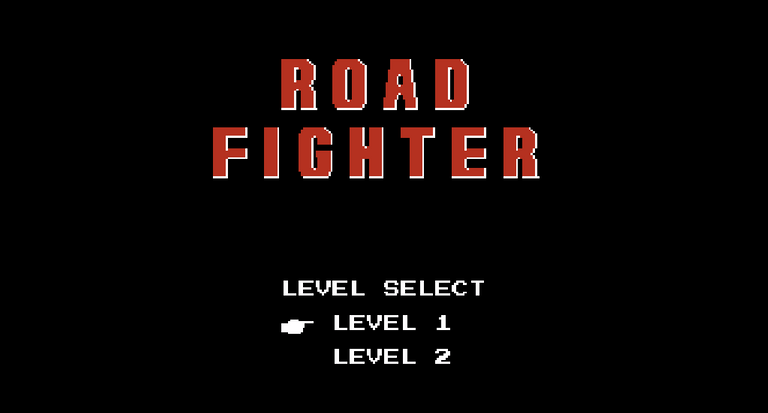 Capture realizado desde el emulador de mi juego
Una de mis primeras aficiones por los juegos de coches fue Road Fighter, el popular automóvil rojo con un sonido peculiar que recreaba la aceleración del vehículo, el objetivo era muy simple, y es que teníamos un tiempo especifico para completar la autopista, esquivando todos los coches que iban saliendo, así como de algunos posos de aceite que nos hacía resbalar.
Algo que me encantaba y me sigue gustando de este vidoejuego, es el hecho de que era un reto total, pues solíamos ir bastante rápido y teníamos que ser muy ágiles para esquivar los coches, principalmente los que se movían hacía nuestra dirección cuando intentábamos pasarlos, por lo que debíamos tener un ojo y unos reflejos muy agudos.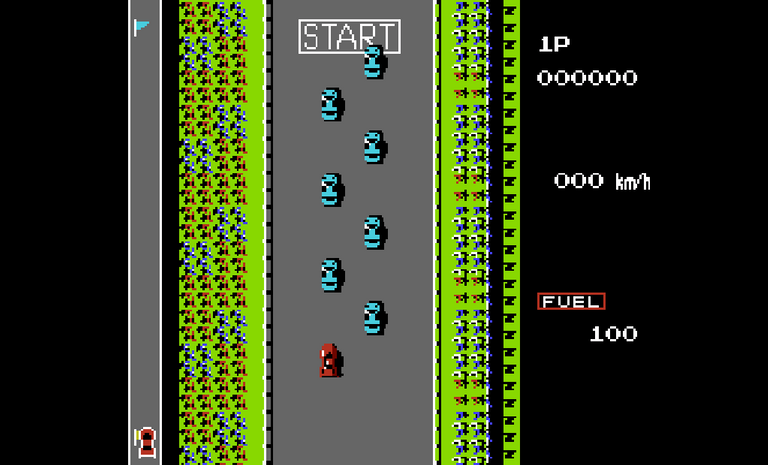 Capture realizado desde el emulador de mi juego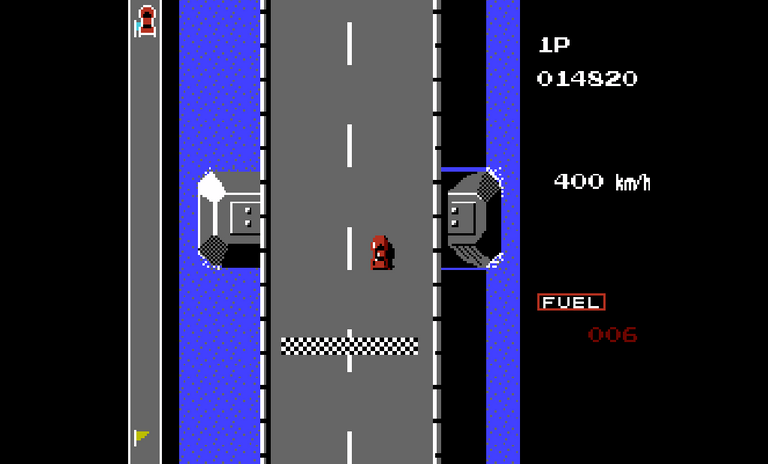 Capture realizado desde el emulador de mi juego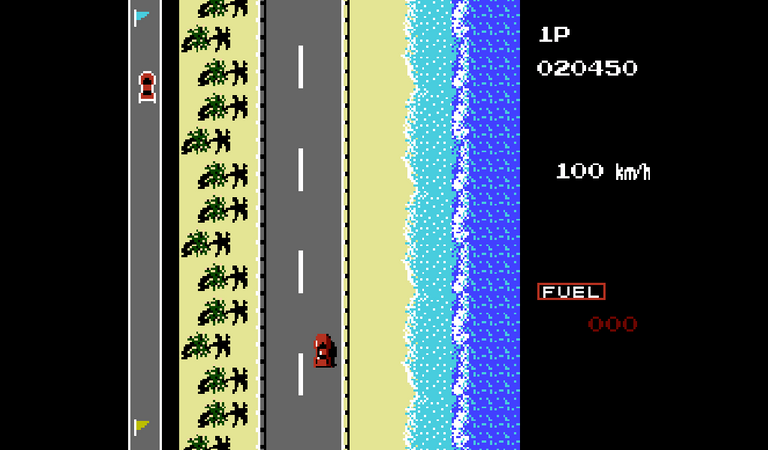 Capture realizado desde el emulador de mi juego
Algo que compensaba bastante la dificultad en el juego, eran unos comodines que aparecían en algunos tramos de la autopista, que nos daban unos segundos extras en la cuenta regresiva para poder completar el escenario, no sé realmente cuantos escenarios tiene el juego, estimaría que unos 15 o 20, aunque no me imaginaría la autopista final, cuando solo la tercera pista ya es bastante complicada por darnos un espacio reducido de dos canales de conducción. Quizás me ponga como meta intentar completar el juego para descubrir por mi cuenta cada escenario, y sé que en youtube o algún otro lado podamos encontrar esta información, pero lo mejor de un juego es sorprendernos con las cosas que vamos desbloqueando nosotros mismos.

Fuente de imágenes
---
1 - 2 - 3


---