Double Dragon III - The Sacred Stones Review || Review de Double Dragon III - Las Piedras Sagradas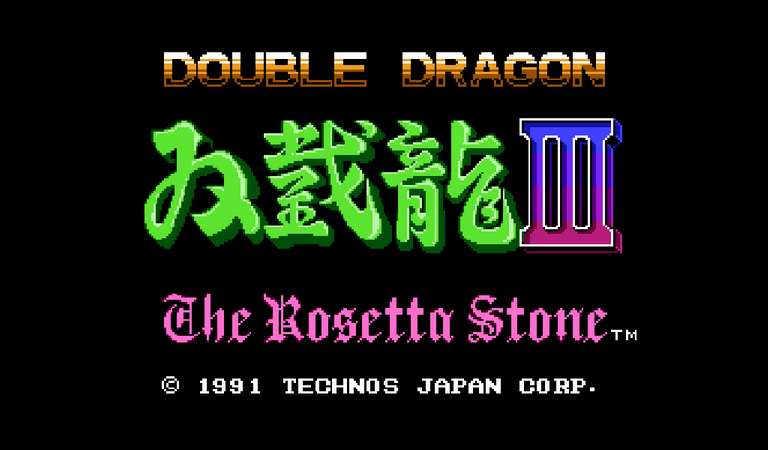 Capture made by me || Capture realizado por mi
Being an honorable title of the Beat 'em up genre, Double Dragon III came to our hearts in the form of an 8-bit cartridge, with a promising gameplay that in the worst instances should be on par with its predecessors, also released on the classic Nintendo NES, but did it really become what we expected?
Siendo un título honorable del género Beat 'em up, Double Dragon III llegaba a nuestros corazones en forma de cartucho de 8 bits, con una jugabilidad prometedora que en las peores instancias debía estar a la altura de sus predecesores, también estrenados en la clásica nintendo NES, pero, ¿realmente se convirtió en lo que esperábamos?.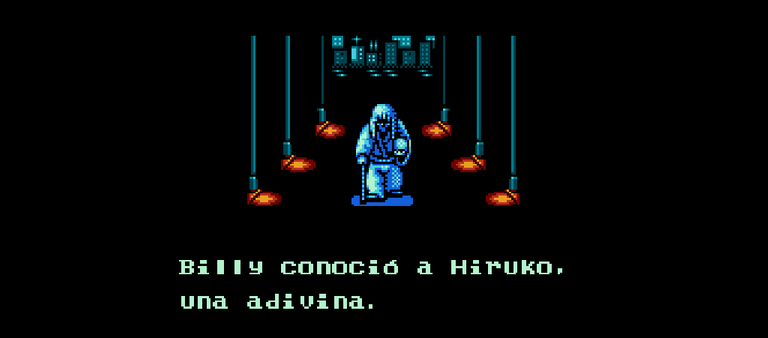 Capture made by me || Capture realizado por mi
The game focused on a very promising story, which from the first instance, dazzled and made us dream of a very epic ending. Marion was again kidnapped for this title, so Billy and Jimmy set out to rescue her again. Billy was with a sayer named Hiruko, who revealed to him the most important and marked information in the game, and for which he would start our adventure, in this revelation of the fortune teller, he tells them that they must find the 3 Rosetta stones and thus they will find the Marion's whereabouts, hinting that in Egypt they will solve the enigma and become heroes again, so we will immediately know that we will make a great tour of different countries, starting with the USA.
El juego se centraba en una historia muy prometedora, que desde una primera instancia, deslumbraba y nos hacía soñar con un final muy épico. Marion era nuevamente secuestrada para este título, por lo que Billy y Jimmy se disponen nuevamente a rescatarla. Billy se encontraba con una adivina de nombre Hiruko, quien le revelaba la información más importante y marcada del juego, y por la que iniciaría nuestra aventura, en esta revelación del adivino, les indica que deben encontrar las 3 piedras Rosetta y así darán con el paradero de Marion, insinuando que en Egipto resolverán el enigma y se convertirán nuevamente en héroes, por lo que inmediatamente sabremos que haremos un gran recorrido por diferentes países, iniciando por USA.
---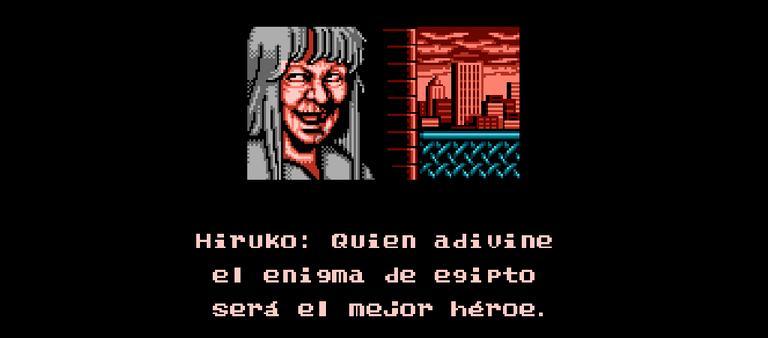 ---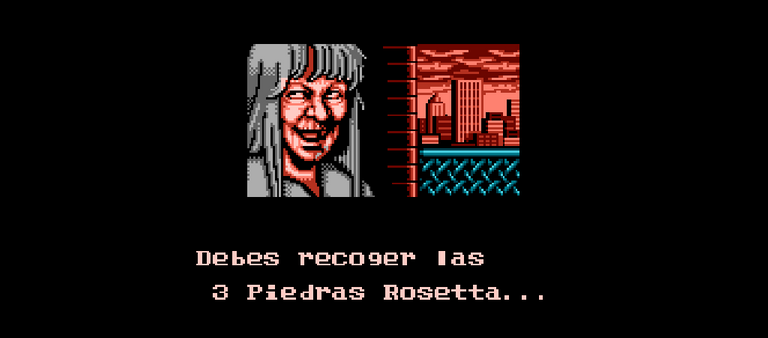 Capture made by me || Capture realizado por mi
At the beginning of the game we find ourselves in a dome, where there is also Brett, who was the only one who knew the truth about what was happening, and before he tells us the identity of the kidnapper, he dies and his body disappears, So everything remains an enigma and our only clue is the one we receive from the fortune teller Hiruko, after that two contenders arrive looking to kill us, after defeating them, we leave the place and we enter the streets of the city to compete with a large number of contenders.
Al iniciar el juego nos encontramos en un domo, en donde también está Brett, quien era el único que conocía la verdad sobre lo que estaba pasando, y antes que nos diga la identidad del secuestrador, muere y su cuerpo de desaparece, por lo que todo queda en un enigma y nuestra única pista es la que recibimos por parte de la adivina Hiruko, luego de eso llegan dos contendientes buscando acabar con nosotros, luego de derrotarlos, salimos del lugar y nos adentramos por las calles de la ciudad a rivalizar con un gran número de contendientes.
---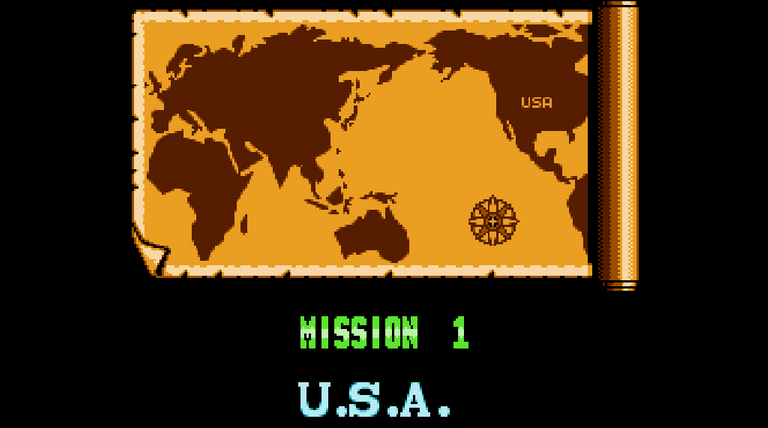 Capture made by me || Capture realizado por mi
Our first objective is in USA, there we will fight until we find the first level boss, with whom we will fight to death and with what we will later know the following objectives, being these: China, Japan, Italy and finally Egypt, place where we will face Marion's kidnapper to finally defeat him.
Nuestro primer objetivo está en USA, allí lucharemos hasta encontrarnos el primer Jefe de nivel, con el que lucharemos a muerte y con lo que posteriormente sabremos los siguientes objetivos, siendo estos: China, Japón, Italia y finalmente Egipto, lugar en el que haremos frente al secuestrador de Marion para finalmente derrotarlo.
---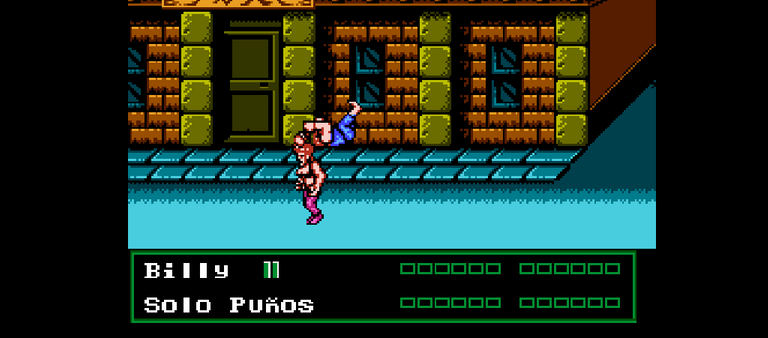 Capture made by me || Capture realizado por mi
With the playability, there are important aspects to mention, such as the limitation of common attacks of Double Dragon 2 and the inclusion of new attacks, our character is a bit clumsy and sometimes we can distinguish some small flaws in the programming of the game, such as hits received totally uncertain, screen flickering on some occasions when we decide to execute the deadly blow in which we hold our enemy by the head and then throw him with all our strength.
Kicks from the ground and in the air, fists, and the use of secondary weapons gave a plus to the video game, reducing the margin between the gameplay and the execution of the techniques, adding to this the fact that we could change characters at any time we wanted, and these characters among which we could change, were the same bosses that we defeated as we progressed through the game, each with unique skills and very useful for our progress in the game.
Con la jugabilidad, destacan aspectos importantes de mencionar, como la limitación de ataques comunes de Double Dragon 2 y la inclusión de nuevos ataques, nuestro personaje es un poco tosco y en algunas ocasiones podemos distinguir algunas pequeñas fallas en la programación del juego, como por ejemplo golpes recibidos totalmente inciertos, parpadeo de pantalla en algunas ocasiones cuando decidimos ejecutar el golpe mortal en el que sujetamos a nuestro enemigo de la cabeza y luego lo arrojamos con todas nuestras fuerzas.
Patadas desde el suelo y en el aire, puños, y la utilización de armas secundarias le daban un plus al videojuego, reduciendo el margen entre la jugabilidad y la ejecución de las técnicas, sumando a esto el hecho de poder variar de personaje en cualquier ocasión del juego en la que quisiéramos, y estos personajes entre los que podíamos variar, eran los mismos jefes que derrotábamos a medida que íbamos avanzando en el juego, cada uno de ellos con habilidades únicas y de gran utilidad para nuestro progreso dentro del juego.


Capture made by me || Capture realizado por mi
The health of our character was extremely important, because keeping it was one of our main objectives, as it was normal that we were hit by our enemies and see our life reduced in a fairly considerable magnitude.
We had 3 game modes, the first, with the typical solo games, although this mode was much more challenging and complicated to overcome, on the other hand, we had the 2 Player A mode, in which we would not cause damage to our partner, nor to us, there was also the 2 Player B mode, and here the situation was much more careful, because any of our attacks could now damage our partner, the common thing was to enjoy the 2 Player A mode, in which we only worried about hitting our enemies.
La salud de nuestro personaje era sumamente importante, pues conservarla era uno de nuestros mayores objetivos, pues era normal que fuésemos golpeados por nuestros enemigos y ver reducida nuestra vida en una magnitud bastante considerable.
Teníamos 3 modos de juego, el primero, con las típicas partidas en solitario, aunque este modo era mucho más retador y complicado de superar, por otro lado, teníamos el modo 2 Jugadores A, en el cual no causaríamos daño a nuestro compañero, ni el a nosotros, también se encontraba el modo 2 Jugadores B, y aquí la situación era de mucho más cuidado, pues cualquiera de nuestros ataques, ahora podía dañar a nuestro compañero de juego, lo común era disfrutar con el modo de 2 jugadores A, en el cual únicamente nos preocupábamos por por golpear a nuestros enemigos.
---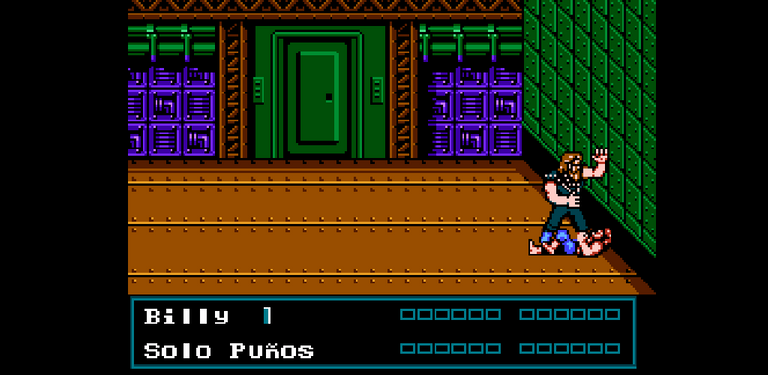 With the battle we faced against the first final boss, we understood that it was Brett's brother, and he was the one who had finished off our friend. This final boss, as well as the other basic opponents of the game, made us take our skill to the maximum, because it was almost a feat to finish a mission without almost being hit.
If we lost, immediately the "Game Over" would appear on our screens and we had to start all over again, and this was another negative aspect but very easy to improve, because it was not common as in other titles, such as Mighty Final Fight, where it was possible to find lives as we progressed, and thus our chances of completing the game would be much higher, although even in 2-player mode, the fact of finishing the game became quite a journey. A great title of the NES, where despite the criticisms and some small details, it was a title that made the whole saga, and all fans of the saga in particular, very proud. From my point of view, it was a good title that could have been much better, not the greatest of its kind, but it was at the top.
Con la batalla que lidiábamos contra el primer Jefe final, entendíamos que era el hermano de Brett, y el mismo era quien había acabado con nuestro amigo. Este jefe final, al igual que los demás rivales básicos del juego, nos hacían llevar nuestra habilidad al máximo, pues era casi una hazaña terminar una misión sin casi haber sido golpeados.
Si perdíamos, inmediatamente saldría el "Game Over" en nuestras pantallas y debíamos iniciar todo otra vez, y esto era otro aspecto negativo pero muy fácil de mejorar, pues no era habitual como en otros títulos, como por ejemplo Mighty final Fight, en donde era posible encontrar vidas conforme íbamos avanzando, y así nuestras posibilidades de culminar el juego serían mucho mayores, aunque incluso en el modo de 2 jugadores, el hecho de terminar el juego se convertía en todo una travesía. Un gran título de la NES, en donde a pesar de las críticas y algunos pequeños detalles, fue un título que enorgullecía enormemente a toda la saga, y a todos los amantes de la saga en particular. Desde mi punto de vista, era un buen título que pudo ser mucho mejor, no el más grandioso de su clase, pero si ubicado en el top.

Source of images || Fuente de imágenes
---
1 - 2


---