Contra: The prodigy of shooter games || Contra: El prodigio de los juegos de disparos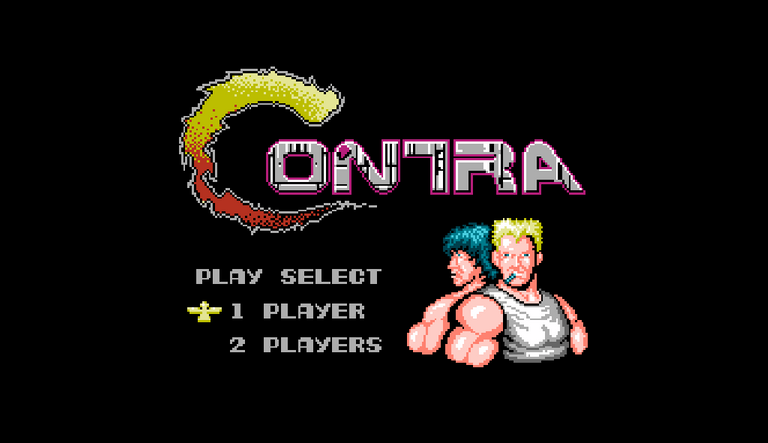 Capture made by me || Capture realizado por mi
English
One of the great works of Konami, made the leap to the desktop video game consoles, specifically to the Nintendo NES, a title originally from the arcade, which was adapted to the game console of the moment, a game that marked reference in the standards of quality and entertainment for the genre of run and gun, its amazing graphic fluency, scenery animation, character equipment, formidable enemies, and a musical setting that exceeded expectations, gave this video game all the elements to be a worthy prodigy on video consoles, catapulting its title with different new versions throughout the years.
Español
Una de las grandes obras de Konami, daba el salto a las videoconsolas de sobremesa, especificamente a la nintendo NES, un título originalmente de los arcade, que era adaptado a la videoconsola del momento, un juego que marcaba referencia en los estándares de calidad y entretenimiento para el género de run and gun, su asombrosa fluidez gráfica, animación de escenarios, equipamiento de personaje, enemigos formidables, y una ambientación musical que superaba las expectativas, le daban a este videojuego todos los elementos para ser un digno prodigio en las videoconsolas, llegando a catapultar su título con diferentes nuevas versiones a lo largo de los años.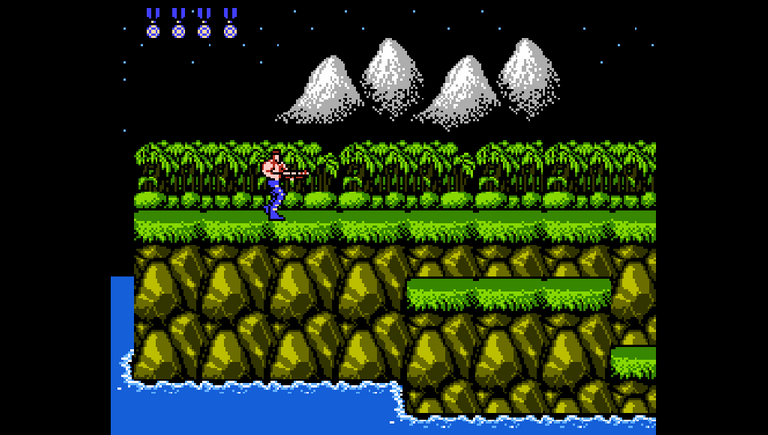 Capture made by me || Capture realizado por mi
The game gave access to the single player or multiplayer mode, being the player 1 with a blue outfit on his jeans and no shirt, this character had by name: Bill, and for the player number 2 we had a character basically the same, but with red pants, by name: Lance, both were elite soldiers, who had been entrusted with the mission of ending the plans of the Red Falcon group that sought to end all mankind.
El juego daba acceso al modo de jugador en solitario o multijugador, siendo el jugador 1 con un atuendo de color azul en sus jeans y sin camisa, este personaje llevaba por nombre: Bill, y para el jugador número 2 teníamos a un personaje básicamente igual, pero con pantalones rojos, de nombre: Lance, ambos eran soldados elites, a los que se les había encomendado la misión de acabar con los planes del grupo Red Falcon que buscaban acabar con toda la humanidad.
---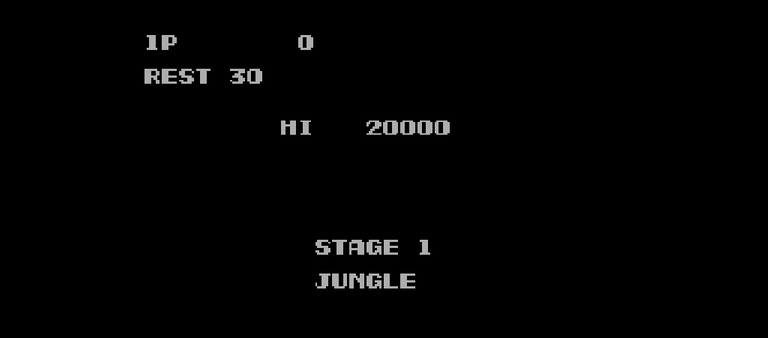 Capture made by me || Capture realizado por mi
Something that very few people knew, was that some Konami games had access to a special code, which could only be executed in some games, I in particular, I discovered this because one day I read a gamer magazine that came in a newspaper, this kind of key was activated on the main screen of the game, before starting a game, This key, gave our character a total of 30 lives, instead of the 3 lives with which originally started a game, this certainly helped a lot to completely pass the game, because it was quite difficult in some stages, mainly in the single player mode, the key was the following sequence of buttons: __up up up down down down left right left right B A, after doing this consecutive combination of buttons, we could start the game, and we would know that we had put the key right, because in the start screen the total of lives would appear.
Algo que muy poca gente sabía, era que algunos juegos de Konami tenían acceso a un código especial, que solo se podía ejecutar en algunos juegos, yo en lo particular, descubrí esto gracias a que un día leí una revista gamer que venía en un periódico, este especie de clave se activaba en la pantalla principal del juego, antes de iniciar una partida, dicha clave, le otorgaba a nuestro personaje un total de 30 vidas, a cambio de las 3 vidas con las que originalmente se iniciaba una partida, esto sin duda que ayudaba mucho para poder pasar por completo el juego, pues era bastante difícil en algunas etapas, principalmente en el modo de 1 solo jugador, la clave era la siguiente secuencia de botones: arriba arriba abajo abajo izquierda derecha izquierda derecha B A, luego de hacer esta combinación consecutiva de botones, podíamos dar inicio a la partida, y sabríamos que habíamos puesto bien la clave, pues en la pantalla de inicio nos aparecería el total de vidas.
---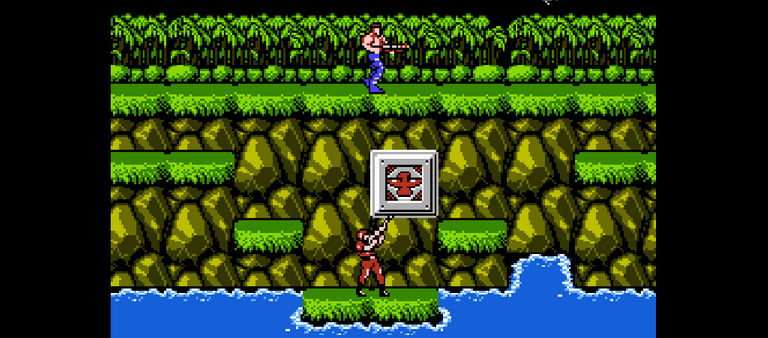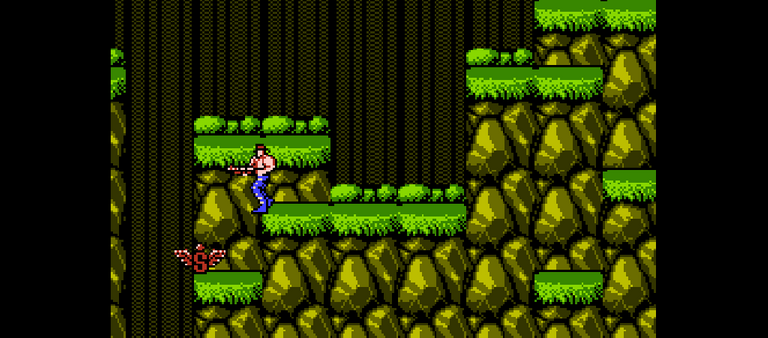 ---
Captures made by me || Captures realizados por mi
We started our journey of action in the jungle, as we went forward, different enemies and items would appear, the items could be fixed in very visible boxes on the platform or in a kind of capsules that moved from left to right, which we had to shoot to release the equipment for our weapon.
Iniciábamos nuestra travesía de acción en la jungla, a medida que íbamos avanzando, diferentes enemigos e items irían apareciendo, los items podían estar fijos en cajas muy visibles en la plataforma o en una especie de capsulas que se desplazaban de izquierda a derecha, a las cuales debíamos disparar para liberar el equipamiento para nuestra arma.
---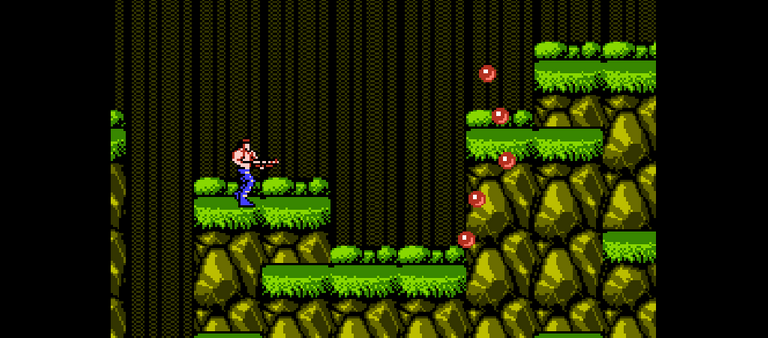 Capture made by me || Capture realizado por mi
The best weapon was the one with the letter S (Scatter) on its insignia, this allowed us to execute shots with a wide and effective range of damage, this equipment could be improved with another item with the letter R (Rapid Fire), which made our shots come out with greater speed, making us unstoppable.
It was possible to shoot in any direction, horizontally was the usual, but we could also execute jumps and shoot while pressing the down arrow to reach the enemies below us, we could even lie down completely to avoid some shots and attack lying down aiming our gun at the enemy.
La mejor arma era la que en su insignia presentaba la letra S (Dispersión), esta nos permitía ejecutar disparos con un rango de daño bastante amplio y efectivo, este equipamiento podía mejorarse con otro item de letra R (Fuego Rápido), el cual hacía que nuestros disparos salieran con mayor velocidad, lo que nos hacía imparables.
Era posible disparar en cualquier dirección, en forma horizontal era lo habitual, pero también podíamos ejecutar saltos y disparar mientras presionábamos la flecha hacia abajo para alcanzar a los enemigos que se encontraban debajo de nosotros, incluso podíamos acostarnos completamente para evitar algunos disparos y atacar acostados apuntando con nuestra arma al enemigo.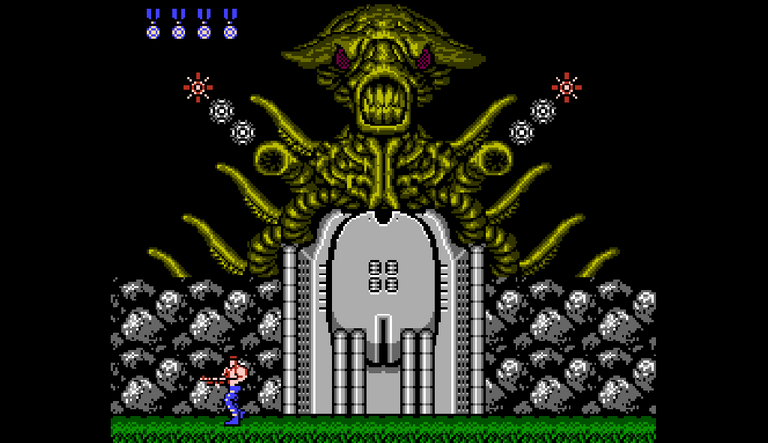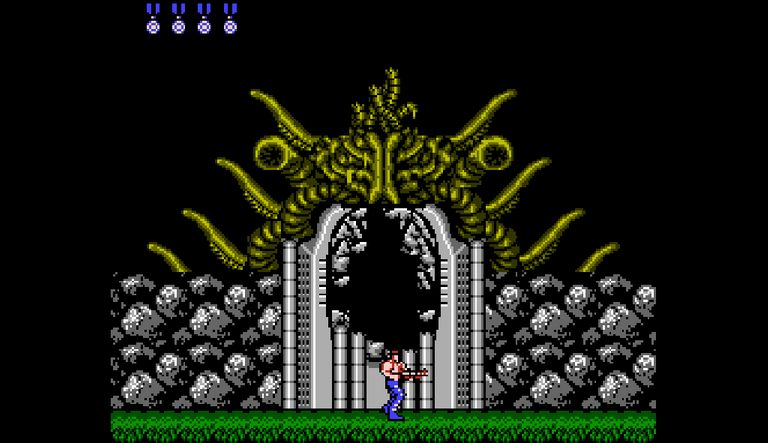 ---
Captures made by me || Captures realizados por mi
At the end of each Stage, we would find a final Boss, which normally was not so complicated to defeat, in the images above you can appreciate the boss of Stage 3, which was a kind of alien with robotic parts, in the first two scenarios we faced 2 species of giant machines, so it was evident that we were fighting against a space force that handled advanced technology.
Al final de cada Stage, nos encontraríamos con un Jefe final, que normalmente no era tan complicado de vencer, en las imágenes de arriba pueden apreciar el jefe del Stage 3, el cual era una especie de alien con partes robóticas, en los dos primeros escenarios enfrentábamos a 2 especies de máquinas gigantes, por lo que era evidente que estábamos luchando contra una fuerza espacial que manejaba tecnología avanzada.
---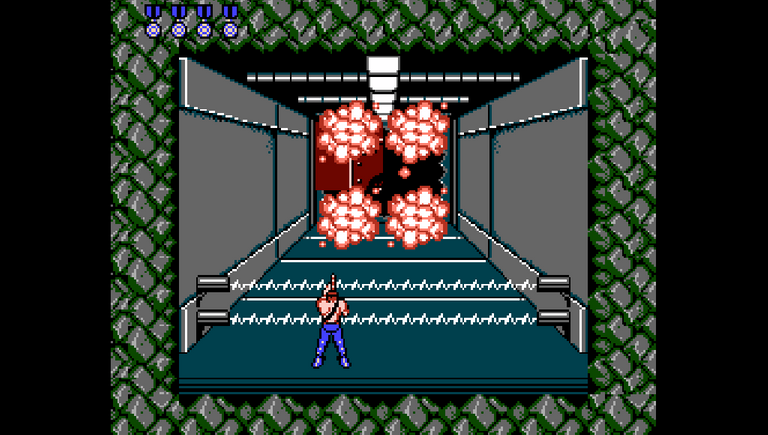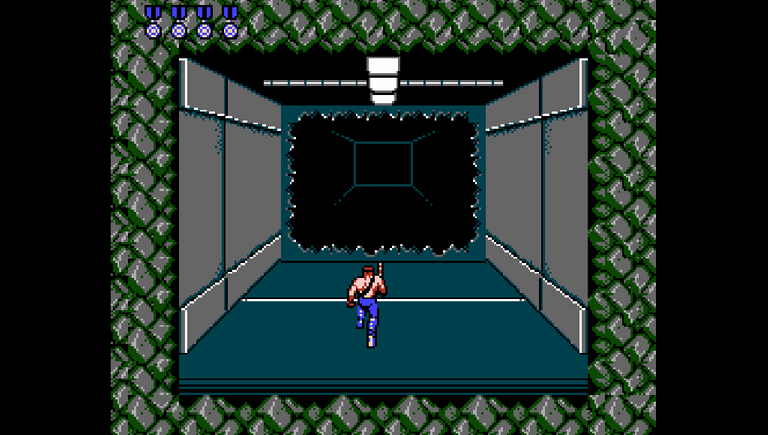 ---
Captures made by me || Captures realizados por mi
Something really fascinating about Contra, was that there was a variability in the way of moving through each Stage, being possible to move horizontally from left to right, in other stages vertically, and in some others in the form of ascent through the mountains, this gave the game a very nice style, because we would not always have to be exposed to the same scenario.
Algo realmente fascinante de Contra, era que existía una variabilidad en la forma de desplazamiento por cada Stage, siendo posible desplazarse en sentido horizontal de izquierda a derecha, en otros stage de forma vertical, y en algunos otros en forma de ascenso por las montañas, esto le proporcionaba al juego un estilo muy agradable, pues no siempre tendríamos que vernos expuesto a un mismo escenario.
---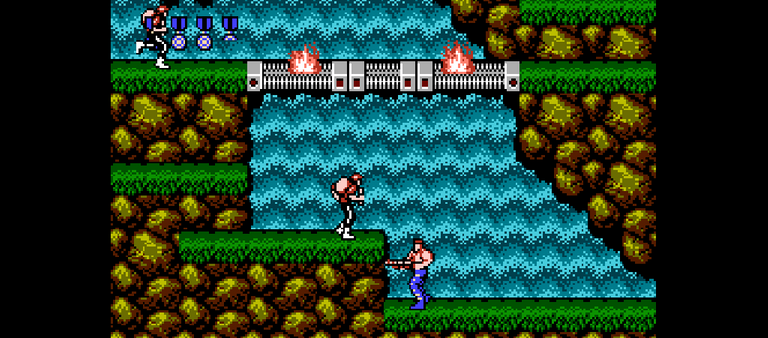 Capture made by me || Capture realizado por mi
The game could be completed after overcoming a total of 8 Stages, in a journey where the action was the highlight of the game, with an incredible way to keep us hooked from the first moment of the game and until the end, even after finishing it, many of us surely completed it again a few more times, and with this, I would like to add that if it had had many more levels, at least 20, it would have been quite epic and much more challenging, although with what was originally offered, I know that many of us had an incredibly great time, a work of art in its maximum splendor.
El juego lo podíamos culminar luego de superar un total de 8 Stages, en una travesía donde la acción era el plato fuerte del juego, con una forma increíble de mantenernos enganchados desde el primer instante de la partida y hasta el final, incluso luego de terminarlo, muchos de nosotros seguro lo completamos nuevamente unas cuantas ocasiones más, pues era tan agradable que no importaba repetirlo, y con esto, quisiera agregar, que de haber tenido muchos más niveles, al menos unos 20, hubiese sido bastante épico y mucho más retador, aunque con lo que originalmente se nos ofrecía, sé que muchos la pasamos increíblemente genial, una obra de arte en su máximo esplendor.

Source of images || Fuente de imágenes
---
1 - 2


---