Batman Returns: Gotham City's best Beat 'em up style || Batman Returns: El mejor estílo Beat 'em up de Ciudad Gótica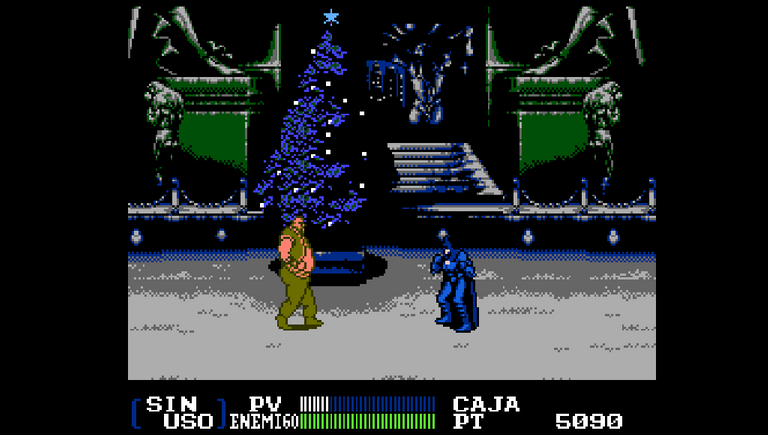 Capture made by me || Capture realizado por mi
English
The genre of Beat 'em up was already quite popular, and Konami had prepared the premiere of Batman Returns for our Nintendo NES, a title with a change of developer that centava very well, because it was noted the leap in quality that gave Batman Returns compared to the classic Batman released in 1989, considering that it had already been 3 years, Improvements from the aspect of gameplay, to the audiovisual media, where they exalted the full potential of the knight of the night, being a very entertaining game, full of action, with many variables in attack, changes in scenarios and gameplay system quite successful, and aspects of sounds that were constantly changing, depending on the scenario in which we found ourselves.
Español
El género de Beat 'em up ya era bastante popular, y Konami tenía preparado el estreno de Batman Returns para nuestra nintendo NES, un título con cambio de desarrollador que le centava muy bien, pues se notaba el salto de calidad que daba Batman Returns respecto al clásico Batman estrenado en 1989, considerando que habían pasado ya 3 años, mejoras desde el aspecto de jugabilidad, hasta los medios audiovisuales, en donde exaltaban todo el potencial del caballero de la noche, siendo un juego muy entretenido, lleno de acción, con muchas variables en ataque, cambios de escenarios y de sistema de juego bastante acertados, y aspectos de sonidos que cambiaban constantemente, dependiendo del escenario en el que nos encontrábamos.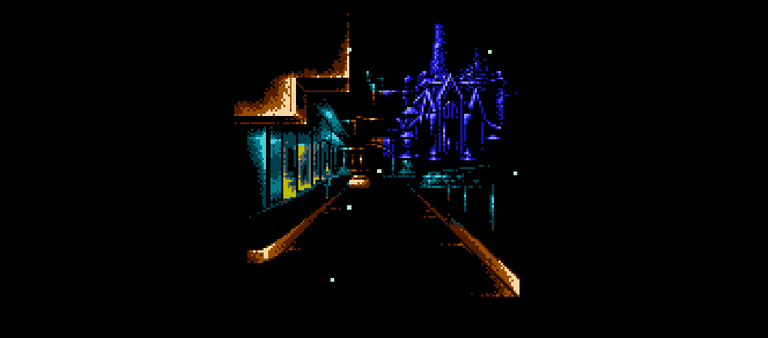 Capture made by me || Capture realizado por mi
With the History Konami stood out quite a bit, presenting something short, but complete enough to put us in context with the events in Gotham City. Everything was very quiet, but it began to perceive a very tense atmosphere and the problems would not be long in coming, a wave of bandits began to frighten the citizens, so immediately turn on the spotlight with the bat signal to alert Batman and await his support, then I will leave a couple of images that I extracted from the game about this opening that is worth enjoying.
Con la Historia Konami destacaba bastante, presentando algo corto, pero lo suficientemente completo como para ponernos en contexto con los acontecimientos en Ciudad Gótica. Todo se encontraba muy tranquilo, pero se empezaba a percibir un ambiente bastante tenso y los problemas no se harían esperar, una oleada de bandidos comenzaban a atemorizar a los ciudadanos, por lo que inmediatamente se enciende el reflector con la señal del murciélago para alertar a Batman y aguardar su apoyo, a continuación les dejaré un par de imágenes que extraje del juego sobre esta apertura que vale la pena disfrutar.
---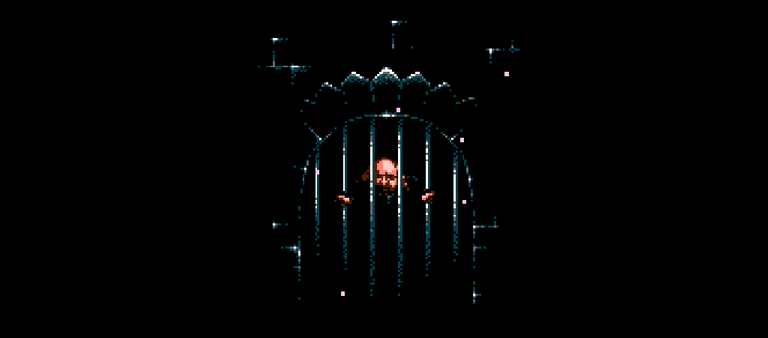 ---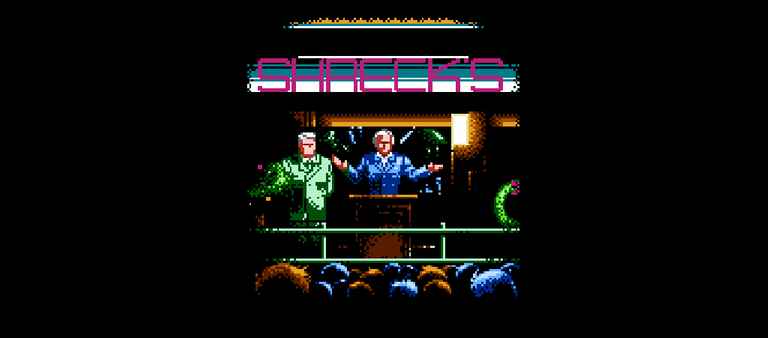 ---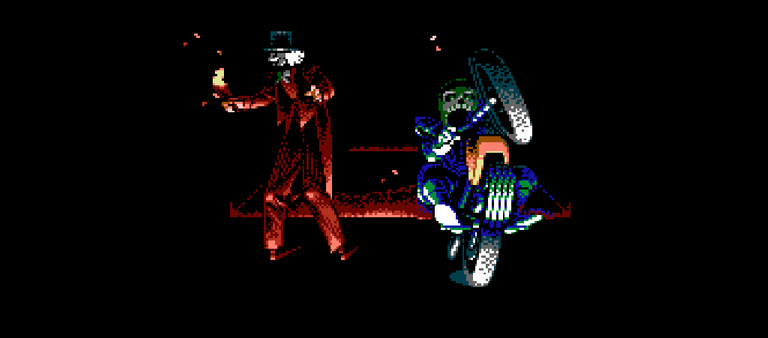 ---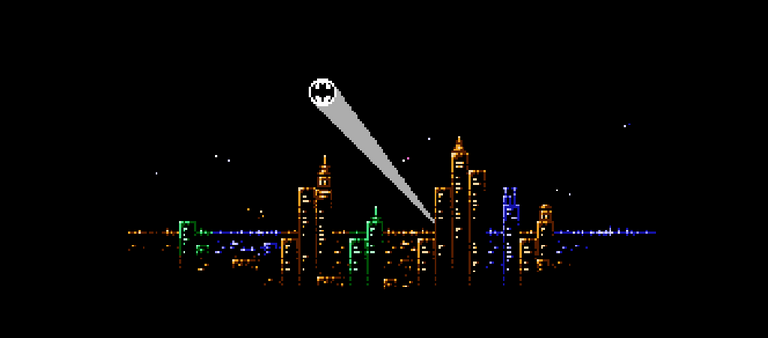 ---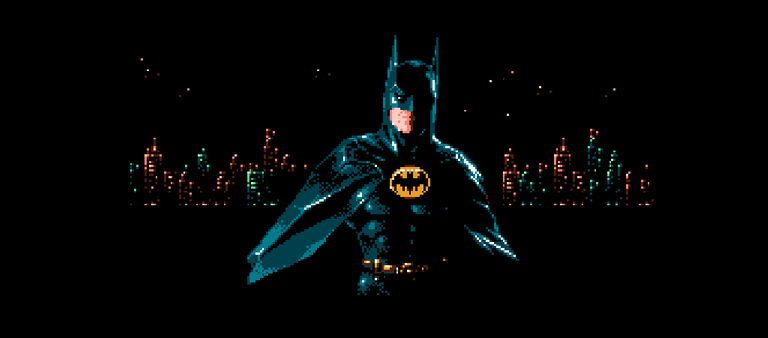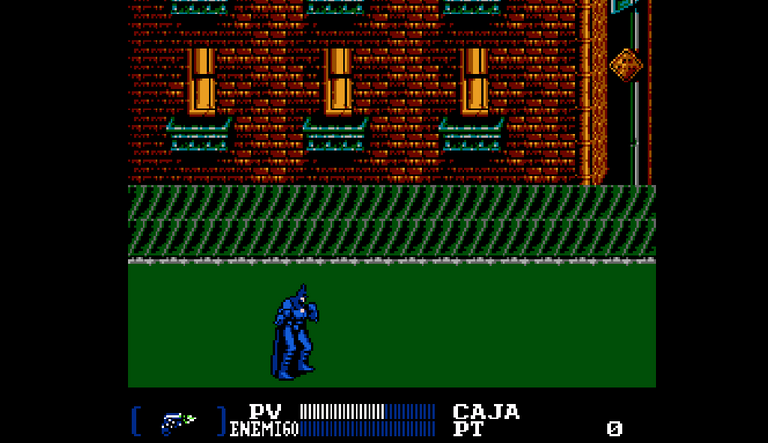 Capture made by me || Capture realizado por mi
The game had a progress system in which each Stage had a large number of enemies, which would be more problematic as we progressed, at the end of each Stage there would be Final Bosses that were not difficult to defeat, as long as we quickly found their weak points, otherwise we died and had to start the Stage again.
A game in which we could equip our characters with different objects with limited quantities, which we could change with the "Select" button. Another favorable aspect of Batman Returns, was to constantly find huge gift boxes, which contained a heart, which when we took it raised our health bar a little, and if we were cautious enough in each Stage, our health would always be at the top.
El juego contaba con un sistema de progreso en el que cada Stage tenía una gran cantidad de enemigos, que irían siendo más problemáticos a medida que íbamos avanzando, al final de cada Stage habrían Jefes finales que no eran difíciles de derrotar, siempre y cuando encontráramos rápidamente sus puntos débiles, caso contrario moríamos y debíamos empezar de nuevo el Stage.
Un juego en el que podíamos equipar a nuestro personajes con diferentes objetos con cantidades limitadas, los cuales podíamos cambiar con el botón "Select". Otro aspecto favorable de Batman Returns, era el encontrarnos constantemente con cajas enormes de regalo, las cuales contenían un corazón, que al tomarlo nos subía un poco nuestra barra de salud, y si eramos lo bastante precavidos en cada Stage, nuestra salud siempre estaría a tope.
---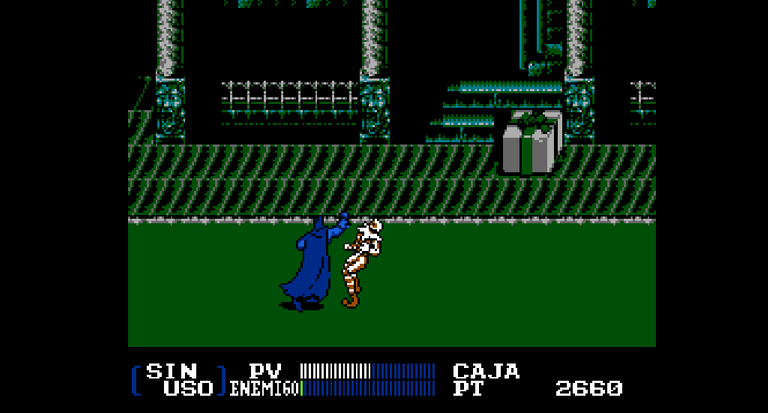 Capture made by me || Capture realizado por mi
The Beat 'em up genre, accompanied by evident action and adventure presented us with a side scrolling scenario, going from left to right on our screens, although in more advanced scenarios we would have 3D scrolling, and even some stages where we would not walk, but rather on board the Batmobile fighting against enemies, a quite striking staging, which allowed a quite variable gameplay and that honored a title of great weight.
El género Beat 'em up, acompañado de evidente acción y aventura nos presentaba un escenario de desplazamiento lateral, yendo de izquierda a derecha en nuestras pantallas, aunque en escenarios más avanzados tendríamos desplazamientos 3D, e incluso unos stage en donde no iríamos caminando, sino más bien a bordo del Batimovil luchando contra los enemigos, una puesta en escena bastante llamativa, que permitía una jugabilidad bastante variable y que hacía honor a un título de gran peso.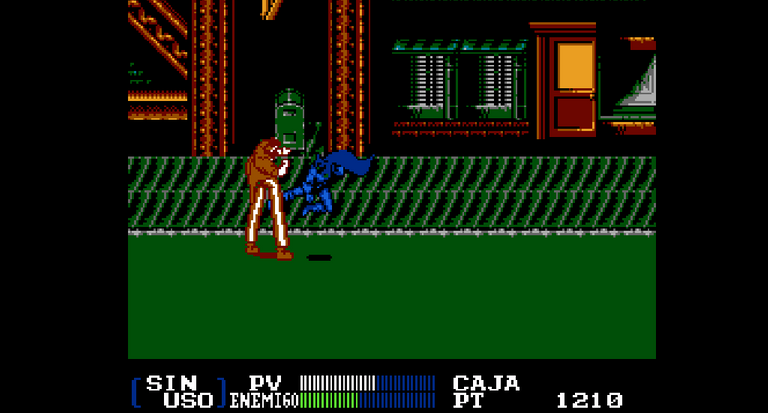 Capture made by me || Capture realizado por mi
Defending ourselves was quite a show, a basic hit with the letter "B" that performed a mini combo, jumps with the "A" button that we could combine with the "B" button to perform some aerial kicks, another combination with down arrow and the "A" button to perform a blow that emerged through a slide across the floor (quite useful with some final bosses), and a special attack that we executed with the button combination "A + B", which allowed us to perform an accurate attack with our cape, with which we could do greater damage to our enemy, but this we did in exchange for a health point that was deducted from our meter. Some other images of these types of hits I will leave below.
Defendernos era todo un espectáculo, un golpe básico con la letra "B" que realizaba un mini combo, saltos con el botón "A" que podíamos combinar con el botón "B" para ejecutar unas patadas aéreas, otra combinación con flecha hacia abajo y el botón "A" para realizar un golpe que surgía a través de un deslizamiento por el piso (bastante útil con algunos jefes finales), y un ataque especial que ejecutabamos con la combinación de botones "A + B", que nos permitía realizar un ataque certero con nuestra capa, con el que podíamos hacer un mayor daño a nuestro enemigo, pero esto lo hacíamos a cambio de un punto de salud que se descontaba de nuestro medidor. Algunas otras imágenes de estos tipos de golpes las dejaré a continuación.
---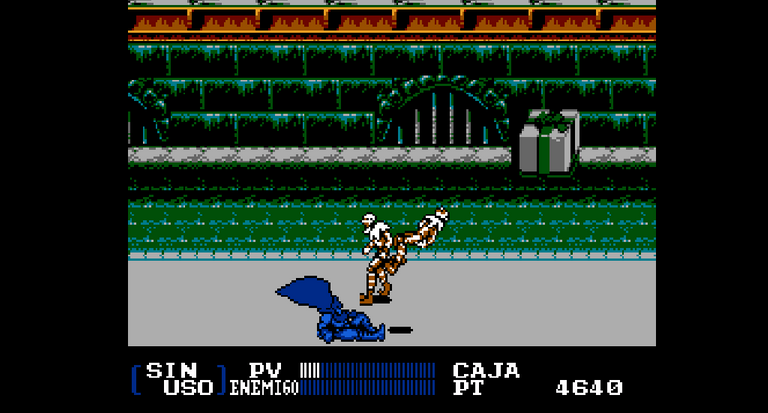 ---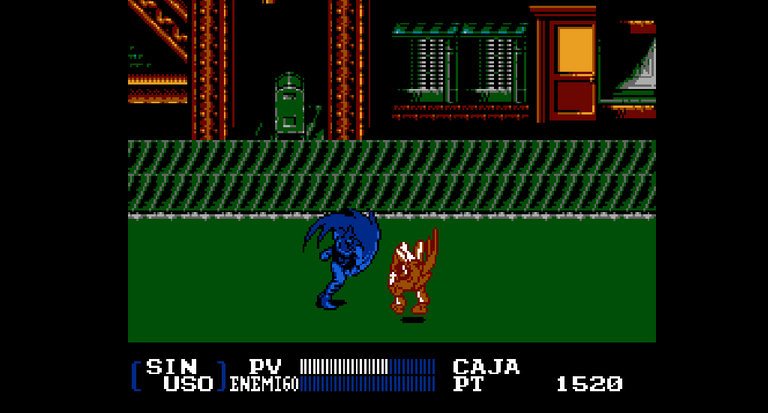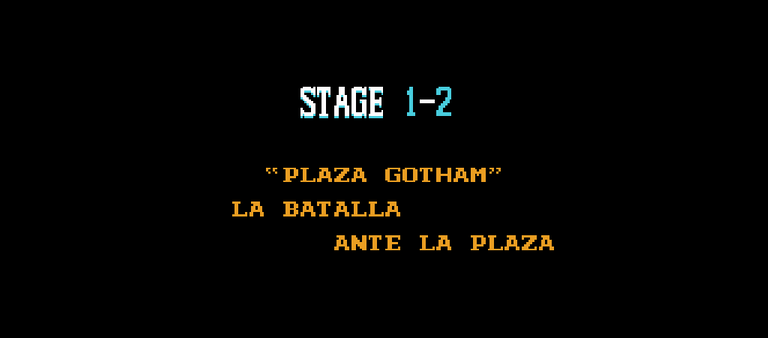 Capture made by me || Capture realizado por mi
Each scenario or Stage opened the curtain with a black screen indicating the stage number we were going to start, where it would be, and what we were going to experience, all in a fairly simple and summarized text, but well executed for us to check and remember our progress in the game.
Cada escenario o Stage abría el telón con una pantalla negra en donde nos indicaba el número de stage que íbamos a iniciar, en lugar en donde sería, y lo que íbamos a experimentar, todo en un texto bastante sencillo y resumido, pero bien ejecutado para nosotros ir comprobando y recordando el progreso en el juego.
---

Capture made by me || Capture realizado por mi
Something quite good, was to reward our effort with passwords to continue our game, these could be entered at the time of starting the game, where we could choose a new game or enter our password to continue where we had left off.
Algo bastante bueno, era el premiar nuestro esfuerzo con contraseñas para continuar nuestra partida, estas las podíamos introducir al momento de iniciar el juego, en donde podíamos elegir una partida nueva o introducir nuestra contraseña para continuar en donde habíamos quedado.
---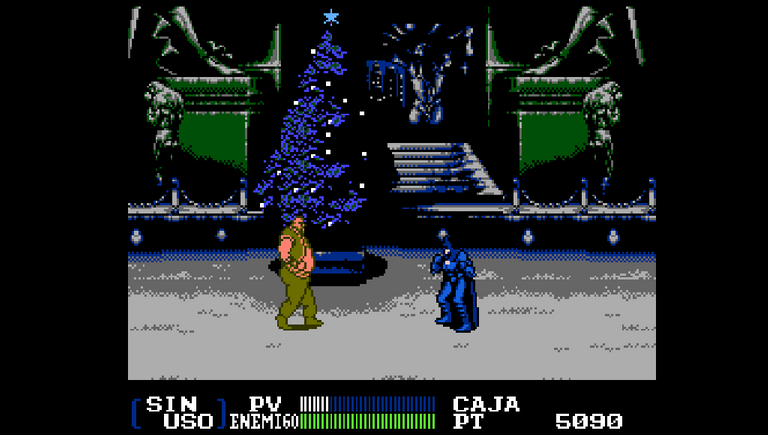 Capture made by me || Capture realizado por mi
After finishing with all the villains of a stage, it was the turn of the final boss, in the case of the capture above is the boss of Stage 1, which had a weak point not so noticeable, because we had to get as close as possible to him, to execute one of his spinning attacks, and just when he stopped, we executed our sliding kick attack, this to hit the final boss and in turn be at a small distance that would allow us to move away a little for the next blow that repeated the same form of execution.
Batman Returns was a title that knew how to sweeten our taste for the genre, and took us to the limit in a series of challenges in which we would learn to be very careful with each attack action we performed, this title also made life on the SNES with a similar success, although with a much more diverse experience, motivated by the margin between the 8 bits and 16 bits of both game consoles.
Luego de acabar con todos los villanos de un stage, llegaba el turno del jefe final, en el caso del capture de arriba es el jefe del Stage 1, el cual tenía un punto débil no tan perceptible, pues teníamos que acércanos lo mayor posible a el, para que ejecutara uno de sus ataques giratorios, y justo cuando se detenía, nosotros ejecutábamos nuestro ataque de patada deslizante, esto para golpear al jefe final y a su vez quedar a una pequeña distancia que nos permitiera alejarnos un poco para el siguiente golpe que repetía la misma forma de ejecución.
Batman Returns fue un título que supo endulzar nuestro gusto por el género, y nos llevó al límite en una serie de desafíos en los que aprenderíamos a ser muy cuidadosos con cada acción de ataque que realizáramos, este título también hizo vida en la SNES con un éxito calcado, aunque con una experiencia mucho más diversa, motivado al margen entre los 8 bits y los 16 bits de ambas videoconsolas.

Source of images || Fuente de imágenes
---
1 - 2


---