Attack of the Killer Tomatoes: A Cartoon Adaptation || Attack of the Killer Tomatoes: Una adaptación de la caricatura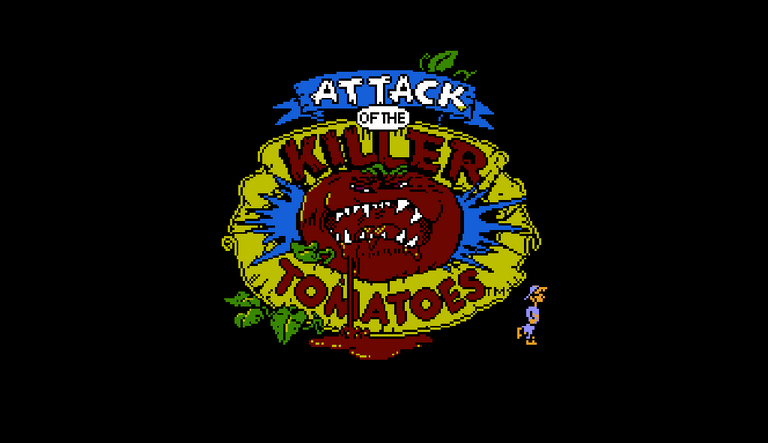 Capture made by me || Capture realizado por mi
English
If we were looking for a complicated game, with a rather crazy story, and a rather strange game system, with Attack of the Killer Tomatoes we would find all those elements, that although, it was a game based on a cartoon, its story was still strange enough, but still, quite challenging and with quite interesting proposals, a game that at first could seem very simple, but as we progressed, we would discover that it was quite the opposite.
Español
Si buscábamos un juego complicado, con una historia bastante loca, y un sistema de juego bastante extraño, con Attack of the Killer Tomatoes encontraríamos todos esos elementos, que si bien, era un juego basado en una caricatura, su historia no dejaba de ser lo bastante rara, pero aún así, bastante retadora y con propuestas bastante interesantes, un juego que en un principio podía parecernos muy simple, pero a medida que íbamos avanzando, descubriríamos que era todo lo contrario.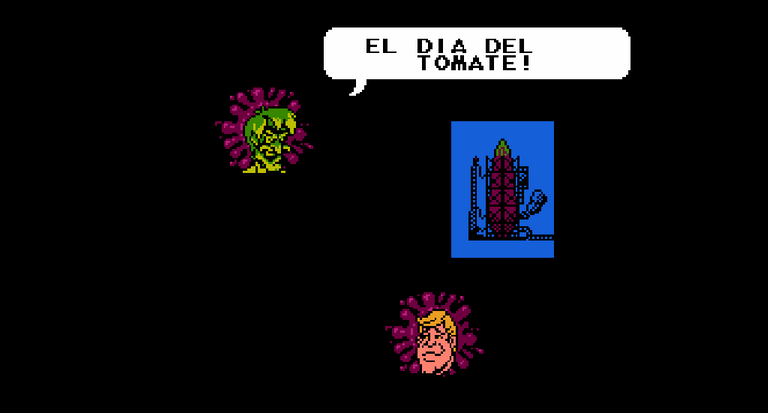 Capture made by me || Capture realizado por mi
Within the game we assumed the role of Chad Finletter, a brave young man who would seek to interpose himself in the evil plans of Doctor Putrid, who sought to destroy the world with a kind of giant tomato-shaped missile, a pretty crazy story.
Dentro del juego asumíamos el rol de Chad Finletter, un valiente joven que buscaría interponerse en los malvados planes del Doctor Putrid, quien buscaba destruir el mundo con una especie de misil gigante en forma de tomate, una historia bastante loca.
---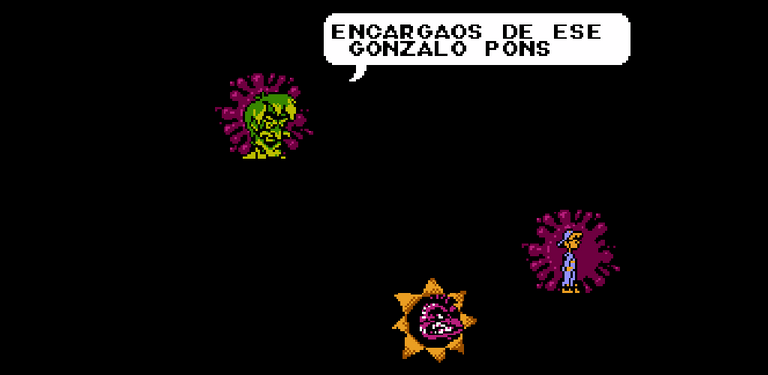 Capture made by me || Capture realizado por mi
Doctor Putrid calls Zoltan, so that he and his henchmen: Tomacho, Beefstake, Fang, Mummato and Ketchuck, to finish off our character Chad, since we are the only ones who seek to interpose ourselves in his plans, so these enemies will be part of our confrontations, before battling with Doctor Putrid himself in a final battle.
El Doctor Putrid llama a Zoltan, para que el junto a su secuaces: Tomacho, Beefstake, Fang, Mummato y Ketchuck, acaben con nuestro personaje Chad, pues somos los únicos que buscamos interponernos en sus planes, por lo que estos enemigos serán parte de nuestros enfrentamientos, antes de batallar con el propio Doctor Putrid en una batalla final.
---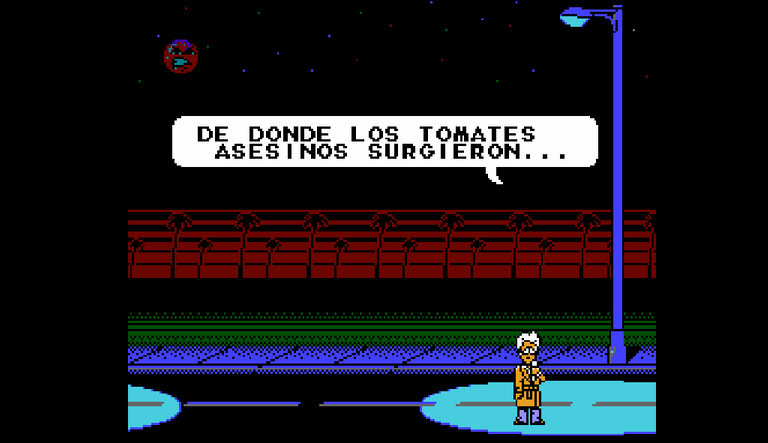 Capture made by me || Capture realizado por mi
It was quite curious to see how even before starting the game, there was a report of the chaos that was happening in the city, and once this small part of the game was over, our challenge to interpose tranquility began.
Era bastante curioso ver como incluso, antes de iniciar la partida, salía un reportaje del caos que estaba aconteciendo en la ciudad, una vez finalizaba esta pequeña parte del juego, iniciaba nuestro desafío por interponer la tranquilidad.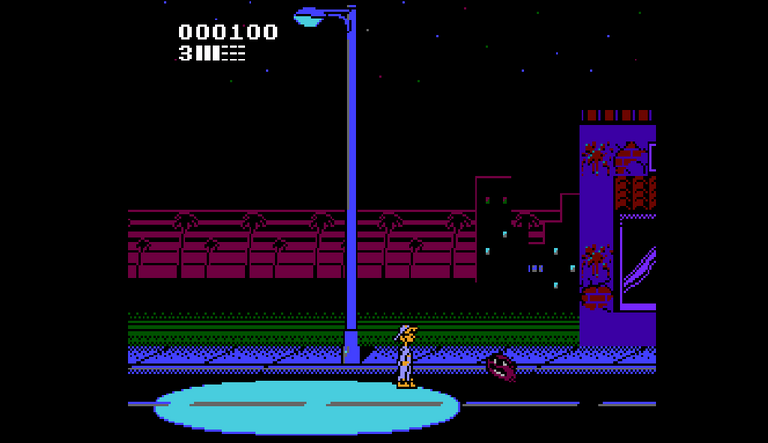 Capture made by me || Capture realizado por mi
Leaving aside the story, the game started, we had 3 lives that had a percentage of damage to run out each of those lives, and in this game, we could lose them all in a matter of seconds.
A rather striking staging, under the dark urbanism and with the evil tomatoes stalking our steps. The whole background scenery of the game was one of the most attractive things about the game, although its main strength could be seen in the middle of the game.
Dejando a un lado la historia, iniciaba la partida, contábamos con 3 vidas que tenían un porcentaje de daño para agotarse cada una de esas vidas, y en este juego, podíamos pasar a perderlas todas en cuestión de segundos.
Una puesta en escena bastante llamativa, bajo el oscuro urbanismo y con los tomates malvados asechando nuestros pasos. Todo el escenario de fondo del juego era una de las cosas más atractivas del juego, aunque su principal fuerte se podría ver a mitad del juego.
---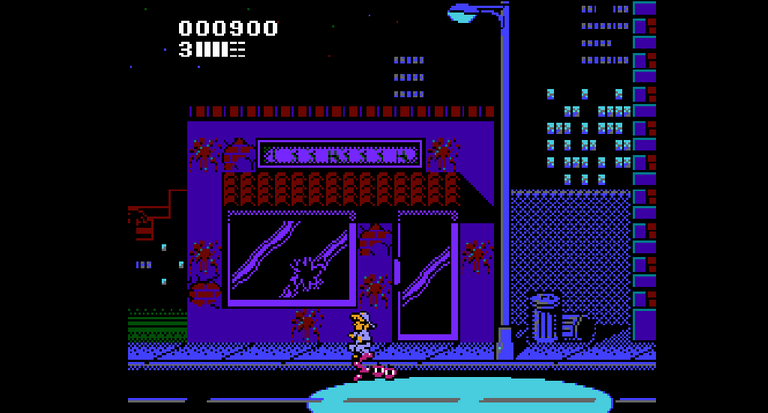 Capture made by me || Capture realizado por mi
To kill the tomatoes or any enemy, we could only do it by jumping on them, and that's where our life bar and the remaining lives would play a very important role, because some tomatoes were annoying enough that they would even chase us to hurt us.
Para acabar con los tomates o cualquier enemigo, solo podríamos conseguirlo, saltando sobre ellos, y es allí en donde nuestra barra de vida, y las vidas restantes tomarían un papel bastante importante, pues algunos tomates eran lo bastante molestos, que incluso llegaban a perseguirnos para hacernos daño.
---

---
Captures made by me || Captures realizados por mi
Throughout each stage we would find different bags, the one that was shaped like a bread bag, or grocery bag, gave us an increase in our life bar, and the other bags gave us only points, another way to recover our health was by hitting the tomatoes in punctual ways.
A lo largo de cada escenario encontraríamos diferentes bolsas, la que tenía forma de bolsa de pan, o bolsa de supermercado, nos daba un aumento en nuestra barra de vida, y las demás bolsas nos daban solo puntos, otra forma de recuperar nuestra salud era golpeando a los tomates de formas puntuales.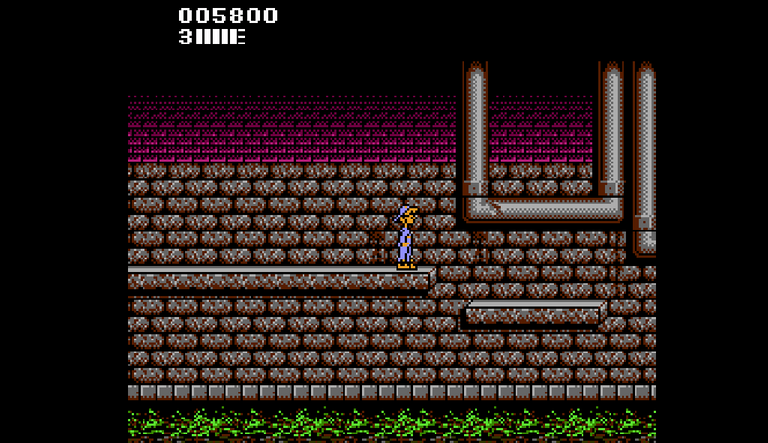 Capture made by me || Capture realizado por mi
Once we passed the first part of the game, we would go to the sewers, where we would look for Doctor Putrid to defeat him, here, obviously the scenery changed, but it still had a pretty good design.
Una vez superada la primera parte del juego, nos iríamos a las cloacas, en donde buscaríamos al Doctor Putrid para derrotarlo, aquí, evidentemente el escenario cambiaba, pero este no dejaba de contar con un diseño bastante bueno.
---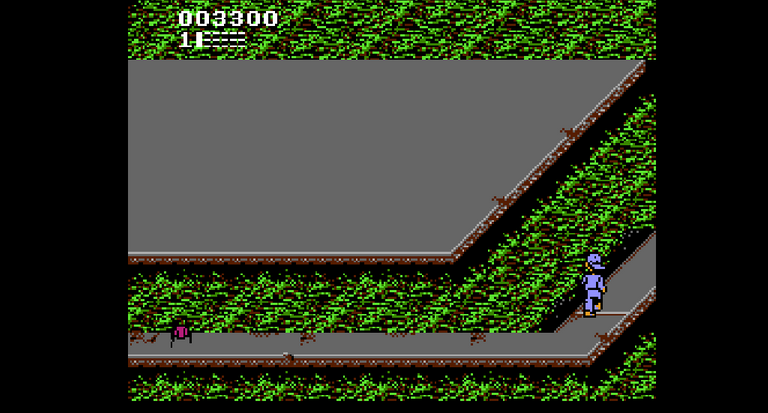 Capture made by me || Capture realizado por mi
At some points, our displacements stopped being lateral and became vertical, and at other more advanced points we had a gravity affection, where our perspective changed and our character moved upside down, something quite difficult to handle, but with a little practice and many times of imminent defeats we learned to move in these movements upside down, where the ceiling became our floor, this element was quite radical and entertaining, so it became a pretty good bet for the developers of the game for its inclusion.
En algunos puntos, nuestros desplazamientos dejaban de ser laterales y pasaban a ser verticales, y en otros puntos más avanzados teníamos una afección de gravedad, en donde cambiaba nuestra perspectiva y nuestro personaje se desplazaba al revés, algo bastante difícil de manejar, pero con un poco de práctica y muchas veces de derrotas inminentes aprendíamos a desplazarnos en estos movimientos boca abajo, en donde el techo pasaba a ser nuestro piso, este elemento era bastante radical y entretenido, por lo que se convertía en una apuesta bastante acertada para los desarrolladores del juego por su inclusión.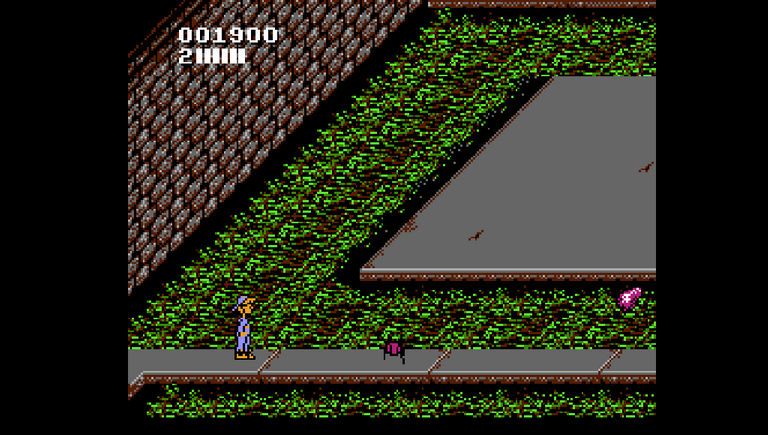 Capture made by me || Capture realizado por mi
The scenarios were quite changeable, so our brain had to adapt quickly to the changes to be able to focus on dodging and crushing our enemies, in the end if we lost, Doctor Putrid was victorious and launched his giant tomato-shaped missile, and otherwise, if we managed to defeat the Doctor, we destroyed the tomato launcher machine and we would win, although after this, a giant tomato ate us and we had to assume a last phase inside a large tomato, looking to get out and finish with it, and finally be victorious.
A game with many good reviews, where its differentiating element, was seen in the versatile way of being able to move around the stage, turning each step into a way of learning, understanding patience and knowing not to get into despair to move forward without being hurt, a very cool game of the wide catalog of the Nintendo NES.
Los escenarios eran bastante cambiantes, por lo que nuestro cerebro debía adaptarse rápidamente a los cambios para poder enfocarnos en esquivar y aplastar a nuestros enemigos, al final si perdíamos, el Doctor Putrid resultaba victorioso y lanzaba su gigante misil en forma de tomate, y caso contrario, si lográbamos derrotar al Doctor, destruíamos la maquina lanza tomates y ganaríamos, aunque posterior a esto, un tomate gigante os comía y debíamos asumir una última fase dentro de un gran tomate, buscando salir y acabar con el, y finalmente resultar victoriosos.
Un juego con muchas buenas críticas, en donde su elemento diferenciador, se vio en la forma tan versátil de podernos desplazar por el escenario, convirtiendo cada paso en una forma de aprendizaje, comprendiendo la paciencia y sabiendo no entrar en desespero para avanzar sin ser lastimados, un juego muy genial del amplio catálogo de la nintendo NES.

Source of images || Fuente de imágenes
---
1 - 2


---