---
ENGLISH | ESPAÑOL
Hello community! Welcome to a new gaming content. Today I bring you my first review based on an old school classic "Fighting & Struggling" for the PlayStation console.
I hope you like it!!!
Hola comunidad! Bienvenidos a un nuevo contenido gaming. Hoy les traigo mi primera reseña basada en un clásico del genero "Lucha y Peleas" de la vieja escuela para la consola de la PlayStation.
Espero que les guste!!!
---
A TRUE CLASSIC | UN VERDADERO CLÁSICO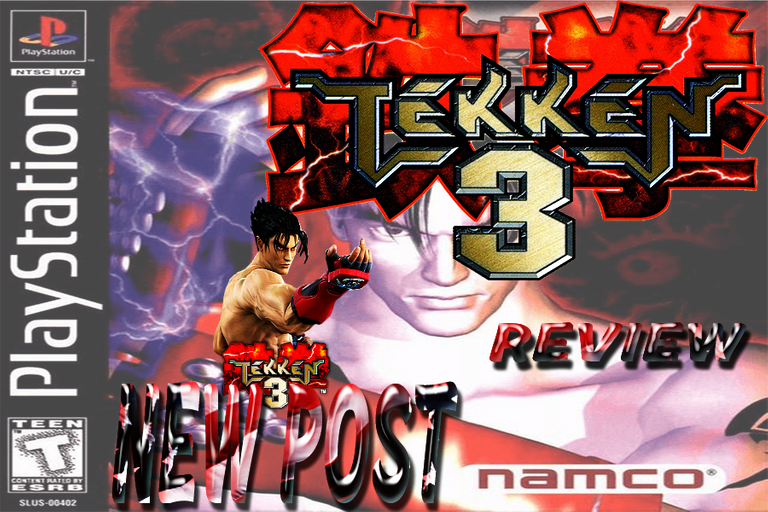 Tekken 3 is a fighting game, this game originally appeared in Arcades systems and had a couple of adaptations for the PlayStation and Sega Dreamcast. The company in charge of its development was the renowned "NAMCO".
Tekken 3 es un juego del genero de lucha y peleas, este juego apareció originalmente en sistemas Árcades y tuvo un par de adaptaciones para la PlayStation y la Sega Dreamcast. La empresa encargada de su desarrollo fue la reconocida "NAMCO".

Story | Historia
The story goes that every now and then a tournament called "The King of Iron Fist Tournament" is held in which a large amount of money is distributed, the tournament is created by one of the most iconic characters of this game "Heihachi Mishima", who is an evil owner of a multinational corporation. This installment also shows us the character and main image of the cover of the game "Jin Kazama" that when finding few answers faces his grandfather "Heihachi" for the mysterious death of his parents, who died at the hands of a terrible being called "OGRE".
Some years later "Heihachi Mishima" decides to carry out the tournament of Tekken 3, that is to say the third tournament of fights with the purpose of attracting the terrible "Ogre" and with its immense power. Many other fighters would join this tournament, each with different motives.
La historia cuenta que cada cierto tiempo se realiza un torneo llamado "The King of Iron Fist Tournament" en la cual se reparte una cantidad grande de dinero, el torneo es creado por uno de los personaje mas íconico de este juego "Heihachi Mishima", que es un maligno dueño de una corporación multinacional. Esta entrega también nos muestra al personaje e imagen principal de la portada del juego "Jin Kazama" que al encontrar pocas respuesta enfrenta a su abuelo "Heihachi" por la misteriosa muerte de sus padres, que murieron a manos de un terrible ser llamado "OGRE".
Unos años más tarde "Heihachi Mishima" decide realizar el torneo de Tekken 3, es decir el tercer torneo de peleas con la finalidad de atraer al terrible "Ogre" y con el su inmenso poder. A este torneo se unirían muchos otros luchadores y cada uno con diferentes motivos.
---
Among these fighters we have: | Entre estos luchadores tenemos: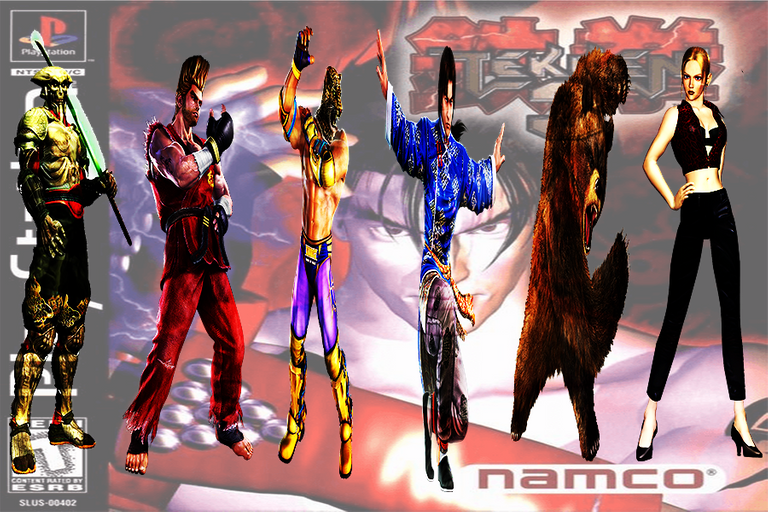 Yoshimitsu: He enters the tournament in order to extract a DNA sample from "Ogre" and thus save Dr. Boskonovitch's life.

Paul Phoenix: Who would participate again to test his skills.

King: Who is the successor to the previous king killed by Ogre, is only looking for a new challenge.

Lei Wulong: This one seeks to react to the possible links between the deaths where Bryan Fury was involved.

Kuma: Who is the disciple of "Heihachi" and Paul's mortal enemy.

Nina Williams: She is a veteran of the previous tournament, who is under Ogre's control and her objective is to kill Jin.
Yoshimitsu: Entra al torneo con la finalidad de poder extraer una muestra de ADN de "Ogre" y de esa manera poder salvar la vida del doctor Boskonovitch.

Paul Phoenix: Quien volvería a participar para probar sus habilidades.

King: Quien es el sucesor del king anterior asesinado por Ogre, esté solo busca un nuevo desafió.

Lei Wulong: Este busca reacer los posibles nexos entre las muertes donde estuvo involucrado Bryan Fury.

Kuma: Quien es el discipulo de "Heihachi" y enemigo mortal de Paul.

Nina Williams: Es una veterana del torneo anterior, que se encuentra bajo el control de Ogre y su objetivo es matar a Jin.
---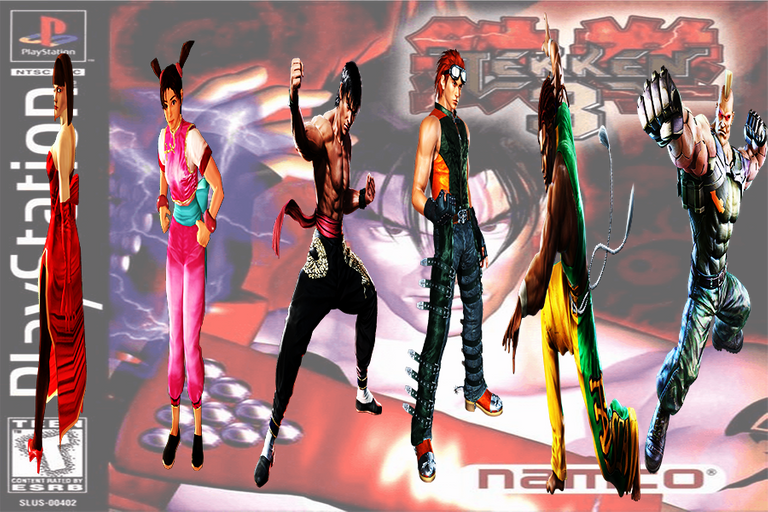 Ana Williams: She is Nina's sister, who underwent a cryogenic process to avoid aging.

Ling Xiaoyu: He is participating in the tournament in order to win it and thus fulfill his dream of having an amusement park.

Marshall Law: He is participating in the tournament just to show his skills.

Hwoarang: He only decided to enter the tournament because of an old rivalry with Jin.

Eddy Gordo: This one enters the tournament to find out about the strange death of his parents.

Gun Jack: It's a great robot that was created by Dr. James and participates in the tournament for pure leisure.
Ana Williams: Es la hermana de Nina, esta se sometió a un proceso de Criogenización para si evitar envejecer.

Ling Xiaoyu: Está participa en el torneo con la finalidad de poder ganarlo y así poder cumplir su sueño de tener un parque de diversiones.

Marshall Law: Este participa en el torneo solo para demostrar sus habilidades.

Hwoarang: Este solo decidió entrar al torneo por una vieja rivalidad con Jin.

Eddy Gordo: Esté entra al torneo para averiguar la extraña muerte de sus padres.

Gun Jack: Es un gran robot que fue creado por la doctora James y participa en el torneo por puro ocio.
---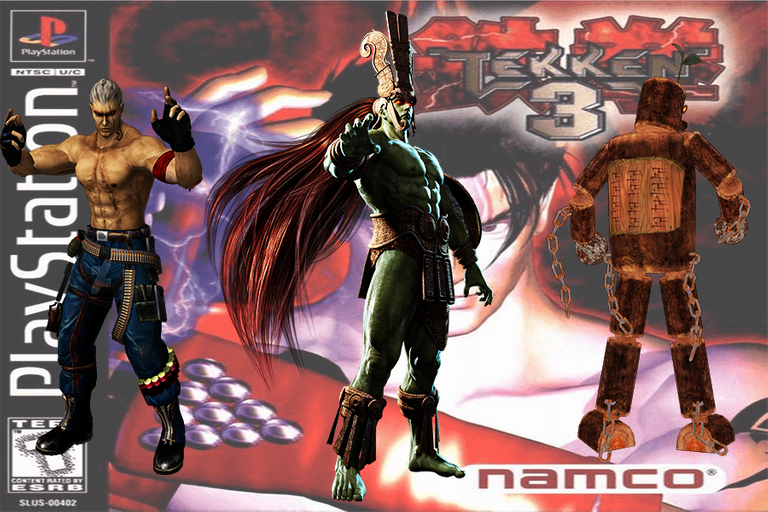 Bryan Fury:Revived thanks to a doctor and his goal in the tournament is to defeat Yoshimitsu and Boskonovitch.

Mokujin: This is a trunk revived by the mythical power of Ogre.

Ogre: And finally the greatest enemy of the game. He is a legendary being considered as the god of the fight, who seeing the announcement of the tournament decides to participate to get new victims.
Bryan Fury:Revive gracias a un doctor y su objetivo en el torneo es derrotar a Yoshimitsu y Boskonovitch.

Mokujin:Este es un tronco revivido por el mítico poder de Ogre.

Ogre: Y finalmente el más grande enemigo del juego. Es un ser legendario considerado como el dios de la lucha, que viendo el anuncio del torneo decide participar para conseguir nuevas victimas.

Gameplay | Jugabilidad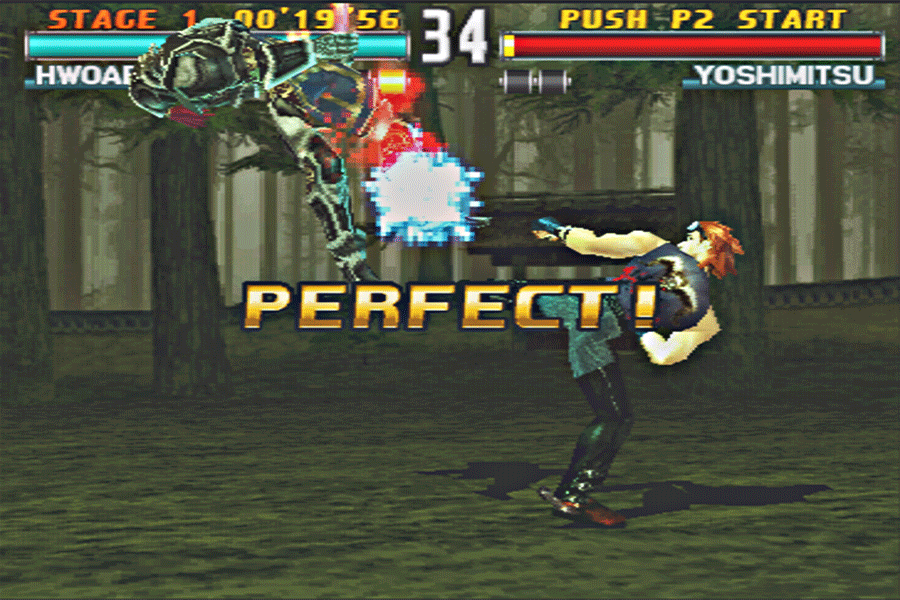 Tekken 3 is characterized by close combat, and its four basic buttons differ greatly from other classic fighting titles. In Tekken 3 we can use the buttons as each of the extremities, this may sound a little strange, but as you go grabbing practice with the game will not have any problem and in part is quite practical.
In the gameplay you can also appreciate that each character has unique moves, unique fighting styles and something important to this is that some of the moves are real, from existing martial arts, so in addition to its excellent 3D for the time the game style adds that touch of realism that makes it truly unique.
Tekken 3 se caracteriza por un combate que es cuerpo a cuerpo, además de esto sus cuatro botones básicos difieren mucho con respecto a otros títulos clásicos de lucha. En Tekken 3 podemos usar los botones como cada una de las extremidades, esto tal vez pueda sonar algo extraño, pero a medida que vas agarrando practica con el juego no tendremos ningún problema y en parte resultara bastante practico.
En la jugabilidad también se puede apreciar que cada personaje tiene movimientos únicos, estilos de peleas únicos y algo importante a esto es que algunos de los movimientos son reales, de artes marciales ya existentes, por lo que además de su excelente 3D para la época el estilo de juego le agrega ese toque de realismo que lo hace verdaderamente único.
---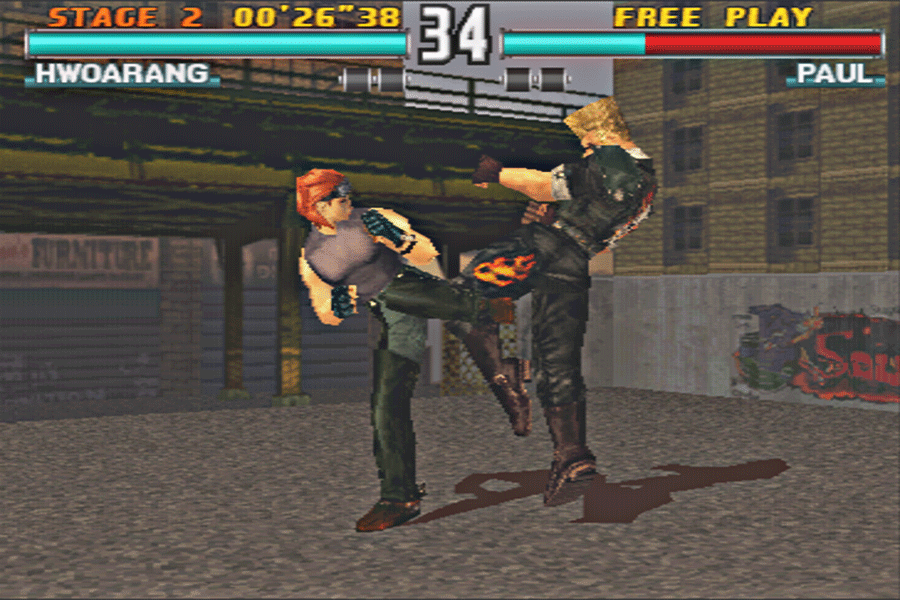 As in other fighting titles we will have 3 rounds by default, the first to win 2 of the 3 will be the winner, although this can be modified in the game settings. Also in this version for the PlayStation has a game mode of lateral movement called Tekken Force.
Al igual que en otros títulos de peleas tendremos 3 round por defecto, el primero en ganar 2 de los 3 sera el ganador, aunque esto puede ser modificado en la configuraciones del juego. Además en esta versión para la PlayStation cuenta con un modo de juego de movimiento lateral llamado Tekken Force.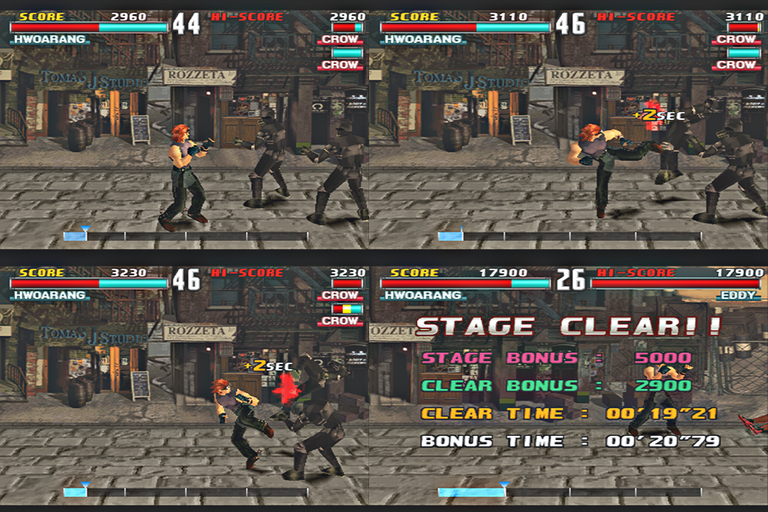 The only negative detail so to speak, is that the gameplay is somewhat stiff, I mean that the movements of the characters at a certain time are usually somewhat coarse. But this only lowers the score of this great game.
El único detalle negativo por así decirlo, es que la jugabilidad es un tanto acartonada, me refiero a que los movimientos de los personajes en cierto momento suelen ser algo toscos. Pero esto solo le baja un poco puntaje a esta gran entrega.

Graphics | Gráficos
Sincerely for the time this delivery was quite good in terms of graphics, both in the version for the arcade and the PlayStation version, these two versions differ very little from each other and that goes pretty great. The atmosphere shown in the game is quite good, it goes from urban settings to forests and mystical temples. The variety is really interesting.
Sinceramente para la época esta entrega fue bastante buena en cuanto a sus gráficos, tanto en la versión árcade como en la versión para la PlayStation, estas dos versiones difieren muy poco entre si y eso va bastante genial. La ambientación mostrada en el juego es bastante buena, esta va desde escenarios urbanos hasta bosques y templos místicos. La variedad es realmente interesante.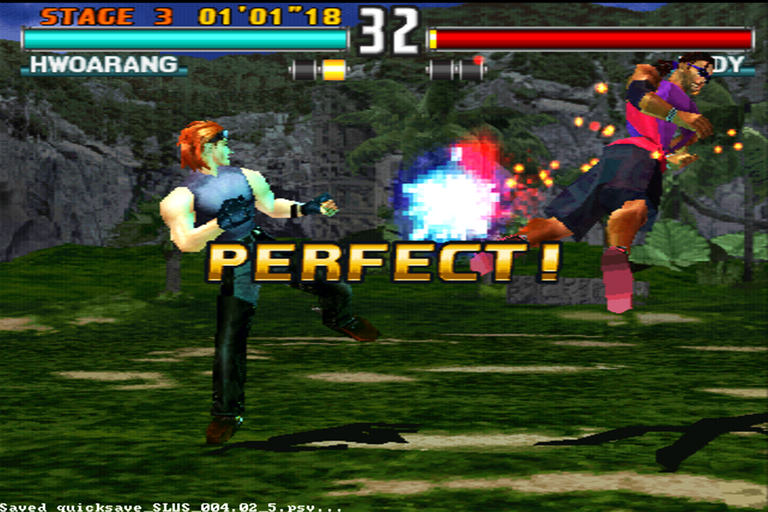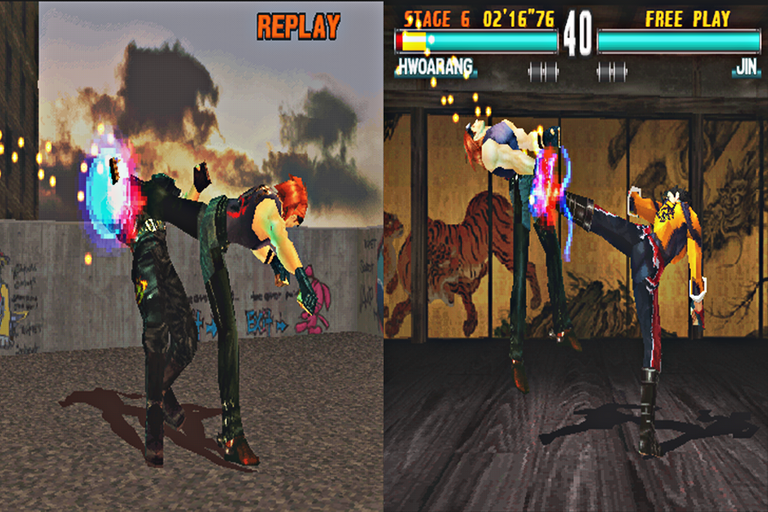 Sound | Sonido
Tekken 3 presents a quality sound track, which is quite dynamic and according to the combat, the truth complements it quite well. In addition to this it presents a theme for each fighter, on the other hand the sound effects is also another point quite remarkable since they present digitized voices and the sounds of the blows.
Tekken 3 prsenta un Sound track de calidad, que es bastante dinamico y acorde al combate, la verdad lo complementa bastante bien. Además de esto presenta un tema por luchador, por otra parte los efectos de sonido también es otro punto bastante destacable ya que presentan voces digitalizadas y los sonidos de los golpes.
Sound track - PlayStation | Banda de sonido - PlayStation
SOURCE | FUENTE

My conclusion | Mi conclusión
Tekken 3 was a true revolution in its time, where they continued to present charismatic characters of the saga in general innovating unique styles, easy gameplay and with a good sound section. These are just some of the aspects that make this game almost perfect. As I told you before, I only see a minimum negative detail in terms of the movements of the characters that are a bit rough. And without more to add, I only recommend you to take a look, I assure you that you will have a good time.
Tekken 3 fue una verdadera revolución en su tiempo, donde siguieron presentando personajes carismáticos de la saga en general innovando estilos únicos, una fácil jugabilidad y con un buen apartado de sonido. Estos son solo algunos de los aspectos que hacen a este juego casi perfecto. Como ya les había comentado anteriormente, solo le veo un mínimo detalle negativo en cuanto a los movimientos de los personajes que son algo toscos. Y sin mas que agregar, solo les recomiendo que echen un vistazo, yo les aseguro que pasaran un buen rato.

Some of the images I showed in my content I took from the web as part of tools for editing the main images of the post. By clicking "here" you can find the images mentioned above. On the other hand in the content there are also images that I took directly from the original game that runs from the PSX Emulator v1.13. All the images were edited by me.
Algunas de las imágenes que mostré en mi contenido las tome de la web como parte de herramientas para la edición de las imágenes principales del post. Haciendo click "aquí" podrán encontrar las imágenes antes mencionadas. Por otra parte en el contenido también hay imágenes que las saque directamente del juego original que lo ejecute desde el Emulador PSX v1.13. Todas Las imágenes fueron editadas por mi.
---
Thank you for reading my content... See you soon!!! | Gracias por leer mi contenido... Hasta pronto!!!