Hello Hivers! I hope you are all very well... First of all receive a warm greeting from your Spartan colleague ;), welcome once again to another gaming article of my authorship, today I will share with you all, another gameplay of Dota 1 (RGC) accompanied by its respective analysis... And without further ado, it only remains for me to say, get comfortable to start this new content.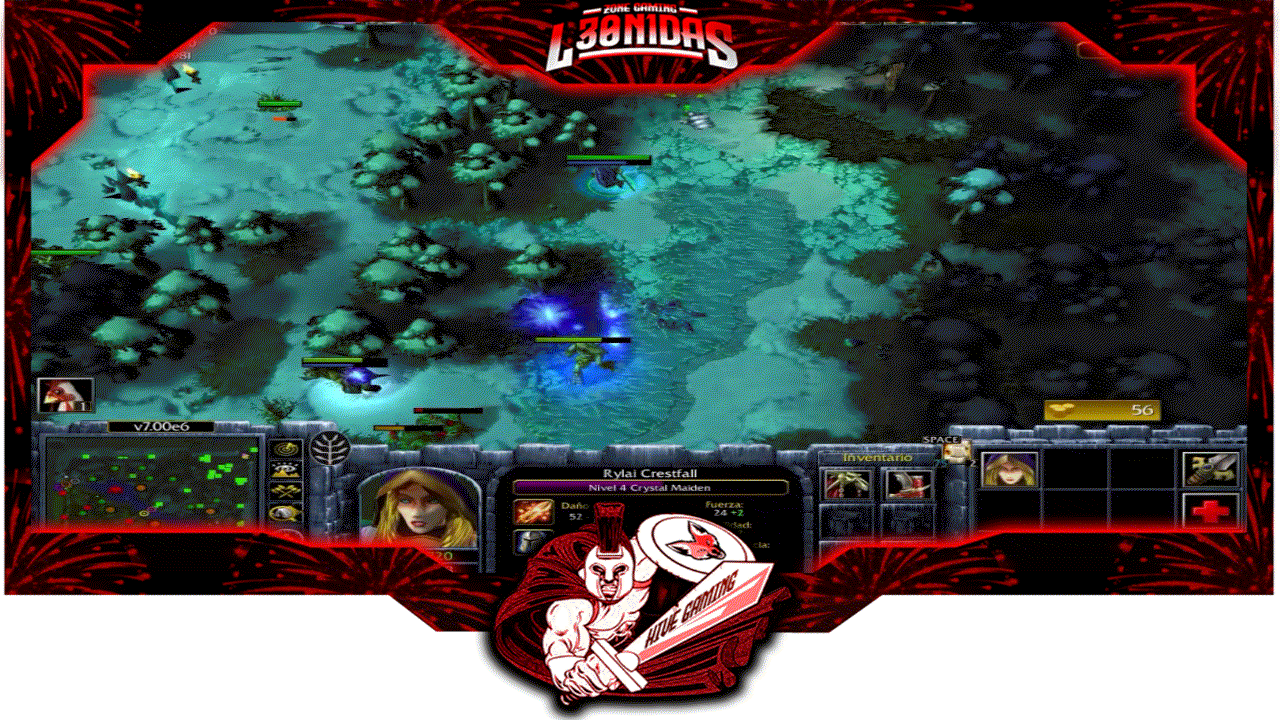 Crystal Maiden


Crystal Nova: This ability allows the Crytal Maiden to launch an ice wave, which deals damage and reduces attack and movement speed for 4.5 seconds.
---
Frostbite: This ability allows Crystal Maiden to freeze an enemy, this ability deals 50 damage.
---

Brilliance Aura: This is a passive ability of Crystal Maiden, which allows her to regenerate the mana of all friendly units.
---

Freezing Field: This is Crystal Maiden's special ability, which allows her to unleash an explosive rain of ice, which causes damage and slows all enemy units inside the field.

Analysis
In this Dota game of which I am going to talk about, I have played with my main role of support, since I started again in this game so addictive and fascinating for me, I have been able to get used to all the changes that the game map has suffered during all that time I was inactive, I have also been polishing myself in terms of new items, new heroes and changes in skills of some heroes.
In this game I tried to test all those things that I have been learning little by little, although I must say that it was quite tight. As you could see at the beginning, the hero I played with was the "Crystal Maiden", a superb mage with very useful skills that can easily be used to support and give support to the companions.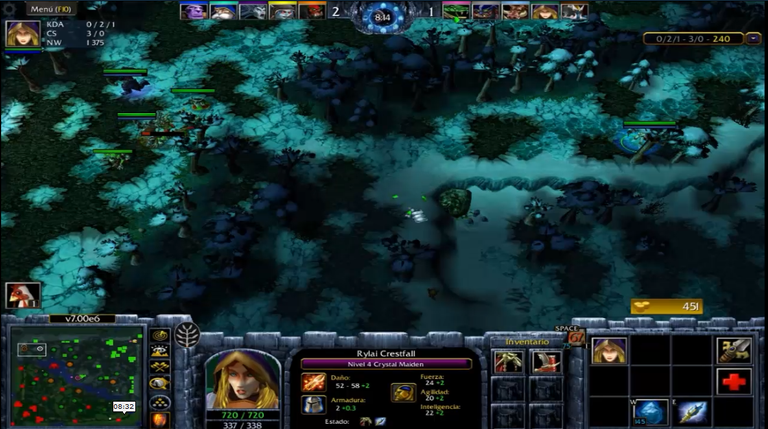 The game from the beginning was quite difficult, my line partner and I, we had some pretty reckless enemies in front of us, with a unique aggressiveness in putting pressure from the first second of the game.
The desire to face their aggressive counter led me to die a couple of times, but this was mostly due to mistakes, although it was in the first few minutes that this happened, but that did not discourage me and I kept trying to put pressure with my line partner, all this happened in the first 10 minutes of the game and it would be in the 7th minute when our reward would come, after a good positioning and taking advantage of the wooded area of the map, together with my partner we could kill one of the enemies that we had in line, but this was not all, it would not be more than 3 minutes when my partner and I managed to kill this enemy again. At this point of the game the line where I was was totally even, unlike the others.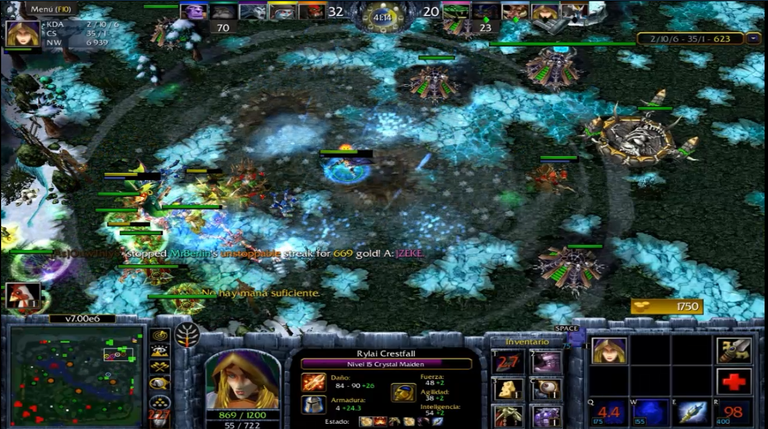 Now moving on to another part of the game, I will explain a little what happened in the development of the game, we had already spent more than 25 minutes and the game was pretty even, the users of the opposing team were quite good and had a good control of their heroes, this forced us to be more tactical and aggressive, also on some occasions we had to anticipate the offensive moves of the opponent. In the fights it was always a give and take, but for some reason they came out more benefited than us and the longer the game went on, the more complicated it got, so it was just a matter of coming up with a good strategy to cause the opponent's mistake, during several moments of the game we tried this, until we succeeded.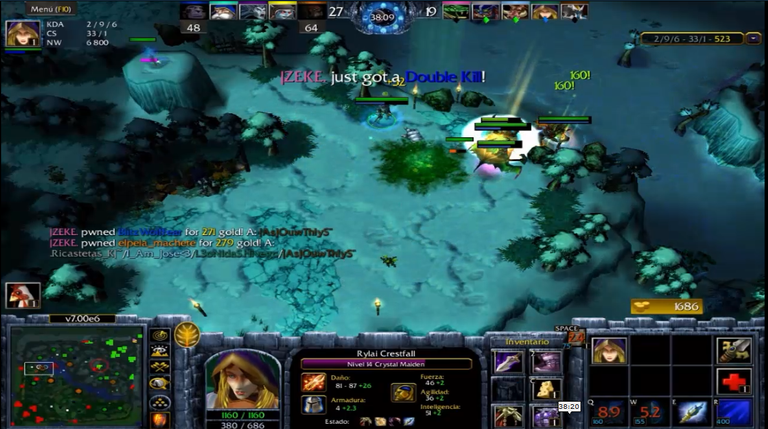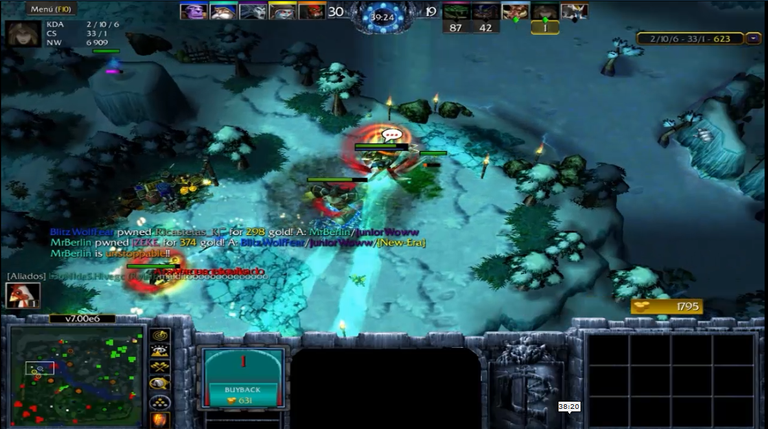 In one of the fights we anticipated in a masterful way, taking out one of his "hard carry" and quickly eliminating his supports, it was from that precise moment when we realized that we could turn the game around, no matter how complicated it looked.
In what was that fight, we could unburden part of our map that was totally guarded by eyes of vision of the rival team, once we eliminated this vision of the part of our map, we gave ourselves the task of going to force one more fight, at this point of departure everything was already risky, because if we let a little more time pass we would lose.
We went in search of that fight and we got it, luckily for us the opposing team again made a mistake in their positioning and we beat them in the advance, we were able to catch several of the opposing team out of position, this allowed us to kill them and have the opportunity to attack their base. The rest of the opposing team tried to defend with what they had, but this was not enough, they were falling one by one, but regardless of this the game continued for both sides, everything was to be decided by a mistake and in this case it was the opposing team who made them, they wasted their advantage, while my team and I maintained a good positioning despite having the game uphill in much of the game.
In the end we were able to get the victory... It was a great comeback :) GGWP!!!

After this brief Analysis, I will now leave you with the most important ;) "The Gameplay"
My Cahnnel

Some of the images that I showed in this content were taken from the official website of "www.dotawc3.com", entering there you can find them without any problem. All other images are of my total authorship, I took them directly from the original game while playing the game which I have analyzed and brought today to share with you all... Thanks for visiting and reading my content, see you soon!