Genshin Impact (Perpetual Mechanical) - One Of The New Inazuma Bosses [ENG -ESP]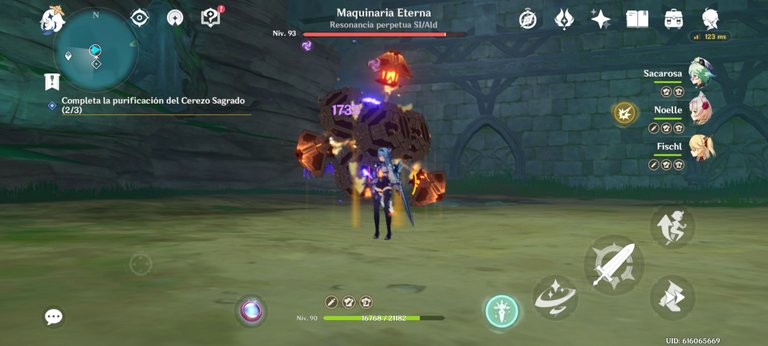 screenshot of my cellphone
With the new region of Inazuna MiHoyo gave us a lot of new content such as Domains, Artifacts and of course new Map Bosses to defeat them and farm the items they can give us where character Ascension Items stand out as the most important. One of these new bosses is Perpetual Mechanical which can be found on Narukami Island in an underwater cave to the north of the Grand Sanctuary. This boss has a great resemblance with the Hipostasis being an enemy with the shape of Cubes but with the style of the old machines that we can find in Teyvat and like the Hipostasis it will ask us for 40 of Original Resin to claim its treasure once we defeat it.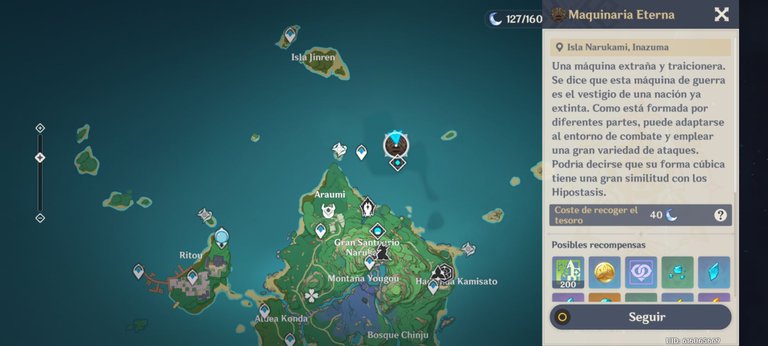 screenshot of my cellphone
In order to access this boss we must solve a series of puzzles in a subway structure that we will find along the coast near the location of the boss on the map. The Puzzles are not very complicated to complete and will need the Electro element to solve it, but for those who have not yet reached this boss you can still face him in the current combat event through which apart from various rewards we can get Beidu for free. Perpetual Mechanical is located in a deep pit similar to Liyue's Prim Geovishap. To face this boss my Team was Sucrose as Sub-DPS, Eula with the role of DPS, Noelle Sub-Dps-Healer and Fischl with the only function of summoning Oz which besides causing an additional electro damage also helped me to create the elemental reactions of Whirlwind and Superconductor.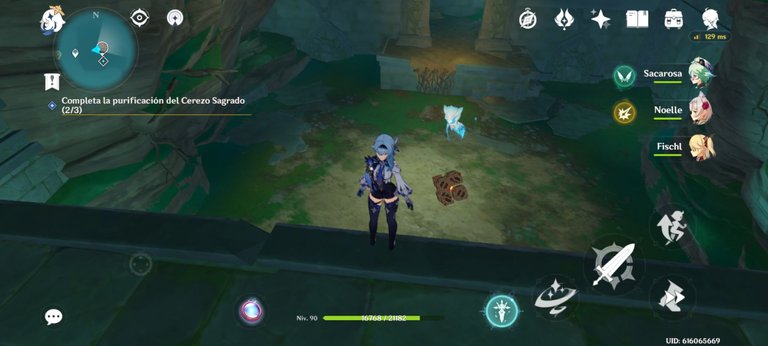 screenshot of my cellphone
Perpetual Mechanical does not have a very high difficulty level and its patterns are not excessively complicated to evade. In its first form or attack style the boss will proceed to attack us with different ranged attacks such as rising in the air to shoot energy rays, become a giant sword to pounce on us, rise as a rocket vertically to proceed to fall like a missile in a designated position where we will cause great damage, can also shoot vertical rays from the height which also signal their place of impact an instant before impacting to allow us to avoid the blast area and not revive damage. All these attacks can be dodged by being attentive in combat and if you have a character that generates a shield as in the case of Noelle it will be easier to avoid the damage.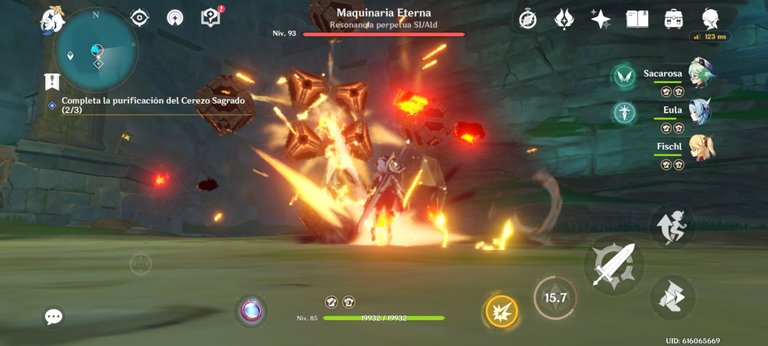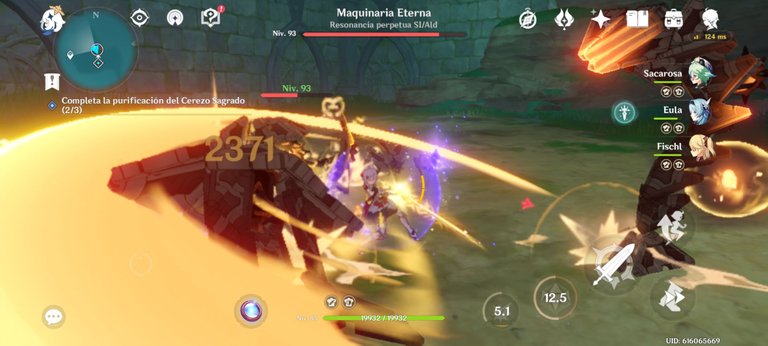 ---
screenshot of my cellphone
Once we have caused a certain amount of damage to the Perpetual Mechanical it will proceed to perform a different attack or attack phase, this is to become invulnerable while summoning several Defenders of the Strengthened Ruins to defend it, at this point in the fight we must completely ignore the Perpetual Mechanical and focus on the Defenders of the ruins which perform attacks with energy beams but are always at ground level so that we can hit us constantly.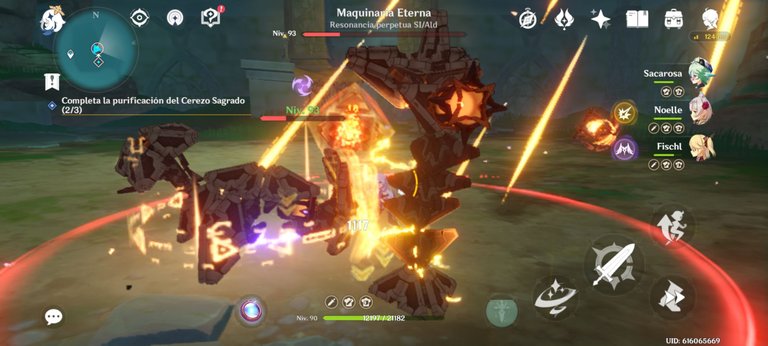 screenshot of my cellphone
Fighting against the Defenders at the same time can result in moments where they combine their attacks in a great way and manage to cause damage even if you try to dodge, for this reason it is extremely useful to have a shield for this phase of combat, an advantage is that the Defenders do not have much life and can be destroyed relatively quickly.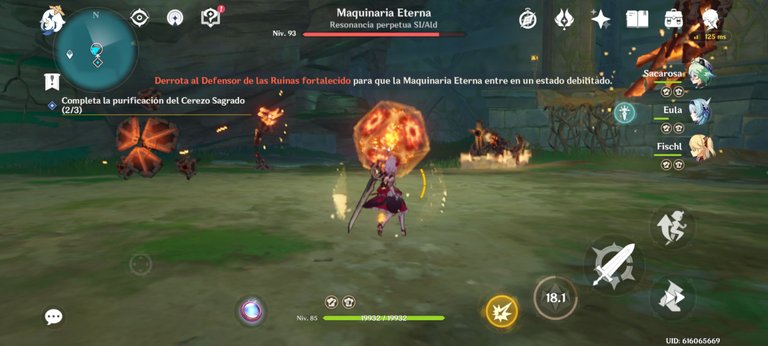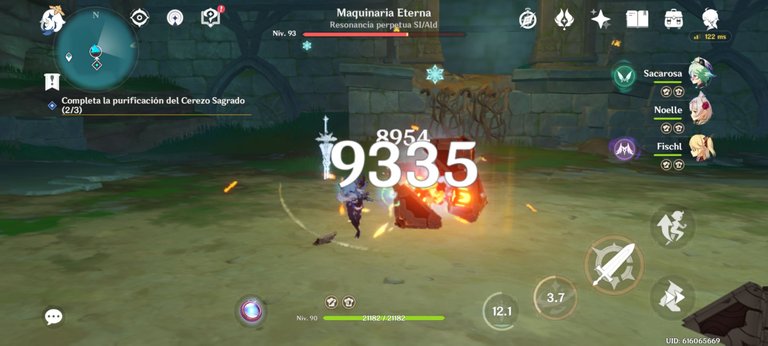 ---
screenshot of my cellphone
Once we defeat the Defenders of the Ruins, the Perpetual Mechanical loses its invulnerability and is knocked out on the ground for quite some time, which gives us a good opportunity to attack unbridled and without worrying about dodging attacks. This is precisely the ideal moment for static or time-based ultimate attacks such as Sucrose, which generates its damage in a fixed area for a few seconds, and Eula's ultimate attack, which can cause a large amount of damage upon impacting the vacuum sword but requires the enemy to be close to Eula to receive the impact. Perpetual Mechanical ends up being an interesting Basic Boss and without many complications we can Farm him with relative ease if we require some of his rewards.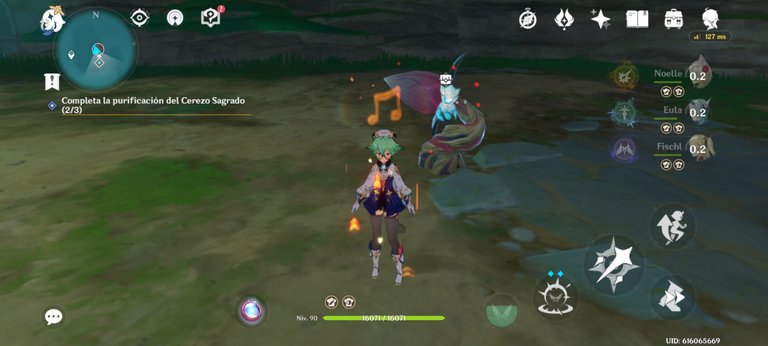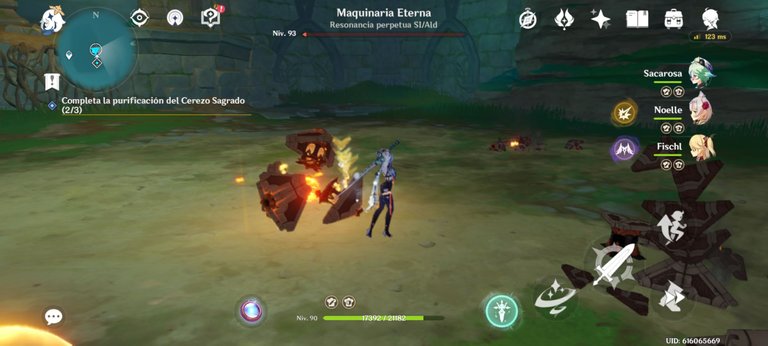 ---
screenshot of my cellphone
Source
Translated with www.DeepL.com/Translator (free version)
Separator Images:
---
---

---
---
Español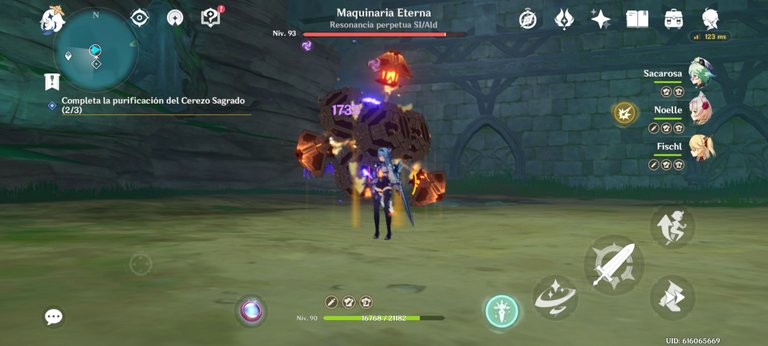 screenshot of my cellphone
Con la nueva región de Inazuna MiHoyo nos entregó una gran cantidad de contenido nuevo como Dominios, Artefactos y por supuesto nuevos Jefes de Mapa para derrotarlos y farmear los objetos que nos pueden entregar en donde destacan Objetos de Ascensión de personaje como los mas importantes. Uno de estos nuevos Jefes se trata de Maquinaria Eterna el cual lo podemos encontrar en la Isla Narukami en una cueva submarina hacia el norte del Gran Santuario. Este jefe tiene un gran parecido con los Hipostasis al ser un enemigo con forma de Cubos pero con el estilo de las maquinas antiguas que podemos encontrar en Teyvat y al igual que los Hipostasis nos pedirá 40 de Resina Original para reclamar su tesoro una vez lo derrotamos.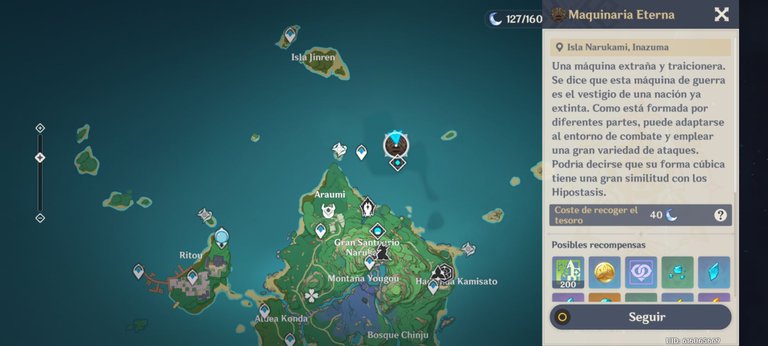 screenshot of my cellphone
Para poder acceder hasta este Jefe deberemos resolver una serie de Puzzle en una estructura subterránea que encontraremos por la costa próxima a la ubicación del Jefe en el mapa. Los Puzzle no soy muy complicados de completar y necesitara del elemento Electro para resolverlo, pero para aquellos que aún no hayan llegado hasta este jefe igual se podrán enfrentar a él en el evento de combate actual mediante el cual aparte de recompensas varias podemos obtener a Beidu Gratis. Maquinaria Eterna se encuentra en una Fosa bastante profunda algo similar al Protodragarto Geo de Liyue. Para enfrentarme a este jefe mi Equipo fue Sucrose como Sub-DPS, Eula con el rol de DPS, Noelle Sub-Dps-Healer y Fischl con la única función de invocar a Oz el cual además de provocar un Daño electro adicional también me ayudada a crear las reacciones elementales de Torbellino y Superconductor.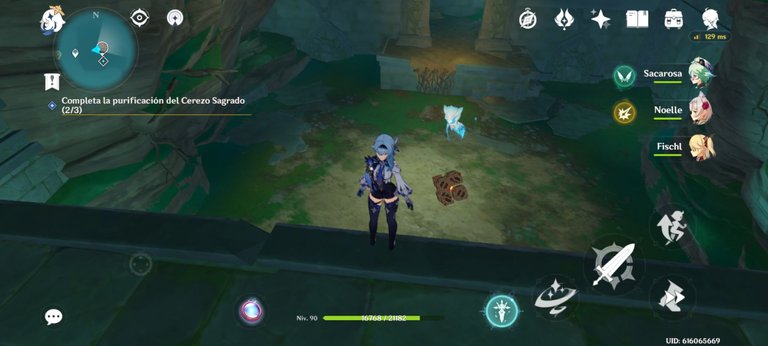 screenshot of my cellphone
Maquinaria Eterna no tiene un nivel de dificultad muy elevado y sus patrones no resultan excesivamente complicados de evadir. En su primera forma o estilo de ataque el jefe procederá a atacarnos con diferentes ataques a distancia como elevarse en el aire para disparar rayos de energía, convertirse en una Espada gigante para abalanzarse sobre nosotros, elevarse como un cohete en vertical para proceder a caer como un misil en una posición señalada donde nos causara un gran daño, también puede disparar rayos en vertical desde la altura los cuales también señalaran su lugar de impacto un instante antes de impactar para permitirnos evitar el área de explosión y no revivir daño. Todos estos ataques se pueden esquivar estando atentos en el combate y si cuentas con algún personaje que genere un escudo como en el caso de Noelle resultara más sencillo evitar el daño.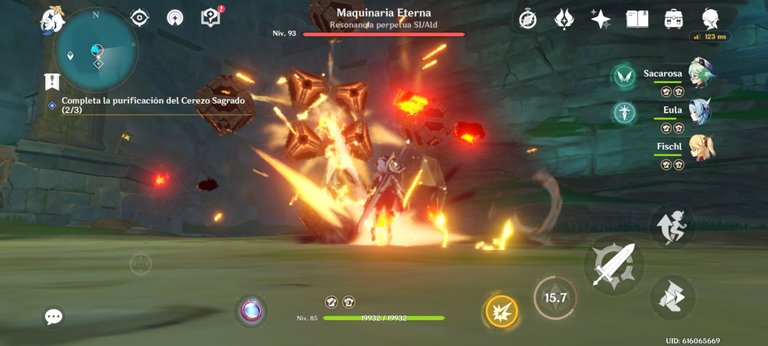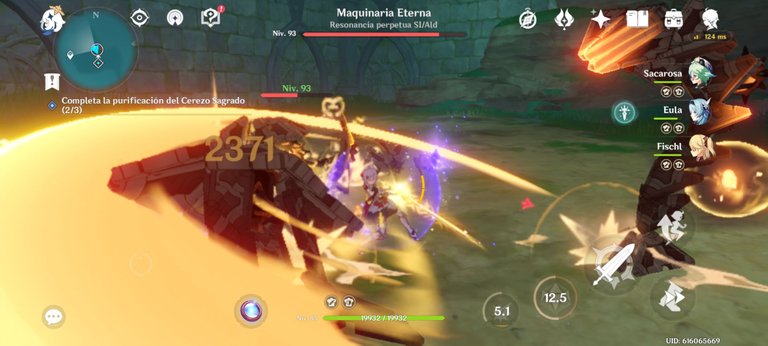 ---
screenshot of my cellphone
Una vez le hemos causado cierta cantidad de Daño al Maquinaria Eterna este procederá a realizar un ataque o fase de ataque diferente, esta consiste en volverse invulnerable mientras invoca varios Defensores de las Ruinas Fortalecidos para que lo defiendan, en este punto del combate deberemos ignorar por completo al Maquinaria Eterna y enfocarnos en los Defensores de las ruinas los cuales realizan ataques con rayos de energía pero siempre están al nivel del suelo de manera que podremos golpearnos constantemente.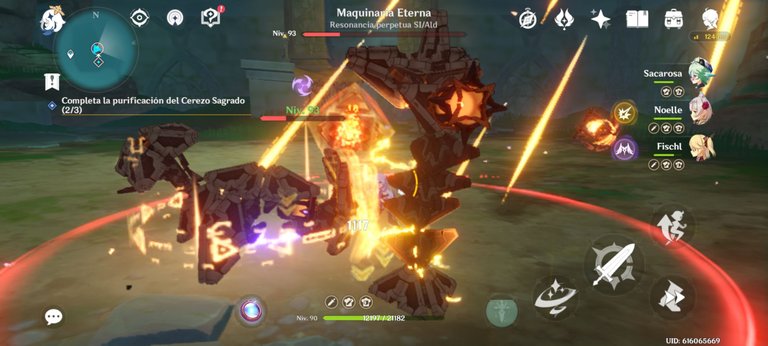 screenshot of my cellphone
Luchar contra los Defensores al mismo tiempo puede resultar en momentos donde combinen de gran manera sus ataques y logren causarte daño así intentes esquivar, por este motivo resulta sumamente útil contar con algún escudo para esta fase del combate, una ventaja es que los Defensores no cuentan con mucha vida y se pueden destruir relativamente rápido.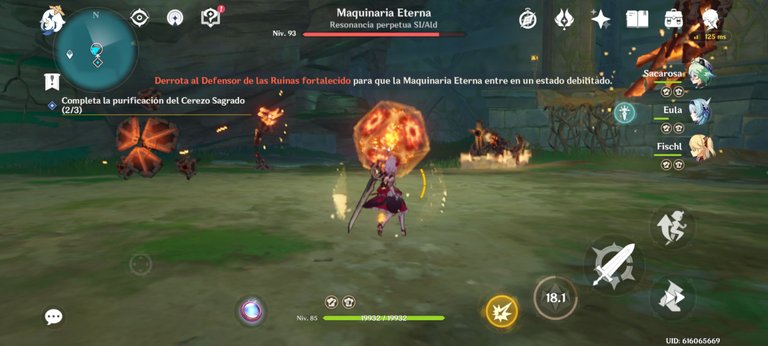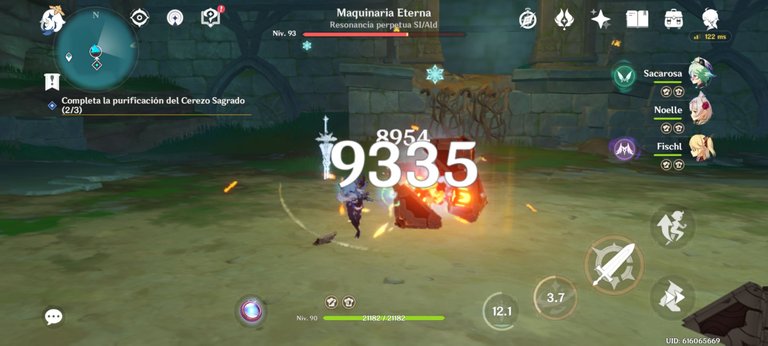 ---
screenshot of my cellphone
Una vez vencemos a los Defensores de las Ruinas el Maquinaria Eterna pierde su invulnerabilidad y queda noqueado en el suelo durante bastante tiempo lo cual nos da una buena oportunidad para atacar de manera desenfrenada y sin preocuparnos por esquivar ataques. Precisamente este es el momento idóneo para Ataques definitivos estáticos o de tiempo como sería el caso de Sucrose que genera su daño en un Área fija durante unos segundo y el ataque definitivo de Eula el cual puede causar un gran cantidad de daño al impactar la espada de vacío pero que requiere que el enemigo se encuentre cerca de Eula para recibir el impacto. Maquinaria Eterna termina siendo un Jefe Básico interesante y sin muchas complicaciones lo podremos Farmear con relativa facilidad si requerimos algunas de sus recompensas.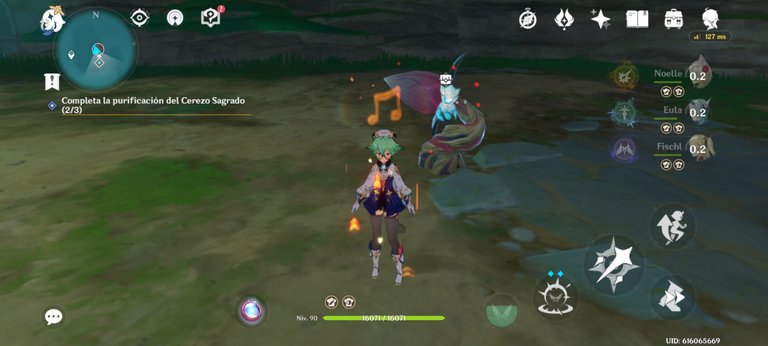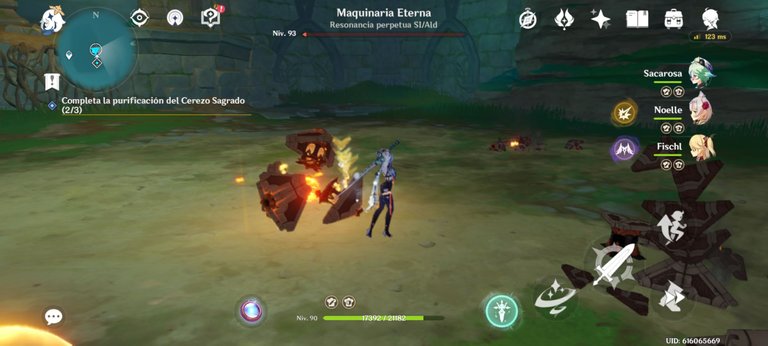 ---
screenshot of my cellphone
Source
---
Separator Images:
---
---