Ghost of Tsushima Livestream - Recruiting The Straw Hat Ronin ( Blood on The Grass ) and The Broken Blacksmith

Hey Hive gamers.
In this Ghost of Tsushima Live Session we are going to be progressing the main storyline by recruiting The Straw Hat Ronin, Ryuzo and Yuna's blacksmith brother Taka, who was captured by the Mongol and is being held prisoner in the walled town of Azamo Bay.
Ryuzo , The Straw Hat Ronin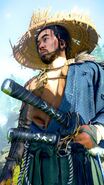 Taka ,The Blacksmith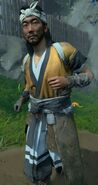 The reward for recruiting Ryuzo include a Major Legend Increase, and the Ronin Attire.The reward for recruiting Taka is another major legend increase.Both of these quest need to be completed before we can move the main storyline forward.
---
---