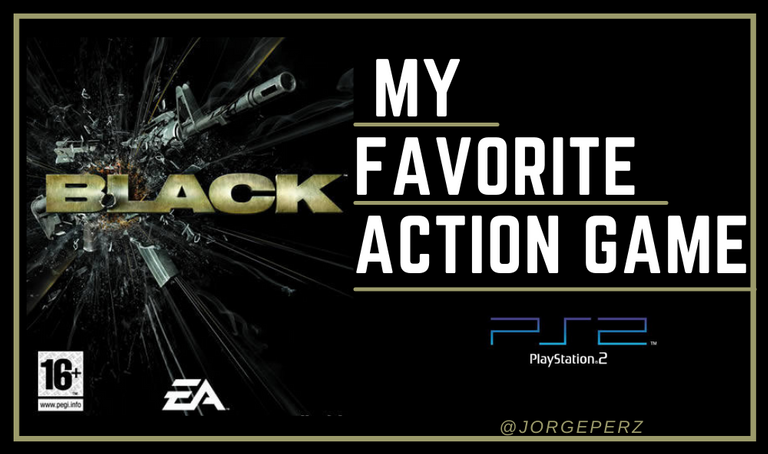 Image made in canva

Español

Saludos a todos los Gamers, hoy me uno a esta comunidad para hablar de uno de mis juegos de acción favoritos para ps2, hasta ahora ha sido el que más me ha gustado y no me canso de jugarlo. Sinceramente este juego me llamó la atención por su nivel de jugabilidad y gráficos, en su momento superó las expectativas de muchos por su calidad gráfica y jugabilidad.
English

Greetings to all Gamers, today I join this community to talk about one of my favorite action games for ps2, so far it has been the one I liked the most and I never get tired of playing it. Sincerely this game caught my attention for its level of gameplay and graphics, at the time exceeded the expectations of many for its quality graphics and gameplay.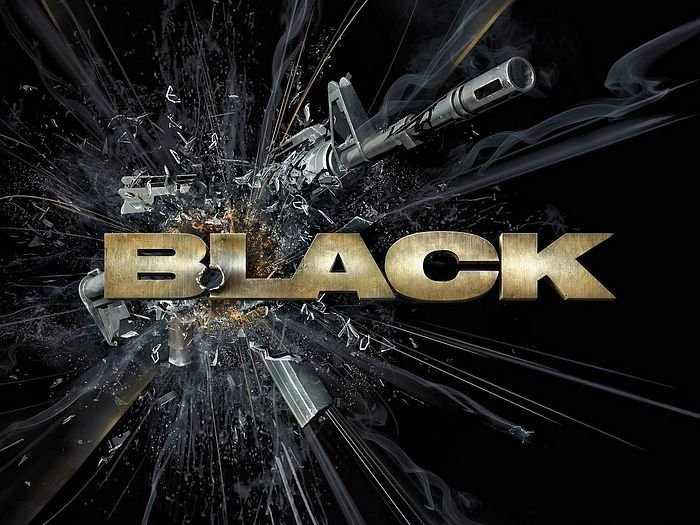 Fuente | Source
Black es un videojuego de disparos en primera persona desarrollado por Criterion Games y publicado por Electronic Arts. Está disponible para las consolas PlayStation 2 y Xbox, y también está disponible para Xbox 360, gracias al programa Xbox Originals fue lanzado el 24 de febrero de 2006. Es un juego recomendado para mayores de 17 años y está clasificado: PEGI 16, ESRB M y USK.
Black is a first-person shooter video game developed by Criterion Games and published by Electronic Arts. It is available for PlayStation 2 and Xbox consoles, and is also available for Xbox 360, thanks to the Xbox Originals program was released on February 24, 2006. It is a game recommended for people over 17 years old and it is rated: PEGI 16, ESRB M and USK.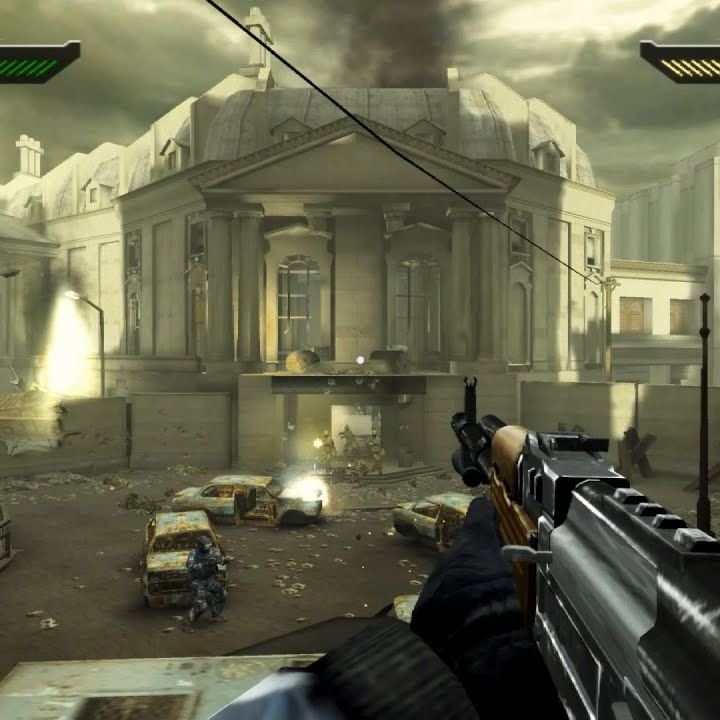 Fuente | Source
La historia de Black:
El jugador interpreta al sargento Jack Kellar, al que se le encarga una misión encubierta para la división Black Ops. Su función es desmantelar y capturar a múltiples terroristas implicados en asesinatos masivos y atentados. El personaje forma parte del equipo bravo, y es informado por la teniente McCaver y el sargento Salomon sobre sus tareas. El objetivo principal del equipo Black Ops es desmantelar un grupo terrorista llamado Seventh Wave del que nos encargaremos mientras jugamos.
Black's Story:
The player plays Sergeant Jack Kellar, who is tasked with an undercover mission for the Black Ops division. His role is to dismantle and capture multiple terrorists involved in mass murders and bombings. The character is part of the bravo team, and is briefed by Lieutenant McCaver and Sergeant Salomon on his tasks. The main objective of the Black Ops team is to dismantle a terrorist group called Seventh Wave that we will be in charge of as we play.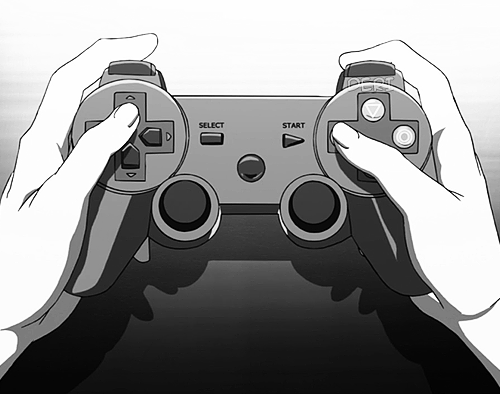 Fuente | Source
Jugabilidad:
La ambientación de Black está basada en Europa del Este, exactamente en Chechenia, este juego está lleno de intensos enfrentamientos, hay puntos en los que estás rodeado de múltiples enemigos con diversas armas y colocados en lugares muy estratégicos para provocar un alto nivel de dificultad. El mapa de este juego es bastante grande y muy ambientado debido a que nos permite varios puntos estratégicos y de cobertura cuando nos enfrentamos a múltiples oponentes. Algo que me gusta hacer en los juegos es ser muy estratégico y en Black hay que aplicar mucho esto, personalmente no me gusta jugar de forma descontrolada en definitiva me gusta enrolarme mucho en el papel del personaje.
Gameplay:
The setting of Black is based in Eastern Europe, exactly in Chechnya, this game is full of intense clashes, there are points where you are surrounded by multiple enemies with various weapons and placed in very strategic locations to cause a high level of difficulty. The map of this game is quite large and very atmospheric due to that it allows us several strategic and cover points when facing multiple opponents. Something I like to do in games is to be very strategic and in Black you have to apply a lot of this, personally I do not like to play in an uncontrolled way in short I like to enroll a lot in the role of the character.

Dificultad: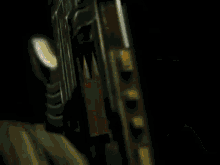 Fuente
Modo fácil: es como un paseo por el parque, ya que como su modo indica es fácil derrotar a los enemigos y cumplir la misión principal que es llegar del punto A al B, en este modo el juego nos da múltiples botiquines en el camino. Al final de este modo no se obtiene ninguna recompensa a diferencia de los otros modos de dificultad.

Modo Medio: podríamos decir que no difiere mucho del fácil ya que el objetivo principal es llegar al punto B desde el A y cumplir alguna de las misiones secundarias, podemos notar que el número de enemigos aumenta y los botiquines tienden a ser un poco escasos, pero aún se pueden encontrar. Al final de este modo serás recompensado con el desbloqueo del modo difícil.

Modo difícil: en este nivel de dificultad puedo decir que es algo tedioso jugarlo y sólo merece la pena por tu habilidad de control, ya que el número de enemigos y su resistencia aumenta y no sólo eso, no hay botiquines, la munición es escasa y tienes que completar todas las misiones secundarias. Una vez que completes este modo recibirás el Modo Black como recompensa.

Modo Black: a diferencia de los modos antes mencionados, obtienes un Rifle M16A2 que tiene un dispositivo lanzagranadas y es plateado, podemos decir que la ventaja que nos da el Modo Black es que todas las armas del juego tienen munición infinita, pero sin embargo la dificultad del juego aumenta 100x100, para completar este modo tienes que completar todas las misiones secundarias y primarias.
Difficulty: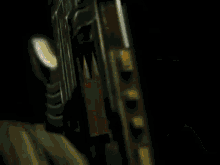 Source
Easy mode: it's like a walk in the park, since as its mode indicates it is easy to defeat the enemies and accomplish the main mission which is to get from point A to B, in this mode the game gives us multiple first aid kits on the way. At the end of this mode you do not get any reward unlike the other difficulty modes.

Medium Mode: we could say that it does not differ much from the easy one since the main objective is to get to point B from A and accomplish some of the secondary missions, we can notice that the number of enemies increases and the botiquines tend to be a little scarce, but you can still find them. At the end of this mode you will be rewarded with unlocking the hard mode.

Hard mode: in this difficulty level I can say that it is somewhat tedious to play it and only worth it for your control skill, as the number of enemies and their resistance increases and not only that, there are no medkits, ammo is scarce and you have to complete all the side missions. Once you complete this mode you will receive Black Mode as a reward.

Black Mode: Unlike the modes mentioned above, you get a M16A2 Rifle that has a grenade launcher device and is silver, we can say that the advantage that Black Mode gives us is that all weapons in the game have infinite ammo, but however the difficulty of the game increases 100x100, to complete this mode you have to complete all secondary and primary missions.

¿Qué son las misiones secundarias en Black?
Sólo tienes que encontrar archivos relacionados con la inteligencia del gobierno, planos y armas ocultas que son algo difíciles de encontrar, sin embargo si las misiones secundarias no se completan en modo difícil y en modo Black la misión termina en fracaso.
What are the Black side missions?
You just have to find files related to government intelligence, blueprints and hidden weapons that are somewhat difficult to find, however if the side missions are not completed in hard mode and in Black mode the mission ends in failure.

Niveles o mundos a superar:
Este juego tiene 8 mapas que pueden darnos mucha dificultad y pueden hacer que una misión nos lleve hasta una hora de duración.
Calles de la ciudad de Veblensk-Calles de Veblensk
Paso fronterizo de Treneska-Paso fronterizo
Ciudad de Naszran-Ciudad de Naszran
Fundición de Naszran-Fundición de Naszran
Asilo de Tivliz-Hospital psiquiátrico de Tivliz
Astillero de Vratska-Muelle de Vratska
Puente de Graznei - Puente de Graznei
Gulag de Spetriniv-Campo de trabajo de Spetriniv
Levels or worlds to overcome:
This game has 8 maps that can give us a lot of difficulty and can make a mission take us up to an hour of duration.
Streets of the city of Veblensk-Veblensk streets
Treneska Border crossing-Border crossing
City of Naszran-City of Naszran
Naszran smelter - Naszran smelter
Tivliz asylum-Tivliz psychiatric hospital
Vratska Shipyard-Vratska Pier
Graznei Bridge - Graznei Bridge
Spetriniv Gulag-Setriniv labor camp


Texto traducido en DeepL.
Separador de texto creado por mi en Canva.
---
Text translated at DeepL.
Text separator created by me in Canva.


Banner created by me in Canva.