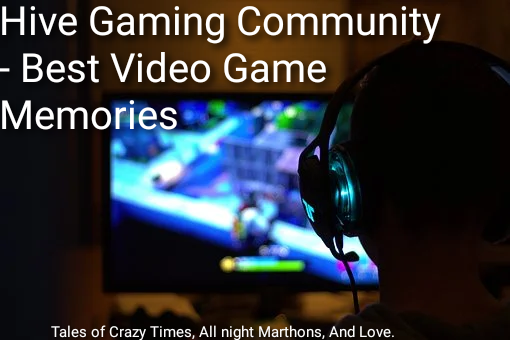 I have several intense memories that float around in my head as I write this post. It will read almost more like a memoir of crazy times playing games, fun times and bitter sweet memories.
I think the earliest impressionable memory was when I was a kid in the mid 80s. Probably around the age of 8 or so. My parents had just gotten divorced. I'd spend half the month at my mom's and the other half at my dads. My dad was a real dick head. He later got banned from living in the same county as me by the superior court. I'll save the horror stories as to why. But the half of the month living at his house was a real nightmare.
To make it easier on me, my mom bought me a classic Nintendo that I could take back n forth. I only had three games. Mario, Duck Hunt and Contra. That Nintendo was my best friend and I buried myself into hours of game play. Really it was the only companion I had when at my dads.
One day my dad stormed into my bedroom in a rage. I was just a little boy sitting cross legged on the floor in front of the TV playing Mario. He snatched my Nintendo off the ground tearing the cables out of the tv in the process. I sat there ridged and frozen. I knew an ass beating was probably next. He went on a tirade about how only losers played video games and slammed the Nintendo as hard as he could onto the old oak wooden floor. I watched in slow motion as the box shattered into hundreds of pieces.
I knew he did that just to get back at my mom who had given me the Nintendo. Again I was alone. That was the end of my early video game days.
---
Through high school we had the super Nintendo. I spent a few days out of the week at my best friends house frustrated as he kicked my ass at Mario Kart and Street Fighter 2. He played the games every day. So there was little hope in me actually beating him. I was elated on the few instances I was victorious. But my love for gaming was returning.
---
A few years later I started playing PC games for the first time. I had a friend. Lets call him Crazy Bret. No seriously Bret and his house were crazy.
Bret lived with his mom in the Hollywood hills. Just below the Hollywood sign actually in the neighborhood on the ridge of one of the hills there. His room had floor to ceiling windows that had a panoramic view of downtown Los Angeles and Hollywood. At night it looked like you were looking out onto Coruscant. In front of the giant windows he had two fold out chairs. Two PCs and monitors. A pretty posh place to play games.
The only thing crazier than Bret was his mom. A batty nut job who lived downstairs. The whole upstairs were our playground though. She spent her time guzzling wine downstairs and we would spend our time guzzling vodka upstairs and playing on the PC.
One day he turned to me and said. "Hey Dave have you ever played Counter Strike before?" I hadn't and he introduced me. Holy crap that game was addicting!
Sitting side by side we'd team up and would really kick some ass. Between the two of us would be a 1 litre bottle of vodka. And we'd swig at it as we played. The drunker we got strangely the better we'd get. Bret was a hardcore
Alcoholic. For instance he once got fired from Domino's Pizza where hed be working as a delivery driver because he kept coming to work at ten am in the morning hammered. And because he'd eat slices from the pizzas as he'd go to deliver them. Customers would open their box after he'd left only to find a half eaten pizza!
I fondly remember Dust 1 & 2, Aztec and Office as our favourite boards to play on Counter Strike. I remember in Dust we'd sit in the corner of the tunnel. He'd crouch down and then I'd hop on his shoulders and like a totem pole of death we'd hose anyone entering that tunnel. We'd easily kill four or five enemies before we'd get offed.
I'd come over at noon and the next thing you know 14 hours had passed. We took no break. Didn't eat. Just played Counter Strike. The deadly duo.
One day around three in the afternoon I left his house to drive home. His mom had been extra crazy that day. Bret went downstairs to check up on his mom and found her sitting on the edge of her bed with a .380 pistol to the side of her head. When he came into the room she yelled "you!" And pointed the gun at him and fired. He shrieked and ran out off in terror and passed out in the middle of the street in front of his house, to awaken 30 minutes later to see cops and paramedics standing over him and a gunshot wound through his abdomen. And his mom in handcuffs being put in the back of the squad car. Ah good old Hollywood. Its a crazy place. She ended up doing two years time for that but that was the end of Bret and I's gaming sessions.
A year or two later drunk at a party he said something about my then girlfriend and I remember knocking him clean out in one swift blow.
I never saw crazy Bret again. But I missed gaming dearly.
---
A few years later I had a new gaming buddy Marc. I had an xbox then and Call of Duty was our thing.
Marc was not crazy. Or at least not in the way Bret was. My apartment was in Santa Monica at that time and it was on the way home between his house and his work. So every day hed come straight from work to my place and we'd play COD for hours. No booze this time. We had something even wilder. You see Marc worked at a prestigious gun shop in Los Angeles. He had licenses and certificates for just about anything firearm wise.
So while we'd be playing COD we actually had an arsenal in my bedroom. AKs, ARs, Glocks, Kimber 1911s strewn across the floor , leaning against the walls and spread out on the bed. An Nemo Omen in .300 in the corner. Just about every gun in COD we had right there in the room for real.
Sometimes we'd take turns playing while the other cleaned a rifle or two. Other times we'd play co op or online for hours. Almost till midnight seven days a week. We had the best fun playing COD. I remember in co op one of our dumber strategies when dealing with juggernauts was for one of to get killed right in the doorway yo a room. The juggernaut couldn't step over you and would get stuck in the door too, and my buddy would hide in the corner and blast it in the face till it would die.
The apartment was in what you could call a party building. All 20 something's college kids. Someone somewhere was throwing a party in that building at any given time. But us two were far louder than any of them while we played COD. Next door were two cute blonde girls. They'd get annoyed and yell "shut the fuck up!" Out their window at us as we played. We didn't care. We were having the time of our lives.
I still have crazy memories of Marc coming over. He'd park on the street in front of my apartment and call me. I'd run down. Find his car. Usually parked across the street, make my way across the street through gridlocked rush hour traffic and find him next to his open trunk. He was a gun collector and had on average two dozen rifles in his trunk. We'd each shoulder a few duffle bags and weave our way back across the street to my building. Wide eyed stares from people in their cars as they watched the two loons carrying bags with rifle stocks poking out the back. Hey it was a high crime neighborhood and we couldn't leave that shit in his trunk to get stolen. I'll never forget one time we did that with a cop stuck in traffic right next yo us. We made eye contact and I gave a sheepish grin. He just shrugged his shoulders back. I Mean it wasn't illegal.
Eventually Marc got annoying as I started working more because he was inviting himself over without asking. I'd come home from work exhausted and no sooner had I sat down he'd knock at the door. He later went on to become a competition shooter. I went on with a bricked out xbox, no games and a depressing work life.
This went on for a few years. Eventually I bought a PlayStation 4. But my online gaming was non existent. I played in solitude every night after work. I couldn't afford new games so i just invented them from Redbox.
---
One day online I met a cute australian girl online. She was an avid gamer. Fantastic author and absolutely beautiful. More importantly we clicked immediately. We felt like soul mates.
She was way more experienced a gamer than I. We'd talk for hours every day and talk video games. I'd play games, usually the ones she recommended. Through her I got exposed to so many games that I now love dearly. Games like Skyrim and many others. But Skyrim because of her still holds a special place in my heart and always will.
Eventually I gave up everything in my life, packed all my belongings into two bags and left for the airport and flew to Australia so we could live together. You see by this time I was madly in love with my beautiful gamer girl and author.
For several years I'd sit next to her on the couch and play video games. She was my game guru, the teacher and I was the student. She introduced me to The Old Republic, Banished, Dragon Age, Civilization, Minecraft and Stardew Valley. The last two games still makes me ache when I play as it still reminds me of those days sitting on the couch next to her happily playing. I didn't care where in the world I was, just so long as I was with her on the couch together. She'd coach me and give me advice on the games. Teach me how to use the PC again. I'd look over at her googly eyed, in love, together playing games. The absolute best time of my entire life.
I owe just about every aspect of my gaming knowledge and the re kindled passion for gaming to her. And I'm forever grateful for that. I loved every moment of it. Because of my memories with her I am avid about gaming. Probably will be for the rest of my life.
---
Now a day's I'm back here in the States. No Consul, no PC. just a tablet. No real games. I miss gaming dearly.
I plan on getting a gaming laptop in a month or two. Maybe around Christmas. I want a laptop so I can game wherever I go. I want to be able to lounge on the couch or even in bed and play. I'm not sure what laptop I'll buy because I'll probably want one built but I know I want an AMD with 32 G of ram and a nividia 2080. I'm open to advice from anyone here as to what I'll need to build a gaming beast.
But thats down the road. When I do get the system you can expect a plethora of gaming posts from me here on Hive. Until then I look forward to the day I can make new gaming memories.
---
Thanks for reading about my most important gaming memories. Hope you enjoyed the read.

---
Pictures supplied by pixabay.com
---
Post dedicated to @kaelci.