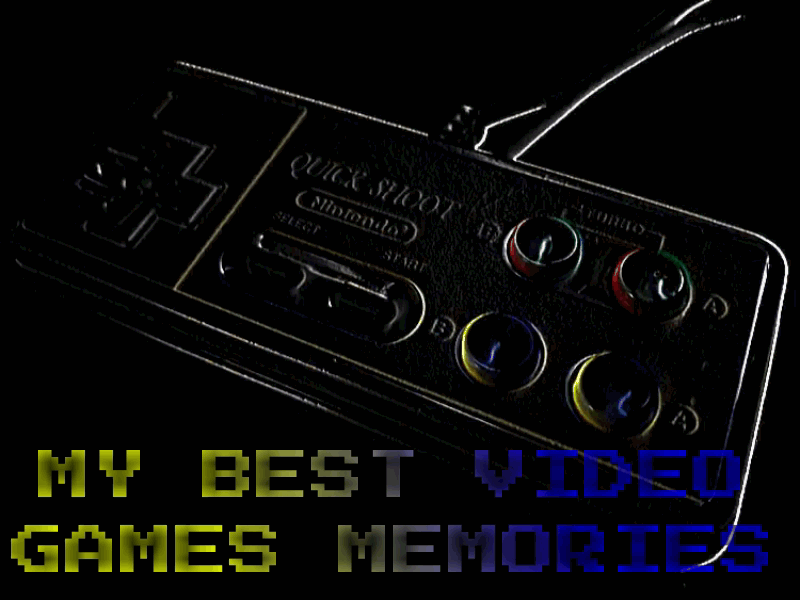 At the risk of my age revealing my existence, it is appropriate to begin this historical account by telling you that I am a member of the generation of the 80s, from the beginning of the 80s, so my first experience in the world of video games dates back to the Atari 2600 Jr, my first video game console.
A riesgo de que mi edad delate mi existencia, es propicio iniciar este recuento histórico comentándoles que pertenezco a la generación de los 80, de principios de los años 80, así que mi primera experiencia en el mundo de los videojuegos se remonta al Atari 2600 Jr. , mi primera consola.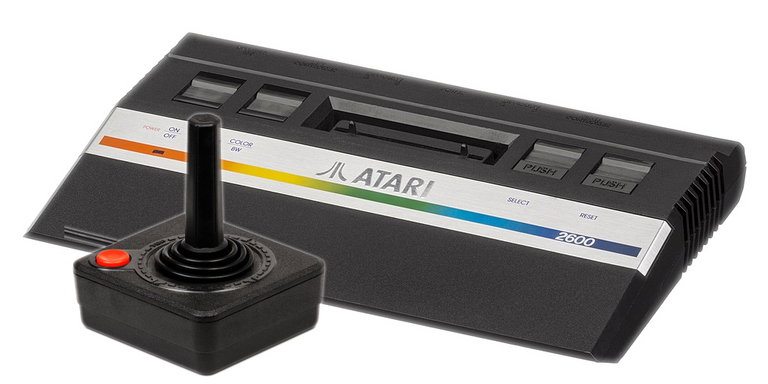 Atari 2600 Jr.
Source / Fuente: Wikipedia
Atari initiated me into a world that I would never leave again, because to this day I am addicted to video games. The console was equipped with a joystick control, which I remember was getting damaged very fast, so I devised a solution with my hair clips that made contact in the 4 directions, and that was it.
El atari me inició en un mundo del que nunca más saldría, pues hasta el día de hoy soy adicta a los videojuegos. La consola estaba provista de un control tipo joystick, que recuerdo se dañaba muy rápido, por lo que ideé una solución con mis pinzas para el cabello que hacían contacto en las 4 direcciones, y listo, solucionado.
My greatest achievement after hours and hours, day after day, was to complete what was my favorite game River Raid, in which I had to guide an airplane through the banks of a river while destroying all the enemies in my way, always taking care to get enough fuel. This game was my great hobby, but not the only one, I also enjoyed very much one called 'Boxing', in which you could see two boxers in a ring, punch against punch, and there was a moment when the fighters did not stop knocking each other, it was great.
Mi mayor logro después de horas y horas, días tras días, fue completar el que fue mi juego favorito River Raid, en el que debía guiar a un avión a través de las riberas de un río mientras destruía todos los enemigos a mi paso cuidando siempre mantener la carga suficiente de combustible. Este juego fue mi gran vicio, pero no el único, también disfruté muchísimo uno que se llamaba Boxing, en el que se le veía a dos boxeadores en un ring, golpe contra golpe, y había un momento en que los peleadores se quedan como pegados, era genial.

Years later, on a Christmas Eve, Santa Claus would surprise my brother and me, not with a new console, but with 2. Children of divorced parents it seems that Santa's helpers did not agree and we were doubly gratified, we received the famous American Nintendo (NES) and the so called Asian Nintendo (Famicom). Although everything seems to indicate that it was a coincidence, the result was highly positive, since we would not have the typical disputes between siblings to define the turn of the game.
Años más tarde, en un nochebuena Santa Claus nos sorprendería a mi hermano y a mi, no con un nueva consola, sino con 2. Hijos de padres divorciados tal parece que los ayudantes de santa no se pusieron de acuerdo y fuimos doblemente recompensados, recibimos el famoso Nintendo Americano (NES) y el llamado Nintendo Asiático (Famicom). Aunque todo parece indicar que fue una coincidencia, el resultado fue altamente positivo, pues no tendriamos las típicas peleas de hermano por definir el turno del juego.
Without a doubt, Nintendo would mark a before and after, games like Super Mario Bros, Contra, Circus, Pac-man, Galaxian, Popeye, Bomber Man, Donkey Kong, Ice Climber, and even that cute little dog that made fun of you when you didn't shoot the duck in Duck Hunt,, would all be alive in my memory forever.
A memory that I was able to relive many years later, since last Christmas I traveled as every year to my hometown to my mother's house, and at some moment we were talking about video games, I said "surely here somewhere in the house our old consoles must be stored", and that's how it was, I found both.
Sin duda alguna, Nintendo marcaría un antes y un después, juegos como Súper Mario Bros, Contra, Circus, Pac-man, Galaxian, Popeye, Bomber Man, Donkey Kong, Ice Climber, y hasta aquel simpático perrito que se burlaba cuando no le disparabas al pato en Duck Hunt, quedarían en mi memoria por siempre.
Memoria que pude revivir muchos años después, pues en la pasada navidad viajé como cada año a mi pueblo natal a la casa de mi madre, y en algún momento que hablábamos de videojuegos, dije "seguramente aquí en algún lugar de la casa deben permanecer guardadas nuestras viejas consolas", y así fue, conseguí ambas.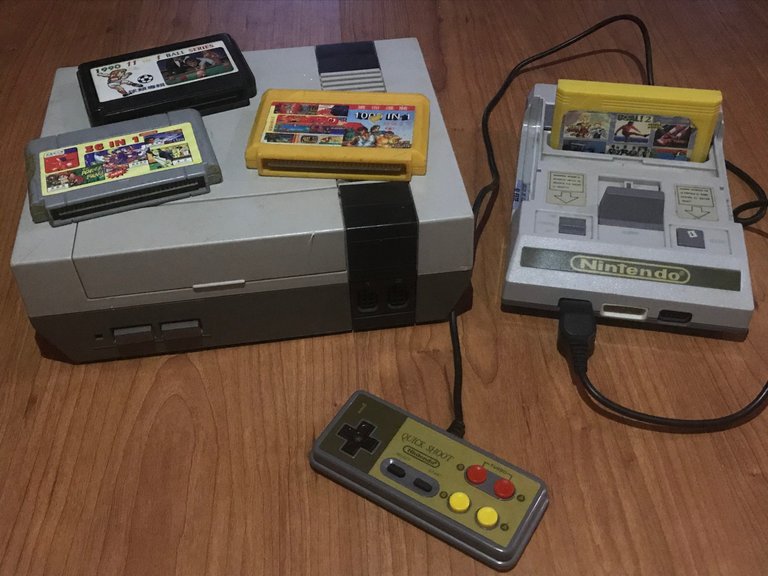 Nintendo NES / Nintendo Famicom. Date of photograph 08/29/20
When we returned home the first thing we did was try to turn on the consoles, to check if it still worked, I confess that I was very anxious about it.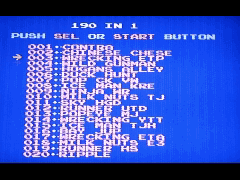 One of these apparently short-circuited and the controls are missing, but the other one worked great, in fact all the gifs you will see below are from real videos of the console in use, which has become a new experience for my kids.
Al regresar a casa lo primero que hicimos fue intentar encender las consolas, para verificar si aún funcionaban, confieso que tenía muchisima ansiedad al respecto.
Una de ellas, al parecer sufrió algún tipo de cortocircuito que se debe reparar y faltan los controles, pero la otro funcionó de maravilla, de hecho todos los gif que verán a continuación son de videos reales de la consola en uso, la cual se ha convertido en una nueva experiencia para mis hijos.

But my story with video games does not end with Nintendo, in my adolescence I discovered new passions, I played for the first time a game on the computer, The Prince of Persia, an amazing experience for the era.
Then my attention was focused on Sony and its innovative PlayStation, which we have had from 1 to 4, and I say we because it is a passion that I share today with my two children. In that way, I can cite as unforgettable 'The Simpson' as I loved that game, as well as 'Crash Bandicoot', 'Gran Turismo', but I also enjoyed it when they launched 'GTA Vice City', in short, this could be a long list from then until today.
Pero mi historia con los videojuegos no termina con Nintendo, en mi adolescencia conocí nuevas pasiones, jugué por primera vez un juego en la computadora, El Príncipe de Persia, una experiencia alucinante para la época.
Luego la atención se centró en Sony y su innovador PlayStation, de los cuales hemos tenido desde el 1 hasta el 4, y digo hemos porque es una pasión que hoy en día comparto con mis dos hijos. De ese transitar, puedo citar como inolvidables Los Simpson, como amaba ese juego, así como Crash Bandicoot, Gran Turismo, pero también disfruté muchisimo cuando lanzaron GTA Vice City, en fin, esta podría ser una larga lista desde entonces hasta hoy.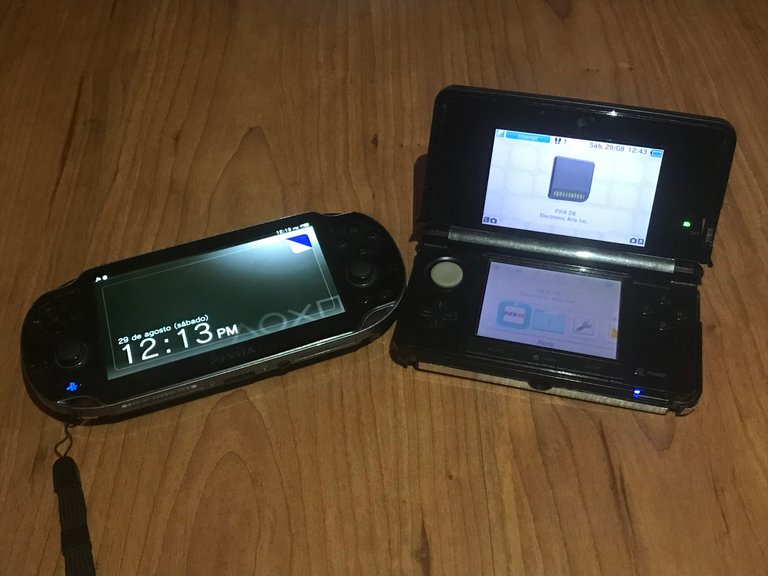 PS Vita / Nintendo 3DS
And as if that wasn't enough, we continue the fun with portable consoles or mobile devices, here at home the fun never stops, here we all play: mom, dad and kids.
Video games bring us together, it's wonderful to enjoy common games as a family, although I don't share some of my children's preferences, as Minecraft, Roblox, but titles like Crash, Rayman, Lego, Knowledge is Power, this last one is super cool because thanks to the new way of playing playstation denominated playlink we can interact in the game from our cell phone or tablet, which ensures a greater family participation in the enjoyment of video games.
Y como si fuera poco, continuamos la diversión con las consolas portátiles o dispositivos móviles, aquí en casa la diversión nunca para, aquí todos jugamos: mamá, papá e hijos.
Los videojuegos nos unen, es maravilloso poder disfrutar en familia de juegos en común, aunque no comparto algunos de los gustos de mis hijos, como Minecraft, Roblox, pero si títulos como Crash, Rayman, Lego, Saber es Poder, este último es super genial porque gracias a la nueva forma de jugar de playstation denominada playlink podemos interacturar en el juego desde el celular o la tablet, lo que garantiza una mayor participación familiar en el disfrute de los videojuegos.

I say goodbye until the next opportunity, while...we continue playing.
Me despido hasta una próxima oportunidad, mientras...seguimos jugando.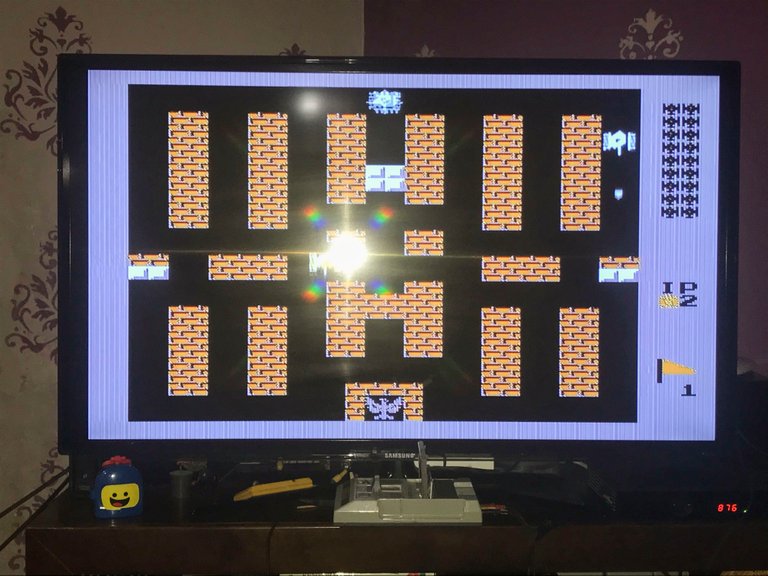 Game: Battle City / Nintendo Famicom / August 2020

All the gifs have been made from real videos and photographs of my property and authorship.
Design and edition: Filmora 9
Todos los gifs han sido realizados a partir de videos y fotografías reales de mi propiedad y autoría.
Diseño y edición: Filmora 9