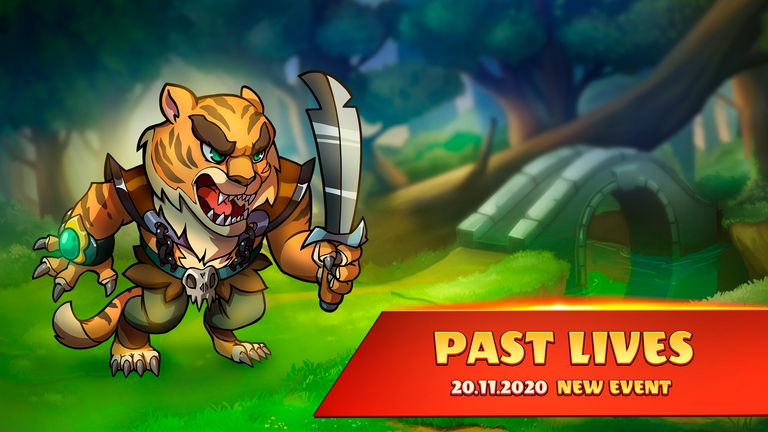 Source

This week I present another Global Mighty Party event, which is called PAST LIVES. The story shows how a great event is being prepared in the city of PANGEA, in which the glorious Wachita Prince of the greater world will arrive in PANGEA to pay his respects, LORD Protector. Unfortunately two of his enemies also decided to return to the city to participate in the event. In this event the missions must be completed, where we will obtain eggs as rewards in order to open the chests of the event and thus obtain the weapons (cards) of the heroes that this great event brings us. These cards had already been issued in past events, but they have been recalibrated or improved in their characteristics and abilities. Among the most outstanding heroes are Coba, Temple Keeper, Sheer-Shah and Mizu, the Sea Foam! All of the cards for this event are of the nature type. The purpose of repeating the same characters as rewards is that the new players will be able to obtain these heroes and thus arm their deck (TEAM) in the best possible way.
Mighty Party is an online card game developed by Panoramik Inc. It's very simple and addictive: one touch to put the fighter on the battlefield and only 3 MINUTES to win! It can reveal all your tactical skills: define your opponent's weaknesses and play heroes that can absolutely change the situation on the battlefield and take you to the top of the rankings!
Global events occur regularly every 2 weeks, occur at the same time for everyone and generally last 5 days from a Friday. There is also 24 hours after the event ends when the Event Resources can still be purchased and spent, although you can no longer perform the missions associated with the Event. After that, everyone who participated in the Event wins a prize based on how many Event Resources the player won during the event, either won or purchased. Event prize chests contain only Event heroes. In addition, many Event Heroes are now only available through the Events or the various stores. Unless otherwise noted, event heroes will not be in the general card pool for chests, except during the event.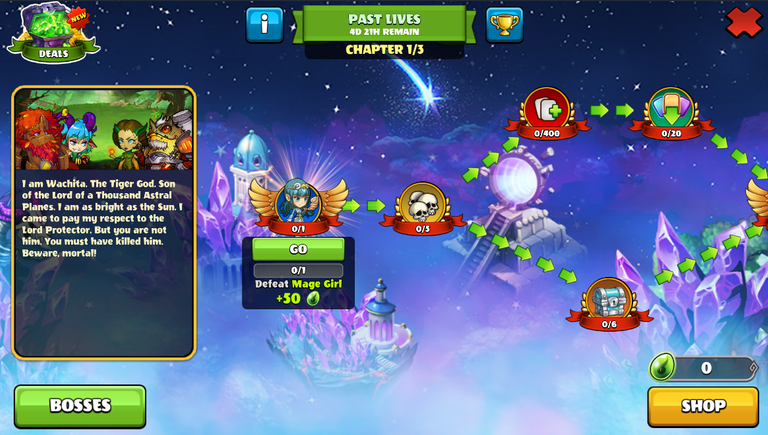 Now I am preparing to present the heroes of each of the chapters that this event presents. Which are the following: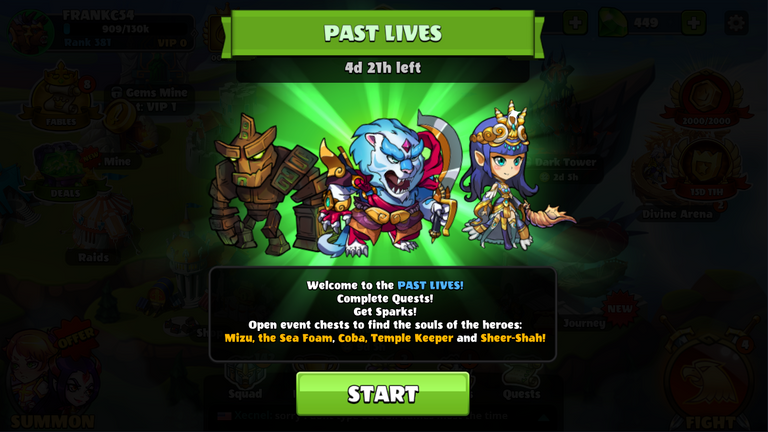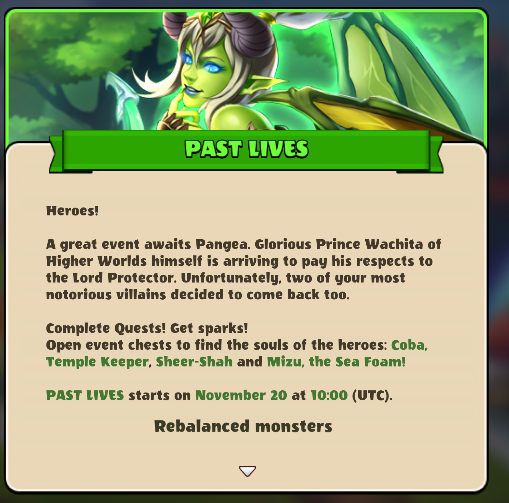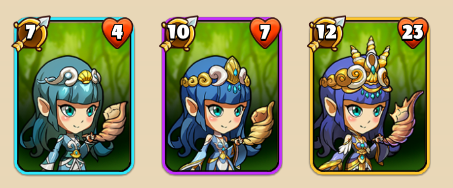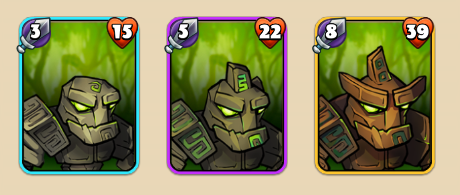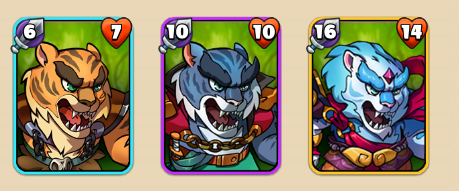 Now I'll give you a description of the cards we have as rewards, in which I'll tell you about their characteristics and abilities. For her we will start with the first chapter where we will face each other and get the rare cards.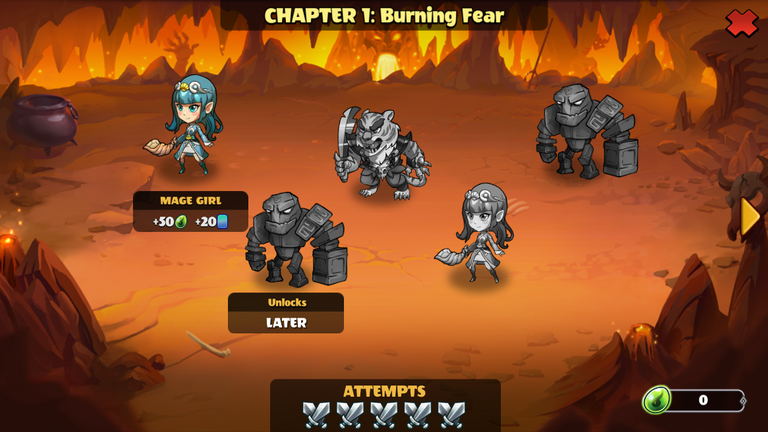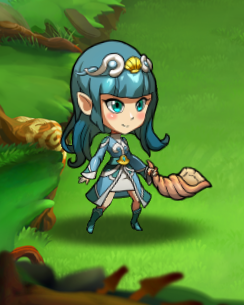 THE AQUA SPIRIT is the first hero we find in this event, where the same faith female gender, an archer or remote attack card of the type rare nature. In the level 1 it possesses 7 of attack (ATK) and 4 of life (HP). Her only ability is to freeze 2 random ranged attack enemies. Its motto is: "It seems that it is going to rain...".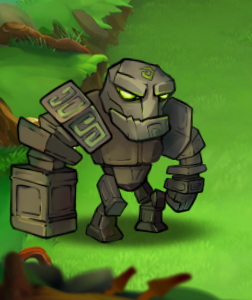 ROCK is a male close-up attack hero of the rare rarity nature type. At level 1 he has 3 ATK and 15 HP. His only skill at level 1 is to poison (causes 2 damage per turn) an enemy at random, while the hero at level 11 acquires a second skill, which is that he has 4 blocking skills. Their motto is: "Rockfall ahead!".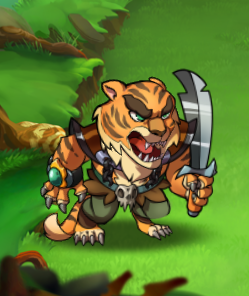 FURIOUS SABERTOOTH is the third and final hero of this event. He is of the male gender of nature's rare rarity melee attack. At level 1 he has 6 ATK and 5 HP. His ability is to attack and damage 3 adjacent enemies, while at level 6 he acquires another ability that is unknown to me because I don't have this card in my deck. This hero's motto is: "let's see what you're made of".

Then we have chapter two of the event where we have the epic rarity cards, which I present to you below.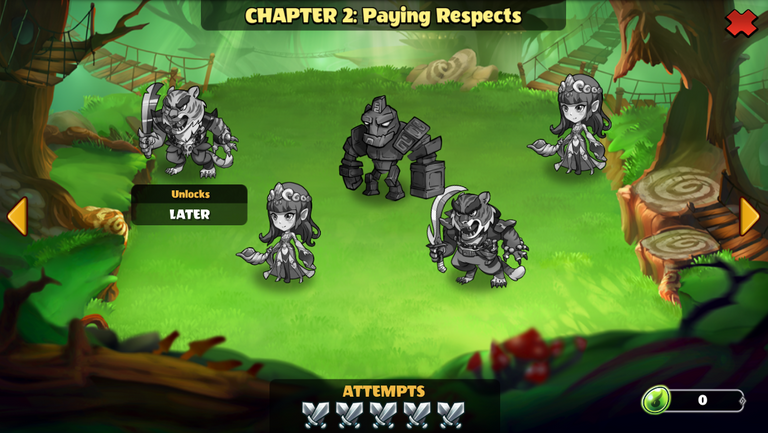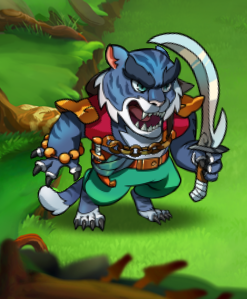 FIERCE RAKSHESH is the first hero of the second chapter we have to face. He is male of the nature of epic rarity of melee attack. In level 1 he has 10 of ATK and 10 of HP. His skills are those of obtaining more 4 of life for each wounded enemy in the battlefield (except the buildings that have great amount of life, but they don't attack.) and when an ally appears he gives +3 of attack to the adjacent allies (including himself). Their motto is "People don't seem to look me in the eye around here".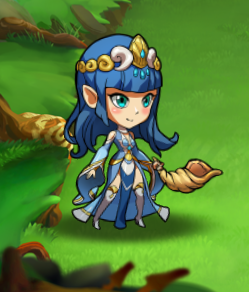 LAKE PIXY is a female epic rarity ranged nature attack card, which at level 1 has 10 ATK and 7 HP. Her abilities are to get 6 life for every melee attack ally on the battlefield and at the end of the turn she freezes an enemy at random, except for buildings. His motto is: "If it´s our fate to die for freedom, so be it! First line, form it up!".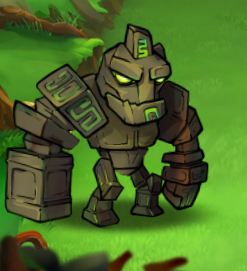 STONE GUARDIAN is a male hero of the epic rarity melee type, which is the third and final card I present to you from the second chapter of the PAST LIVES event. In level 1 he has 5 of ATK and 23 of HP. His skills at the beginning of each turn give him the ability to poison a random ranged attack ally and when attacked he poisons an enemy (causing 3 damage for each turn he is poisoned). Its motto is: "Even the mountains fall down".

Finally we come to the third and final chapter in which we must pass in this event if we want to complete it, however this is difficult, even to get to this chapter because you have to buy many things with real money. In this we find the legendary heroes and considered the best of the event.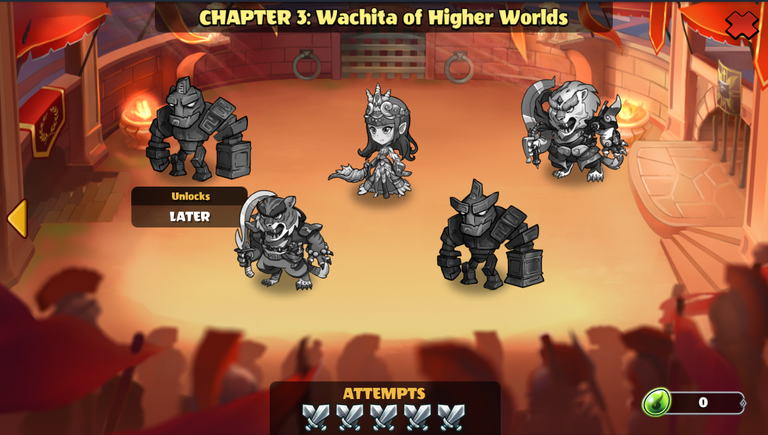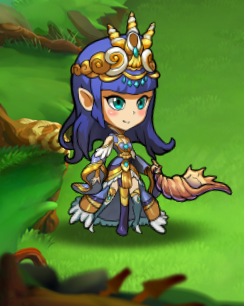 Mizu, The Sea Foam is the first legendary rarity card of the third and last chapter of this event. It is a nature type ranged attack, where in level 1 it has 12 ATK and 23 HP, which gives me to induce that it is a very strong card where in attack as in defense what is not very common the second characteristic (HIGH LIFE) for being an archer that normally are fragile but very strong at the moment of attacking. Her abilities are those of at the end of each turn she invokes a water element of 7 of ATK and 16 of HP in front of her, at the beginning of each turn she heals in +4 the allies for each frozen enemy (except the buildings) and at the beginning of the turn she kills the water element in front of him, obtaining attack equal to life. Its motto is: "I bring freedom to people. fight for me!."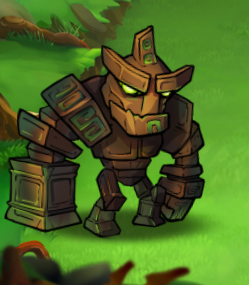 COBA, TEMPLE KEEPER is a legendary nature type melee attack rarity card. At level 1 it has 8 ATK and 39 HP. His skills are that at the end of each turn he poisons the adjacent enemies (removing 9 HP for each turn after being poisoned), when the poison is activated in an enemy he cures the allied warlord by giving him +9 HP and when he dies he summons a stone Golem of 13 ATK and 50 HP. His motto is: "A very ancient vessel of the forces of chaos and nature that formed the land in the world of PANGEA".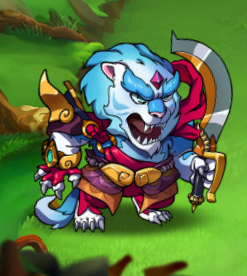 Sheer-Shah is the last legendary hero we'll find at the event. He is a nature type melee attack, that level 1 has 16 ATK and 14 HP. His skills are those of when killing he damages equal to 25% of his attack to a random enemy around the dead objective, before attacking he obtains 7 of ATK for each wounded hero in game and finally he obtains of HP for each adjacent enemy. His motto is: "Something funny about the past. If you don't have it, it won't come to you".
In conclusion, this global event "PAST LIVES" is a great event that brings us only nature-type heroes. It started today until next Tuesday 24th of the present month and year; that is to say, a duration of 5 days as each event of this game. Each one of the cards that we will obtain in this game had already been launched in past events, but in this opportunity they were recalibrated or improved some of their abilities, for which it is very important for the new players because they can obtain these cards and for those that already we are because we can increase their level when acquiring more weapons and thus to be able to organize better strategies to apply them in the different modes of games that we have available in Mighty Party. The best card from my point of view of this event is Mizu, The Sea Foam not only because of its characteristics and great skills, but because it is the only card of long distance attack that we have in this event. But of course the other cards are also usually very useful and positive, so we always look to acquire each of the cards that give us rewards in PAST LIVES.

NOTE: It is important to know that the skills of the cards described above are level 1, therefore they can improve as you level them up, increasing life, attack and even the number of skills and their effectiveness.
EVENT STORE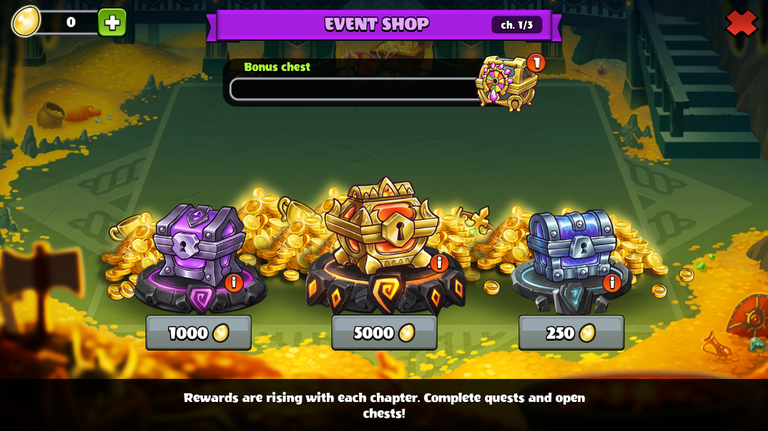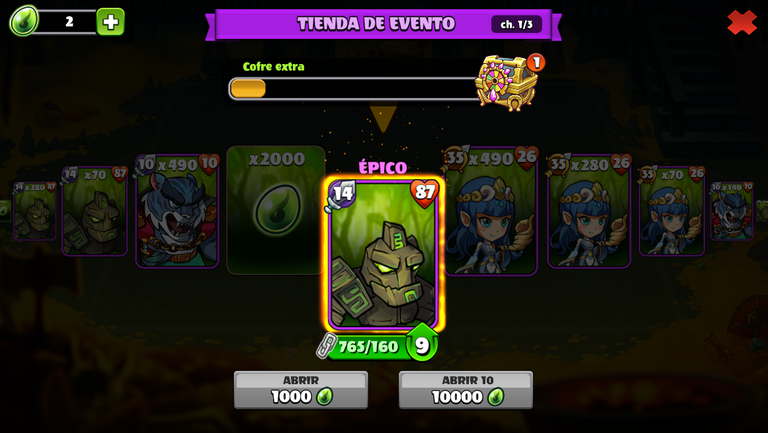 In the event shop we can buy both rare, epic and legendary chests. These will be bought with the eggs collected from the different missions we found at the event. In the rare chest there is an 80% chance that a hero of that rarity will appear, 16% chance that event eggs will come out, 3% chance that gems will come out and 1% chance that an epic rarity hero will come out. In the epic chests there is a 75% chance that an epic hero will appear from the event, 20% eggs, 3% gems and 2% a legendary card. And in the legendary chests it is 62% of a legendary hero, 33% of eggs from the event and 5% of gems.
In addition we also have the extra chest that is spoken when opening a chest number of the rarity that is, the better the rarity of the chest the bar is completed and the same can be obtained the rewards. As the extra chest is opened, it has better rewards than the previous one. There is a 63% chance of getting a legendary hero or 37% chance of getting eggs from the event.

I hope you liked this publication. See you on Friday between 14 days with the next event of this great role-playing game, which shows the combat and strategy.
Source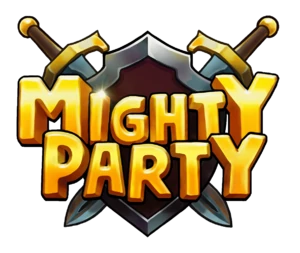 All the images of this Post are Captured from the game made by @franz54
Text separator taken from the post: https://www.tutorialesteemit.com/recomendaciones/separadores-de-texto-para-blog/
Thank you for your visit. I hope you liked it.
Till a next chance
Without further ado, he bids farewell to you, his cordial server @franz54.