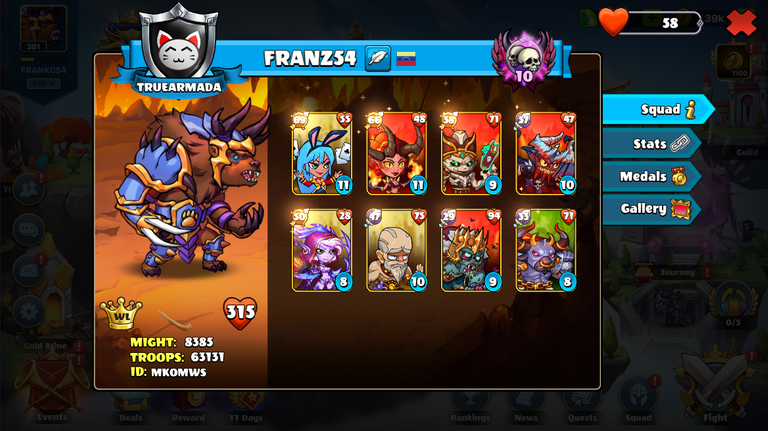 Welcome to my blog, especially to the RPG and card game lovers. Today I bring you a publication in which I make an update of what is the conformation of my team that I use when playing the game Mighty Party. I confess that I have a long time playing this video game as many know that I usually share the global events of this game when it is possible, so I only concentrated on this, but these days I returned to play the other game modes after a long time, especially these changes I made for PVP, as I am currently in league 2 and I set a goal to reach League 1 as I was before. I lack less than 1000 points for it where for won battles I get 50 so I would have to win at least 20 fights and I think this is possible. The game received many updates along this time, that from my point of view some were correct and others not so much, but I will talk about this in another opportunity since at this time I will only concentrate on talking about each of the cards of my team and their abilities.

Mighty Party is an online card combat and tactics game, developed by Panoramik Inc .It is very simple and addictive: one tap to put the fighter on the battlefield and only 3 MINUTES to win! It can reveal all your tactical skills: define the opponent's weaknesses and play heroes that can absolutely change the situation on the battlefield and bring you to the first place in the rankings!
Source: Mighty Party Role Playing Game by @franz54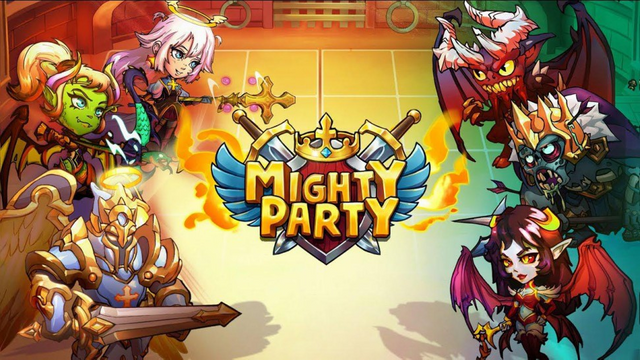 Before mentioning and describing my team in the game, it is important to know that there are several types of cards or heroes. Those types are normal, rare, epic and legendary, being their races of order, chaos and nature. These cards have their attacks (ATK), life (HP), level, as well as their gender. The normal cards have brown borders, the rare cards are blue, the epic cards are purple, while the legendary cards have a yellow border.
Hero levels:
Each hero starts at level 1, and to level up, you must have enough cards and gold. The rarity of the hero affects the gold cost of leveling up. For more information on how many cards you need, go to Cost Levels.Each level grants additional stats to the Hero, such as HP or ATK, and at levels 3 (Legendaries only), 6, 11, 16, 21 and 26 they get an upgrade to their abilities. Source: My previous post of my team
My Team
The team is mainly represented by the warlord you use within the 4 that exist, with each one with its different skins, plus 8 cards (Heroes) chosen by the player to enter into combat.

Warlord: Bear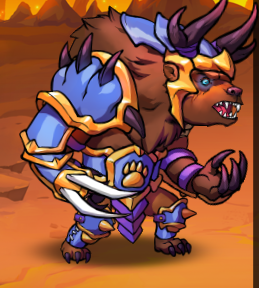 The warlord I use is the "Son of the Forest" bear, which is a nature type. I have him at level 46 which currently gives him 315 health (HP). His abilities are to give you thorn that causes a damage of 25 to those who attack him; that is, it reduces 25 HP, silences all enemies except buildings, which means that it removes all the skills to the enemy heroes but with the caveat that it can not those who have the ability of immunity. His third and last ability is that he gives more 10 attack (atk) to all all allies of nature on the battlefield. I can tell you that since I started in the game I have used this warlord because it is my favorite, not only for its appearance and artistic design but with his ability I can make the best strategies, which does not mean that the other three are bad because it is not so. Its slogan is:


Heroes: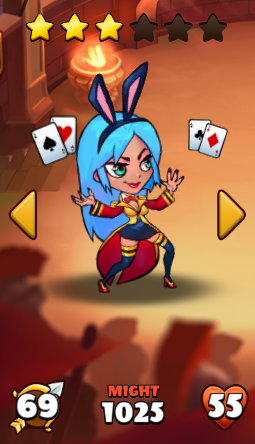 MISS LAPIN is the first hero that I present to you from my team. She is a ranged attack order type or legendary rarity archer, which is of the female gender. I have this card at level 11, which gives her an attack of 69 and a life of 55. Her abilities are that at the end of the turn she gives 14 piercing to allies at a distance; that is, she damages all the heroes in the same line that she attacks, also when attacking she freezes all the enemies in line for a turn and finally when the piercing is activated on an ally she gives +9 HP to herself. This is an excellent card that is very useful when it comes to battle and that is why I selected it for my team. Its motto is: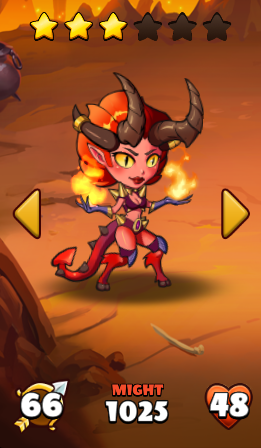 MADAM AGONY is a legendary ranged attack hero or archer of the chaos type. She has the same level 11 as the previous card, but this one has 66 atk and 48 hp. Her abilities are to transform wounded heroes (except buildings) into agony crystals of 0 atk and 40 hp, at the beginning of the turn she has 18 hp left to the enemies with maximum life except buildings and when attacked a crystal of agony takes 12 life from the enemy warlord. His motto is: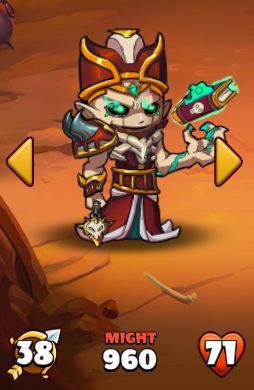 NECRO, MASTER LICH is a chaos hero of legendary ranged attack or archer rarity, which I have at level 9 with 38 atk and 71 hp. His abilities are that at the end of each turn he summons scoundrels of 1 atk and 1 hp in the allied part of the battlefield, when a scoundrel dies he gives +5 hp to himself and when a scoundrel dies he damages a random enemy, taking away 8 hp. This is a very useful card that even though it is of the chaos type and does not combine with the warlord of nature as in the end it is still a good option as it has a good abilities when facing enemies. Its motto is: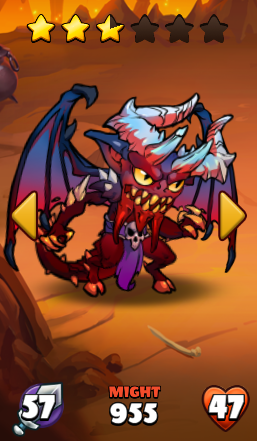 MR. DEVIL is a melee attack chaos type hero of legendary rarity. I have him at level 10 with 57 atk and 47 hp, while his abilities are that when he appears on the battlefield he damages by taking 23 life from all the heroes that are on the battlefield, including allies. Besides when attacking he damages by 15 to the enemy warlord and when dying he takes away 25 hp from a random enemy. His motto is: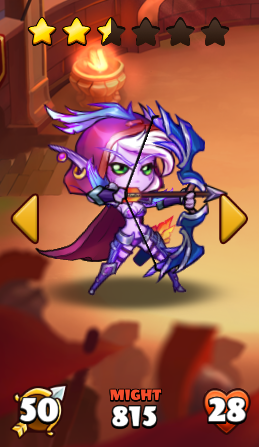 GHOSTA is a legendary ranged attack or archer card of the order type, that at level 8 which is where I currently have it, has 50 atk and 28 hp. Her abilities are those of when attacked the allied warlord damages 41 to a random enemy, when attacked an enemy including the warlord this gives a damage of 7-13 to the enemy warlord and has a pierce of 13. Her motto is: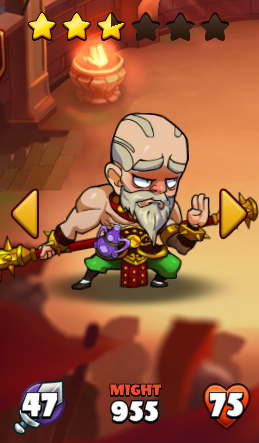 SHAO LIN is a legendary hero of the melee attack order type. I have him at level 10 with 47 atk and 75 hp. His abilities are that he gives to the allies of the order including himself what is known as immunity to silence, when attacking he gives +20 atk to allies and when dying he damages 89 to a random enemy. This is one of the strongest cards I have in my team. Its motto is: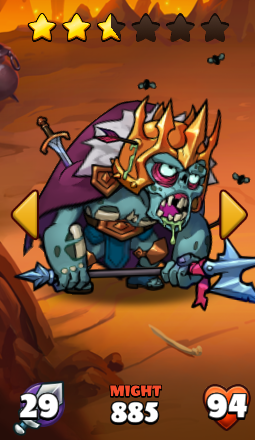 DEAD LORD is a legendary hero of the chaos type of melee attack, at the same level he has 29 atk and 94 hp. His abilities are to summon zombies of atk and hp in the same row, when attacking he transforms the attacked melee enemy into a 2/2 zombie and at the end of the turn he receives +10 atk for each allied zombie. His motto is: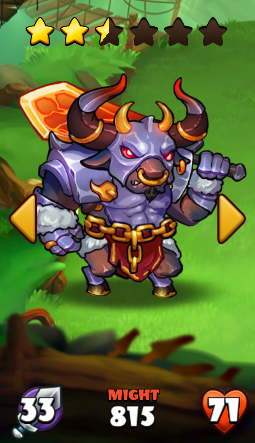 KING TAURUS is a legendary rarity card of the melee attack nature type. At level 8 it has 33 atk and 71 hp. His abilities are those of when attacked the enemy warlord heals the allied warlord by hp equal to the attack of the attacking ally, when attacked an ally is given 11 atk and has 5 thorns that cause damage to the opponent when attacking him.

Achievements:
Within my achievement obtained since my last update, is to have reached a fame level of 10100 a reduction from my last update, which gives me League 2 to 900 points from league 1. Also, 10317 of battles won in PVP, 1545 victories in the Dark Tower, A rank of 381, 56 completed runs in the Dark Tower, 293 Cards discovered ( Between Legendary, Epic, Rare and Normal), 2316 Journey Bosses defeated, 15 thousand 367 chests opened, 4. 533 Level Up, 0 Journey Bosses unlocked, 751 evolutions, 1069 Daily Quests completed, 21,608 cards donated to friends, 428 victories in the Divine Arena and 5 Epic Quests completed.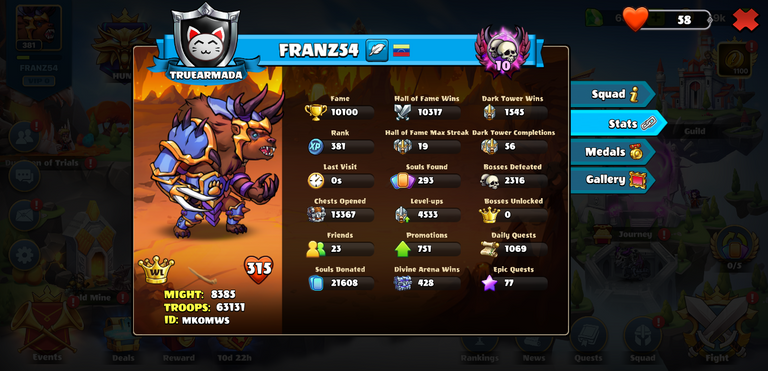 Medallas
The medals obtained during a little more than a year that I have been playing Mighty Party, I have obtained the medal for winning 10 consecutive PVP battles, the medal for having a year in the game and finally the medal for having won 25 complete races in the Dark Tower. The next achievements to obtain are for winning 25 times in a row in PVP and completing the Dark Tower 100 times.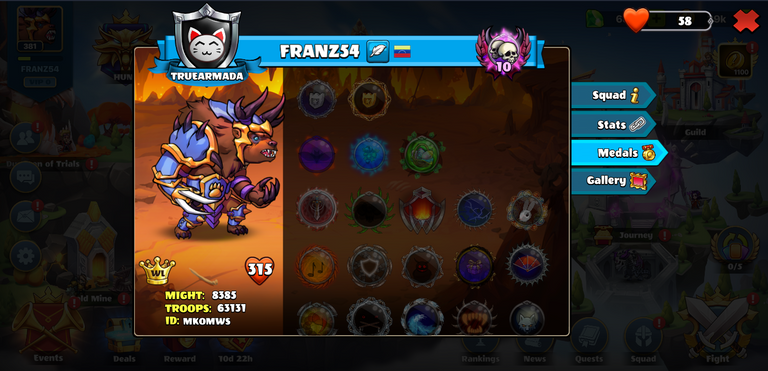 In addition, here is a gallery of some of the latest Global events and completed stages.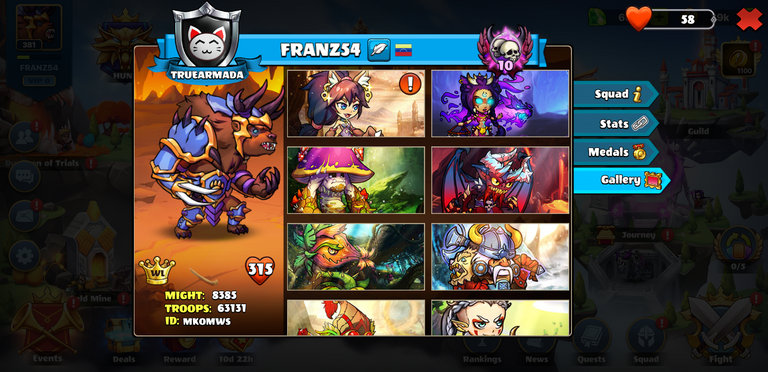 All images in this Post are Captured from the game made by @franz54.
Text separator taken from the post: https://www.tutorialesteemit.com/recomendaciones/separadores-de-texto-para-blog/