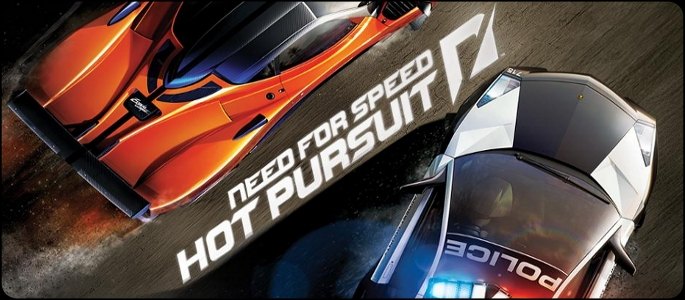 Fuente / Source

ESPAÑOL-ENGLISH
Bienvenidos todos a mi blog, en especial la comunidad de juego hivegaming. En esta ocasión les traigo otro juego de la saga de Need for Speed, la cual se llama Need for Speed Hot Pursuit. Este es un juego del genero las carreras que se estrenó el 16 de noviembre de 2010, es netamente arcade debido a que la dificultad de conducción y de lograr las misiones que se tienen que realizar es muy sencilla; Fue desarrollado por Criterion Games y publicado por Electronic Arts para PlayStation 3, Xbox 360, Microsoft Windows, Wii y iPhone Android. Este videojuego como le hable en las ocasiones anteriores cuando les hable sobre sagas del juego Need for Speed, el mismo es de tipo mundo abierto; es decir, ya que la historia se desarrolla en las calles de una ciudad, ya sea ficticia o que exista en la vida real.
Welcome to my blog, especially the hivegaming community. This time I bring you another game from the Need for Speed saga, which is called Need for Speed Hot Pursuit. This is a racing game that was released on November 16, 2010, is purely arcade because the difficulty of driving and achieve the missions that have to be done is very simple, was developed by Criterion Games and published by Electronic Arts for PlayStation 3, Xbox 360, Microsoft Windows, Wii and iPhone Android. This videogame as I spoke to you in the previous occasions when I spoke to you about sagas of the game Need for Speed, the same one is of type open world; that is to say, since the history is developed in the streets of a city, or fictitious or that it exists in the real life.

Need for Speed Hot Pursuit es notablemente mejor que algunas de las versiones anteriores de la serie de este videojuego. La jugabilidad como les mencione en la pequeña introducción es netamente arcade, no se necesita de mucho tiempo ni para tomar experiencia ni para lograr completar las misiones. Dentro de los modos de carreras que tenemos disponibles el modo historia que es lo más destacable del juego. Al igual que las otros juegos que les escribí anteriormente de Need for Speed, este también se tienen que hacer escapes de la policía, pero también se puede recorrer la ciudad con total libertad sin ningún peligro, ni tener que realizar misiones, lo cual es algo tedioso para mí ya que me gusta la adrenalina y las carreras tradicionales puras que están presentes también en el juego. Si bien Need for Speed no se destaca por tener amplias opciones de juego, pues no me quejo de esta versión ya que es divertida, sin embargo tiene algunos aspectos que se podrían mejorar para que el mismo sea mejor y tenga una mayor aceptación dentro de los usuarios y de la comunidad.
Need for Speed Hot Pursuit is noticeably better than some of the previous versions of this game series. The gameplay as I mentioned in the short introduction is purely arcade, not much time is needed to either gain experience or complete missions. Within the race modes we have available the history mode which is the most remarkable of the game. Like the other games I wrote before from Need for Speed, this one also has to make escapes from the police, but you can also go around the city with total freedom without any danger, nor having to perform missions, which is something tedious for me since I like the adrenaline and the pure traditional races that are also present in the game. Although Need for Speed does not stand out for having a wide range of game options, as I do not complain about this version as it is fun, however it has some aspects that could be improved to make it better and have a greater acceptance within users and the community.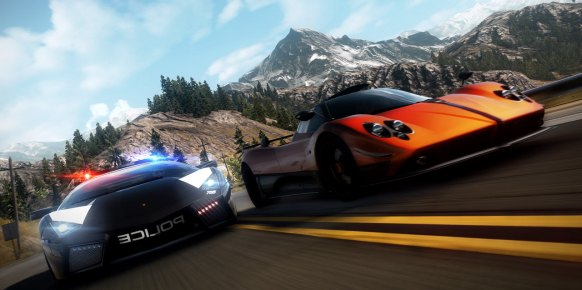 Fuente / Source
A su vez los modos de juegos se dividen en dos categorías, modo correr Corredor y modo policía. El modo corredor hay pruebas de carreras normales donde pueden participar hasta 8 corredores que se pueden chocar ya que en este juego no hay reglas, lo importante es cruzar la línea de meta en la primera posición; Contrarreloj que la finalidad de este modo se logra recorrer una distancia establecido en el mejor tiempo posible ya que el que lo haga de la mejor manera posible es declarado el ganador; seguidamente tenemos el modo Duelo, donde se enfrentan dos corredores; Primer contacto que es una carrera contrarreloj y finalmente un modo reto. El modo policía se divide en Interceptor, que se debe atrapar a un corredor un tiempo determinado, siendo este el más interesante. El juego, tiene disponible más de 100 autos que se irán desbloqueando a medida que se cumplan con las misiones y las pruebas. La ciudad donde se desarrolla el juego es Seacrest County, que es una ciudad ficticia, que en muchos casos es inspirado en las ciudades del Estados Unidos.
In turn, the game modes are divided into two categories, Running mode and Police mode. The runner mode there are normal races where you can participate up to 8 runners that can collide since in this game there are no rules, the important thing is to cross the finish line in the first position; Against the clock that the purpose of this mode is to cover a distance established in the best possible time since the one that does it in the best possible way is declared the winner; then we have the Duel mode, where two runners face each other; First contact that is a race against the clock and finally a challenge mode. The police mode is divided into Interceptor, which must catch a runner a certain time, this being the most interesting. The game has more than 100 cars available that will be unlocked as the missions and tests are completed. The city where the game takes place is Seacrest County, which is a fictional city, which in many cases is inspired by the cities of the United States.

El modo multijugador es mucho mejor que algunos de las sagas de Need for Speed Hot de años anteriores, las correrás se ven muy fluido caso que he visto que no paso en versiones un poco más reciente como por ejemplo Need for Speed Heat, donde las carreras se veían un poco flameados lo que es molesto para los jugadores. Este aspecto del juego ha tenido buenas críticas por ser una de las fortalezas ya que cumple ampliamente con el objetivo de este modo que es que los jugadores puedan hacer comunidad para que así puedan no solo entretenerse corriendo sino que también puedan interactuar y conocer a nuevas personas. Dentro del modo online se pueden realizar las pruebas Hot Pursuit, Interceptor y Carrera. En fin este aspecto es 10 con respecto a los modos de juegos mencionados anteriormente, es por ello que siempre las carreras online son las preferidas por los jugadores.
The multiplayer mode is much better than some of the Need for Speed Hot sagas from previous years, the races look very fluid in case I have seen that it did not happen in versions a little more recent as for example Need for Speed Heat, where the races looked a little flamed which is annoying for the players. This aspect of the game has been criticized for being one of the strengths as it amply fulfills the objective of the game which is that players can make a community so that they can not only entertain themselves by racing but also interact and meet new people. Within the online mode you can perform the Hot Pursuit, Interceptor and Race tests. In short, this aspect is 10 compared to the game modes mentioned above, which is why online races are always the favorite of players.

Need for Speed Hot Pursuit tiene un excelente apartado gráficos, principalmente por que las texturas de los coches son geniales se ven como loa autos de la vida real. El segundo punto por el cual creo que esta versión de Need for Speed tienes unas gráficas destacada es la sensación de velocidad que los jugadores tienen a la hora de tener las carreras, lo que hacer que nos tener la sensación de estar en una carrera de la vida real, y no solo eso sino que también están presentas efectos gráficos como la de las chispas cuando se roza los muros o se chocan los otros autos, ya sea los competidores o carros de personas civiles que transitan por las calles de la ciudad. Ahora bien no todo es bueno, un punto negativo de esto es la física de los autos que hacen que se vean mal lo autos a la hora de chocar o rozar los muros, se ve muy poco realista.
Need for Speed Hot Pursuit has excellent graphics, mainly because the car textures are great and look like real life cars. The second point that I think this version of Need for Speed has some outstanding graphics is the feeling of speed that players have when they have the races, which makes us feel like we're in a real life race, and not only that but there are also graphic effects like the sparks when you brush the walls or crash the other cars, whether it's the competitors or civilian cars that are passing through the city streets. However, not everything is good, a negative point of this is the physics of the cars that make the cars look bad when they hit or brush the walls, it looks very unrealistic.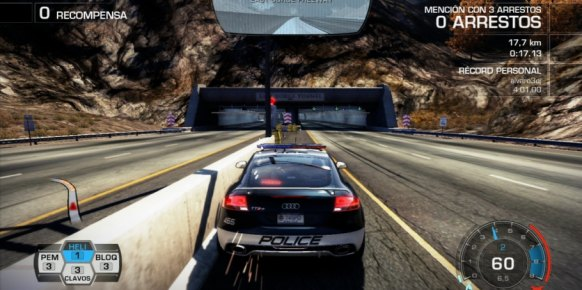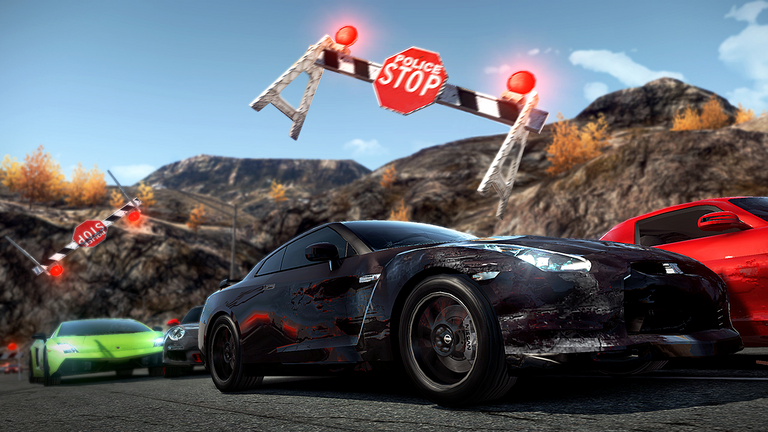 1
2
El sonido es correcto, donde destaca el sonido de los motores de los autos, sin embargo a veces se me hace un poco difícil diferencial el rugido del motor de tipo de marca de auto con respecto al otro. Además posee buenos efectos de sonidos como los roces entre autos cuando colisionan o incluso se diferencia cuando se choca con los muros que se encuentran en las carreteras donde se llevan a cabo la carrera. La banda sonora usada es de lo mejor, donde destacan canciones de bandas como punks, genero electrónico como 30 Seconds to Mars, Klaxons o Bad Religion. Finalmente el juego esta traducido de buena manera en el idioma español lo que es bueno para los hispanohablantes.
The sound is correct, where the sound of car engines stands out, however sometimes I find it a little difficult to differentiate the roar of the car brand type engine from the other. It also has good sound effects such as friction between cars when they collide or even differentiates when it hits the walls that are on the roads where the race takes place. The soundtrack used is of the best, where songs from bands like punks, electronic genre as 30 Seconds to Mars, Klaxons or Bad Religion stand out. Finally the game is translated in a good way in the Spanish language which is good for Spanish speakers.
Fuente / Source

En conclusión este juego es muy divertido, en donde destacan la mayoría del aspecto, principalmente en la parte del modo online y las diferentes pruebas que nos ofrece. El juego es netamente arcade, lo que resulta muy fácil de jugar para cualquier jugador que incluso no sea experto en los juegos de carrera. Los gráficos son muy buenos, tanto el modelado de los autos, los objetos que componen las calles y el paisaje de la ciudad donde se desarrolla el juego, sin embargo las físicas no son tan buenas como lo esperado. El sonido es bueno, pero mejoraría el sonido del motor de los diferentes modelos de autos; es decir, que se diferencien uno del otro. Y finalmente las músicas de las bandas sonoras son de las mejores además de que tiene un correcto doblaje al español. De todos los juegos que he probado de Need for Speed es uno de los mejores, pero aún tiene algunos detalles que pudieron ser mejores y tal vez fueron mejorados en sagas más reciente del juego. Es por ello que lo doy un puntaje de 9 de 10, debido al análisis como jugador de cada uno de los aspectos más relevantes tocados en esta publicación.
In conclusion this game is very fun, where most of the aspect stands out, mainly in the part of the online mode and the different tests that it offers us. The game is purely arcade, which is very easy to play for any player who is not even an expert in racing games. The graphics are very good, both the modeling of the cars, the objects that make up the streets and the landscape of the city where the game takes place, however the physics are not as good as expected. The sound is good, but it would improve the sound of the engine of the different car models; that is to say, that they differ from each other. And finally the music of the soundtracks is one of the best, besides it has a correct dubbing to Spanish. Of all the games I've tried Need for Speed is one of the best, but still has some details that could be better and perhaps were improved in more recent sagas of the game. That's why I give it a score of 9 out of 10, due to the analysis as a player of each of the most relevant aspects touched in this publication.
---
Fuente / Source



FICHA TÉCNICA // TECHNICAL DATA SHEET
Nombre // First name: Burnout Paradise: Need for Speed Hot Pursuit
Fecha de lanzamiento // Launch date: 8 de noviembre de 2010
Plataforma // Platform: PC, PS3, X360, Wii, Android, y iOS
Género // Tender: Conducción, GT, Destrucción
Número de jugadores // Number of players : 1-8 (Competitivo: 8)
Desarrollador // Developer: Criterion games
Requisitos mínimos / Minimum requirements:
Sistema operativo / Operating system: Windows XP SP3, Windows XP 64-bit SP2, Windows Vista SP2 (32- o 64-bit), or Windows 7 (32- o 64-bit). (SO no soportados: Windows 95, Windows 98, Windows ME, Windows NT 4.0, and Windows 2000)
Procesador / Processor: Intel Core® 2 Duo 2.0 GHZ o AMD Athlon X2 64 2.4GHZ; 1.5 GB Windows® XP / 2 GB Windows Vista® - Windows 7®
Memoria / memory: 1GB (XP), 1.5GB (Vista), 1.5 GB (Windows 7)
Gráficos / Graphics: Compatible con DirectX® , 9.0c 3D-accelerated, 256 MB con Shader Model 3.0 o mejor.
Tarjeta de sonido //Sound card: Compatible con DirectX® 9.0c
Red: Conexión a ancho de banda para activación online y juego en línea - 512 Kbps o mejor.
Disco Duro //Hard Disk: 8 GB de espacio libre. Espacio adicional requerido para instalación de DirectX 9.0c y almacenamiento de partidas guardadas.

Separador de textos tomador del Post // Post taker text separator : Lucho en la pista (RETA A @equipodelta. | @franz54 reta a @equipodelta a Dibujar) Caricatura.
Gracias por su visita. Espero que les haya gustado. // Thank you for your visit. I hope you liked it.
Hasta una próxima oportunidad // Till a next chance
Sin más que decir, se despide de ustedes, su cordial servidor @franz54. // Without further ado, he bids farewell to you, his cordial server @franz54.