Ten millions of power!
Recently I managed to reach a goal in League of Kingdoms, I managed to exceed the ten million power, shortly after raising my castle to lvl 21, maybe I took a little while to reach this power and is that lately I've been less active than previous days, but of course, this game I approach it as a marathon and not as a sprint, so I have my sights set on the medium and long term, I just need to be constant and complete at least the daily missions to grow gradually within the game.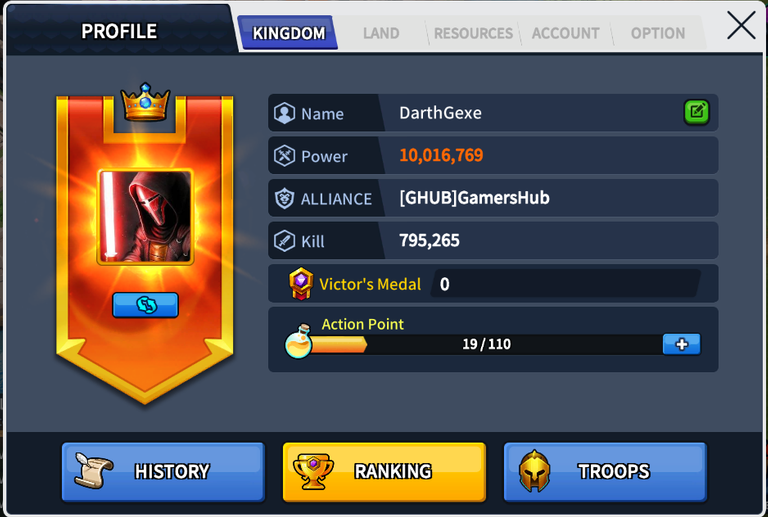 The ranking
Having this power places me in the 176th position of the ranking, I dropped some positions since the last time, but I hope I can recover them soon, for now I don't plan to sell resources due to the high prices of the GAS, so I will surely be able to count on what I need to build my buildings and train new troops.
Due to the current event in which enemy troops must be killed I have advanced a bit in the kills ranking, although I am not very proud to be in this table, I guess it is an achievement. I've been attacked a couple of times and I've hit a couple of castles that looked inactive or were someone else's farm, I've tried to stay out of trouble.

On the other hand, my alliance has gone down a step in the power ranking, this is due in part to the constant cleaning of the same in which they have removed a couple of inactive members, we are currently waiting for new members to join so that between all of us we go up in the ranking.


Thank you very much for reading this post and don't hesitate to leave your comment. See you in the game.


Check the Splinterlands battle stats of all the monsters & summoners.



The images used in this post belong to or are inspired by League of Kingdoms, a MMO game integrated to the Ethereum Blockchain.

---
---