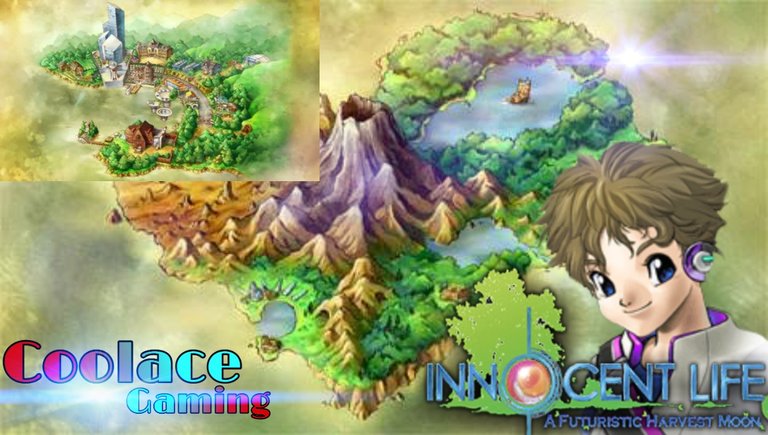 Hello Gamers, Coolace Gaming is here once again. This blog is a bit late because I'm making youtube videos for you Gamers, so you can follow everything I'm doing in the game.
There is a little difference of my game and your game. Weather is random so there is a chance that you will encounter more storm or I will encounter more storm. So you need to watch weather reports everyday so you are aware what is the weather.
I will not just focus on the main storyline of the game so you can enjoy it even after the storyline. There are many interesting things after you finish the main storyline.
You can finish the game in Ring one or 1st Year in the game. If you failed to finish it in your first year, you need to go all over the year again to finish the storyline so be cautious so you can finish the storyline in your first year.
---
---
Walkthrough
This walkthrough is based on in game experience. I will tell you day by day what are you going to do so you can finish the storyline in your first year. Enjoy playing Harvest Moon Series.
---
---
Ring 0, Winter
---
Winter, Day 33 (Fri.)
When you gain control of your character this is the first thing you will need to do is to Speak with Dr. Hope, when you are finished talking to Dr. Hope speak with Gayak, and once again speak with Dr. Hope, answer yes to his question. Then you need to comolete the farming lessons of Gayak.
Winter, Day 34 (Sat.)
You will be at Gayak's House when you woke up head downstairs Marlene will tell you to eat, answer yes to her question. When you are finished eating speak with Marlene, after that you will recieve second seed bag, then speak with Gayak downstairs and you will recieve 9 turnip seeds. Next walk back upstairs, Marcia will ask you a question you need to answer yes. Marcia will take you to Dr. Hope's Mansion, when the dinner is over Dr. Hope will ask you a question answer yes.
Winter, Day 35 (Sun.)
Walk out of the shine pod and go outside of the mansion through front door. Go left and you will find Dr. Hope in front of a grave.
---
Ring 1, Spring
---
Spring, Day 1 (Mon)
Go up to your farm, when Franco finished talking plant and water your 9 Turnip seeds. Speak with Franco once again, and talk with everyone in your farm, when you finished talking to them, talk to Franco again and they will take their leave. Go to your Item box and put away the snow soles and power soles, as they only take space in your inventory. You can start leveling up your hoe and watering can, you need to get level 2 watering can before week 1 end. Use the trick that I told you in my last blog. Attempt to finish up before 21:00 so that you can get up earlier than usual, but if you choose to work late into the night be sure to go to sleep before
02:00 otherwise you will awaken at 08:00 instead of the normal 06:00. Wake up early.
Spring, Day 2 (Tue.)
Go up to your farm and water your Turnip, then continue leveling up your tools, you can get significant amount on your watering can due to the land stayed tilled. After running out of PP use the trick I told you in my last blog. You should finished after 21:00 so you can wake up early.
Spring, Day 3 (Wed)
When you go up to your farm you will see Million and Lenny talk to them, after you finished talking they will take their leave. Continue leveling up your tools. Then go downstairs and go talk to Franco and you will get Iron Sickle, go in and out in his house then talk to him again, he will tell that Million gave you seeds in your Seed box. Head to your storage area and get the seeds. Go up to your farm and plant 25 Asparagus seeds. Since you used all your PP, use the trick that I told you. Finish after 21:00 so you can wake up early.
Spring, Day 4 (Thu.)
Franco will be up in your farm, speak to him if you wish. Continue to level up your tools and use the trick. Your watering can and hoe should be level 2 by now. Finish before 21:00 so you can wake up early.
Spring, Day 5 (Fri.)
It should be rainy day, you are free from your duty watering, take your sickle and clean your field and gather all stones near your shipping pod to make your shipping smooth. Go downstairs and collect the strange moss it will take three trips to finish. Wake up early.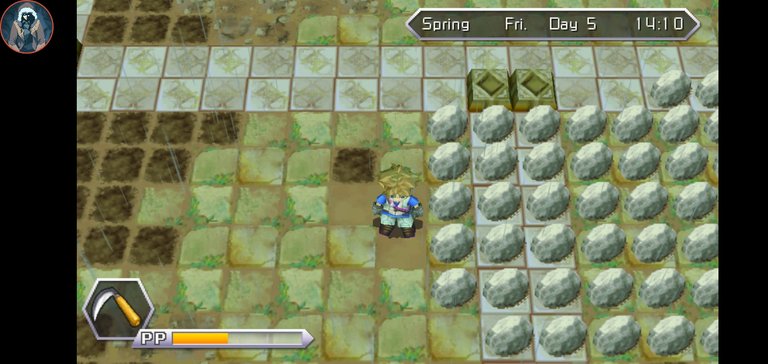 (Owned by @coolace)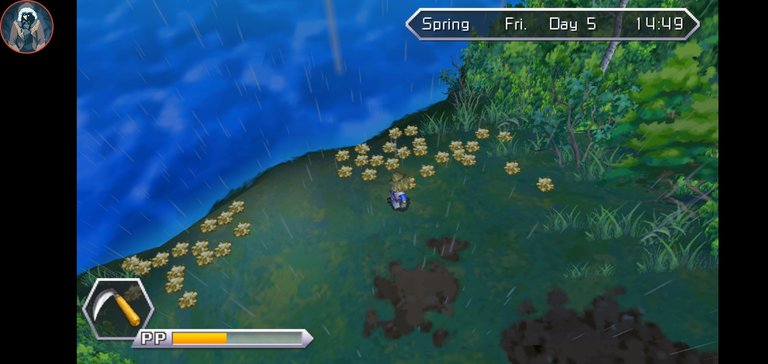 (Own by @coolace)
Spring, Day 6 (Sat.)
Franco will be up in your farm, he will told you that the harvest is tomorrow so water your crops. Max is jogging in your farm. Take a lap in your farm to see if any new weed appeared. Continue to use the trick so you can maximize the time that you are stuck in Eastern Ruins. Don't worry about waking up early, it will not affect the time when you wake up.
Spring, Day 7 (Sun)
Today will be your first time harvesting, Franco and Moonlight is waiting in your room. Speak to Franco and answer yes. Harvest your Turnip and water your asparagus. Use all your PP before you talk to Franco, then answer yes. Then talk to Dr. Hope and answer yes.
---
---
End of Week 1.
---
Tools and Items Attainable:
01) Power Soles
02) Snow Soles
03) Doctor's WC
04) Iron Hoe
05) Seed Bag (2x)
06) Strange Moss (43x)
07) Iron Sickle
---
---
Spring, Day 8 (Mon.)
When the tour is over go up to your farm and plant and water the seeds that Marcia gave to you. Use all your PP, and head to the town. Before you go to Shop-a-Million restore your PP using the shine pod in Dr. Hope's Lab. Go to Shop-a-Million ang purchase the Iron Axe and talk to every person in the shop including the people at the back of the shop. Go to Jonathan branch and wait until 16:00. Go to Masami's bar and talk to her, she will give you the level 2 watering can. Then head back to your farm use all your PP and sleep early.
---
---
That's all for today's blog Gamers I hope you continue reading my blog.
I will provide a video from my youtube channel.
Like and Subscribe to my channel for more contents like this.
---
---
also check my past blog, you will know the trick I'm talking about if you read this.
Click here
---
Also check the youtube channel of Rynn and Arclight they are Valorant gamers, they make highlights of their actuall games.
---
See you in my next blog Gamers