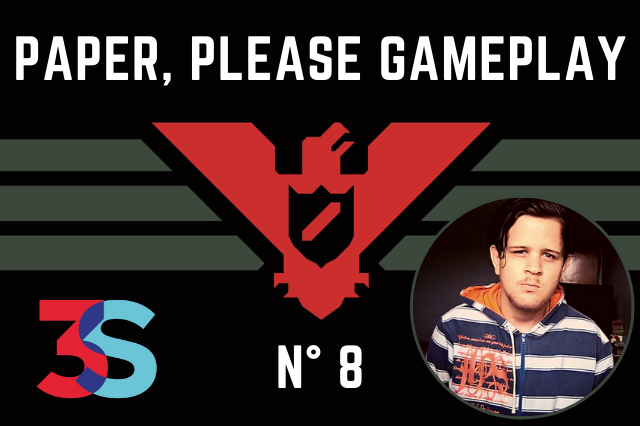 ▶️ Watch on 3Speak
---
Versión español.
---

Hey! que tal mis estimados amigos de Hivers, sean bienvenido a un nuevo vídeo gameplay del genial juego "Paper, Please" para mi canal de 3Speak.
---
En este nuevo día en la aduana fronteriza de Grestin, que apenas al empezar nos avisan de un agente encubierto del Ministerio de Información corre peligro y que nosotros lo vamos a ayudar siendo como intermediario ya que durante de la jornada nos van entregar un documento.
Cuando decidí abrir la aduana la primera persona que entro a la garita fue un guardia de la frontera llamado Calensk, que nos dijo a partir de ahora que por cada dos personas que se detenga nos van a pagar 5 de crédito, ya que el le dan paga cuando se detiene a personas, y esos créditos los quiere compartir con nosotros, algo que me gusta ya que el inspector esta en problema económicos.
El día paso muy tranquilo, lo malo que de nuevo tuve un equivocación, se presento el agente encubierto que se nos habían informado anteriormente, nos comento que no tenia mucho tiempo ya que un impostor que según era del Ministerio de Información pero era mentira, así que nos entrego un documento y nos dijo que lo guardara bien, y aparte nos entrego otro y nos dijo que se lo entregara a ese impostor, si en caso se presentara, y así fue, al rato se presento una persona que según era del ministerio de información y pidió que se le entregara el documento que el verdadero agente nos dio, así que le di el otro que el verdadero agente nos dijo que se le entregara al falso agente.
Y bueno al final del día gane 40 de crédito pague la comida y calefacción, la familia del inspector aun están enfermos y solo pude pagarle los medicamentos al hijo, pero la esposa y sus suegra tendrán esperar al día siguiente para pagarle los medicamentos de ellas.
Y bueno mis amigos espero que este capitulo le haya gustado, yo me divertido haciéndolo me pueden apoyar dejándome un comentario diciendo que tal le ha parecido. Aprecio un montón cada apoyo que reciben mis vídeos, muchas gracias.
---
English version.
---
Hey! my dear friends Hivers, welcome to a new gameplay video of the great game "Paper, Please" for my 3Speak channel.
---
When I decided to open the customs office the first person who entered the sentry box was a border guard called Calensk, who told us from now on that for every two people who are arrested we are going to be paid 5 credit, because he gets paid when people are arrested, and those credits he wants to share with us, something that I like since the inspector is in financial trouble.
The day went by very calmly, the bad thing was that again I had a mistake, the undercover agent who had been informed before showed up, he told us that he didn't have much time because an impostor who according to him was from the Ministry of Information but it was a lie, so he gave us a document and told us to keep it well, And then he gave us another one and told us to give it to that impostor, if he showed up, and he did. After a while, a person who was from the ministry of information showed up and asked to be given the document that the real agent gave us, so I gave him the other one that the real agent told us to give to the false agent.
And well at the end of the day I earned 40 credit to pay for the food and heating, the inspector's family is still sick and I could only pay for the medicine for the son, but the wife and her mother-in-law will have to wait the next day to pay for their medicine.
And well my friends I hope you liked this chapter, I have fun doing it, you can support me by leaving me a comment saying how you liked it. I appreciate every support my videos receive, thank you very much.
---
▶️ 3Speak