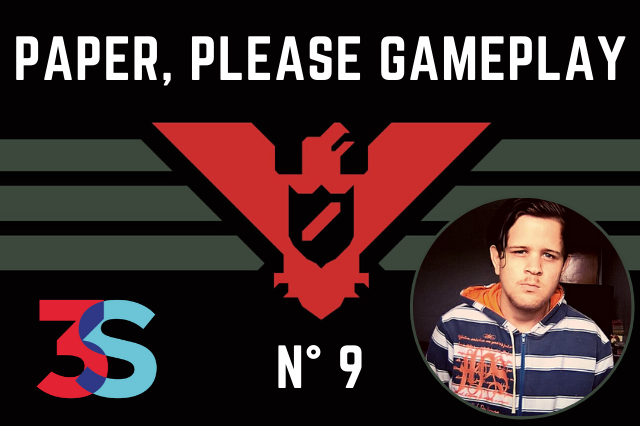 ▶️ Watch on 3Speak
---
English version
---
Welcome, Hivers friends, to a new chapter of Paper, Please.
---
As we entered the sentry box we were warned that a divisional operating authority from Grestin was going to visit us on this day. The officer who entered, tells us that the inspector is under his responsibility, congratulates us for the good work at the border post, awarded him a plaque of recognition for excellence.
Again it was a quiet day, there were no problems although I made a mistake in letting a person with a false document pass, I arrested two foreigners with false documents. A person who is part of the Ezic star order showed up again, the same group that days before had asked us for help to overthrow the corrupt government that Artotzca has.
That person told us that the next day the operation against the Artotzca government was going to begin, he gave us a document that had to be decrypted, so that it would show two names of people and then told us to let them pass.
And well my friends I hope you liked this chapter, I have fun doing it, you can support me by leaving me a comment saying how you liked it. I appreciate every support my videos receive, thank you very much.
---
Versión español.
---
Bienvenidos amigos Hivers a un nuevo capitulo de mi gameplay del juego Paper, Please.
---
Al entrar a la garita se nos avisa que una autoridad divisional de operaciones de Grestin, nos iba visitar en este día. El oficial que entro, nos dice que el inspector esta bajo su responsabilidad, nos felicita por el buen trabajo en el puesto fronterizo, otorgado le una placa de reconocimiento a la excelencia.
Nuevamente fue un día tranquilo, no hubo problemas aunque cometí un error al dejar pasar a una persona con un documento falso, arreste a dos extranjeros con documentos falsos. Se presento de nuevo una persona que forma parta de la orden de la estrella de Ezic, el mismo grupo que días atrás nos había pedido ayuda para derrocar el gobierno corrupto que tiene Artotzca.
Esa persona nos comento que el día siguiente va empezar la operación contra el gobierno de Artotzca, nos dio un documento que se tenia que desencriptar, para que mostrara dos nombre de personas y continuación nos dijo que los deje pasar.
Así que esta trama del juego se va poniendo mas interesante, pronto le traeré la capitulo diez, ya que quede intrigado de lo que va a pasar a continuación.
Y bueno mis amigos espero que este capitulo le haya gustado, yo me divertido haciéndolo me pueden apoyar dejándome un comentario diciendo que tal le ha parecido. Aprecio un montón cada apoyo que reciben mis vídeos, muchas gracias.
---
▶️ 3Speak