Hoping that everyone is in good health. I send a warm greeting to the platform
Hive Gaming Community
, and a big hug to all the colleagues of the platform
Hive Blog
.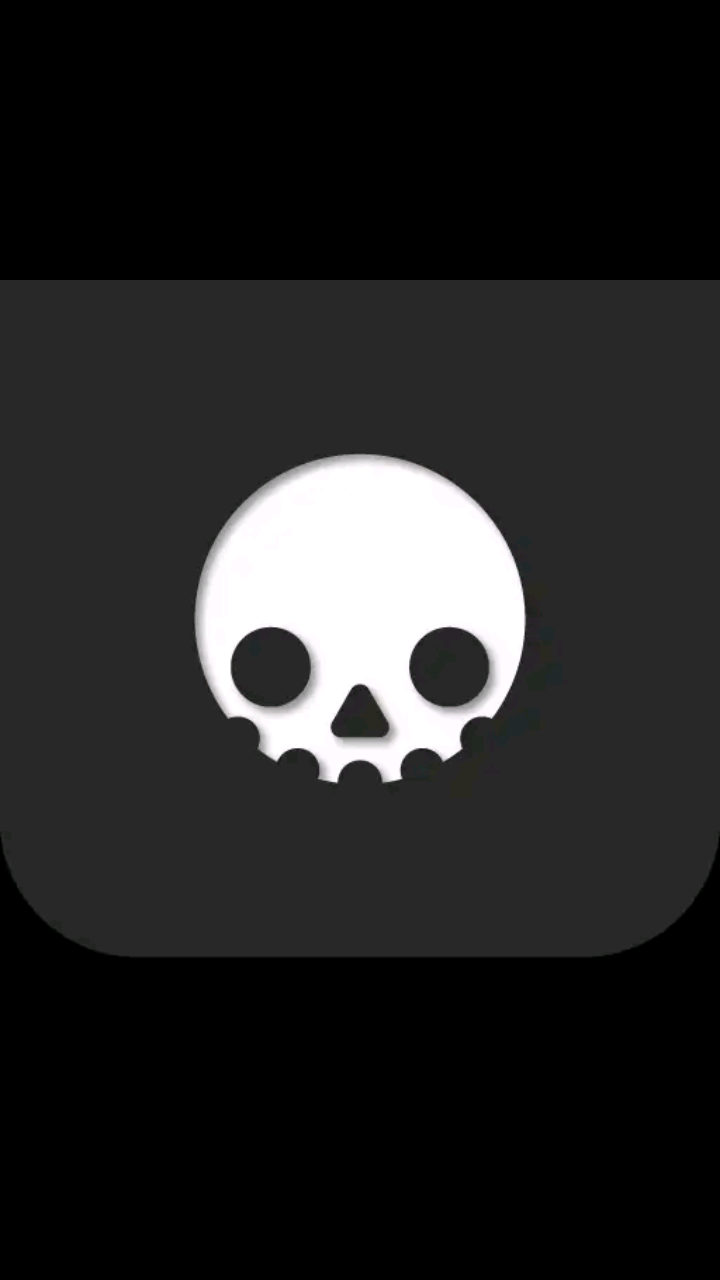 English
True love, towards people, animals or whatever is the object of love, is born from daily contact, from continuous living together, from dedicating time to knowing in depth the mysteries that are contained in the origin of each one.
I love words so much... They have shade, transparency, weight, feathers, hair, they have everything that was added to them from so much rolling in the river, from so much transmigration from their homeland, from so much being roots...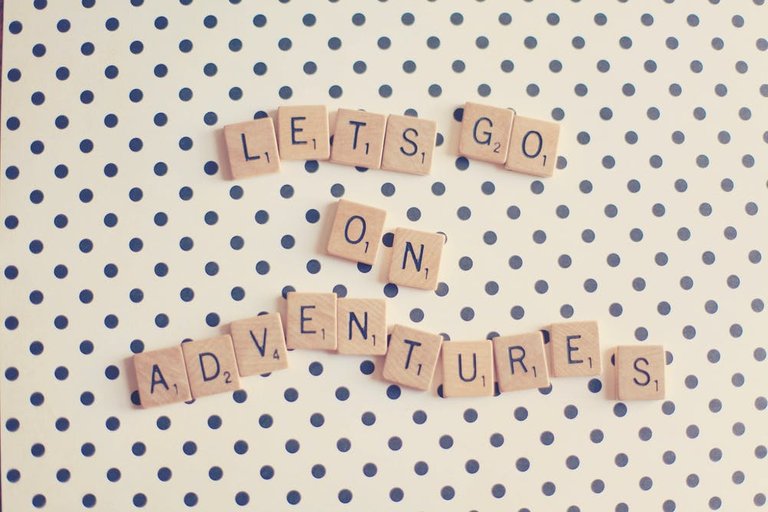 Especially for us, who have embarked on this magical world of publications, and who usually need to have the right words at hand to shape our ideas and make us understood, the team of
MUM NOT PROUD
has developed the video game 🅱️🅰️ℹ️K💀♓
LETAL
, which is a very fun way to meet words, and live a different adventure with them.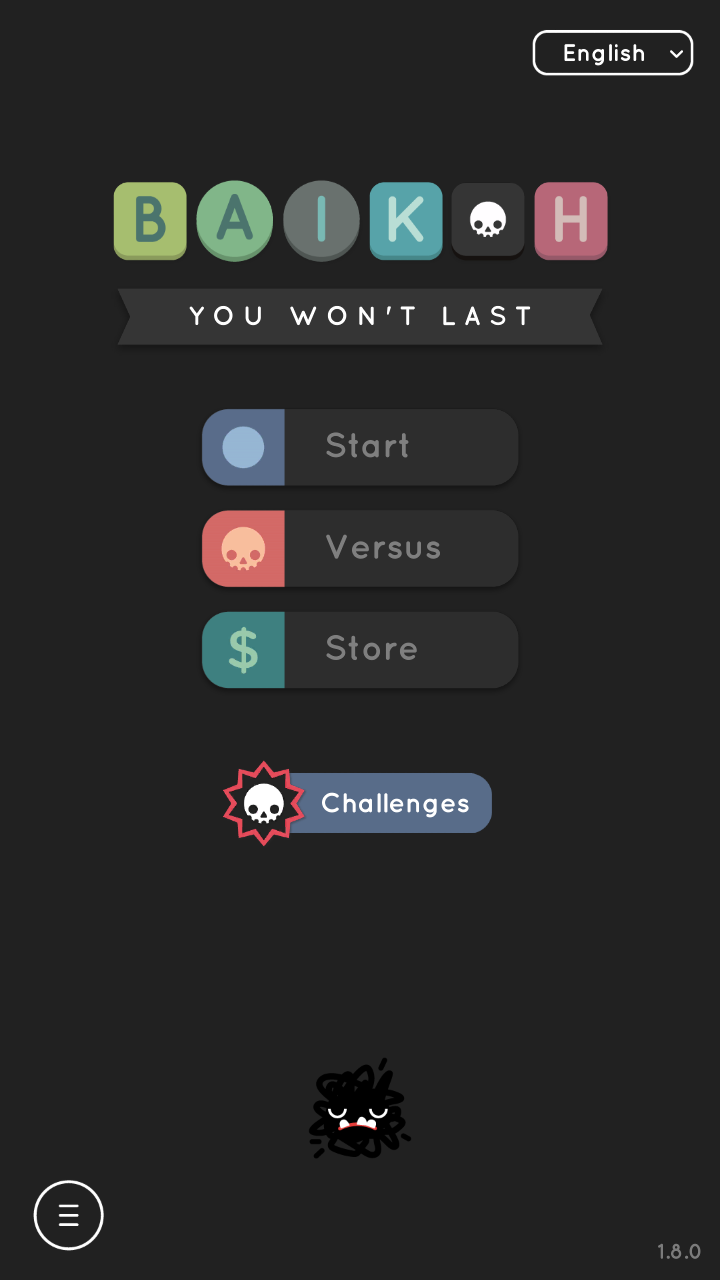 I don't think we are used to receiving insults from an artificial intelligence, and we would least expect to find these insults coming from a game. 🅱️🅰️ℹ️K💀♓ is a game with a touch of cruelty that, although it sounds masochistic, makes it more striking. After all, it's just a game. If we are familiar with the game of Tetris, it will not be difficult for us to understand the mechanics of 🅱️🅰️ℹ️K💀♓ , only that in this case, letters will fall on our board, with which we have to put together words, without letting the letters touch the top of the board, which would mean our death. If we manage to put together words that are unusual or formed by a considerable number of letters, we will have to deal with a very upset 🅱️🅰️ℹ️K💀♓, which will immediately proceed to increase the speed with which the letters fall and to put on many traps, in order to achieve what we lose.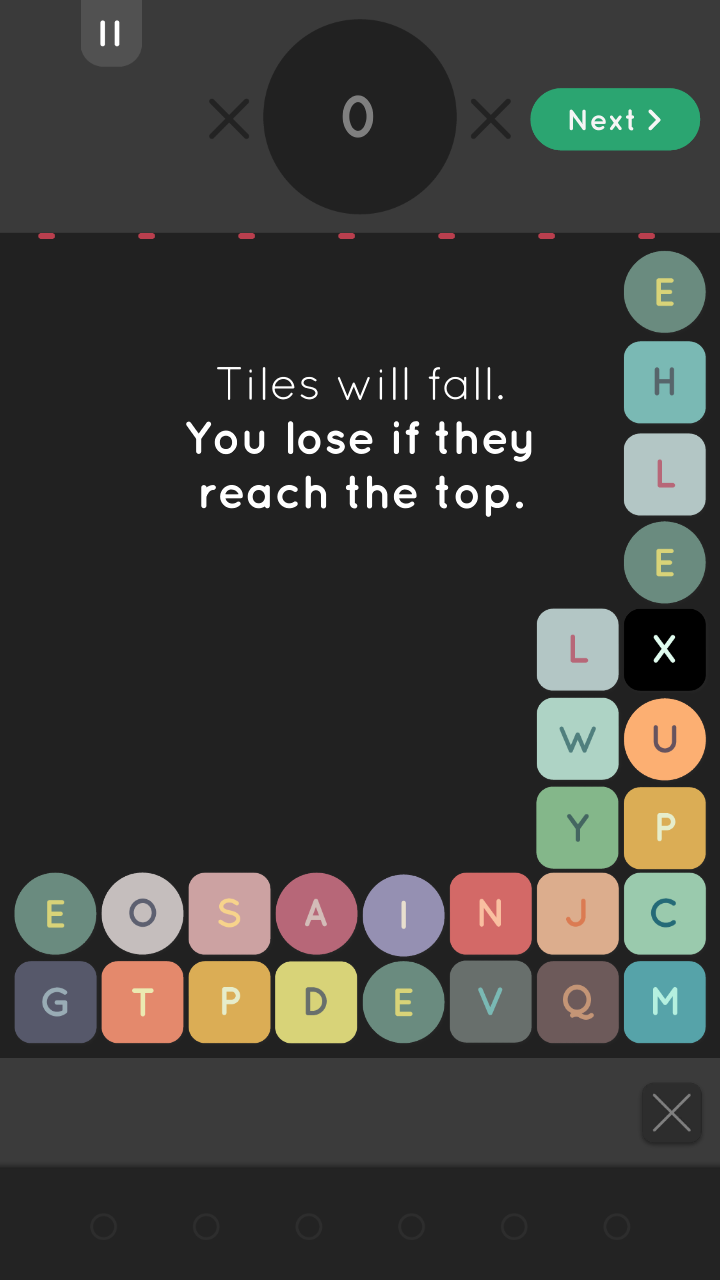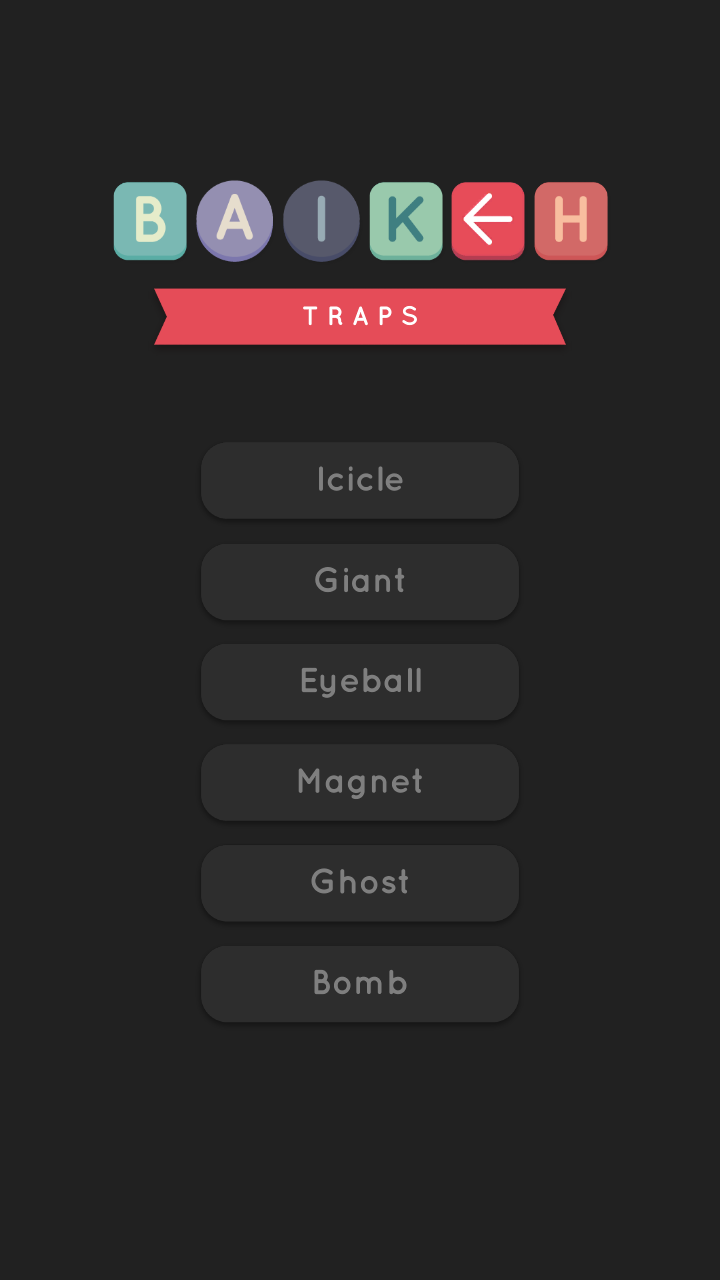 Perhaps in 🅱️🅰️ℹ️K💀♓ we won't see a display of sophisticated graphic engines or extraordinary 3D designs, or a soundtrack with an outstanding music, but we will find a game that captivates with its simplicity and good taste, from the first moment, and where it is evident that, this group of Mexican creators put all their ingenuity and heart to create it. Not in vain, Mexico has been gaining ground in the area of traditional puzzle games, reaching eighth place worldwide, in the World Puzzle Days 2020, an annual online competition organized by The World Federation of Puzzles.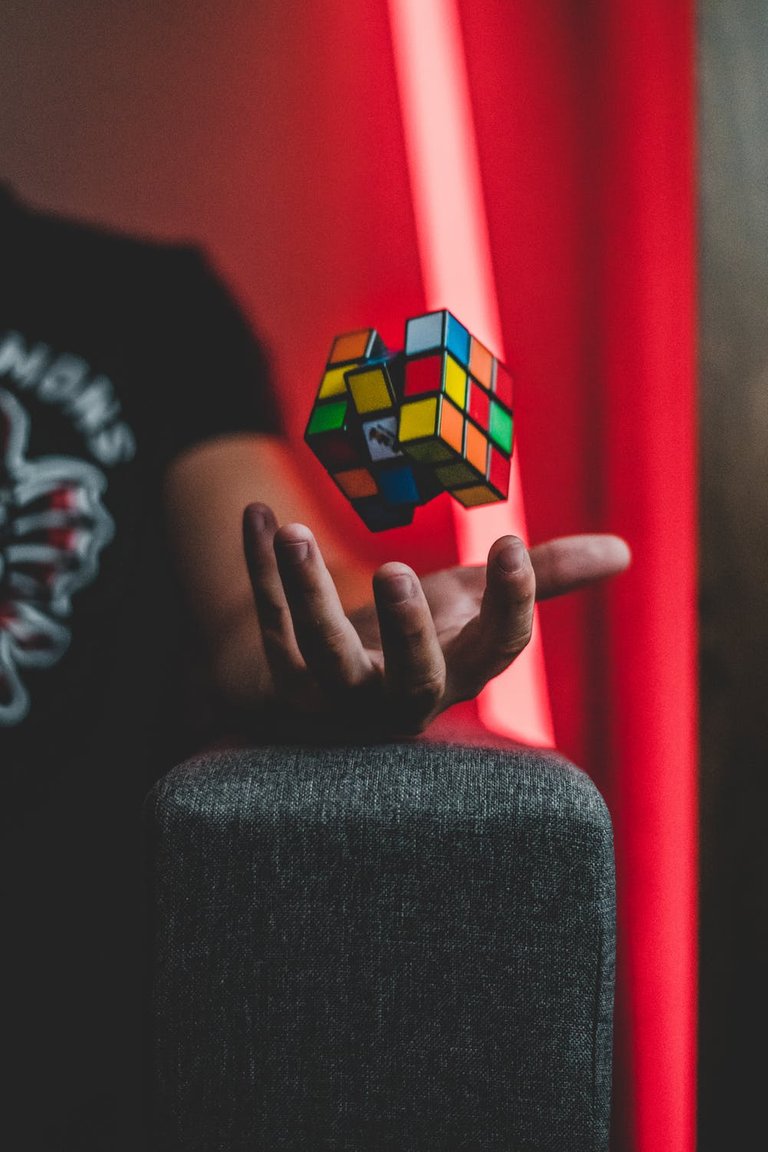 It is a very didactic game with a playability that catches us, we can download it to our cell phone from Google Play completely free, and start taking it everywhere, to enrich those moments of waiting that are presented to us very often.
We can play individually in the Solo mode, starting a pitched battle of traps, and the use of medals to counter those traps. There is no limit to the formation of words, they just have to be spell-correct. We can form the words we want, even those considered in bad taste or rude, always remembering not to make more than three spelling mistakes, because we will receive a punishment. We will need much skill and mental speed to defend several fronts at the same time, and to be able to defeat this presumed "enemy.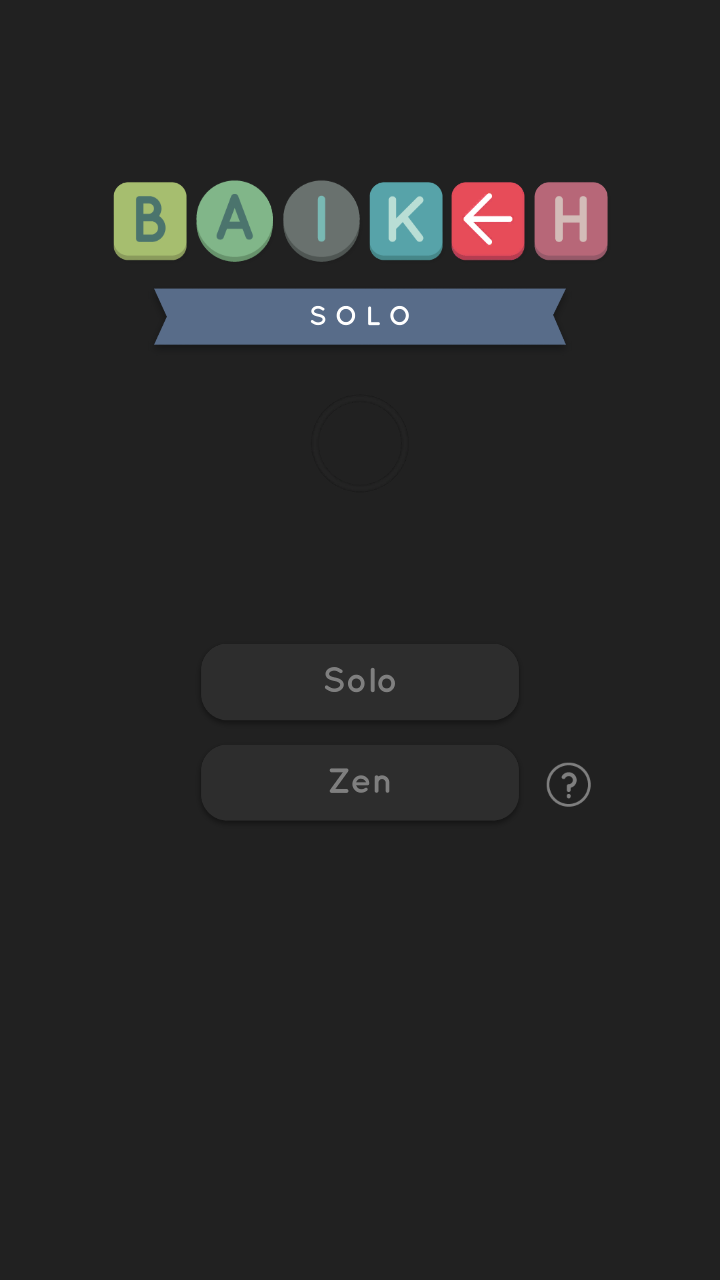 Also 🅱️🅰️ℹ️K💀♓ offers us the Versus mode, a real time multiplayer system, where we will use "weapons" against other humans, we will be able to make competitions between friends, quick duels or bets in Baikoins, the virtual currency of the game. The points that we fence accumulating will allow us to buy tools, that will help us, sometimes, to go out of hardships and to face this maniac of the letters, and to continue alive in the game. Whoever wins gets everything. The last option we have left is the Zen mode, where we won't find traps, nor medals, nor bet Baikoins, it is the recommended mode for grandparents.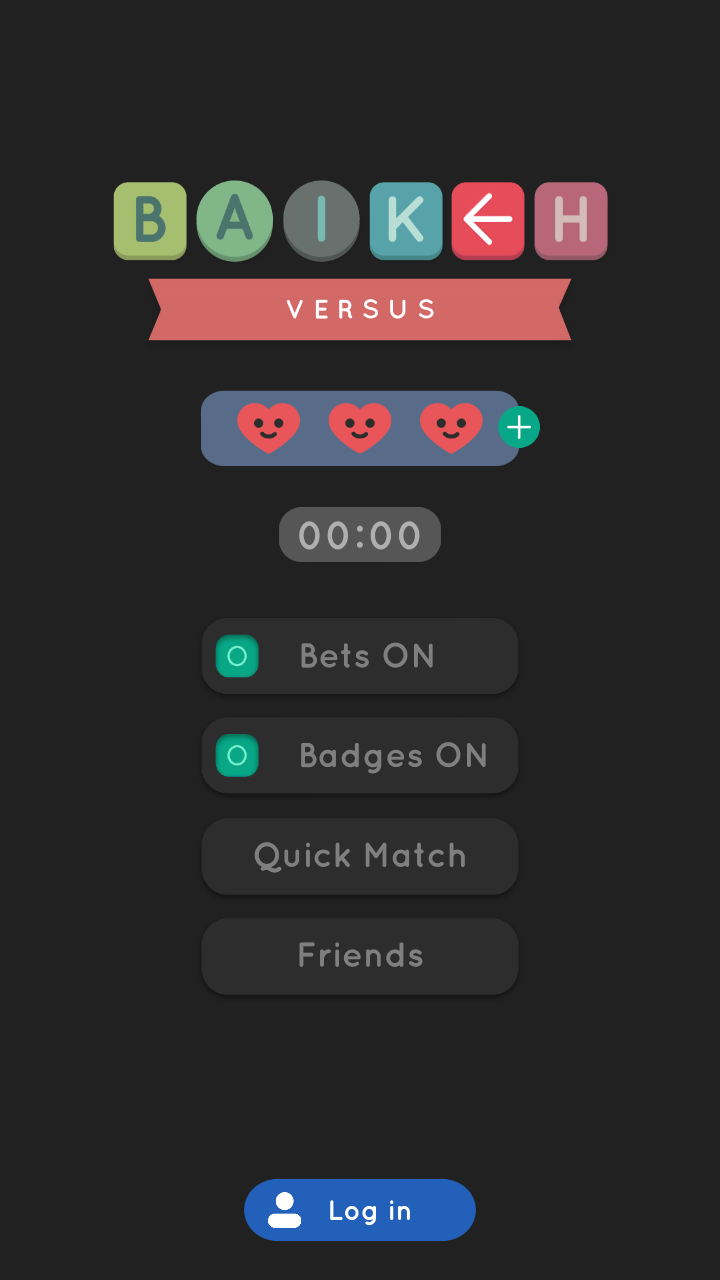 Mud Not Proud

with a strategic alliance with
Unity
, also provide us the opportunity to choose the language in which we want to play 🅱️🅰️ℹ️K💀♓. This creates an even more attractive challenge for those who are starting to study a new language and want to test their knowledge with this not at all subtle game.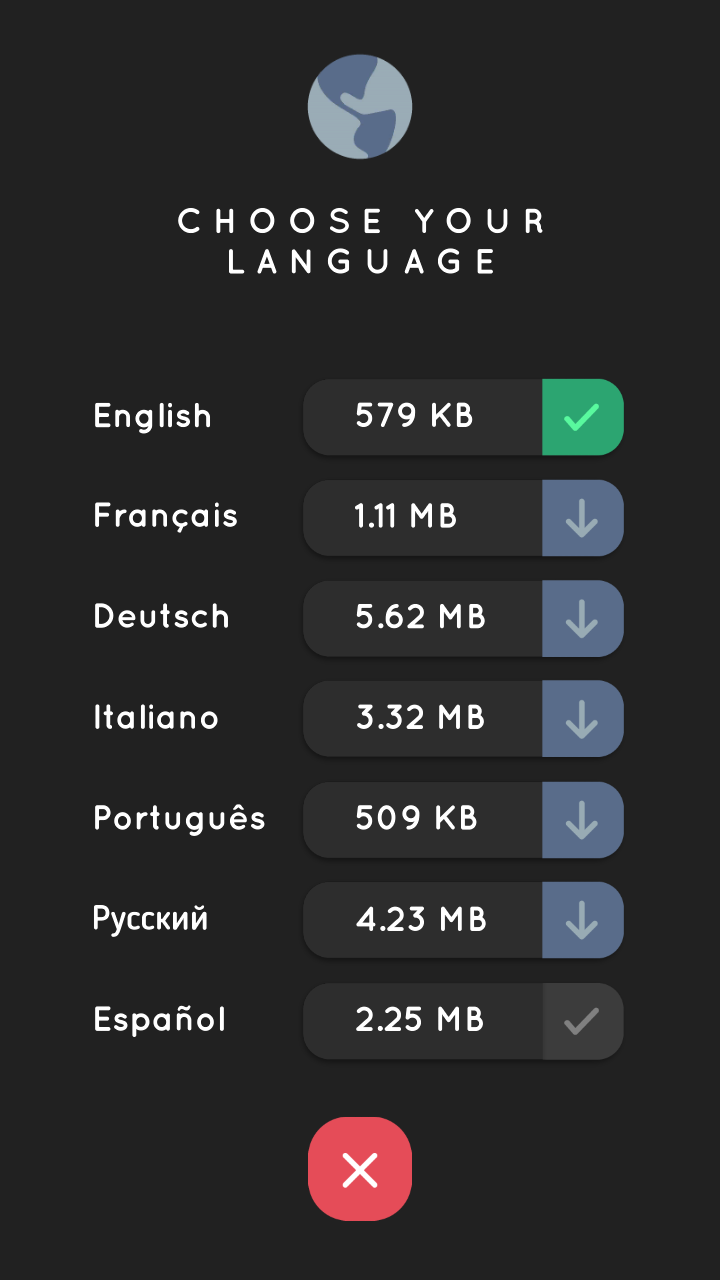 We should add puzzle games to our primary activities because of the benefits it brings to our brain. It has a positive effect on memory, and on the prevention of mental illnesses such as Alzheimer's or senile dementia. Hence, in 🅱️🅰️ℹ️K💀♓ entertainment goes hand in hand with the mental army.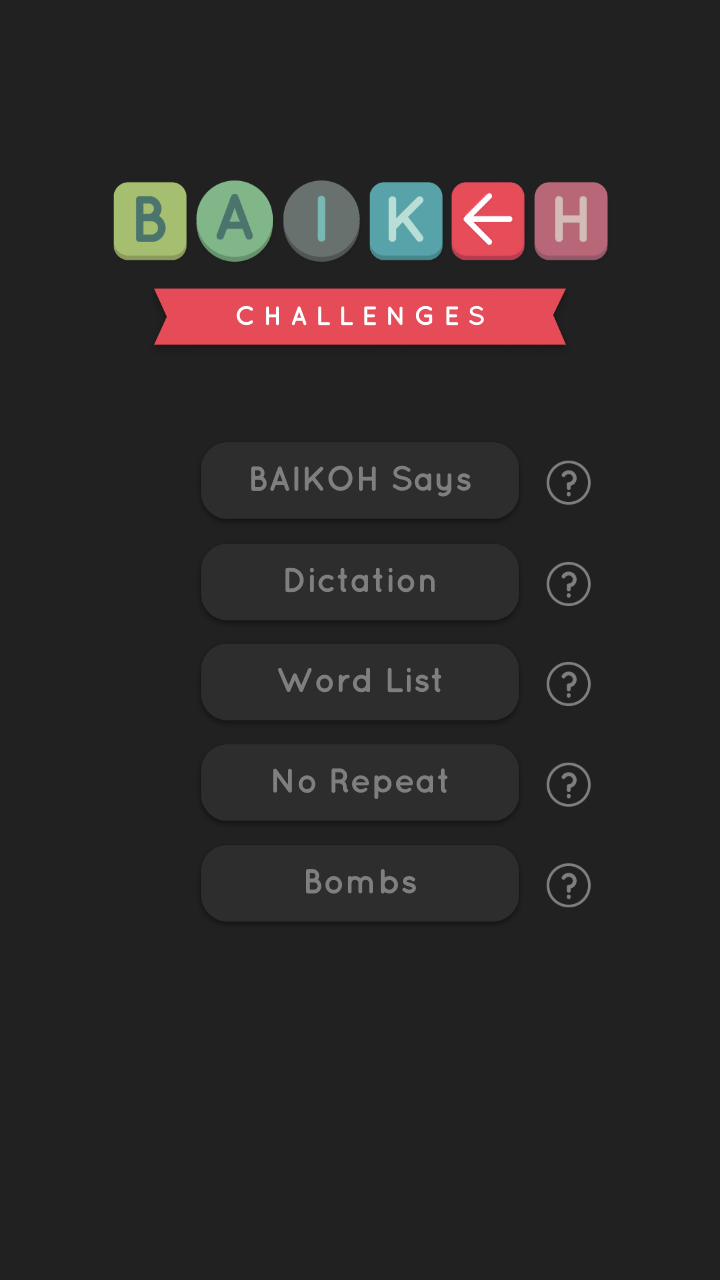 The world of words is a fascinating place, full of adventures that make us laugh and cry, but with a magic that always catches us. It is a blessing to be able to have the joy of seeing and reading, this group of symbols that make communication between human beings possible, and how with just a certain order they could come to change the world. With 🅱️🅰️ℹ️K💀♓ it is not only about spending time glued to the cell phone, we will be assuming a challenge that will provide us with mental health, and will allow us to accumulate, in our minds, an arsenal of words to continue giving life to our writings, in this also fascinating adventure as it is to write in Hive Blog. Maybe it's like doing a crossword puzzle against the clock, which increases the chances of bringing families together around puzzle games.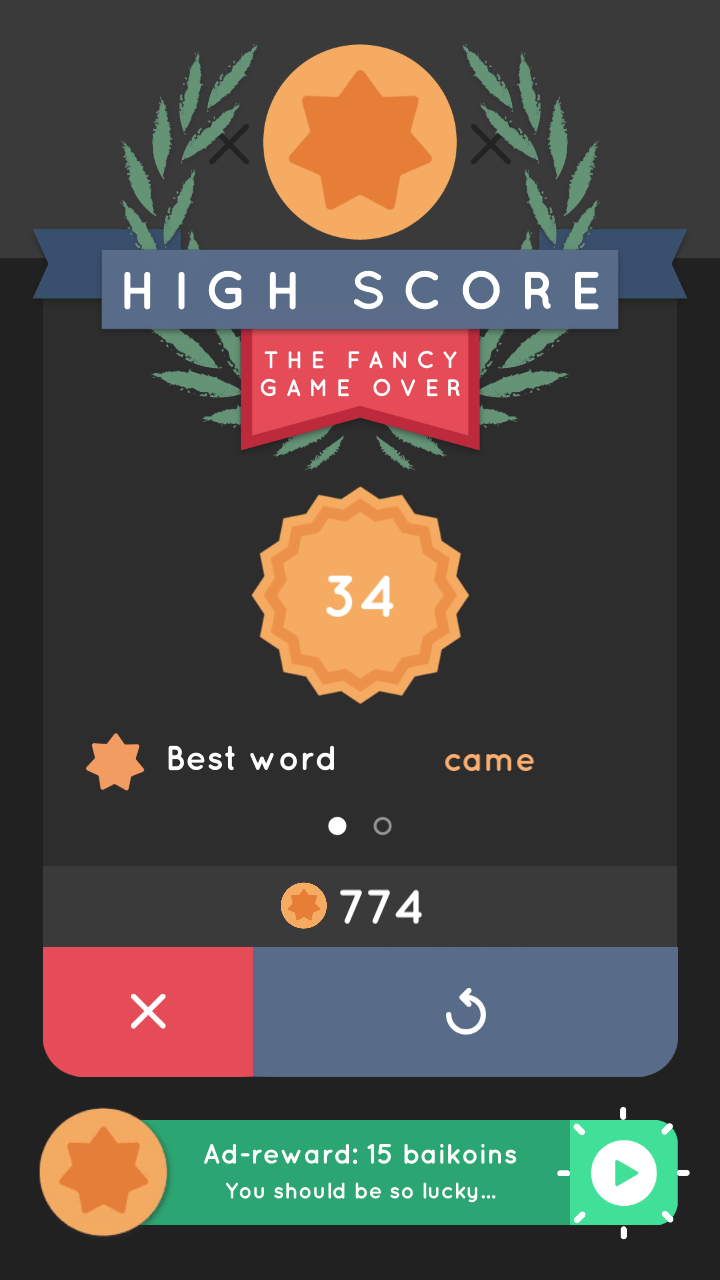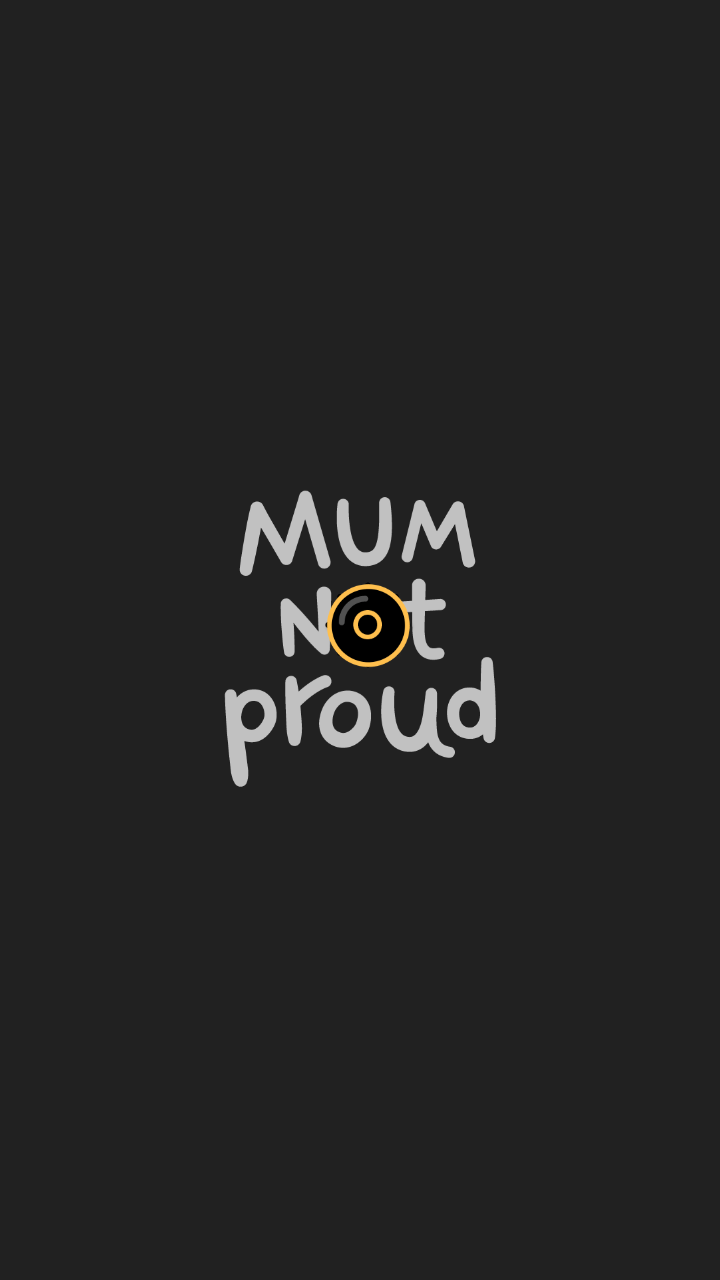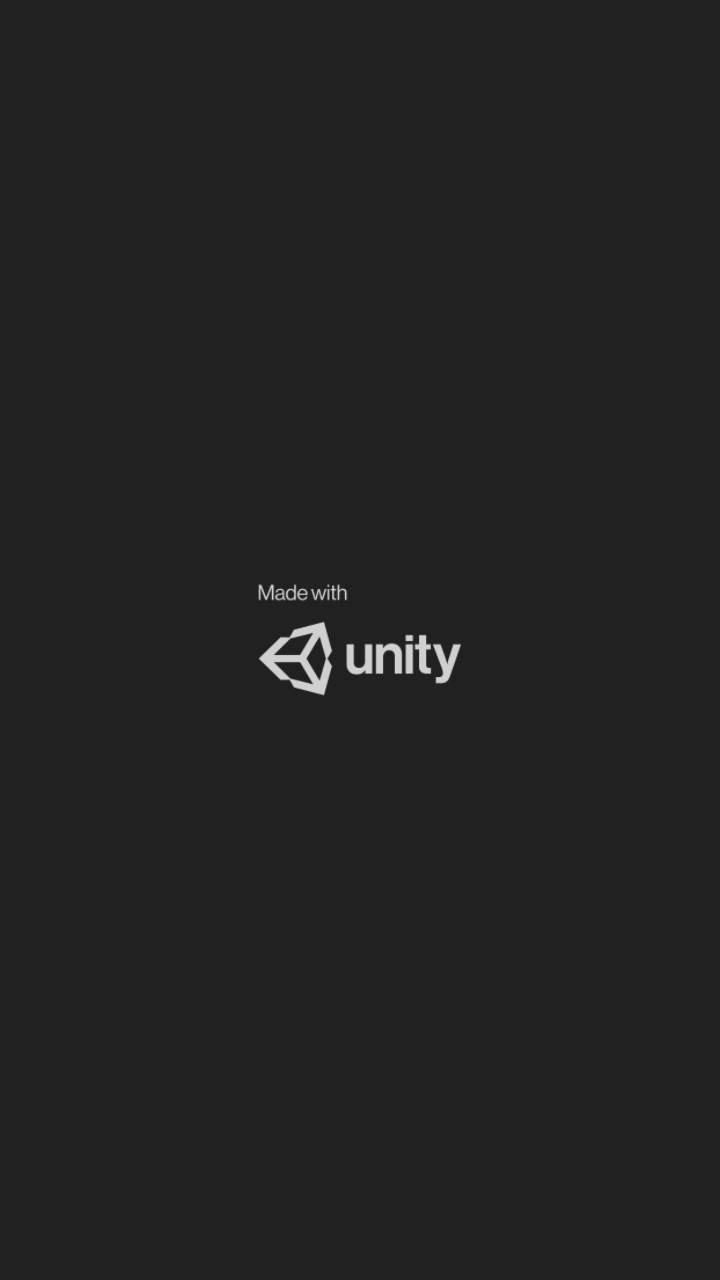 Español
Esperando que todos estén bien de salud. Envío un saludo cordial a la estimada
Comunidad Hive Gaming
, y un abrazo a todos los compañeros de la plataforma
Hive Blog
.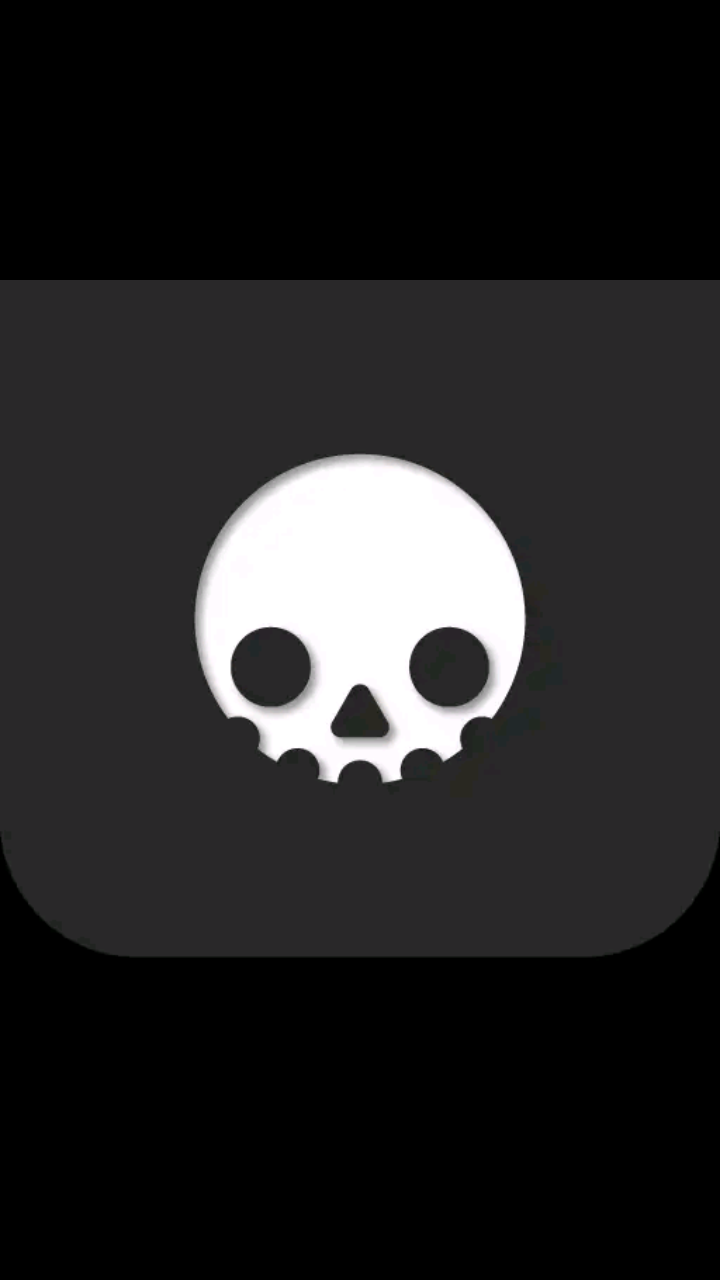 El verdadero amor, hacia las personas, los animales o cualquiera sea el objeto de amor, nace del contacto diario, de la convivencia continua, del dedicar tiempo a conocer a profundidad los misterios que encierra el orígen de cada uno.
Amo tanto las palabras... Tienen sombra, transparencia, peso, plumas, pelos, tienen todo lo que se les fue agregando de tanto rodar por el río, de tanto transmigrar de patria, de tanto ser raíces...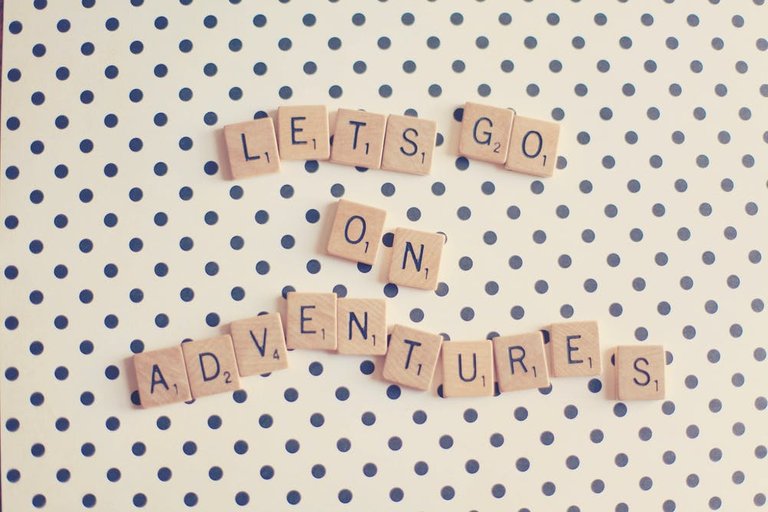 Especialmente para nosotros, que nos hemos embarcado en este mágico mundo de las publicaciones y que generalmente necesitamos tener a la mano las palabras adecuadas para darle forma a nuestras ideas y hacernos entender, el equipo de
MUM NOT PROUD
ha desarrollado el videojuego 🅱️🅰️ℹ️K💀♓
LETAL
, que desde el año 2017 viene siendo una manera muy divertida de encontrarnos con las palabras, y vivir una aventura distinta junto a ellas.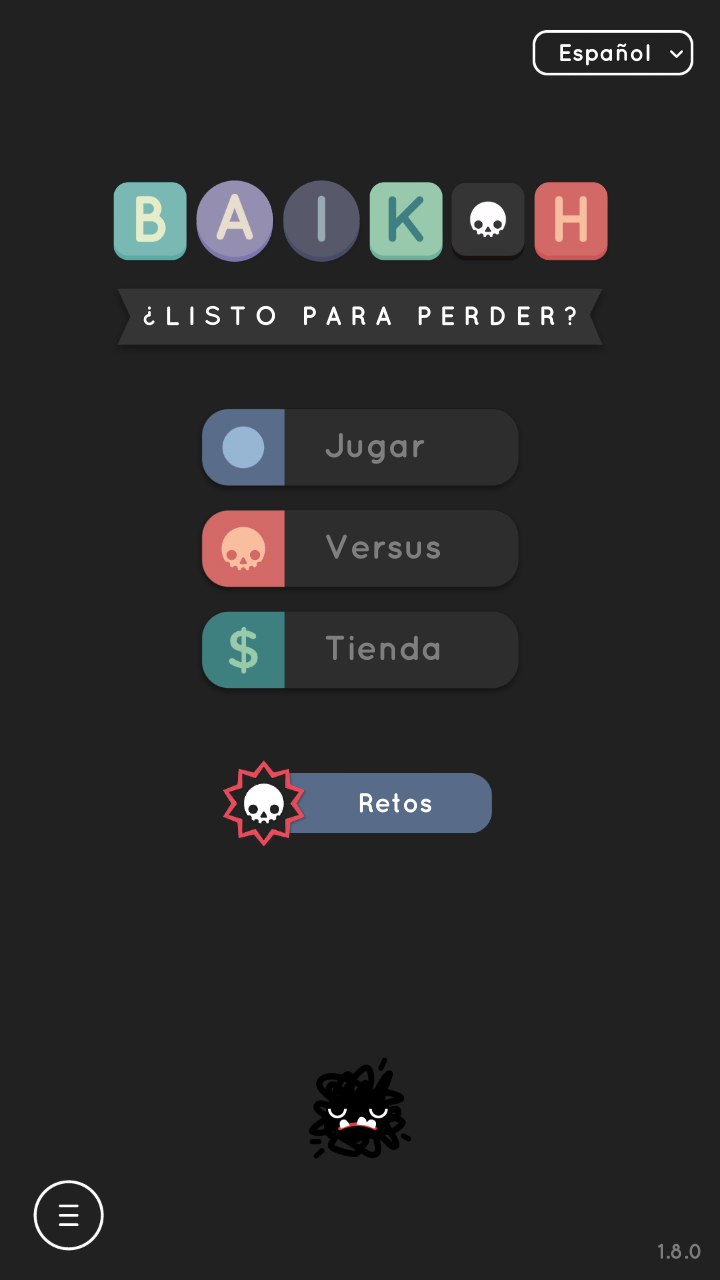 No creo que estemos acostumbrados a recibir insultos provenientes de una inteligencia artificial, y menos esperaríamos encontrar que estos insultos vinieran de un juego. 🅱️🅰️ℹ️K💀♓ es un juego con un toque de crueldad que, aunque suene masoquista, lo hace más llamativo. Al fin y al cabo solo se trata de un juego.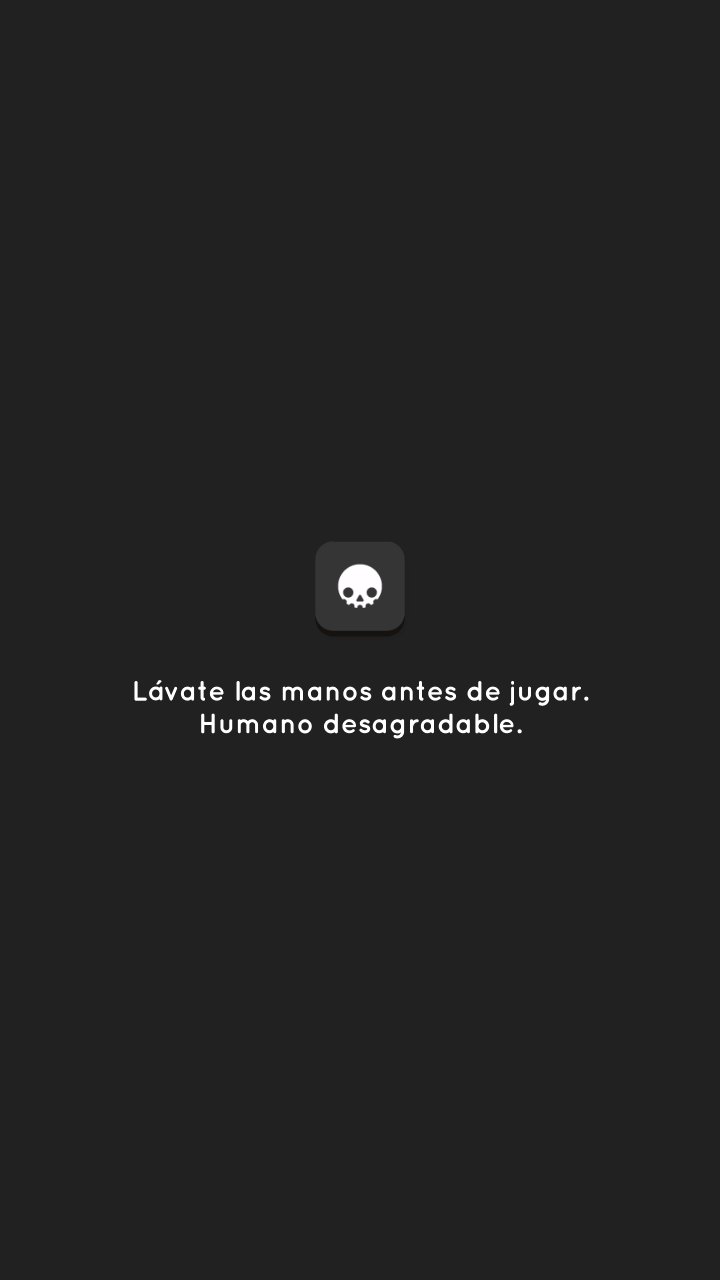 Si estamos familiarizados con el juego de Tetris, no nos resultará difícil entender la mecánica de 🅱️🅰️ℹ️K💀♓, solo que en este caso, caerán letras a nuestro tablero, con las cuales tenemos que armar palabras, sin dejar que las letras lleguen a tocar la parte superior del tablero, lo que significaría nuestra muerte. Si logramos armar palabras poco comunes o formadas por un número considerable de letras, tendremos que lidiar con un 🅱️🅰️ℹ️K💀♓ muy disgustado, el cual inmediatamente procederá a incrementar la velocidad con que caen las letras y a ponernos muchas trampas, con tal de lograr que perdamos.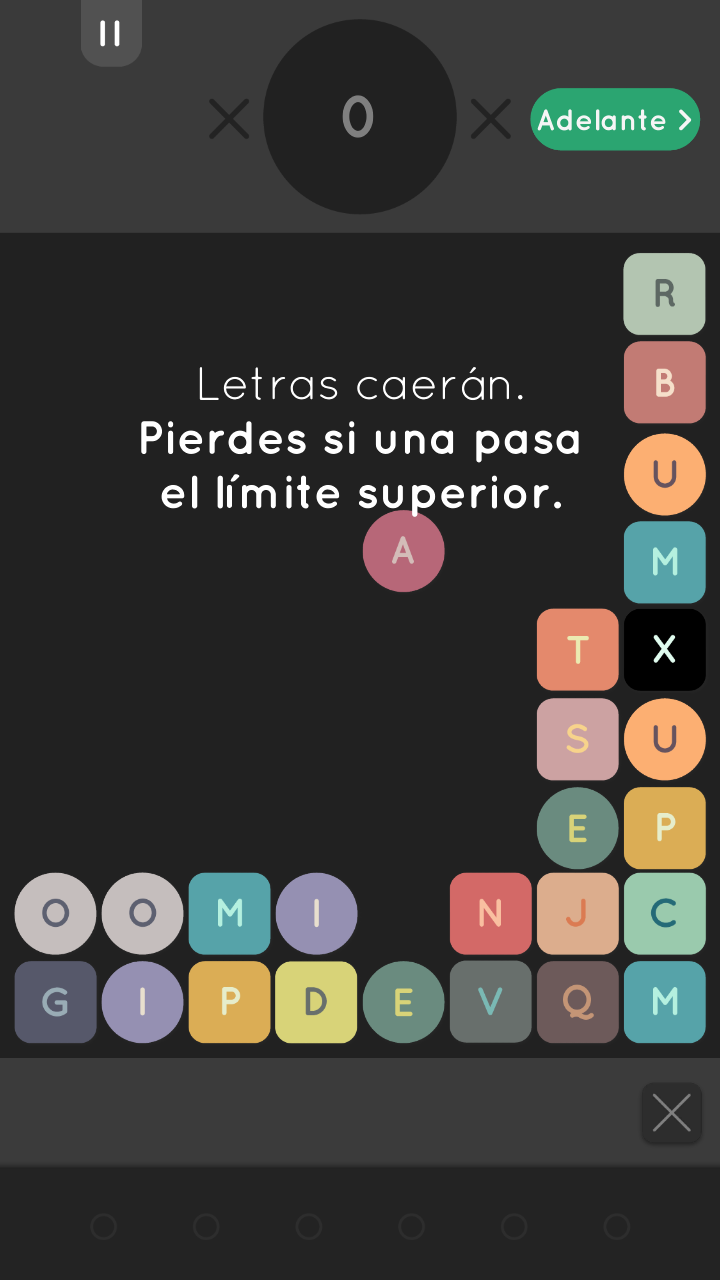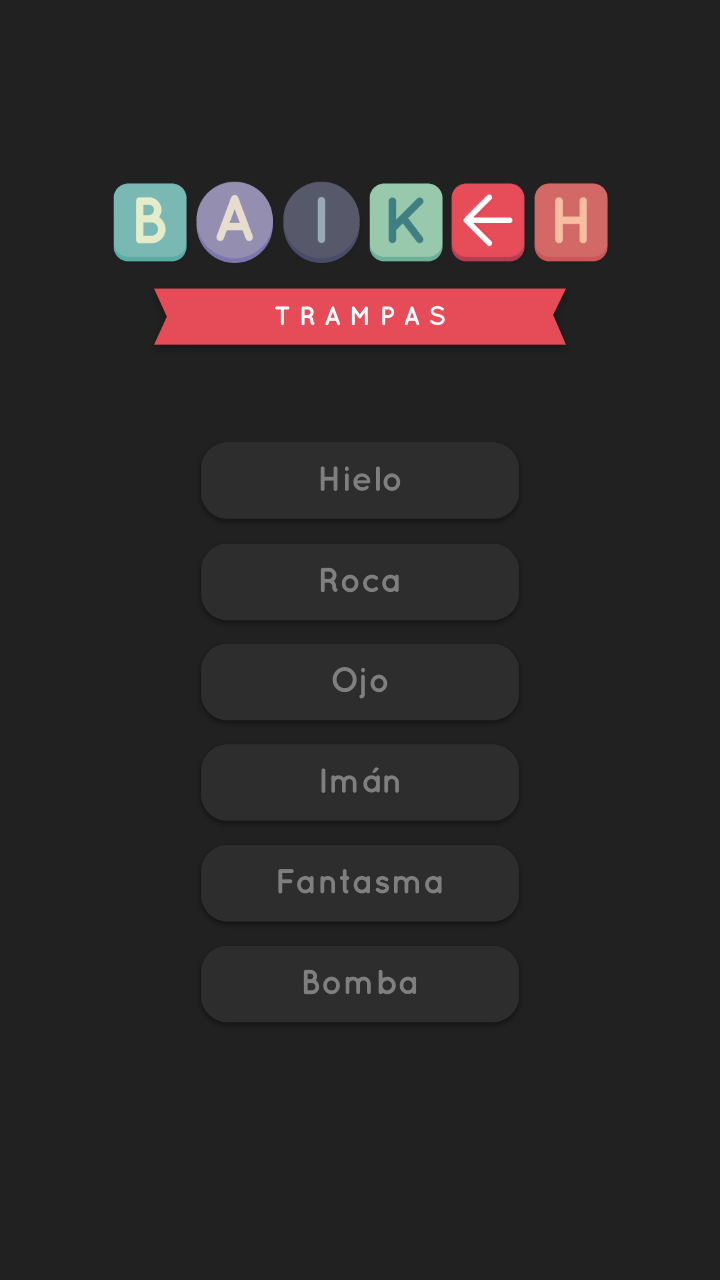 Quizás en 🅱️🅰️ℹ️K💀♓ no veamos un despliegue de sofisticados motores gráficos o diseños extraordinarios en 3D, o una banda sonora con una música fuera de serie, pero sí nos encontraremos con un juego muy completo, que cautiva con su sencillez y buen gusto, desde el primer momento, y donde es evidente que, este grupo de creadores mexicanos pusieron todo su ingenio, humor y corazón para crearlo. Tal vez haya alguna influencia o conexión, porque no en vano, México ha venido ganando terreno en el área de los juegos de rompecabezas tradicionales, llegando a conseguir el octavo lugar a nivel mundial, en el World Puzzle Days 2020, competencia anual online organizada por La Federación Mundial de Rompecabezas.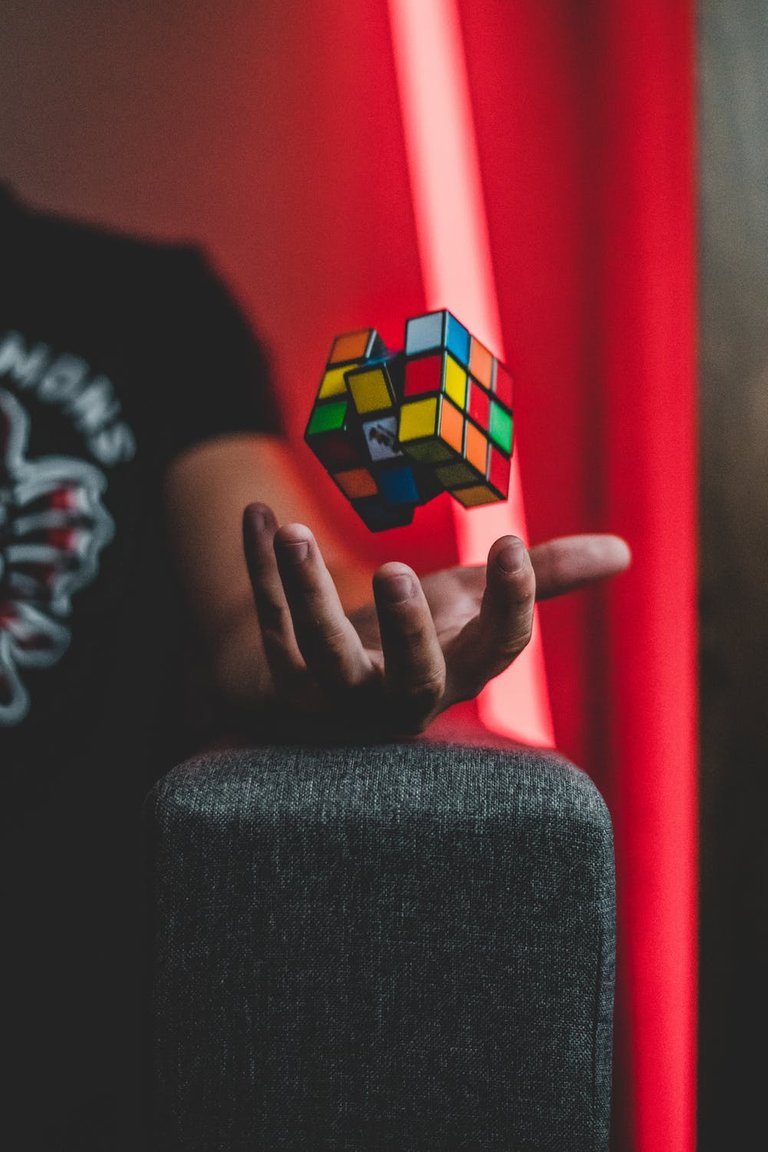 Es un juego muy didáctico con una jugabilidad que nos atrapa. Lo podremos descargar a nuestro teléfono móvil desde la Google Play completamente gratis, y comenzar a llevarlo a todos lados, para enriquecer esos momentos de espera que se nos presentan a todos con mucha frecuencia.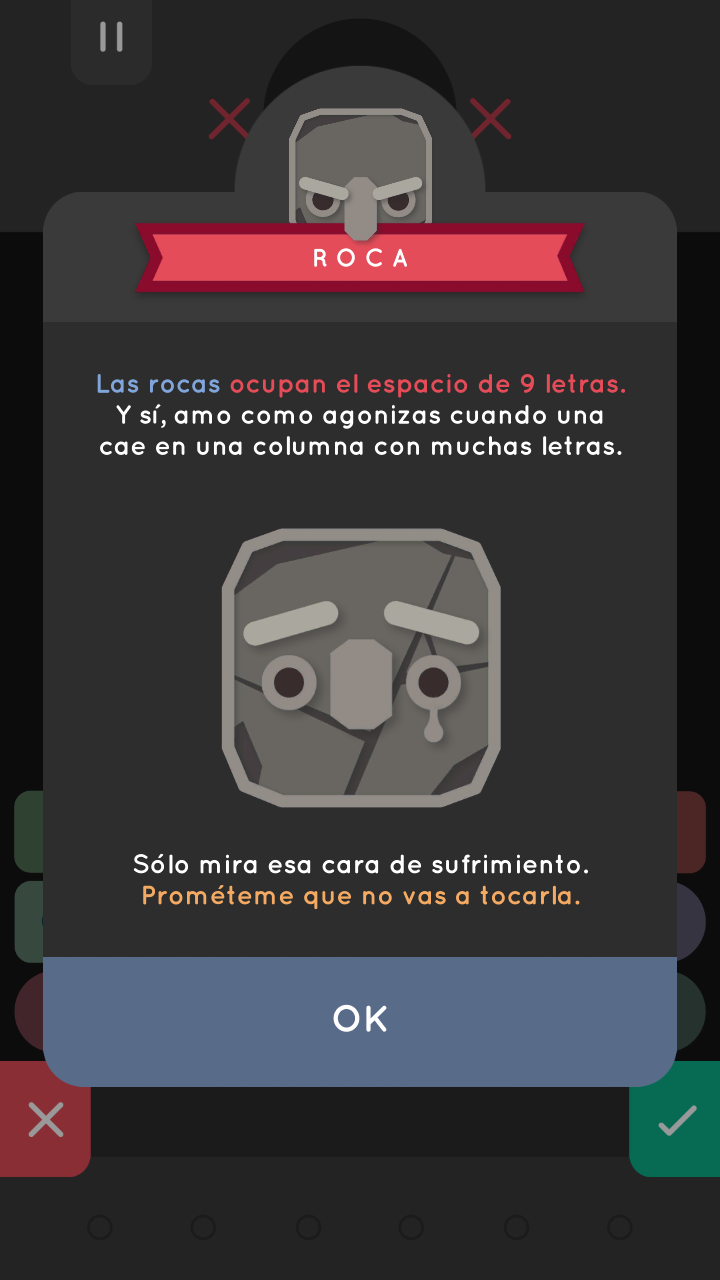 Podremos jugar individualmente en el modo Solo, dando inicio a una batalla campal de trampas, y uso de medallas para contrarrestar dichas trampas. No hay un limites para la formación de palabras, solo deben estar ortográficamente correctas. Podremos formar las palabras que deseemos, hasta las consideradas de mal gusto o groseras, recordando siempre el no cometer más de tres fallas ortográficas, porqué recibiremos un castigo. Necesitaremos de mucha habilidad y velocidad mental para defender varios frentes al mismo tiempo y poder lograr vencer a éste presumido "enemigo".
También 🅱️🅰️ℹ️K💀♓ nos ofrece la modalidad Versus, un sistema multijugador en tiempo real, donde usaremos "armas" contra otros humanos, podremos realizar competencias entre amigos, duelos rápidos o apuestas en Baikoins, la moneda virtual del juego. Los puntos que vayamos acumulando nos permitirán comprar herramientas, que nos ayudarán, en ocasiones, a salir de aprietos y hacer frente a éste
maniático de las letras, y a seguir vivos en el juego. El que gane se lleva todo. La última opción que nos queda es el modo Zen, donde no encontraremos trampas, ni medallas, ni apostaremos Baikoins, es la modalidad recomendadas para los abuelos.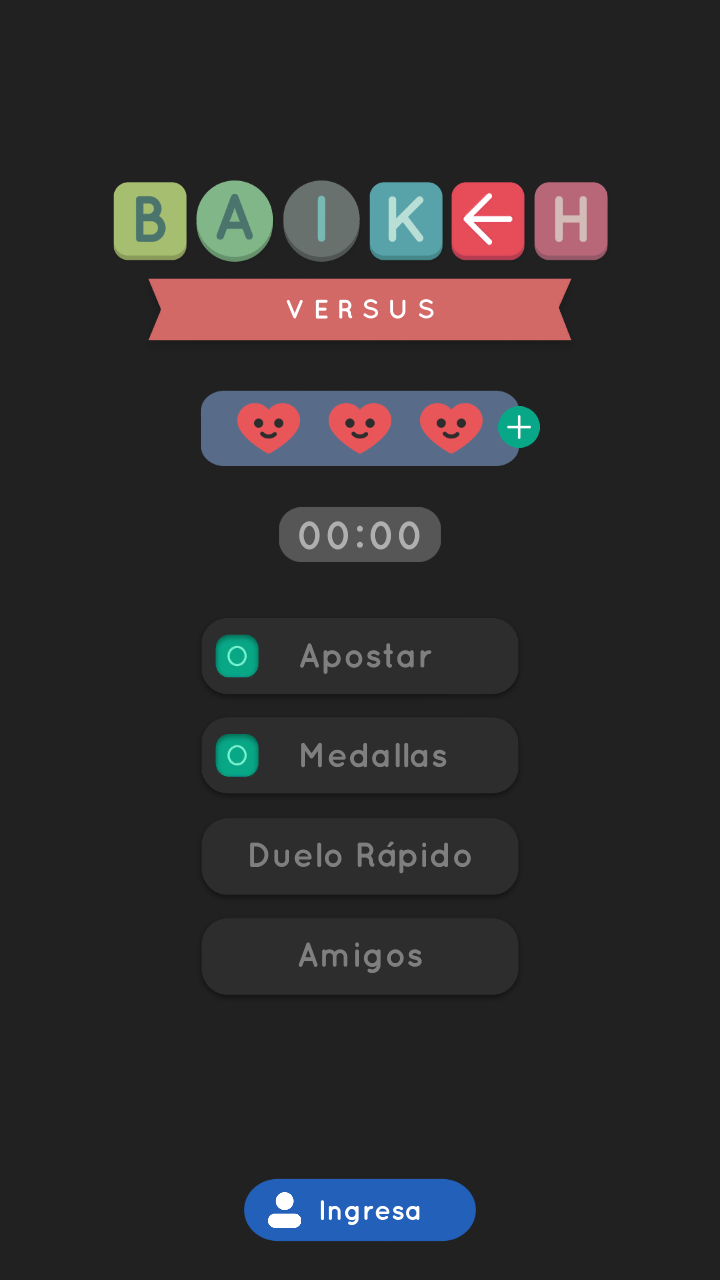 Mud Not Proud

de la mano de
Unity
, también nos proporcionan la oportunidad de elegir el idioma en el cual queramos jugar 🅱️🅰️ℹ️K💀♓. Se crea de esta forma un reto aún más atractivo, para quienes se inician en el estudio de un nuevo idioma y quieran probar, los conocimientos obtenidos, con esté para nada sutil juego.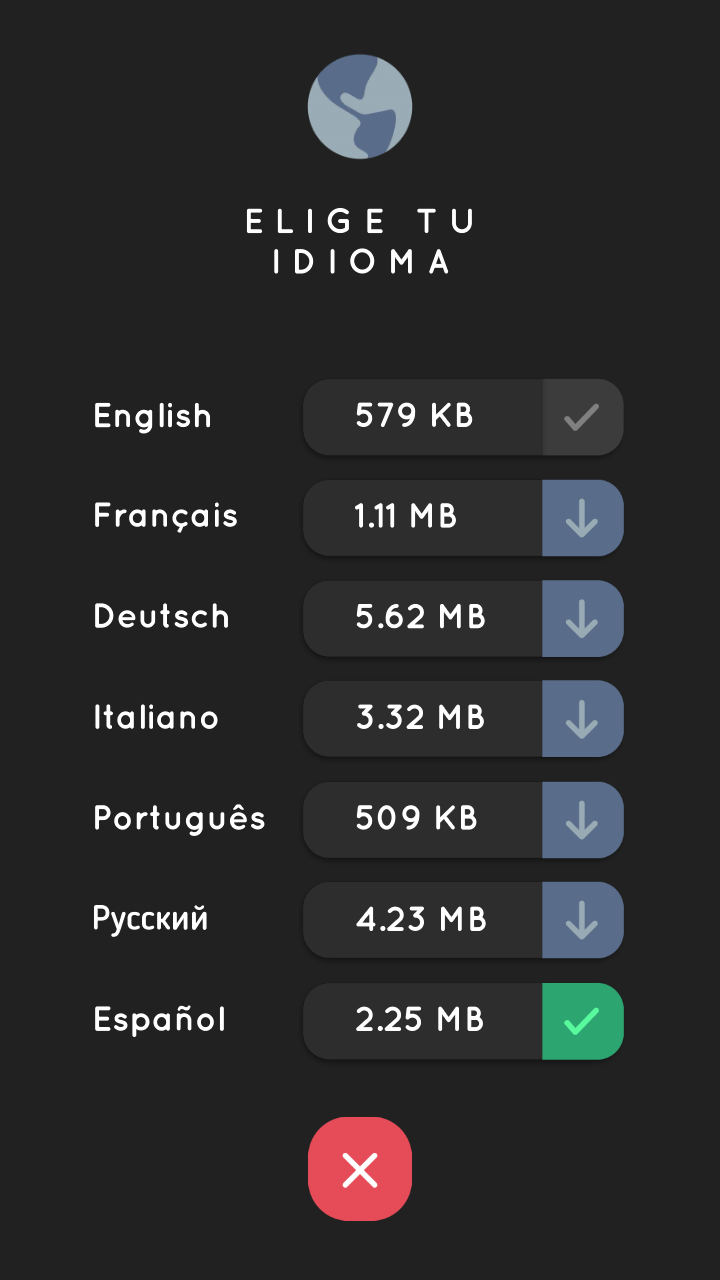 Deberíamos sumar los juegos de rompecabezas a nuestras actividades primordiales, esto debido a los beneficios que trae a nuestro cerebro. Los rompecabezas inciden positivamente en la memoria, y en la prevención de enfermedades mentales como el Alzheimer o la demencia senil. De allí que en 🅱️🅰️ℹ️K💀♓ el entretenimiento va de la mano del ejército mental.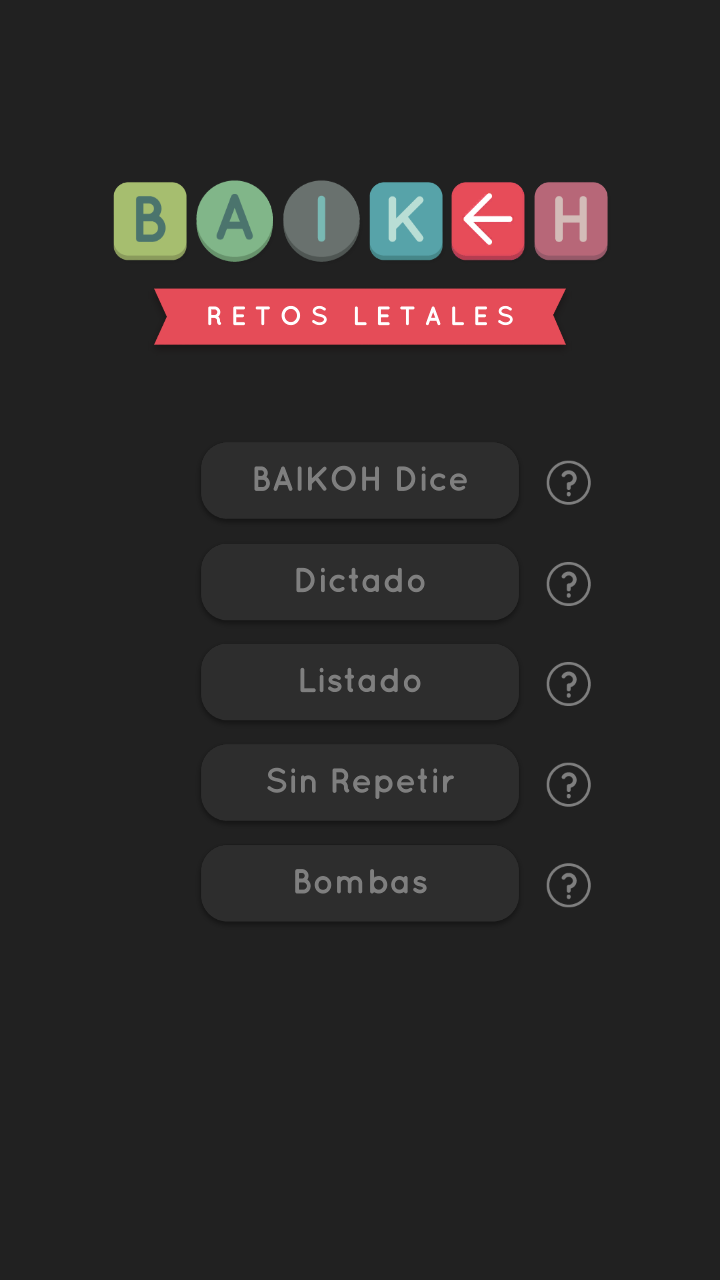 El mundo de las palabras es un lugar fascinante, lleno de aventuras que nos hacen reír y llorar, pero con una magia que siempre nos atrapa. Es una bendición poder tener la dicha de ver y leer este grupo de símbolos, que hacen posible la comunicación entre los seres humanos, y qué tan solo con un orden determinado podrían llegar a cambiar al mundo. Con 🅱️🅰️ℹ️K💀♓, no se trata de solo pasar el tiempo pegados al móvil, estaremos asumiendo un reto que nos proporcionará salud mental, y nos permitirá acumular, en nuestra mente, un arsenal de palabras para seguirle dando vida a nuestros escritos, en esta aventura también facinante como es escribir en Hive Blog. Quizás sea como armar un crucigrama contra reloj que aumente las probabilidades de unir a las familias, alrededor de los juegos de rompecabezas.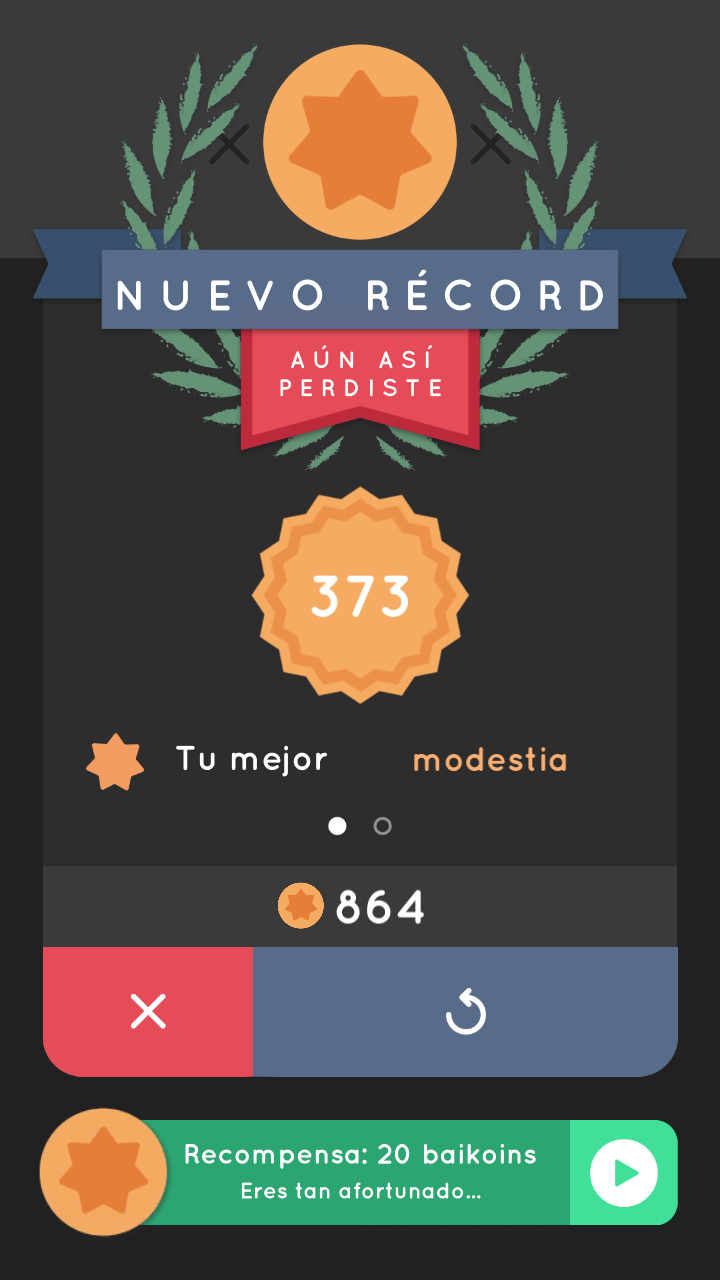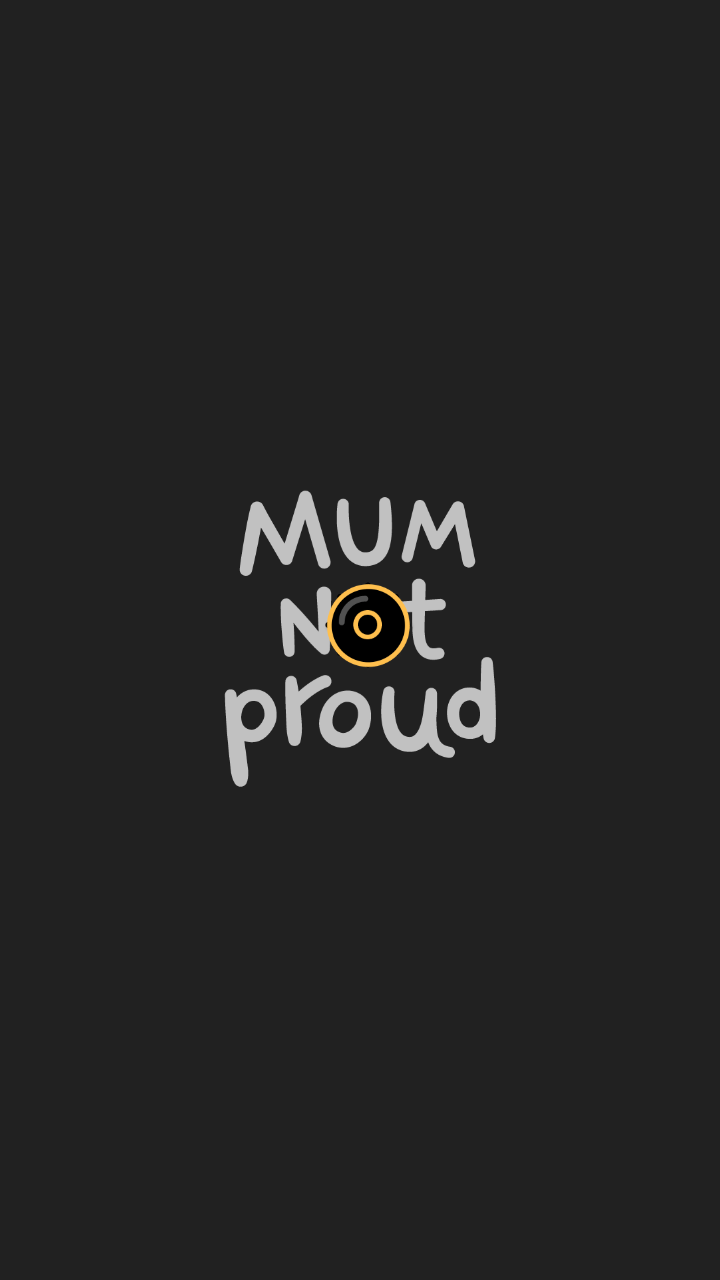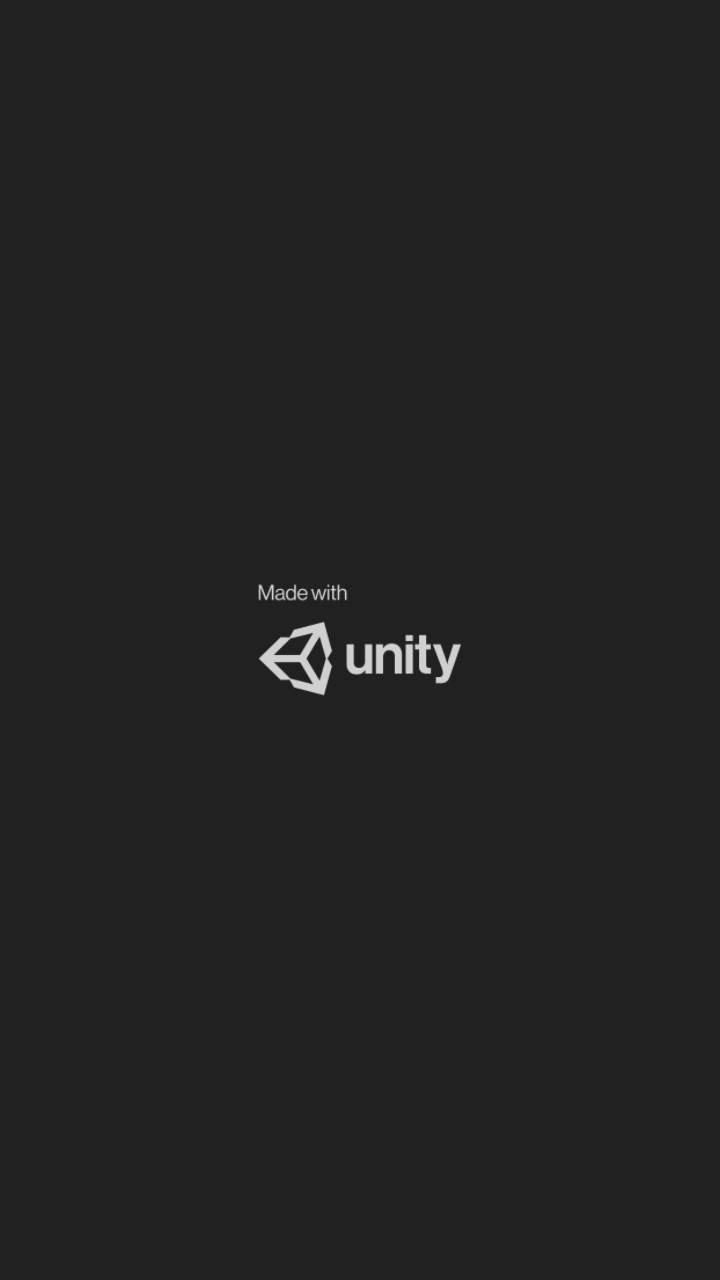 Resources:
A very special thanks to the excelente team of

MUM NOT PROUD

, for putting within our reach this didactic puzzle video game,

🅱️🅰️ℹ️K💀♓ Letal

, which has pleasantly motivated me to make this publication. ****Thank you very much***
Infinite thanks to all the colleagues of

Pexels, Pixabay and Unsplash

for each of the extraordinary photographic works they make available to us free of charge, and free of copyright.
The theme of this publication is completely original, and has been written by me,
Un agradecimiento muy especial al excelente equipo de

MUM NOT PROUD

, por poner a nuestro alcance este didáctico videojuego de rompecabezas,

🅱️🅰️ℹ️K💀♓ Letal

, el cual gratamente me ha motivado a realizar esta publicación. ¡Muchísimas gracias!
Un Infinito agradecimiento a todos los compañeros de

Pexels, Pixabay y Unsplash

, por cada uno de los extraordinarios trabajos fotográficos, que mantienen a nuestra disposición gratuitamente, y sobretodo por estar libres de derechos de autor.
El tema de esta publicación es completamente original, y ha sido redactado por mi,