Gaming is always a very good distraction to the mind. Especially when things are not right with the mind, I believe any type of distraction is helpful and gives some time for the mind to heal by itself.
I have been playing Cryptobrewmaster whenever I get a chance. In the last month, I couldn't get a chance to play the game regularly but otherwise, I have been able to play this game. I have to say that this is an interesting game for me especially for the fact that the graphical images in the game are good.
Referral bonus claimed
I guess I'm not the only one here to claim all the referral rewards so far listed in the game. I have a list of 21 referrals who joined with my referral link but out of them, only a few are actively playing the game. I'm glad that those who are actively playing the game have given me an opportunity to claim a referral bonus. I take this opportunity to thank them. All the activities they do, help in claiming that referral bonus.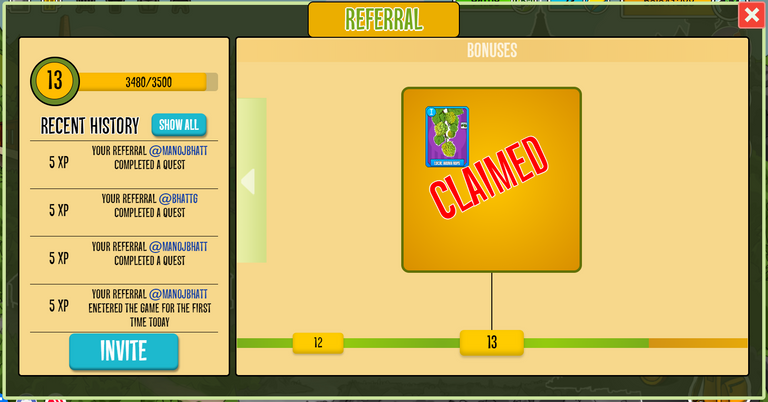 I guess the game devs should introduce some more rewards or levels of rewards for me to claim further. I'm sure I'm not the only one here who would have claimed all my referral bonus. I got some great ingredients that look pretty nice in blue color.
Leaderboard
Recently the game team introduced a leaderboard. My progress in the game so far is very good though I missed playing so many days. I haven't been able to reach 1000 CBM tokens yet but I'm almost there. In one or two days I guess I would be able to reach 1000 CBM tokens. The leaderboard shows where we stand with respect to the number of tokens. If we hold lots of CBM tokens inside the game, we would be on top levels.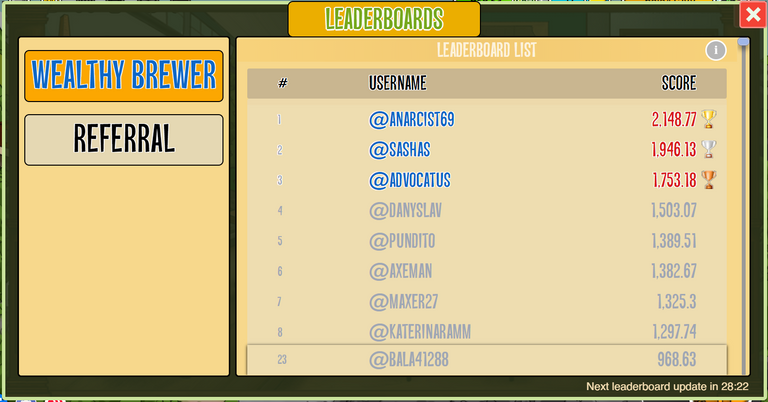 The leaderboard displays our rank among the wealthy brewers in the game. It is purely based on the CBM tokens we hold. There is no feature yet in the game to make use of CBM tokens inside the game except for the fact that we can do some daily quests by paying CBM tokens. This is to get better ingredients, otherwise, we don't have any big use for holding CBM tokens inside the game. Holding CBM tokens inside the game only puts us on top of the list. If someone is interested to be on top of that list, they can also invest in CBM tokens and take it inside the game. I'm not sure what would be the significance in the current alpha stage of the game. But maybe purchasing CBM tokens separately as an investment can be a good option. Let's see how things turn around in the future.
If you have not started playing Cryptobrewmaster, here you can take my referral link to get started with a starter pack.
https://www.cryptobrewmaster.io/game/invite?ref=df571d3ab5df4cdda8470dc96129a042&code=AlphaBonus
---