The video gaming industry has evolved a lot in the past decades, but no matter how immersive and realistic video game experiences are becoming, there will always be room for nostalgia. The truth is it's not only nostalgia that makes us repeatedly come back to video games of past eras, classics will always be classics, and they have earned their place for a reason.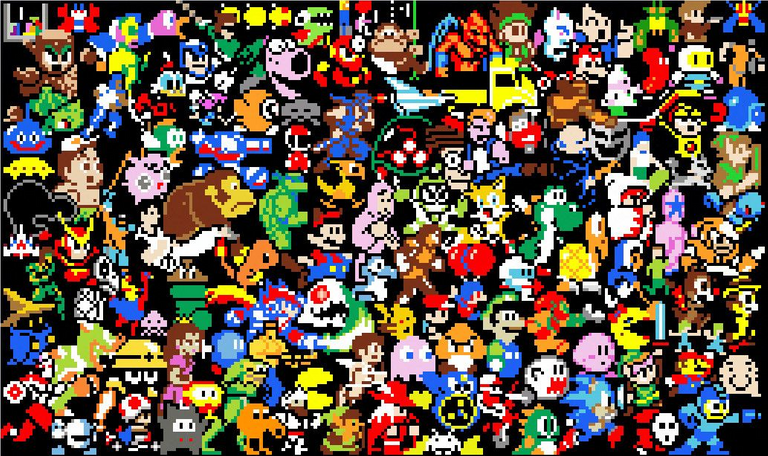 source
But what does 8-bit actually refers to?
For video games, strictly talking, it refers to the type of processors used in the console. The 8 makes reference to the size of the words of data used by each processor. And the word is a basic unit of data used by a particular processor design. For example most of today's computers use processors with a 32 or 64-bit architecture.
Some examples of 8-bit consoles are the NES and the Sega Master System, which is a little less known. Then we have the 16-bits like the Super Nintendo and the Sega Genesis.
The precessors architecture affect the quality of the graphics and sounds. An 8-bit architecture gives every pixel the capability of using 8 bits to store the color value - which translates to only 256 colors. A 16-bits graphic processor means 65.536 colors, a big jump!
Modern 24-bit graphics support more than 16million colors, and when you hear about 32-bit graphics it refers to 24-bit with 8-bit transparency settings.
Nowadays when people talk about 8-bit graphics it probably has nothing to do with processors architectures or data size, and more with the style. 8-bit graphics style is not only restricted to 8-bit graphics and low resolution monitors.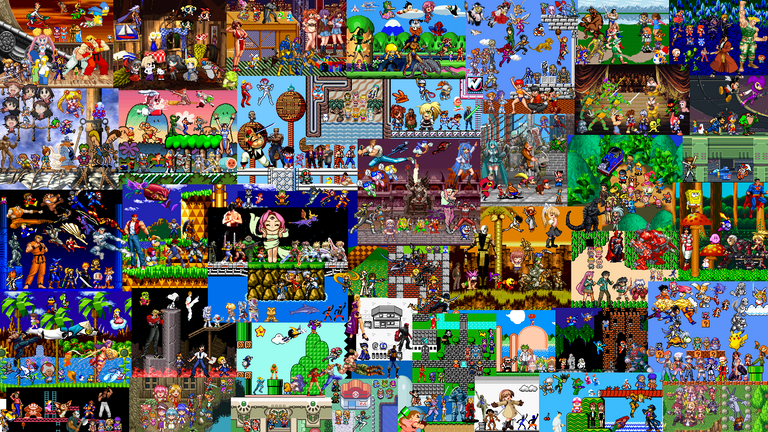 source
We all know the gaming experience is more than just having good graphics, effects and a smooth performance. There are some less tangible things that make a great video game, like the history and having unique twists, the art, the soundtrack, the style, a good gameplay experience of course, and how much of a challenge it is.
Probably most of the video games of the so-called third generation or the 8-bit era weren't that deep, and I say most because I am aware that some had very interesting storylines, like Castlevania and The Legend of Zelda, which were way ahead of their time imo. Two of my favorites games of all time.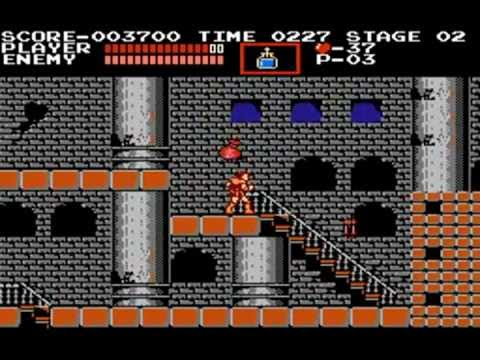 source
But even without having the deepest stories or the best graphics and sounds, many classic 8bit games still manage to provide a great gaming experience. And not just that, one of the cool things about 8-bit games has been their ability to adapt, as the use of 8-bit-like graphics has gained a lot of popularity in modern video games.
And that's cool, I'm a big fan of pixel art and retro games. If you are too let me know what are some of your favorite 8-bit/pixel-art games?
---
Versión en español
La industria de los video juegos ha evolucionado un montón en las ultimas decadas, pero sin importar que tan inmersivas y realistas se estén volviendo las experiencias, siempre habrá cabida para la nostalgia. La verdad es que no es solo la nostalgia lo que nos hace volver repetidamente a los juegos de eras pasadas, los clasicos siempre serán clasicos, y se han ganado su lugar por alguna razón.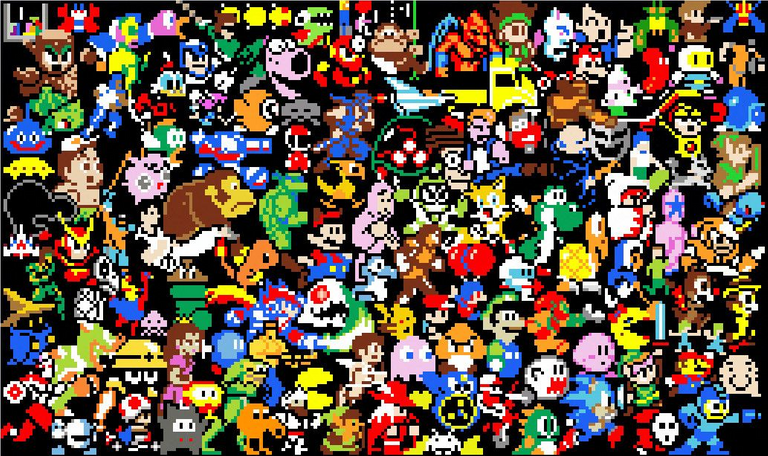 fuente
¿Pero a que se refiere realmente el termino 8-bit?
En cuanto a video juegos, estrictamente hablando, se refiere al tipo de procesador usado en la consola. El 8 hace referencia al tamaño de las palabras(en contexto informatico) usadas por cada procesador. Y la palabra es un una unidad basica de data utilizada por un diseño de procesador en particular. Por ejemplo, la mayoria de las computadoras de hoy en día usan procesadores con una arquitectura de 32 o 64 bits.
Algunos ejemplos de consolas de 8 bits son las NES y la Sega Master System, que es un poco menos conocido. Luego tenemos las de 16 bits como la Super Nintendo y la Sega Genesis.
La arquitectura de los procesadores afecta la calidad de los gráficos y el sonido. Una arquitectura de 8 bits le da a cada pixel la capacidad de usar 8 bits para almacenar los valores de color - lo que se traduce a tan solo 256 colores. Un procesador gráfico de 16 bits significa 65.536 colores, ¡una gran diferencia!
Gráficas modernas de 24 bits soportan más de 16 millones de colores, y si escuchas hablar de gráficas de 32bits se refieren a paletas de 24 bits con 8 bits de configuraciones de transparencia.
Hoy en día cuando alguien habla de gráficos de 8 bits probablemente no tenga nada que ver con la arquitectura de los procesadores ni el tamaño de la data, sino más bien con el estilo. El estilo gráfico de los sistemas de 8 bits no se limita a gráficas de 8 bits y monitores de baja resolución.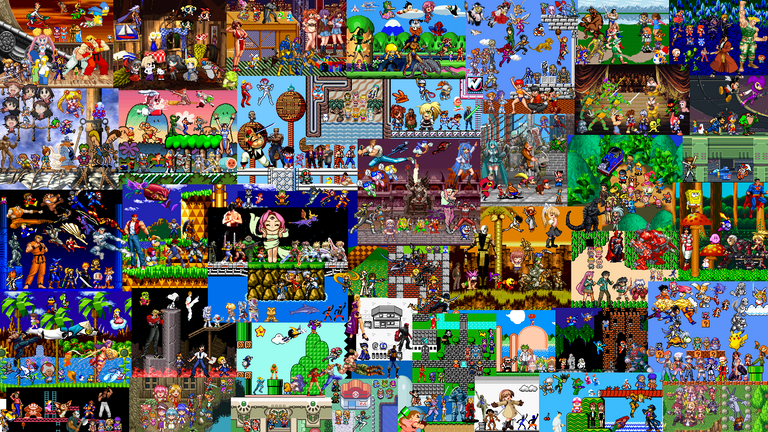 fuente
Todos sabemos que la experiencia de juego es mas que solo tener buenas gráficas, efectos y un desempeño fluido. Hay algunos factores menos tangibles que hacen a un gran video juego, como la historia y tener giros unicos, el arte, el soundtrack, el estilo, una buena experiencia de juego por supuesto, y que tan desafiante sea.
Probablemente la mayoria de los juegos de esta llamada tercera generación o la era de los bits no son tan profundos en cuanto a trama se refiere, y digo la mayoria ya que hay unas cuantas excepciones con juegos con lineas muy interesantes, como Castlevania y The Legend of Zelda, los cuales estaban bastante adelantados a sus tiempos en mi opinión. Dos de mis juegos favoritos de todos los tiempos.
Pero incluso sin tener las historias mas profundas o las mejores gráficas y sonidos, muchos juegos clásicos de 8 bits aun logran brindar un tremenda experiencia de juego. Y no solo eso, algo genial de los juegos de 8 bits ha sido su capacidad para adaptarse a lo largo del tiempo, ya que el uso de gráficos al estilo de 8 bits ha ganado mucha popularidad en video juegos modernos.
Y todo eso me parece genial, soy un gran fan del pixel art y los juegos retro. Si tu también lo eres dejame saber cuales son algunos de tus juegos de 8 bits o pixel art favoritos!