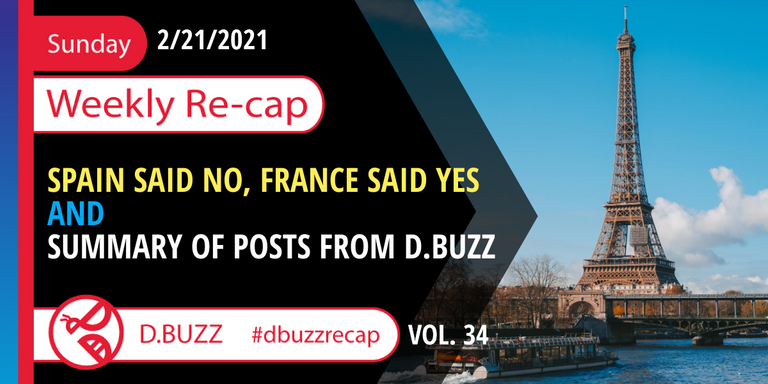 ---
Recap of this Week's Posts by D.Buzz
For the week ending on : (2/21/2021) | Vol.34
---
What's Buzzing Friends...
The Eiffel Tower. A landmark in France symbolizing love, people, culture, and a tourist destination that draws visitors from around the world. Did you know however Barcelona was supposed to be the home for the Eiffel Tower?
Well first, Maurice Koechlin actually designed the Eiffel Tower, it was just Gustave Eiffel who ran the company who got the credit, but he didn't even like the design that much. (*What a jerk)
After Koechlin finished design, Eiffel tried to sell it to people, first on the list was Barcelona, Spain. But they literally rejected it as it was "too much of an eyesore". It was just a stroke of luck that in Paris, The 1889 World's Fair was starting and the French were looking for a monument to erect to commemorate the 100 years since the French Revolution.
Eiffel beat out 100 other designs, and France got the Eiffel Tower!
Goes to show that even if a whole country thinks what you got is an eyesore, there are others willing to embrace it as a cultural landmark! Know what else is a cultural landmark? Well it's this week's updates from D.Buzz. Let's get to them!
---
Last Sunday
Here's a link to the previous recap post from last Sunday. >> 2/14/2021 <<
---
Monday
Win a hot 15 hive, how? Easy to do just make a heart with your hands and post a picture of it on D.Buzz! Read more about it right here!
---
Tuesday
Big development update today with lots of interesting features. Hive.pm, private messaging on HIVE, more updates on long form content, and so much more. Most definitely worth a read.
---
Wednesday
This week we upload a tutorial on how to make a new account with HIVE on board then log into D.Buzz
---
Thursday
@aaliyahholt a video game streamer who is cross posting while building a following based ofvideo gamess! Check em out!
---
Friday
Today we dropped a hot teaser video with some working functionality of the alpha version of HIVE.pm. This will be rolled out to the community shortly stated tuned!
---
Saturday
12 authors getting rewarded for posting some cool content. We highly recommend you check them out. :)
---
Knuckle bump Bro / Bro-ett.
Thanks for being an active reader here on our blog.
As we move forward, we aim to build a strong community.
If you have any suggestions on what we can do better, please let us know.
See you all Monday!
---
---
Is a censorship-resistant short form microblogging platform that empowers you to share your thoughts in 280 characters or less.
Censorship resistant and built for the community with love.
---
We strive to have a fun and neutral stance on topics. If you have any concerns with the content, please contact @jacuzzi, who writes and generates the content for our articles, or the @dbuzz team for clarification.
---


---