It has been a while since I did any updates to Kani Bot. I was doing some small updates in the background but I did not do any major updates. Yesterday after a very long time, I wanted to code something and had a look at the code and added notifications for the Rising Star Game. Before including the notifications, I wanted to check how the game looks like.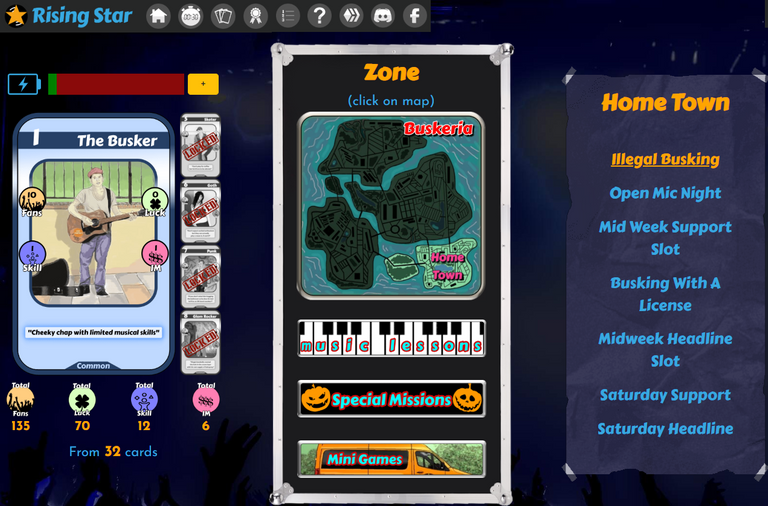 Yesterday I started playing the Rising Star Game and it was an awesome experience. I spent almost over 8 hours yesterday playing this game. Of course, when the timer runs, I was also doing something else but I did spend a lot of time yesterday playing and exploring this game. I will probably be writing about my Day 2 experience in a separate article.
It was a long term due. As soon as I added dCity notifications to the bot, @foxon wanted me to add Rising Star notifications as well. I would recommend playing this game. It is pretty interesting and addictive. You can also take my referral link if you want.
My Referral Link: https://www.risingstargame.com?referrer=bala41288
New Notifications on Kani
With this excitement, I have added new notifications to Kani to support the Rising Start Game. These notifications include market notifications and transfer notifications. If you receive new cards from the game, that will also be sent as a notification.
Card issue Notifications
When you purchase a pack from the market and open the pack, you get the below notifications that say what card you received by opening the packs. Notifications are sent individually for each card that is issued from the game.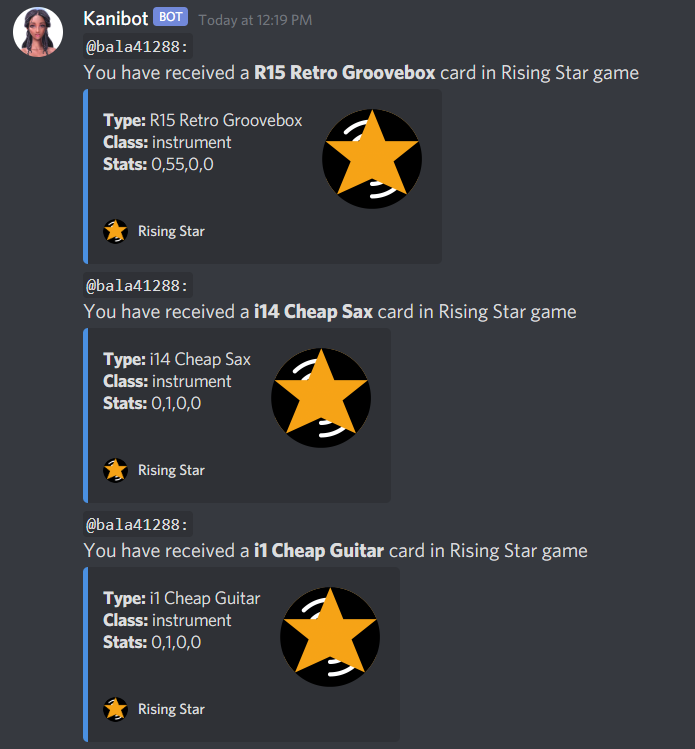 Market Notifications
If you purchase a card from someone in the market, you get a notification that will look like the below. The interesting part here is that the seller also gets a notification. If you had placed a card in the market for sale and if someone buys it, you will get notified that your card was bought by someone.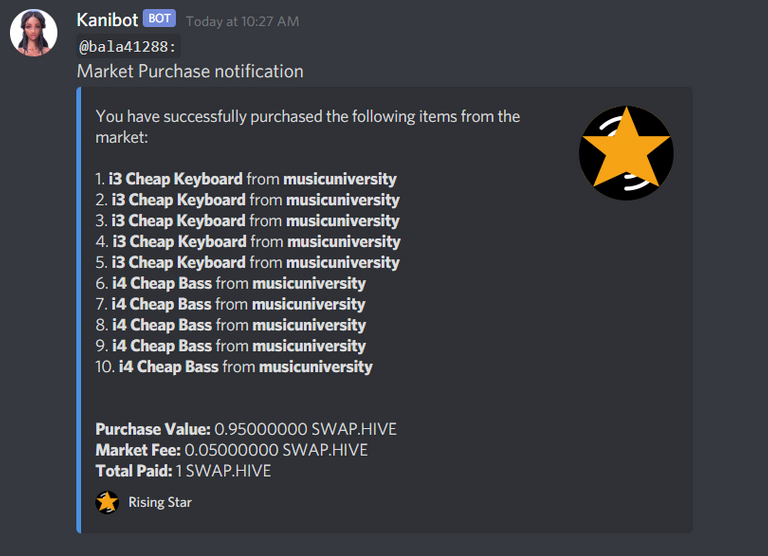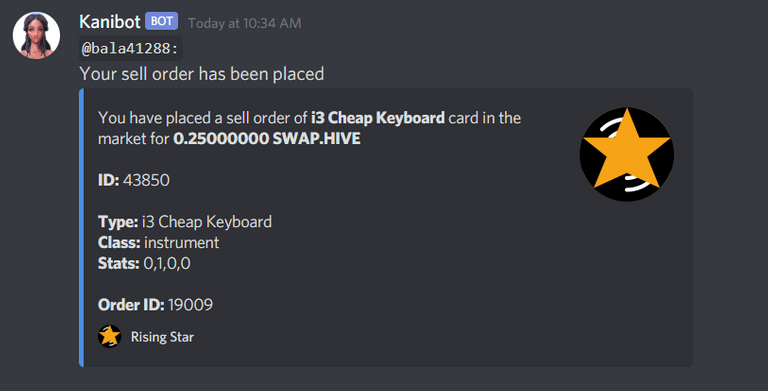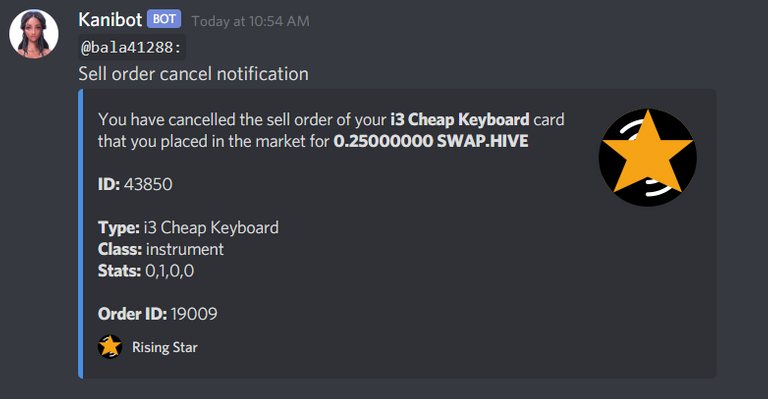 Transfer notifications
If someone is transferring a card to someone either as a gift or for other reasons, that will be sent as a notification.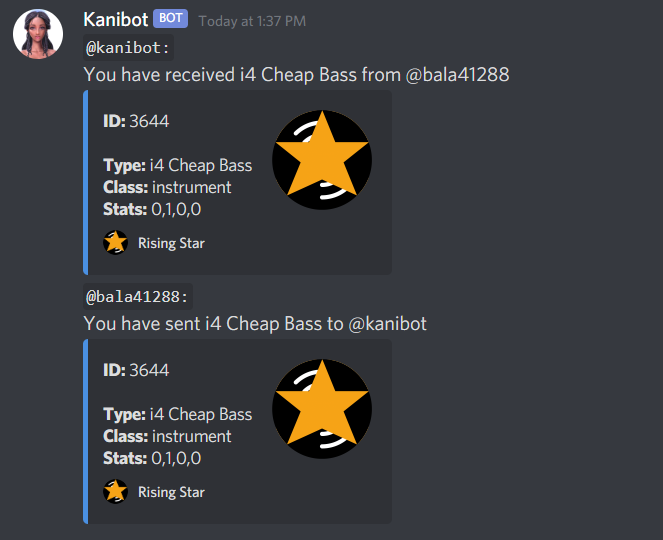 So, above are the notifications I have newly added to the Kani bot. Hope it is interesting for Rising Star gamers. Out of all the above notifications when your item gets sold in the market, it would be one of the best notifications for someone. The updated version of the bot is already live.
Yesterday I also increased the trial period of the bot from 3 days to 10 days. Even after the trial period is over, anyone can purchase a subscription by paying 1 Hive or 200 NEOXAG for a month.
If you would like to start getting notifications from Kani Bot on discord, you can join the below discord server and get started.
Discord Server Link: https://discord.gg/S4x6PFz
Read more about Kani Bot previous releases
Introducing Kani Bot - For Steem Engine notifications on discord
Kani Bot - v1.5.0 update - Feature to subscribe for multiple months
Kani Bot - v1.6.1 update - Feature that sends post payout notifications
Kani Bot - v1.7.1 Update - Introducing NFT notifications and streaming everything from SE sidechain
Kani Bot - v1.8.0 Update - Added Hive Engine notifications to the bot
Kani Bot - v1.10.0 Update - Getting started with splinterlands notifications
Kani Bot - v1.11.0 Update - Market order fill notifications
Kani Bot - v1.12.0 Update - Introducing dCity Notifications
---




---