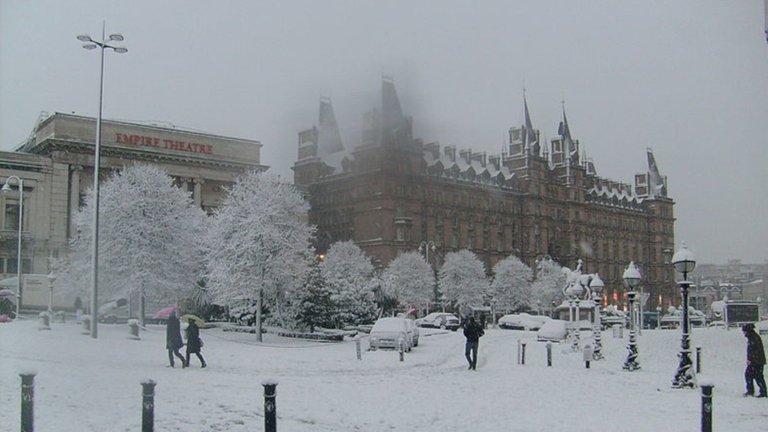 Source: Wikimedia
---
---
Born of mountain lake
Tumbling from pregnant clouds
Snowflakes paint all white.
---
© Rowan Joyce all rights reserved
---
Today we finally saw snow here in Liverpool. The rest of the UK has been blessed with flurries of the white stuff for weeks. But in Liverpool we rarely see snow, something to do with the costal air. Even as I type this post the flakes grow less and the snow has barely settled. Maybe we shall see more this evening and I can post a longer photography piece tomorrow showing some of the iconic sights of my hometown blanketed in snow.

In the meantime check out the video I captured from my apartment's window of the snow falling with the Anglican Cathedral in the background. This video inspired the Haiku above and the musings below.

I always find there is something psychologically cleansing about snow. As crystalline flakes settle, the concrete is carpeted in brilliant white. The uniformity of colour inspires a focus of mind akin to meditation. All those familiar buildings and landmarks are still there, yet changed. Snow also washes away the grime of the city streets, brings joy to children in play, transforming both the landscape and the mindscape.

---
The haiku Snowfall attempts to capture what Japanese Haiku masters call Kigo (季語):
an explicit or implicit reference to a season, that defines the time of the year in which the haiku is composed.

Along with Yūgen (幽玄):
a sense of wonder and mystery representing the state of mind produced by the inexplicable fascination of things, the feeling of an 'other' universe, full of mysterious unity.
The haiku follows the model of the Mizu No Oto - Haiku Contest, where some type of media is used to prompt a haiku.

The Mizu No Oto - Haiku Contest (linked above) contains a fantastic tutorial on the traditional aesthetics and technique of haiku, I recommend checking it out for a master class in that form of poetry.

In this haiku I have tried to adhere to the ichibutsu jitate stylistic model, which consists of presenting one unified scene. The imagery in the poem meshes together to form a whole, in this case commenting on the scene in the video of my home town.

To read more about the aesthetics of true haiku, and the difference between haiku and senryu, please check out my post:

All media used in this post is my own, or creative commons linked below the image. If you have enjoyed this Haiku, please check out my other work on my homepage @raj808.




Click banner to visit the community page


Find us on twitter by clicking the banner above.