[English & Spanish] Diamonds | The Poem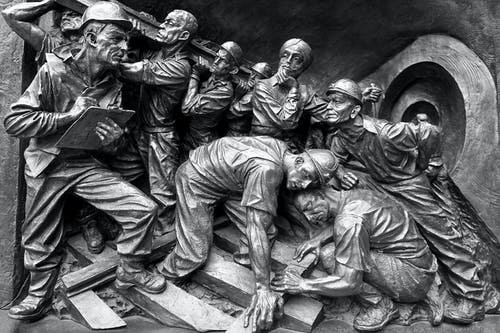 Image source
Gentlemen on the highway,
Heading nowhere in particular,
With wet metal hidden under belt,
Like miners in the Pretoria fields,
Searching for burnt coal,
Through the darkest of tunnels,
Flexing muscles like bodyguards.
Now the rainbow appeared like a bowl,
Not like an arc,
This hefty men had clung at the hedge,
Waiting for the prey to walk in,
Like henchmen they lay siege,
With hunched backs of safety tools,
Before the war begins.
Our intuition has held us high,
We accelerated and walked into the ambush,
Unexpected miners on the highway,
Making a search of all commuters,
Wielding heavy wet metals,
Looking fierce like guerrilla soldiers,
Looking left right and left.
All engines not locomotive off,
Dead silence as the miner kept digging,
Through one vehicle to the other,
Sworn to suck blood if the diamond is not found,
They won't rescind after all several minutes on the roll,
But they should know better,
We move all round less,
Cash-less and other lesser.
Suddenly a hailstorm blew,
Not in the desert but in the savannah,
In the middle of know where close to Madagascar,
Then the miners begin to retreat,
Putting away their wet metals one by each,
Two shots in the air we dropped our heads,
The miners zoomed as one metal dropped off.
The miners had scooped all our diamonds,
Before we discover the metals were plastics,
They have scammed us and drove our valuables with them,
At the sight of the dropped wet metals,
We lost to their cheap blackmail,
Same as the noisemakers in the fields,
Who highjack what belongs to another.

Hope you had a great ride reading through this blog, visit for more fun.

Diamantes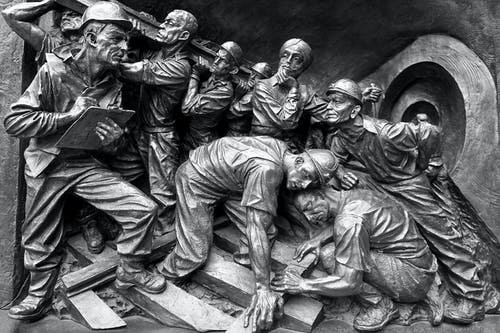 Fuente de la image
Caballeros en la carretera,
Dirigiéndose a ningún lugar en particular,
Con el metal húmedo escondido bajo el cinturón,
Como mineros en los campos de Pretoria,
Buscando carbón quemado,
A través de los túneles más oscuros,
Flexionando los músculos como guardaespaldas.
Ahora el arco iris apareció como un cuenco,
No como un arco,
Este hombre corpulento se había aferrado al seto,
Esperando a que la presa entrara,
Como esbirros asedian,
Con las espaldas encorvadas de herramientas de seguridad,
Antes de que la guerra comience.
Nuestra intuición nos ha mantenido en alto,
Aceleramos y entramos en la emboscada,
Mineros inesperados en la carretera,
Haciendo una búsqueda de todos los viajeros,
Blandiendo pesados metales húmedos,
Mirando ferozmente como soldados de la guerrilla,
Mirando a derecha e izquierda.
Todos los motores no locomotores apagados,
Un silencio absoluto mientras el minero seguía cavando,
A través de un vehículo a otro,
Jurado chupar la sangre si el diamante no se encuentra,
No van a rescatar después de todos varios minutos en el rollo,
Pero deberían saber mejor,
Nos movemos todo menos,
Sin dinero en efectivo y otros menos.
De repente sopló una tormenta de granizo,
No en el desierto sino en la sabana,
En medio de saber dónde cerca de Madagascar,
Entonces los mineros comenzaron a retirarse,
Guardando sus metales mojados uno por uno,
Dos disparos en el aire bajamos la cabeza,
Los mineros se acercó como un metal cayó.
Los mineros habían recogido todos nuestros diamantes,
Antes de descubrir que los metales eran plásticos,
Nos han estafado y se han llevado nuestros objetos de valor,
A la vista de los metales húmedos caídos,
Perdimos ante su chantaje barato,
Al igual que los ruidosos en los campos,
Que se apropian de lo que pertenece a otro.

Espero que hayas pasado un buen rato leyendo este blog, visítalo para más diversión.
---
---