This is what the "living room" upstairs looked like a few days ago: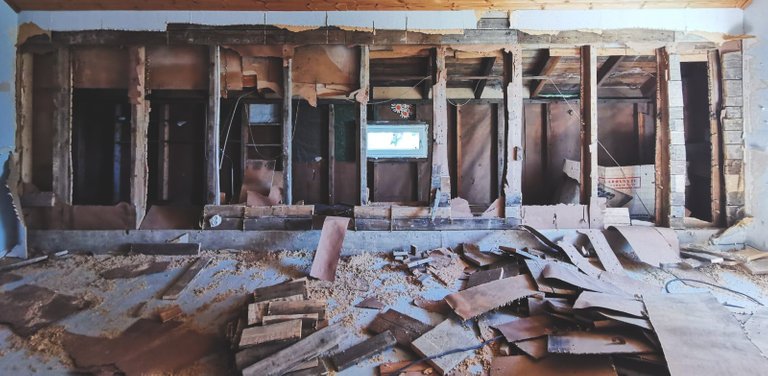 This is what it is looking like now: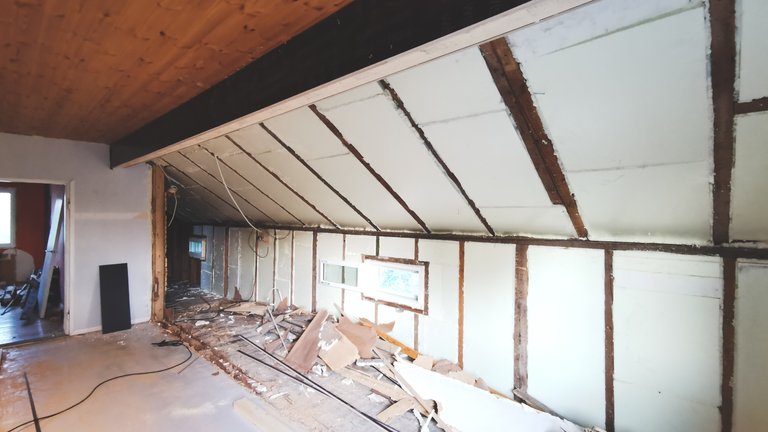 It is similar on the other side of the house too, which will be our bedroom. The challenge with this side was that the room is six meters long, which is quite a span. The support beams in the first picture are holding up the roof and we thought that it wouldn't be possible to completely open the space, but as you can see in the second, there are no visible supports. This means that we are now less constricted and the area is more versatile. On the bedroom side, the room isn't as long, but opening up the attics gives much needed space so that it won't feel packed, with only a bed in there.
A wall will extend from the corner near the door to close off the attic so that the lounge room is one space and the other side will become our daughters wardrobe and storage area for toys and random junk. This house is big, but had surprisingly little storage space, which means that additional cupboards would have to be put in, cluttering it up.
Heating the previously cold attics is an additional cost, but it creates a more unique space and adds some design detail. More importantly, it makes it far more functional for usage and because it is now well insulated, will require less energy to keep warm in the winter or cool in the summer.
In the winter this space was quite cold (I discovered one wall had no insulation whatsoever when I demolished it) and through the summer it was sweltering. We will have new water heated radiators put into the wardrobe areas that run off the heat exchange pump, so energy for heating is quite efficient. The whole house should perform far better and be more energy saving once we have completed the alterations.
Now that the attics are open, it is far easier for people to visualize what we are doing and they can now see why we have made these decisions. Functionality is a big part of it as we want our house to be the kind of place that we use daily with ease, rather than laboring continually with design choices made for a different time, culture and conditions. We as a society change over time and therefore, the homes that we build have to evolve with us, or become increasingly impractical and unsuitable for the current lifestyles. I obviously like thinking about this stuff and finding ways to "hack" the space to update it for us and hopefully others if needs be, who never knew that they wanted this kind of thing.
A lot of the Finnish design doesn't change much over time and the new houses and apartments are essentially cookie-cutter homes with little differentiation between. But, if one is willing to plan and take a few risks, the older houses offer a lot more option for variation and can be reimagined into beautiful spaces with each being unique.
The cookie cutter back in the 50s and 60s was in place of course, but as each generation of owner with their own needs and wants changed parts of the space, the homes diverged from the average in many directions. It is kind of like a decentralized design process where each started from a very similar starting point, but based on will and resources, moved further away from each other - some replicating the changes of others, some being far more daring and going out on a limb. We are looking to go a little out on limbs, but the driving force is practicality and usecase suitable to who we are as a family.
Even though this is a huge mess and there is a long way to go, soon we will be able to start preparing the surfaces, which means sanding back the floors and putting gyprock onto the walls to seal the space and then all the finishing work. Once we are able to move up there, the work moves to the downstairs, which I hope will be easier as it is mostly just surfaces to contend with - but one thing with old houses is, there are generally surprises.
I have spent most of the day so far removing scrap wood from the floor via the stairs, and my butt muscles are getting pretty sore. I have been working daily like this for over two weeks now and it is taking its toll, with my hands having trouble gripping things and my back calling my names - but soon I will be able to take the night off with my wife for a movie and dinner for our fifth wedding anniversary. I am hoping that with our daughter gone for the night, we can sleep in for a change, as there should be no workers knocking early on the door. I don't count on the sleep-in though, as every time I think I have the opportunity, something happens to steal it away.
Now, time to see if I will have a camera for Sunday's Smallsteps' birthday with family. The weather should be good so we can be outside and I'd love to have some shots of her first birthday in her new home. Fingers crossed.
Taraz
[ Gen1: Hive ]