---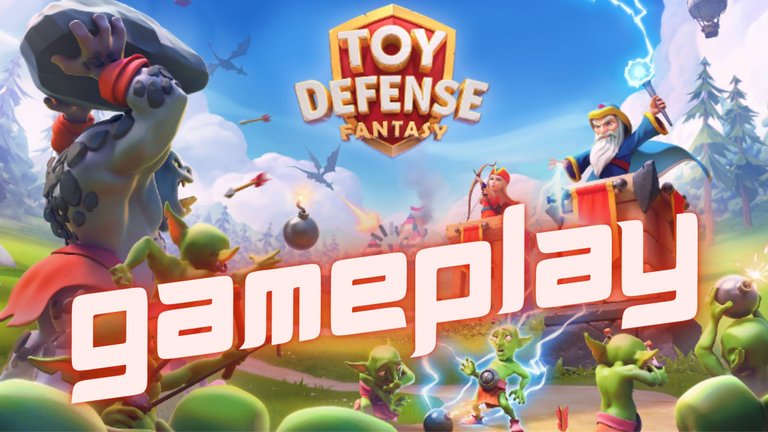 Defend your kingdom / Defiende tu reino.
Some days ago I was talking with some friends about simple but highly addictive games, Toy Defense Fantasy is one of them. This is the classic tower defense strategy game, in this case defense of the kingdom.
The thematic is quite simple, you must strategically deploy your troops at various checkpoints to prevent the enemy from attacking, invading and destroying your castle.
Hace algunos días conversaba con unos amigos acerca de los juegos sencillos pero altamente adictivos, Toy Defense Fantasy es uno de ellos. Este es el clásico juego de estrategias de defensa de torres, en este caso de defensa del reino.
La temática es bastante sencilla, deberás desplegar estratégicamente a tus tropas en los distintos puntos de control para evitar que el enemigo ataque, invada y destruya tu castillo.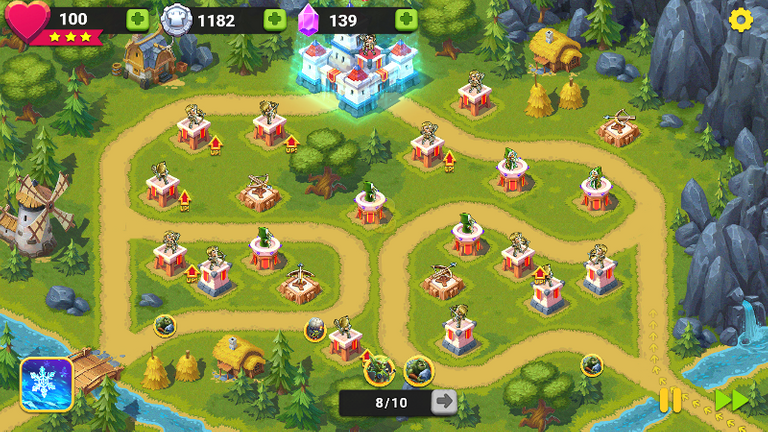 To do this you must train an army of archers, mages and warriors, while strengthening the attack and defense equipment. Each one of these elements or characters are effective for determined enemies, here is part of your game strategy.
Para ello deberás entrenar a un ejército de arqueros, magos y guerreros, a la vez que fortaleces el equipamiento de ataque y defensa. Cada uno de estos elementos o personajes son efectivos para ciertos enemigos, aquí radica parte de tu estrategia de juego.

MAGE: Expert in ground and air attacks.
MAGO: Especialista en ataques terrestres y áereos.

ARCHER: Effective to attack ground and air targets, especially orcs and fire goblins.
ARQUERO: Eficaz para atacar blancos terrestres y áereos, en especial orcos y duendes de fuego.

BALLISTA: Weapon of attack against ground targets. Causes maximum damage to ogres and balrogs.
BALLESTA: Arma de ataque contra objetivos terrestres. Causa el máximo daño a ogros y balrogs.

GREEK FIRE: Weapon of attack against ground targets. Highly effective against goblins, it burns the enemy.
FUEGO GRIEGO: Arma de ataque contra objetivos terrestres. Altamente eficaz contra los duendes, incendia al enemigo.
It will be necessary to invest the coins won in the battles to level both the warriors and the weapons and improve their skills, since the performance of their troops in combat will depend on it to ensure victory.
Será necesario invertir las monedas ganadas en las batallas para subir de nivel tantos a los guerreros como a al armamento y mejorar sus habilidades, pues de ello dependerá la actuación de tus tropas en combate para garantizar la victoria.
Similarly, as you progress in the game will be necessary to protect your castle incorporating upgrades at each level. Each new map the enemy attack becomes stronger, more robust and aggressive, so you must be prepared to protect your kingdom.
De igual forma, a medida que avances en el juego será necesario blindar tu castillo incorporando mejoras en cada nivel. Cada nuevo mapa el ataque enemigo se hace más fuerte, robusto y agresivo, por lo que deberás estar preparado para proteger tu reino.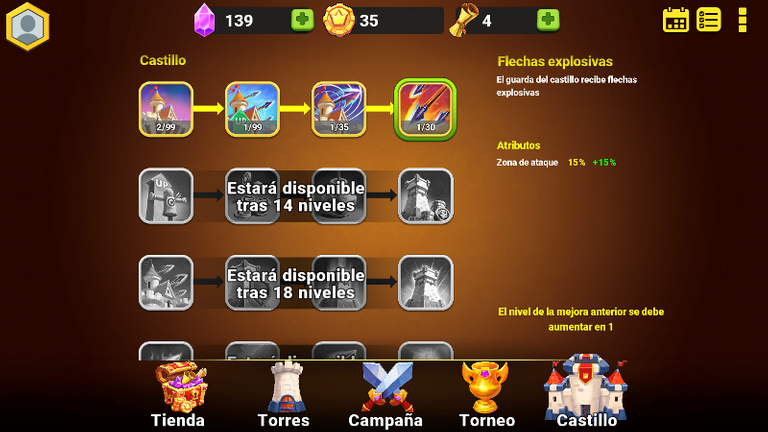 As you can see, you will have to win many coins, but don't worry, every time you win battles you will accumulate more coins, and as you unlock new maps, too.
Como podrás ver, necesitarás ganar muchas monedas, pero no te preocupes cada victoria sumarás más, y a medida que desbloquees nuevos mapas, también.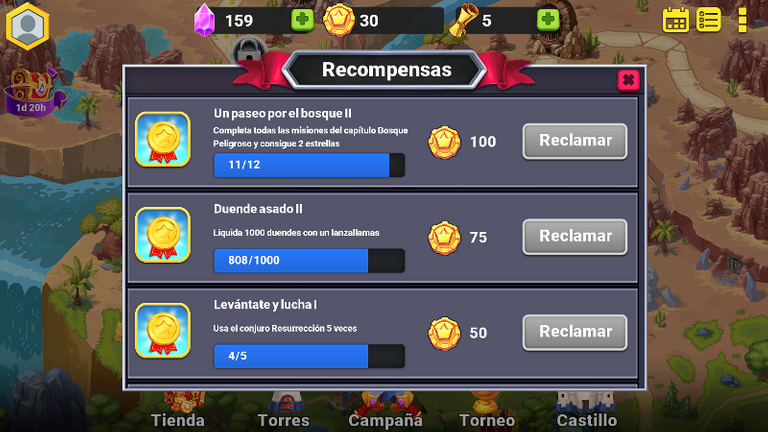 Tournaments / Torneos
One of the most interesting options in this version is that you can compete with your friends in weekly tournaments and win prizes. This game mode will be available after completing the first 24 missions.
Una de las opciones más interesantes en esta versión, es la de podrás competir con tus amigos en torneos semanales y ganar premios. Esta modalidad de juego estará disponible después de cumplir las primeras 24 misiones.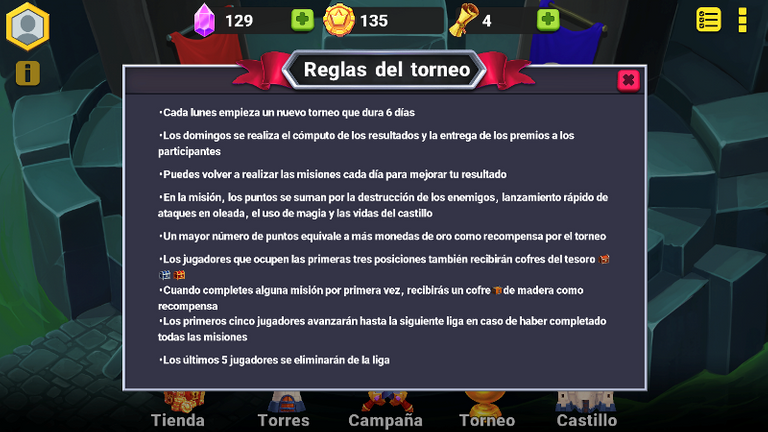 Daily Quests / Misiones Diarias
Another way to get the long-awaited coins you need in the game to upgrade the levels is through the daily missions.
Otra de las formas de hacerte de las tan anheladas monedas que se necesitas en el juego para incrementar los niveles, es través de las misiones diarias.

Toy Defense Fantasy seems to be an easy game, don't be fooled, because its level of complexity will reach such a point, that you will suffer haha
Enjoy the game and get an idea about this addictive game.
Toy Defense Fantasy parece ser un juego fácil, no te dejes engañar, pues su nivel de complejidad llegará a un punto tal, que sufrirás jajaja.
Disfruta del juego y hazte una idea acerca de este adictivo juego.
This game is available for iOS and android mobile devices
Este juego está disponible para dispositivos móviles, tanto: iOS como android.
All gamer content associated with mobile devices is waiting for you in the community Hive Mobile Games, join us.

All the images are own captures from my cell phone, the game is configured in Spanish, my native language.
Other images are from the official website of the game.
Design & Edition: Microsoft Power Point / Filmora 9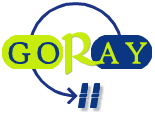 1301283405389271040?s=20 twitter metadata:UmFpY2VseXNfR29tZXp8fGh0dHBzOi8vdHdpdHRlci5jb20vUmFpY2VseXNfR29tZXovc3RhdHVzLzEzMDEyODM0MDUzODkyNzEwNDA/cz0yMCB8 ~~~
---
▶️ 3Speak