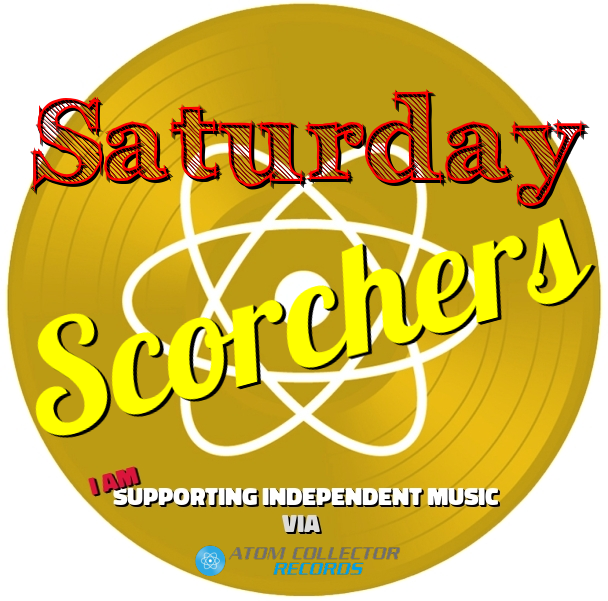 The following tracks are a selection of the fantastic independent musicians that use AtomCollectorRecords.com:
Some improvisations on my cigar box guitar, drums and other stringed instruments.


LYRICS
Just Instrumental
Nyertun - Dancing is no Crime by @beats4change
The young Iranian girl Maedeh Hojabri was arrested for dancing on her Instagram profile, and threatened with prison and whipping in Iran, she was forced to go on public television and repent. Music is the weapon for the givers of life, and of course dancing is no crime, life is no crime !! Dance the darkness away
Those Pesky Hormone Goggles by Nickillus
Playing around with a BAER sample pack from Noiiz and the usual cocktail of vst instruments led me to this lightweight oddity.
Thanks for listening, if you do.
No Love Lost by ZOLDER
Encounter: The First Kind by @icondark
Genre: Electronic/Breakbeat
First of a series, this instrumental is a soundtrack for UFO chasers across the globe. But who's chasing whom...?
Close Encounter of The First Kind: Visual sighting of an unidentified craft or object within 500 feet.
Available on Bandcamp: https://icondark.bandcamp.com/track/encounter-the-first-kind
And Everywhere Else: https://song.link/i/1439752390
Based on a rhythmic theory by Olivier Messiaen
► Listen on DSound
► Listen on CHOON
Ugochill - Beloved by @ugochill/
Ugochill - Beloved, is is featured on the album Home (10 Years) digitally available worldwide.
Music written, performed and edited by Alex Rado, except Bass Guitar, played by Alen Sveto
Produced by Ugochill © 2017
Amour monstre [Gina Wood / Amanda Sanderson / Lukowig] by Lukowig
Music: Gina Wood and Lukowig
Synths: Gina Wood
Drums, guitar and lyrics: Lukowig
Vocal: Amanda Sanderson and Lukowig
Illustration: Waldkunst from Pixabay


LYRICS
Mon amour
tes regards insistants
comme des lances
me transpercent...
Mon amour
je te garde à tout instant
sous la vigilance
de ma herse...
Cet amour
que tu me montres
est-il lumineux ou sombre?
Mon amour
à ton encontre
est le plus fort au monde !
Comme ta bouche
se fait caressante et tendre
mais tes dents
me mordent encore...
De ta bouche
je ne veux rien entendre.
Secrètement
je te dévore...
Cet appétit
que tu me montres
est-il celui d'un monstre ?
Petit à petit
à ton encontre
j'éprouve un amour monstre !
Mon cœur lourd
dans tes filtres d'amour
à petit feu
s'empoisonne...
Mon cœur est sourd :
ta détresse je savoure.
Mon seul vœux :
que tu frissonnes...
Plus je cours
pour te fuir
plus ton amour est immonde...
Nul recours
je vais te nuire
jusqu'à la fin du monde...
Plus tu cours
pour me fuir
plus mon amour t'innonde !
Au secours
je ne veux souffrir
jusqu'à la fin du monde... du monde... du monde...
Camille seul(e) [ Agapite / Amanda Sanderson / Lukowig ] by Nebulae of Dawn
Music and mixing : Agapite soundcloud.com/agapite/tracks
Vocal : Amanda Sanderson soundcloud.com/phoebeelena/tracks www.facebook.com/amanda.sanderson.777158
Lyrics, vocal, mixing and mastering : Lukowig soundcloud.com/user-407534243/tracks www.facebook.com/Lukowig/ twitter.com/Lukowig
The female laughs come from a royalty free sounds bank.


LYRICS
Camille seul(e)
Oooh Camille seul(e)
est à plat...
Son rêve : m'étreindre dans ses bras.
Je gis au sol
si froid sans toi...
Mon rêve : m'éteindre dans tes bras.
Camille seul(e)
sait me comprendre...
Camille seul(e)
sait me prendre...
Camille seul(e)
sait me reprendre...
Camille nous seuls :
faits pour s'entendre...
Camille seul(e)
est à moi...
Sans trêve : me serrer dans ses bras.
Je suis le (la) seul(e)
si près de toi...
Sans grève : me terrer dans tes bras.
Camille seul(e)
sait être tendre...
Camille seul(e)
sait me détendre...
Camille seul(e)
sait me surprendre...
Camille nous seuls :
faits pour s'éprendre...
Camille seul(e)
m'oppresse parfois
je crève, m'effondre sans ses bras...
Mais Camille seul(e)
lit en moi,
m'élève quand elle (il) fond dans mes bras.
Camille seul(e)
peut m'entendre...
Camille seul(e)
peut me défendre...
De Camille seul(e)
je ne peux que dépendre :
Camille tu es ma (mon) seul(e)
fol(le) allié(e).
Encounter: The Third Kind by @icondark
Third and final(?) track in the "Encounter" series.
Close Encounters of the Third Kind: An encounter in which a moving entity is present... alien, robotic, human, or 'other'...
Just as the second track borrows from the first, this third entry retains some of the elements from its predecessor. It turns dark ambiance on its head by delivering an electro-rock grove with a heavy guitar riff. The aliens make their appearance during the break amid the return of the Geiger counter clicks and (hopefully) ominous Morse code. Have they come to party, or are they here to mutilate cattle and consume household pets? Whichever it is, it's not like you can stop them. If you learned anything from the Hopkinsville Encounter, it's that the aliens are, in fact, bulletproof.
The series as a whole is intended to showcase various genres:
First=Breakbeat,
Second=Dark ambient,
Third=...whatever this song is.
Taken together, they are a perfect answer to the question often asked of musicians: "So, what kind of music do you make." If you liked either of the three, you'll probably like my other work as well.
Available on Bandcamp: https://icondark.bandcamp.com/track/encounter-the-third-kind
And Everywhere Else: https://song.link/i/1443213980
---