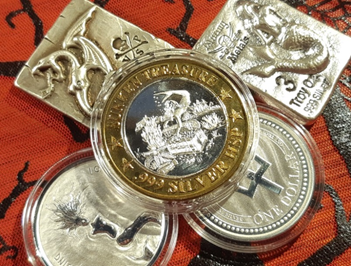 P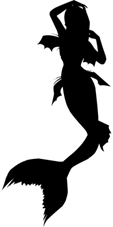 " Blackbirds tend to like Shiny Things" ~ The Bloody Raven
We we're having such fun writing Captain K last year but since the big plunge of crypto prices a year ago more than half the crew abandoned ship before I got more into the character of Precious our Silver gold Stackers Mermaid. So I made a decision to share the Mermaids I saved, hoping and waiting for the day our intrepid cast return to once again participate in our Epic Pirate story.
For now, my life is crazy busy so I can't post my usual shtick.
To the Coins!
2018 Fiji 1 Dollar Mermaid Rising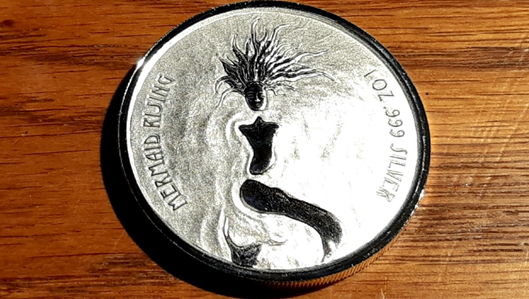 Reverse: Mermaid backstroke, MERMAID RISING, 1 OZ .999SILVER
31.1g, .999 Silver
38mm Diameter, 3.2mm thickness
In the story, Chart of the Moon Goddess, I've pictured our Precious first meeting Captain K outside his Cabin window from the Water as the Dragon Fire was being readied for her special delivery voyage out from the City of Gamelon.
She's always heard but for the first time Captain K sees Precious as a young girl Mermaid. Precious is seen in the context of the observer's point of view and memories. An older Salt of a Sailor may view her as an older mature Mermaid therefore having a chameleon type of power. Is this ability unique to her or do all Mermaids have? I won't say yet. However she is a talented persona of the Captain K universe , Precious is thousands of years old and the Niece of King Neptune/Poseidon.
2018 Fiji 1 Dollar Mermaid Rising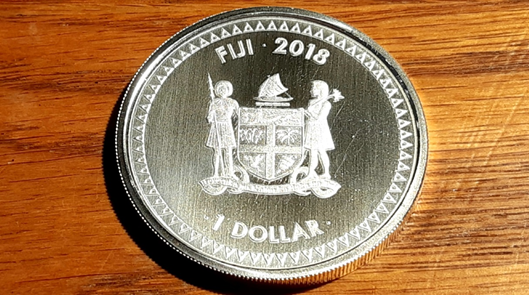 Obverse: Fiji Coat of Arms, FIJI 2018, 1 DOLLAR
Minted by Scottsdale Mint
Mintage of 17,000
I acquired this lovely Fiji Mermaid coin from a Canadian retailer (TCS) but they have no plans to carry other Scottsdale products. Disappointed at the prospects of landing a certain very desirable Scottsdale round(s) Shhh! I will have to talk to my low key Stacker friend living not very far from me about it, more on this later.
Now, the Second coin is once again the result of @summertooth 's collecting inspiration. The first post is the Treasure Island Gaming token and this one I simply cannot pass up since it fits so well in my Pirate theme collecting. And I know how my Sister @silvesaver888 loves the Mermaid theme.
Luxury Cruise Gaming Token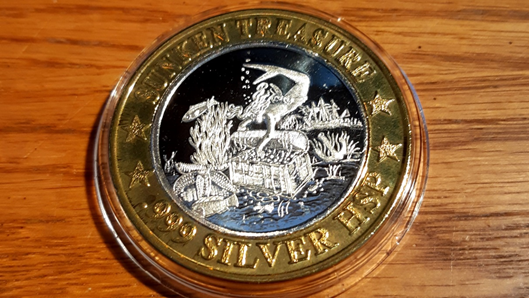 Reverse: Mermaid finds a Treasure Chest, SUNKEN TREASURE, .999 SILVER HP
0.6 oz Silver Core, Brass outer ring 0.7 oz. 1.3 oz. total
Mintage Unknown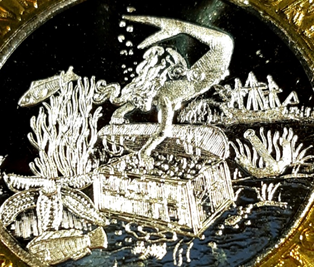 Now I must admit that this reverse seems eerily similar to the Silver Bugs design and I wouldn't put it pass the guys at SB to inquire about Cruise line lifting what MIGHT be a copyright issue.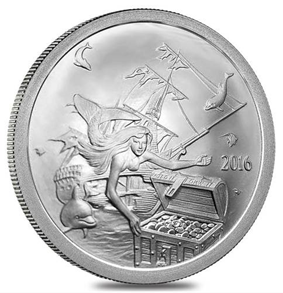 BE
If they could find out which Cruise lines and what mint it was that made it I'm sure there can cut a fair deal in the making here.


Perhaps not, upon closer inspection reveals that some of the design details appear a bit sloppy, actually more cartoonish. She's still a keeper but I will still be after the Silver Bugs version!


Luxury Cruise Gaming Token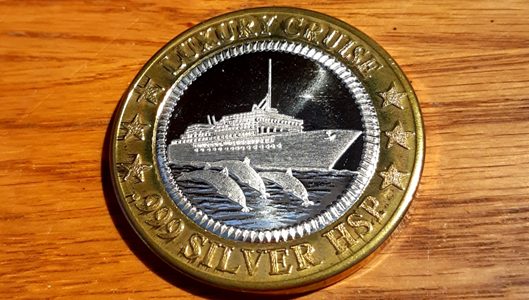 Obverse: Cruise Ship with Dolphins, LUXURY CRUISE, .999 SILVER HSP
Unstated Denomination $10
SSC#: LCLvscl-016
This would be more of a perfect token if it were a Fill-Rigged sailing ship for my taste but still a MUST HAVE in my collection so I can make this an exception to my theme collecting rules and principles.
Last month my friend and I combined for an order to Scottsdale Mint and they quoted a pretty long lead time to process. Coughed up the horrendous Shipping charge (We split that cost) and we jokingly ask for a cheap Brinks guard to accompany the package. Scottsdale only promised that they will deliver on the prices quoted and notify us by email when the order is on route.
That was in the 3rd week of April.
Crossing fingers….
There will be something cool to post!
I can't wait!
I hope you enjoyed this very seafaring feature
Thank you for stopping by my Blog today.
The #piratesunday tag is the scurvy scheme of Captain @stokjockey for #silvergoldstackers and #ssg-community pirates to proudly showcase their shiny booty and plunder for all to see. Landlubbers are heartily welcomed to participate and be a Pirate at heart so open yea chests an' show us what yea got!

Banner by @thekittygirl
R

References
1. My own pictures shot with a Samsung SM-A530W
P. Image under Pixabay
R. Clip art from 123RF
W. Wiki Commons
BE. Image source 2016 Silver Bugs coin Bullion Exchange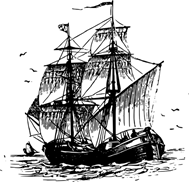 P

"Et lux in tenebris to serve laboro, sum sicarius" "I work in the shadows to serve the Light, I am an Assassin"