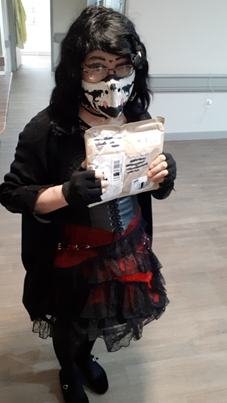 "Black birds tend to like Shiny Things." ~ The Bloody Raven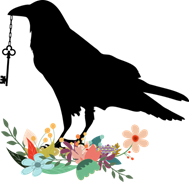 P


On Discord chat a number of months back @enginewitty offered me a surprise gift. I figured it was sort of a welcoming gift by our illustrious Witness of myself into his Steem Hive family. I'm still not sure if that was a group practice among other alleged initiation practices like having to acquire some metaphorical space egg from a certain senior member, of some fictional planet empire, who may judge you worthy to join the family of @thealliance. Then post a blog on, 'Why I want to join this said Alliance.' and to be further scrutinized by the membership. If I'm not already uneasy enough on a stage.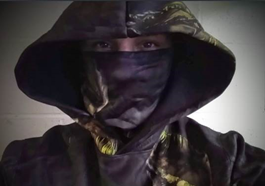 The Witness himself; not sure if he's tall, but he's dark and mysterious ... two and a half out of three.



My 'Stacking sister' @silversaver888 sort of blazed the trail for me. In fact I though this format is so much more suited to her than to me. She is very social compared to my reclusive tendencies and I couldn't see myself here this long without knowing she'd be here.
I was already sold on the ideal of Crypto currency as part of a financial portfolio but had very little cash left over to invest in my budget let alone gamble. So social blogging to earn crypto currency was an attractive option for me as I came in with a group of excited YouTube Precious metal Stackers. In the summer of 2017 I signed up it was not without some apprehension. Why?
First, this Cool Tee top he sent.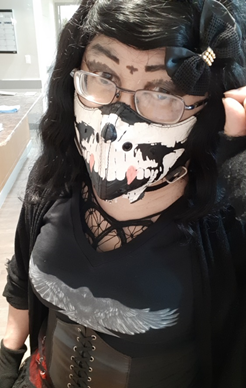 It was almost the feeling of being in High school a stage of my life that I did not have warm feelings for. I had terrible writing skills well below average for my group add a slight stutter that I've trained to control but leaks out when I am under stress or fatigue. When my new classmates discovered it I was immediately a target of ridicule so I found shelter with the remedial 'Misfits' and that's where I acquired my Gothic taste… anyway, it was later that I trained in a certain way to write that takes more time and energy so no one would notice my disability and I was able to survive Nursing school with the skills. My heart sank as I found that my kids had a similar thing but I was determined to spare them the pain as I liquidated my retirement savings and got them into a private school known for handling such cases. I tell you it was well spent.
Hidden inside the top, a Pit Bullion Pirate Cube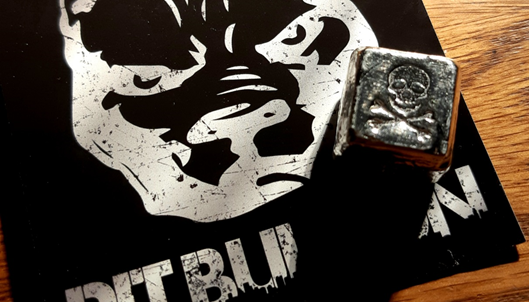 And a hand poured 1oz. 0.999 Fine silver Pirate Cube
As a mellowed downed Goth I still have the natural Social distancing tendency to part myself from the mainstream crowd and look for a dark corner of this blog-chain to accumulate some off-the-grid wealth but still more or less a loner especially since most of the original YouTube Stackers abandoned the Blogchain ship with the price plunge except for my beloved sister Silversaver888.
And it was also people like @stokjockey, @underground and yes now @enginewitty that in a tangible way made me feel welcomed into a family. These are encouraging people do actually read my blog rather than just simply auto-voted by a bot. Witty knows what tickles my fancy.
Pit Bullion Pirate Cube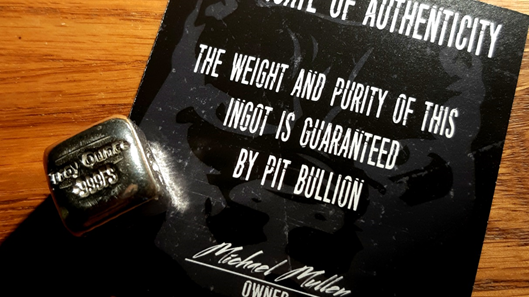 What a very nice welcoming gift from our Witty!
I think Witty's first words, under another alias, to me were, "Interesting tags you're using." As I was a non-member using the alliance's tag since silversaver888 consider these people worth joining with. I didn't feel ready but subconsciously felt inferior to their level of writing. That is one reason I focused on quality content first and then join later. I waded in on just commenting on posts, learning the Markup in what little spare time I had and wasn't until the Spring of 2018 when I made my first Introductory post.
Photos shot at my workplace Lounge.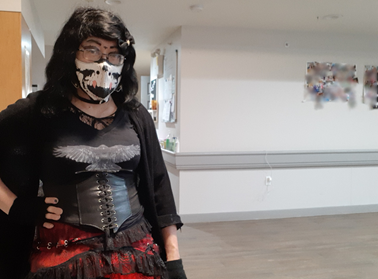 It was just recently Witty asked me to support the alliance with a modest delegation. At this point I didn't care much about the value of our
Steem
Hive and didn't make any difference with as far as my dust votes is concerned.
Witty's reply was, "Welcome to the Family!"
That's it? No drawn out ritual, no elaborate ceremony, no road to travel. Perhaps I've already traveled that road having met the criteria concocted only in my imagination only to find I am already there.
Now I am just content to blog for the mental exercise and for my loyal followers.
"Family", what a powerful word.
Hugs & Kisses! Thank you, Witty!
References
1. My own pictures shot with a Samsung SM-A530W
P. Image under Pixabay
R. Clip art from 123RF
W. Wiki Commons
Witty's Portrait


Banner by @thekittygirl
"Et lux in tenebris to serve laboro, sum sicarius" "I work in the shadows to serve the Light, I am an Assassin"