My respect level for Titans star receiver A.J. Brown is huge. After hearing recently what he played through during this season, my respect level for this guy just got even higher.
Before the year even started A.J. mildly injured his left knee. Apparently during training camp.
Then in the team's week one game against the Broncos A.J. Brown appeared to get injured once again this time in his right knee. The injury apparently was pretty bad. Later in the year, not sure when exactly, he messed up his ankle.
I remember watching plays throughout the year where he would be in what looked like serious pain, he'd come out for a play or two and come right back in. I definitely saw it like four or five times throughout the year.
Now we come to find out A.J. just had surgery on BOTH of his knees. This man played through all of that pain and made his first career Pro Bowl. He was a pivotal part of this offense. He was making PLAYS this season.
I heard a couple of rumors that his knee injury was pretty serious, but I didn't know that BOTH of his knees needed surgery. He really kept his injuries under wraps. That's some real football player grit right there. On top of the fact he's an elite talent.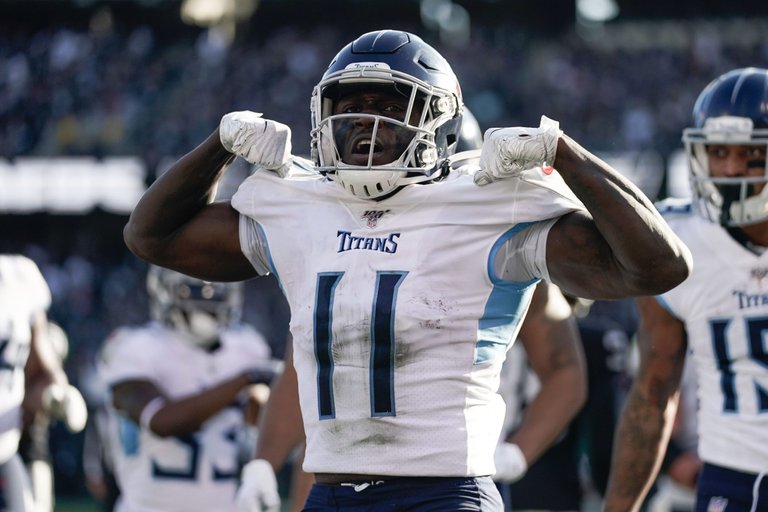 Src
He's definitely one of my favorite Titans! It's really admirable he sacrificed his health for the benefit of the team. Like I said, my respect level for him is huge right now!
Here's a videoof him on Instagram live right after his surgery explaining his painful season.
Here's a really good videocovering the topic as well.
Titans LB Will Compton, co-host of
Bussin' with the Boyswith fellow Titans star LT Taylor Lewan, gave some more insight into how savage A.J.'s season was.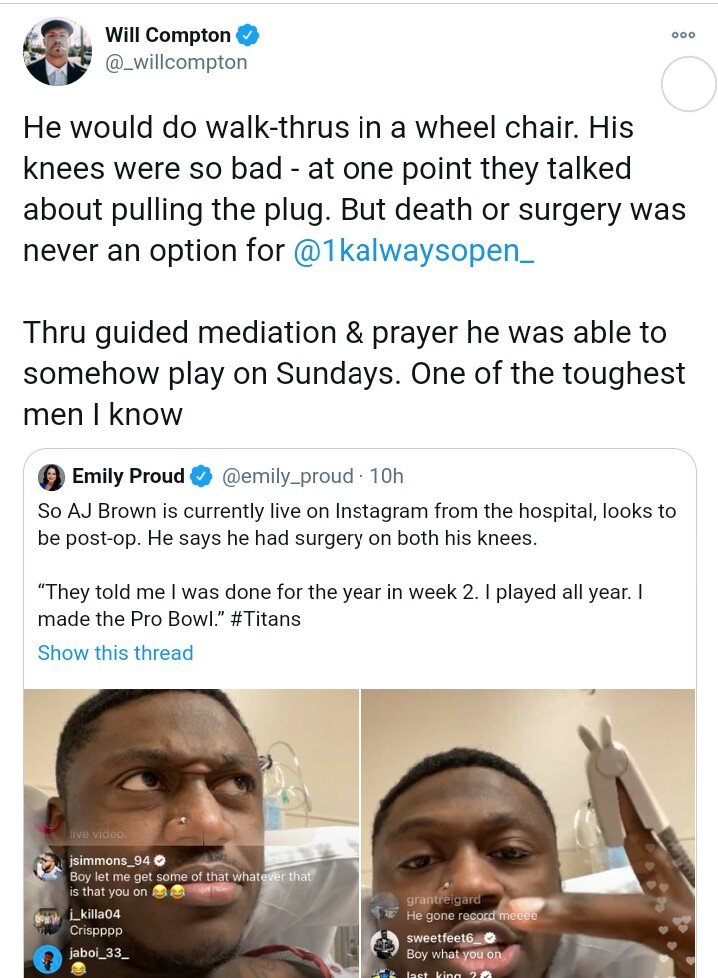 That's some gladiator crap right there!!
Despite these challenges A.J. accomplished the following in just his SECOND season:
Made his first Pro Bowl
1,075 receiving yards (second consecutive 1k yard season in two years as a pro)
70 receptions
11 receiving touchdowns
It's epic to see a young star like him in Tennessee, with tremendous character and toughness.
This guy has got some serious potential and he's already accomplished a lot in his two year career. I can't wait to watch him grow and progress as a receiver, hopefully in two-tone blue as a Titan for life.
Here's a recent tweet of his expressing his desire to stay a Titan!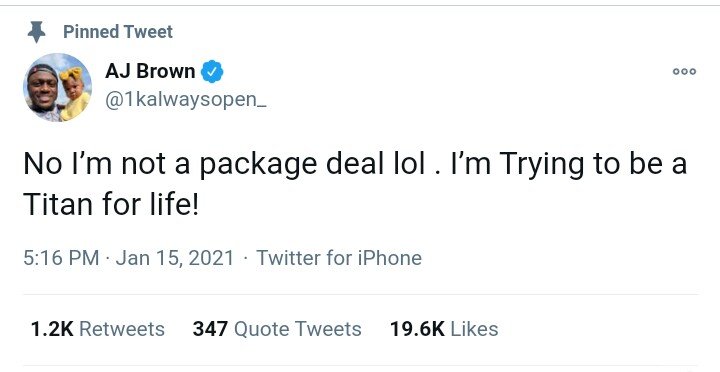 Titans better pay this man!!
Hoping and praying for a speedy recovery and for another great season for A.J.!