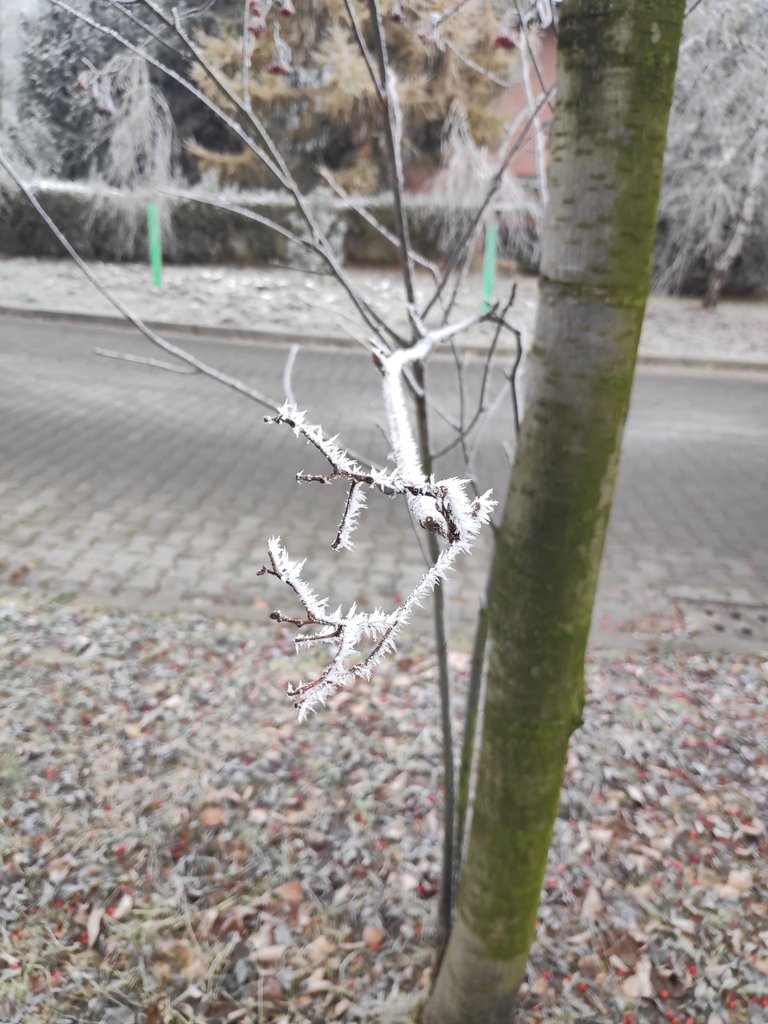 Jedna z pierwszych oznak, że będzie śmiesznie
Kolejny spokojny wieczór, który spędzam przed komputerem. Już po sesji gierek, zaraz pewnie złapie mnie zmęczenie, więc to idealna pora na posta z pewnym podsumowaniem. Przyznaję, miało być już miesiąc temu, ale wtedy się z tego śmiałam. Teraz jest mi jeszcze bardziej do śmiechu (i płaczu).
Równowaga przywrócona?
Kto mieszka obecnie w Polsce, widzi jaka jest pogoda na zewnątrz. Krótko mówiąc - zima jest zimowa. Śnieg w stosunkowo normalnym okresie. Niby taka powinna być normalność, ale od kilku lat tego nie było. Pamiętam robienie śniegowych zająców na Wielkanoc. Śnieżycę na majówkę. Prawdziwe zaskakiwanie kierowców, kiedy Ci uznawali, że hehe, śniegu nie będzie to wywalone w zimówki, a potem turbo paraliż komunikacyjny na 2 dni. Takie głębokie śmieszkowanie ze strony pogody.
Sama pamiętam jak będąc dzieciakiem chodzącym do podstawówki mogłam wybłagać o niepójście do szkoły, kiedy na zewnątrz była temperatura na poziomie -15 stopni i mroźniej. Uroki dreptania w śniegu przez kilometr. Do tego były kuligi, dużo zabaw w śniegu w czasie ferii. Do tej pory pamiętam jak dziadkowie mnie ganili za to, że chciałam robić bałwany i igloo na podjeździe, aż łezka się zakręciła w oku. Od naprawdę dawna nie pamiętam, żeby jakaś zima była taka mroźna... Nie licząc obecnej.
Ostatni tydzień dał nam się mocno we znaki. Zamarzający deszcz, który obladzał ogrzewaną szybę, zapchane lusterka, drogi tak białe, że aż niebezpieczne, a wszyscy jechali z pieluchą w gaciach. Rozdrapywanie lodu z auta, który nie szło naruszyć drapaczką samochodową. Nic przyjemnego w takim mrozie walczyć z czymś takim.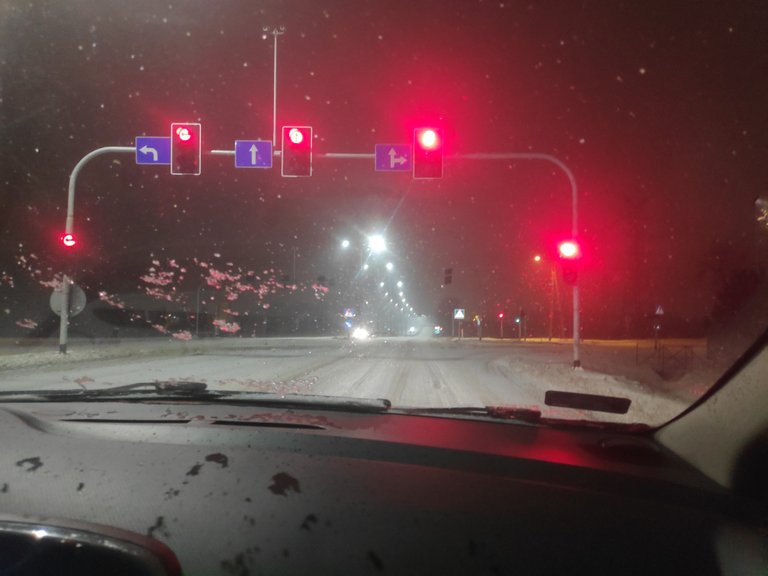 Nasz nocny powrót z zeszłego tygodnia, droga krajowa
Czemu akurat w tym roku pogodo?!
No w sumie powinnam się cieszyć, że w końcu zima jest w zimę, a nie odwalać przeciętnego polaczka, który narzeka na wszystko co się da... No właśnie trochę mi ta obecna poprawność nie pasuje. Jak część wie, od jakiegoś czasu chodzę na kurs prawka, żeby trochę nadrobić to co powinnam mieć już za sobą. O całym tym procesie pewnie napiszę osobny post, bo to dłuższa historia, a czemu, a jak to i w ogóle o wrażeniach dla kogoś, kto był przerażonym tym wszystkim, natomiast jednak liczyłam, że wyrobię się przed zimą, albo że jej w ogóle nie będzie (podobnie jak kierowcy, którzy nie wymieniają opon na zimowe kiedy idzie sezon, brawo ja).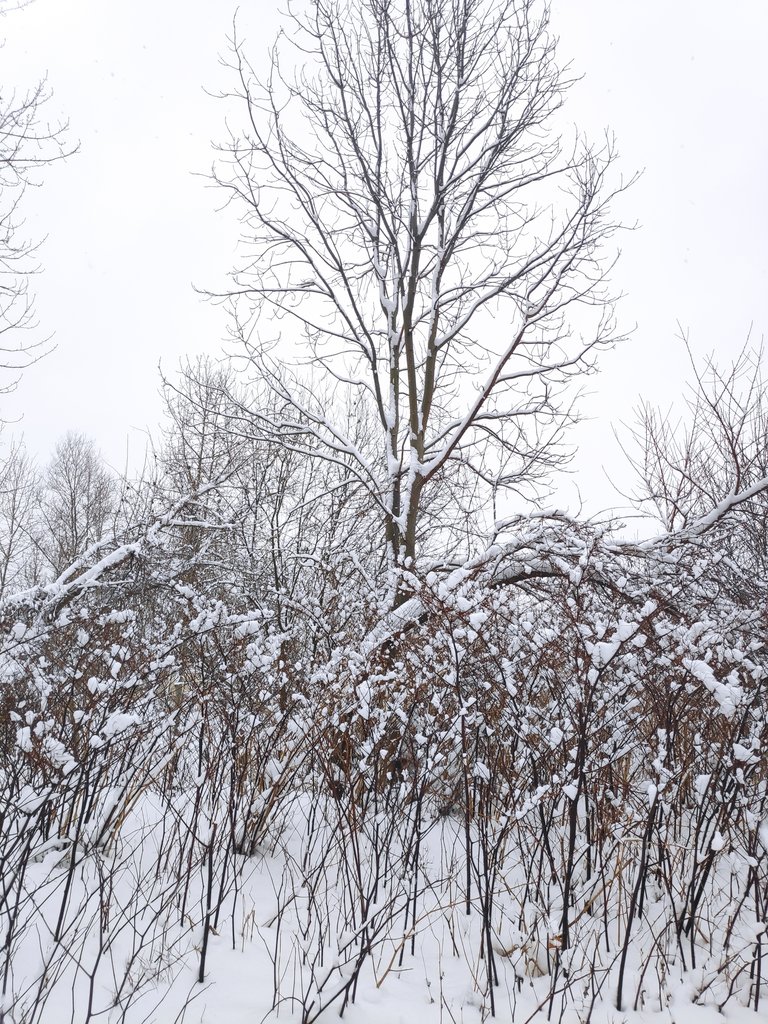 No cóż, nie wyrobiłam się. Jeździłam w śniegu, parkowałam w wielkich muldach i zaspach, nic przyjemnego. Na domiar złego na ten moment wszystko wskazuje, że egzamin państwowy też będę mieć w takich zacnych warunkach. Jutro idę na teoretyczny, a potem się dowiem co dalej oraz dostanę termin żeby porobić z siebie błazna. Wiem, że się mówi, że osoby zdające na zimę to na ogół lepsi kierowcy, bo znają te mniej przyjazne warunki, ale osobiście jestem przerażona wizją jazdy teraz. Może i jest szansa, że obecnie instruktor byłby bardziej wyrozumiały, ale nie przekonuje mnie to na tyle na ile bym chciała.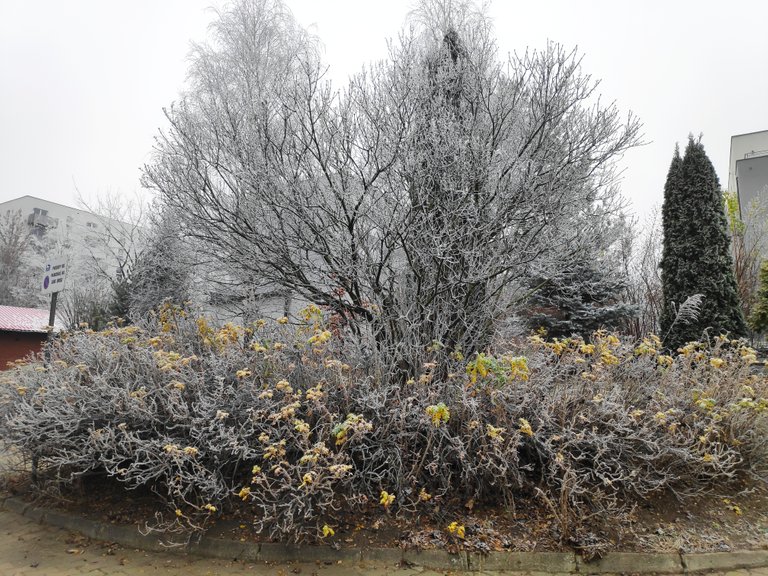 A od tego wszystko się zaczęło, zdjęcie z pierwszego dnia jazd, pogoda przywitała mnie kompletnie oszronionym osiedlem.
Ciekawe czy do egzaminu praktycznego sypnie jeszcze kilka razy czy się okaże, że termin będzie tak odległy, że będę zdawać za miesiąc albo półtorej. Trzymajcie kciuki za mnie, po 9 rano egzamin teoretyczny.
Już się chyba powinnam przyzwyczaić, że życie i rzeczywistość to złośliwe koncepty, ale dalej nie umiem.