Top 30 Organic Engagement through Comments - 23-06-2020
On Hive, we talk a lot about engagement and some of our top authors and stakeholders are also taking lots of initiatives to create more engagement on the Hive blockchain. Engagement comes through reading many posts from other others and adding valuable comments on their posts. I wanted to pull out this data every day from the blockchain and make a post so that authors who are adding more comments and engagement will get motivation.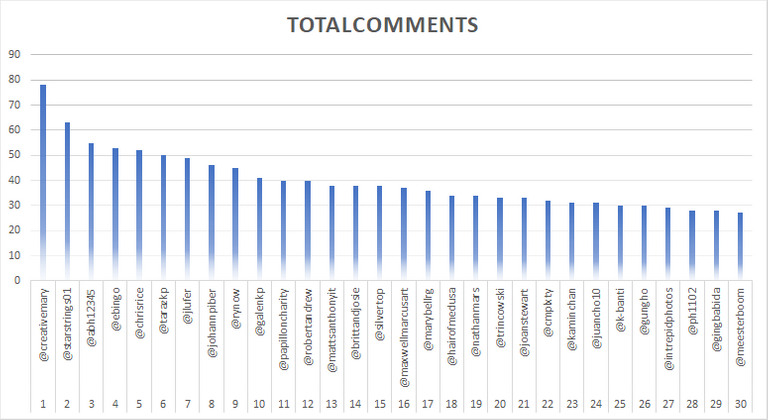 Top 30 Commenter with filter
To start with I had to do lots of manual review work to get rid of the accounts that are either an automated commenting account or spam accounts that add random comments to spam. I came up with the below list of accounts that I have ignored from my report above.
@hivebuzz, @actifit, @tipu, @beerlover, esteemapp, @bdvoter.cur, @vimm, @hivewatcher, @hivewatchers, @pinmapple, @qurator, @likwid, @sor31, @fgh87, @jkl65, @vmn31, @w95hj', @xcv47, @x6oc5, @asd09, @zxc43, @w7ngc, @wiv01, @pixresteemer, @russellstockley, @investinthefutur, @c-squared, @yakovinvest, @dsc-r2cornell, piratedice, questbot, @anonramblingscom, @upvotebank, @hiveghost, @cheetah, @steemmonsters, @puncakbukit, @commun, @sketchbook.bot, @surpassinggoogle, @innerblocks, @naturalmedicine, @incrediblesnow, @travelfeed, @opb, @misterengagement, @discovery-it, @u89gw, @dw38h, @f76wz, @hk14d, @indiaunited, @nesomi, @complaints-1, @complaints-2, @complaints-3, @complaints-4, @complaints-5
But the below section will have the complete list without any filter that will also include accounts from the above list.
Top 30 Commenter without filter
The intention of this post is to showcase some of the authors showing good engagement in the Hive community. I'm posting these stats every day so that whales and high stakeholders can have an eye on them and reward their posts and comments.
Congratulations to @creativemary , @starstrings01 and @abh12345 for reaching First, Second and Third positions yesterday in organic commenting.
---
If you find any discrepancy in the above list or any accounts that are not supposed to be in that list, please let me know in the comments.
---



---
---
---