Que hermoso dia para hacer actividades al aire libre, como están hivianos? Aca en Santa Fe llego el frente frio y trajo un dia muy helado, espero que mañana salga el sol nuevamente.
What a beautiful day to do outdoor activities, how are you living? Here in Santa Fe the cold front arrived and it brought a very cold day, I hope the sun will rise again tomorrow.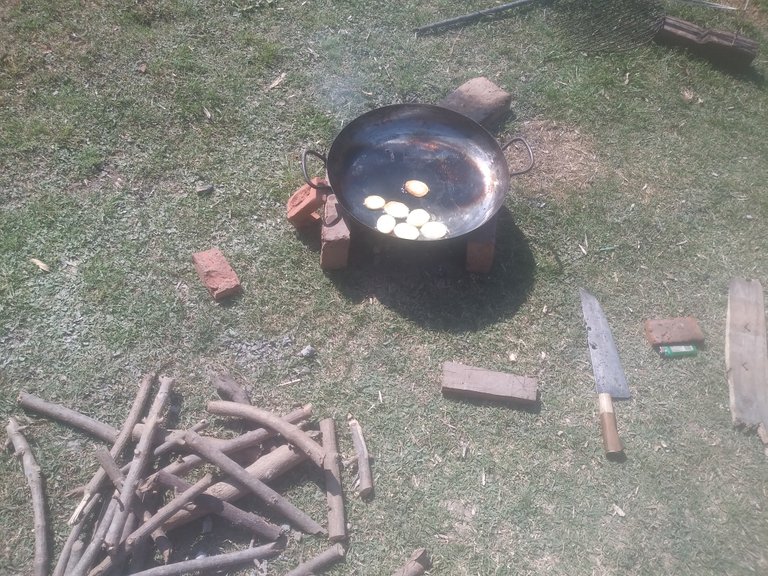 Español
Ayer me surgieron las ganas de cocinar y el súper cocinero interior, estaba con unas ganas de comer algo sencillo y rico, aunque cocinado de una manera diferente. ¿A caso nunca les paso que prueban nuevas maneras de cocinar la misma receta?, pues a mí me pasa muy seguido, por mi obsesión a querer mejorar más y más las recetas.
Esta vez hice unas papas fritas, pero en un disco de hierro fundido que generalmente lo usamos para cocinar en el campo, la diferencia es que esta vez cocine en el galpón de mi casa y utilice madera que había cortado de un árbol viejo.
English
Yesterday I had the desire to cook and the inner super chef, I wanted to eat something simple and delicious, although cooked in a different way. Does it ever happen to you that you try new ways of cooking the same recipe? Well, it happens to me very often, due to my obsession with wanting to improve recipes more and more.
This time I made some french fries, but in a cast iron disk that we generally use for cooking in the field, the difference is that this time I cook in my house and use wood that I had cut from an old tree.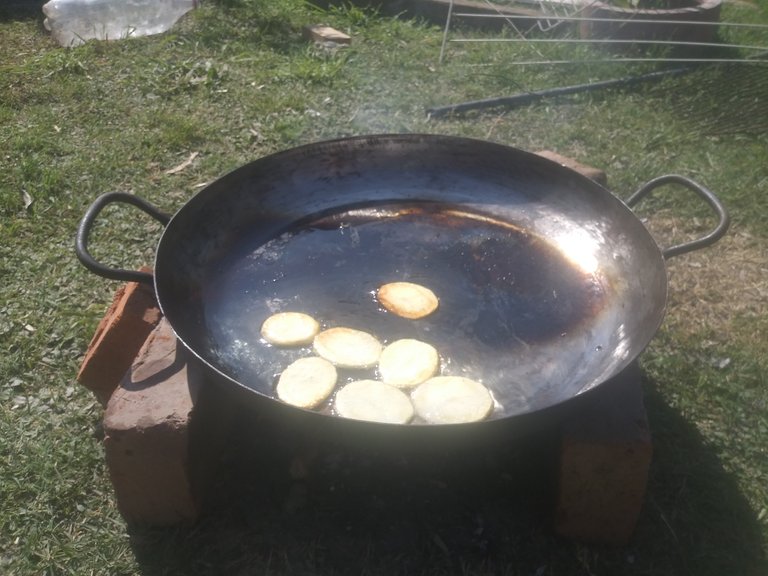 Español
Hacer el fuego con madera es una de las cosas más emocionantes para mí, utilizo toda la paciencia del mundo para cortar la madera, acomodar bien el papel y encender el fuego, obvio que hay que soplar para que no se apague apenas lo inicio al fuego.
Hay que tener cuidado cuando cortan la madera porque pueden cortarse la mano como me paso a mí, aunque fue muy leve.
English
Making fire with wood is one of the most exciting things for me, I use all the patience in the world to cut the wood, arrange the paper well and light the fire, obviously you have to blow so that it does not go out as soon as it start the fire.
You have to be careful when cutting the wood because they can cut your hand like it happened to me, although it was very slight.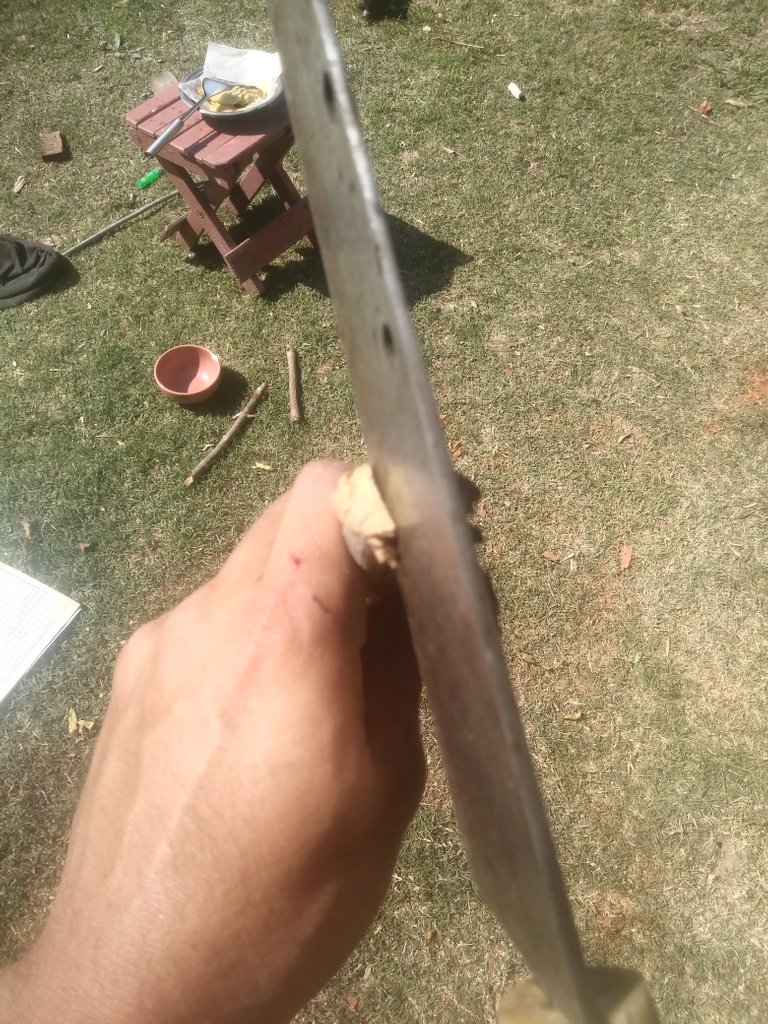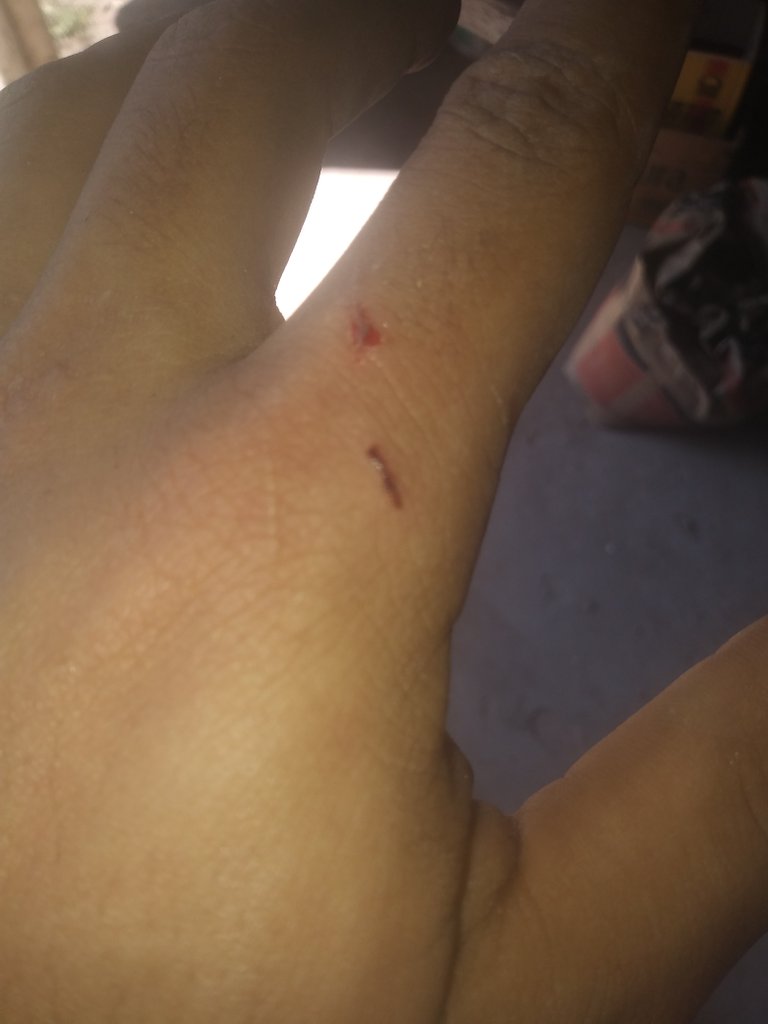 Español
Cuando arranca bien el fuego, tengo que agregar el aceite de girasol y esperar que se caliente lo suficiente para colocar la comida. Para saber si el aceite está bien caliente agrego una papa en rodaja y si escucho el sonido de algo crujiendo es porque esta a temperatura ideal para empezar a fritar todas las rodajas.
English
When the fire starts well, I have to add the sunflower oil and wait for it to get hot enough to place the food. To know if the oil is very hot, I add a sliced potato and if I hear the sound of something crunching it is because it is at the ideal temperature to start frying all the slices.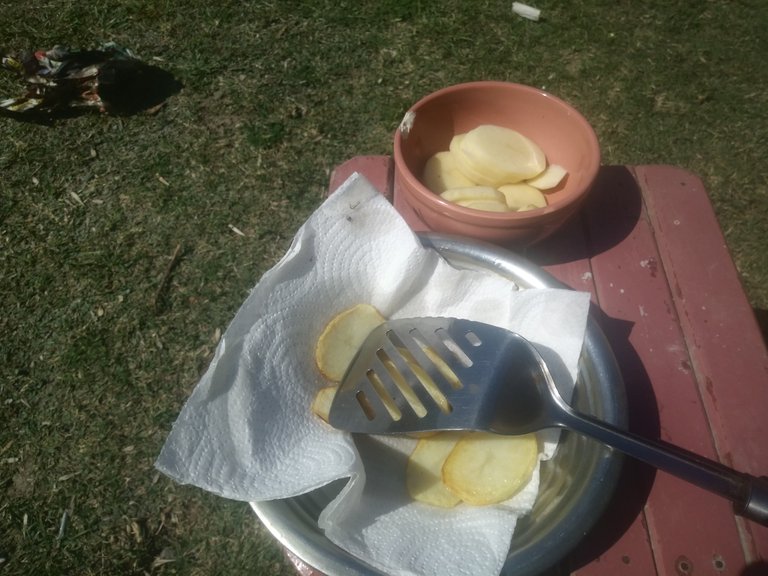 Español
Cocinarlas en el disco es mucho mas cómodo de lo que uno imagina, ya que puedo ver cuando están el punto justo para retirarlas, después de haberlas cocinado me fui a la mesa a disfrutar de mis papas caseras con sal y aderezo.
English
Cooking them on the disk is much more comfortable than one imagines, since I can see when they are the right point to remove them, after having cooked them I went to the table to enjoy my homemade potatoes with salt and dressing.
Cocinar es un arte digno de aprender
Cooking is an art worth learning