This week's Splinterlands Challenge of the Week was to showcase the SilverShield Bard from the Life Splinter.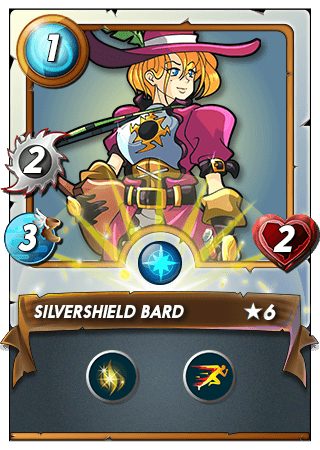 This is one of those often-useful-in-low-mana-battles single mana cards, and for your one mana you get two pretty useful buffs - cleanse and swiften, and you get both at level 5, with not much to be gained above that point, so this is a pretty decent card at mid-level.
TBH you're probably not going to play him for his raw stats, which are pretty dismal: it's the buffs what make him!
The battle below features the Bard in a relatively low mana battle serving some useful purpose...
The Rule Set and Line Up
Mana 21
Odd ones out
Silenced Summoners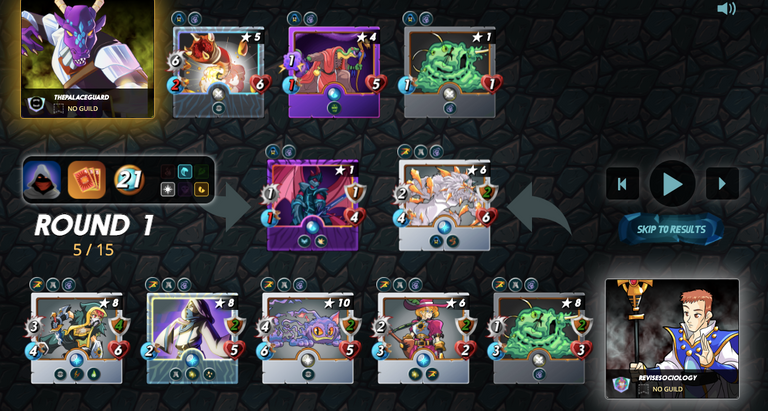 Summoner - Tirius
Crystal Werewolf - often useful in low mana matches, especially buffed with shield
Creeping Ooze - second tank and slow
Silvershiled bard - third tank, cleanse and swiften
Feral Spirit - Sneak attack one
TruthSpeaker - protect, cleanse and heal, nice!
Silvershield Assassin - Sneak attack 2.
Did my strategy work?
Beautifully, to see it in action click here!
Round 1 - Carnage (for my opponent) - he loses TWO back row monsters, misses my SilverShield Assassin and gets thorns damage back from his tank attack.
Round 2 - Carnage again! I take out his Sandworm and Reduce is tank to 1 health
Round 3 - it's all over - a couple of misses and he's toast!
How important was The SilverShield Bard?
Well it's kind of difficult to say - cleanse was no use, and I'm sure the swiften helped with my attacks landing on the back row, but they didn't help two misses in a row on his tank, thanks to flying and bad luck I assume.
Despite that, cleanse wasn't necessary and I didn't need anything other than tank 1.
At the end of the day I probably could have picked cards at random and won given the Power differential. Still, a win is a win!
Final Thoughts: Silvershield Bard - How to Use Him Most Effectively?
Well as I mentioned above, he's most useful in low mana battles, especially with the odd-only rule set as you're often needing low mana 'fillers' in the absence of the precious chicken and a number of useful two mana cards, and The Bard does have two very useful buffs for one mana.
He's useful combined with the double sneak strategy as the Swiften ability gives the usual Life Sneak pair (played above) more of a chance to hit, and your opponent's monsters less of a chance to hit!
I guess he could really come into his own in a low mana melee monsters only battle - where you could rely on the Shieldbearer if no magic is played and here cleanse could be useful agains Stun or poison.
Overall he's not a bad card, very much useable in lower mana battles!
If you don't yet play Splinterlands, why not give it a go?
Anyone using my referral link will receive a free rare card!