This weeks Splinterlands Challenge of the Week was to showcase the neutral Horny Toad: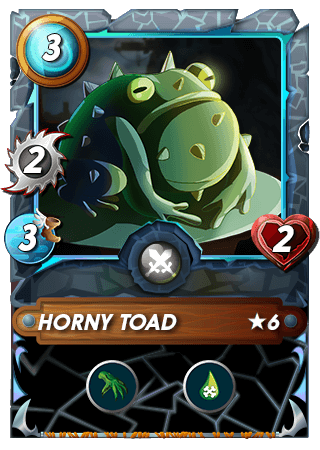 Unfortunately I don't have mine levelled up to level 6, only Level 1(!) and I wasn't going to spend $3 just to get this guy the poison ability - so I leased my L1 toad to my alt @self-track, who plays much lower down the orders.
I'm not prepared to risk playing a L1 card in Champions!
Here's a battle in which @self-track obliterates his opponent with the Toad, albeit with a little help from a certain legendary Fire summoner (sorry!)
The Rule Set
The Line Up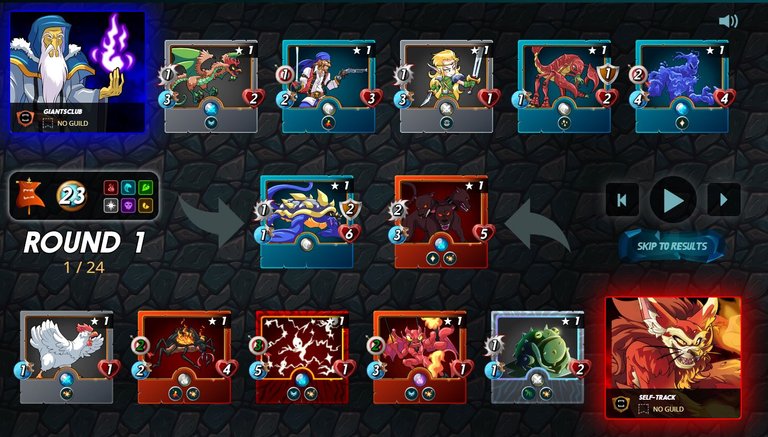 Yodin (sorry, I couldn't resist it!) and then:
Cerberus - the only tank to play down the orders where there's low damage, he useually heals pretty sharpish
The toad - Reach coming in handy
Fire Imp - damage
Spark Pixies - my main damage card, protected in the middle
Fire Beetle - damage, and decent health, every fucker plays sneak down here
The Chicken - again to protect against the inevitable sneak.
I'm basically relying on the crude buff n blast my way to a win with Yodin
Did my strategy work?

I thought I might be in trouble given that snipe card and my two very weak health ranged attacks.
Well basically YES - to see it in action click here!
Round 1 - Straight off the gun, the Spark Pixies blast takes out the Cocatrice - this is useful, I was expecting to miss if that became the tank. Then further blasts take out his Pirate captain and Elf, before either of them can strike.
Round 2 - Spark Pixies takes out his Turtle, the blast takes out the Crustacean, now it's all over.
Sorry!
How important was The Toad?
Well TBH he didn't really do very much, but then again I was playing Yodin in a bronze league match, so he didn't need to!
Final thoughts: how useful is the Toad more generally?

One of the joys of playing these challenges is that every now and then you stumble across a card you've overlooked - I think the Horny Toad is one such card.
Once you level him up to L6, where he gets poison, then he does (kind of) 3 damage for 3 mana, given that poison does 2 damage and strikes 50% of the time, I'll call that + 1 damage, and at average speed.
For low mana, only melee monsters battles, he could come in handy, so I've now added the toad to my 'buy' list. He's not that high up it, but he's on it!