Splinterlands Art Contest Week 209 -- Enchanted Pixie.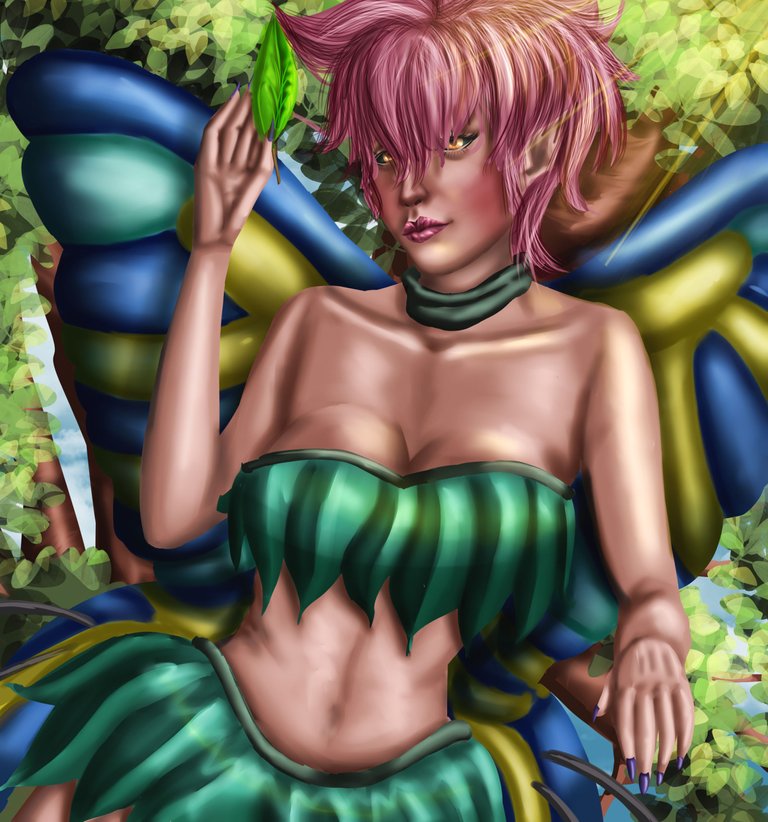 Hello my dear community of #Splinterlands, I hope you are very very well and I welcome you another week to my art blog; today I bring you a very special participation in which I have been working for almost a week when I came across this letter. My fan-art of today is about (Enchanted Pixie), which is a kind of colorful pixie with very cool features and abilities, which arose as a result of a meteorite falling into its habitat; giving way to these fantastic creatures:
Hola mi querida comunidad de #Splinterlands, espero que estén muy muy bien y les doy la bienvenida otra semana mas a mi blog de arte; hoy les traigo una participación muy especial la en la cual vengo trabajando desde hace casi una semana cuando me encontré con esta carta. Mi fan-art del día de hoy se trata de (Enchanted Pixie), la cual es una clase de duendecilla muy colorida con características y habilidades muy geniales, las cuales surgieron como causa de la caída de un meteorito dentro de su habitad; dándole paso a estas fantásticas criaturas:
Reference Image
PROCESS / PROCESO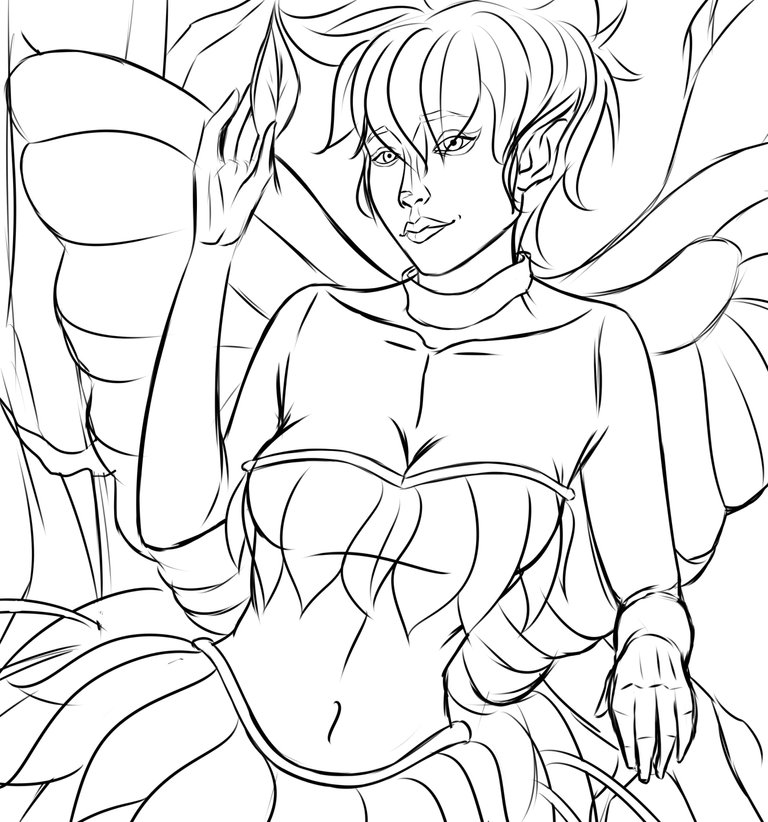 This was a card which I found by chance a week ago, while exploring the cards section of the #Splinterlands game, I saw it and I liked it so much that I got down to work to start sketching it; it took me a couple of hours creating and deleting many times the sketch because I did not get the right pose that would transmit me the essence I wanted for the character. Finally the spark ignited and it occurred to me that I could make her as posed or sitting among the branches of a large tree; once I managed to define my sketch well, I could start looking for colors within my palette with a little opaque tones.
Esta fue una carta la cual me encontré por casualidad hace una semana atrás, mientras exploraba la sección de cartas del juego de #Splinterlands, la vi y de una me gusto tanto que de una me puse manos a la obra para comenzar a bocetarla; me demore un par de horas creando y borrando muchas veces el boceto pues no conseguí la pose adecuada que me trasmitiera esa esencia que quería para el personaje. Finalmente se prendió la chispa y se me ocurrió que podría hacerla como posada o sentada entre las ramas de un gran árbol; ya una vez logre definir bien mi boceto, pude comenzar a buscar colores dentro de mi paleto con tonos un poco opacos.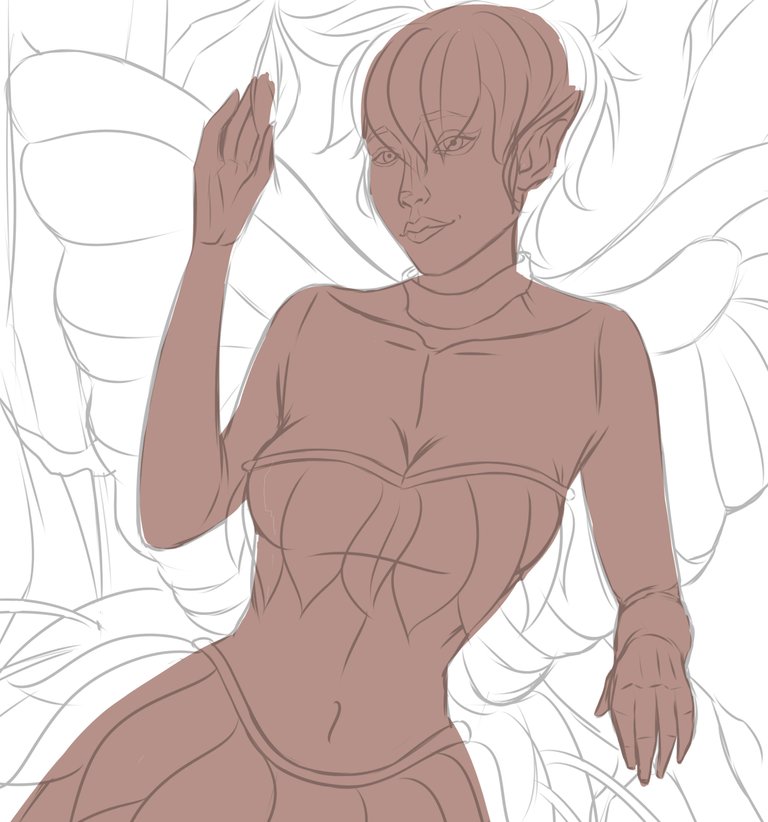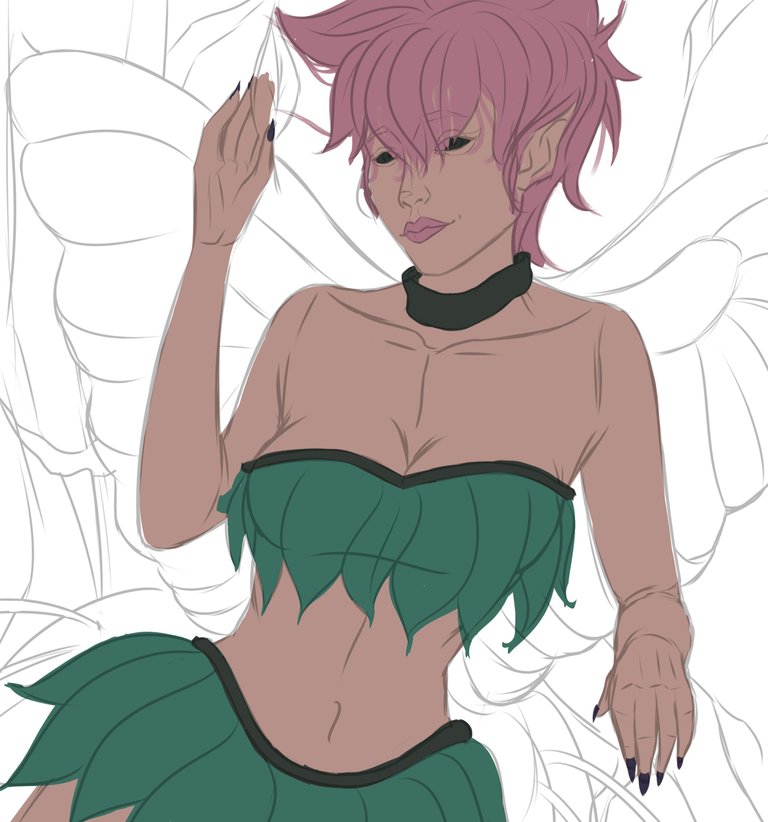 I first defined the base of most of the sections of the character, but each area in its respective layer; for example, the base of the clothing and hair I used very soft tones to be able to work better on them with brushes such as watercolor and blurred. With a more or less solid base of the character, I could concentrate a bit on building the skin with a pretty bright pink look; I built some texture and volume on the arms, neck and nose. And then I created some blush on her cheeks.
Definí primero la base de gran parte de los apartados del personaje, pero cada zona en su respectiva capa; por ejemplo, la base de la vestimenta y del cabello empleé tonos muy suaves para poder trabajar mejor sobre ellos con pinceles como: acuarela y difuminado. Con una base mas o menos solida del personaje, ahí pude concentrarme un poco en construir la piel con una apariencia bastante rosa brillante; construí un poco de textura y volumen en los brazos, cuello y nariz. Y luego cree algo de rubor en sus mejillas.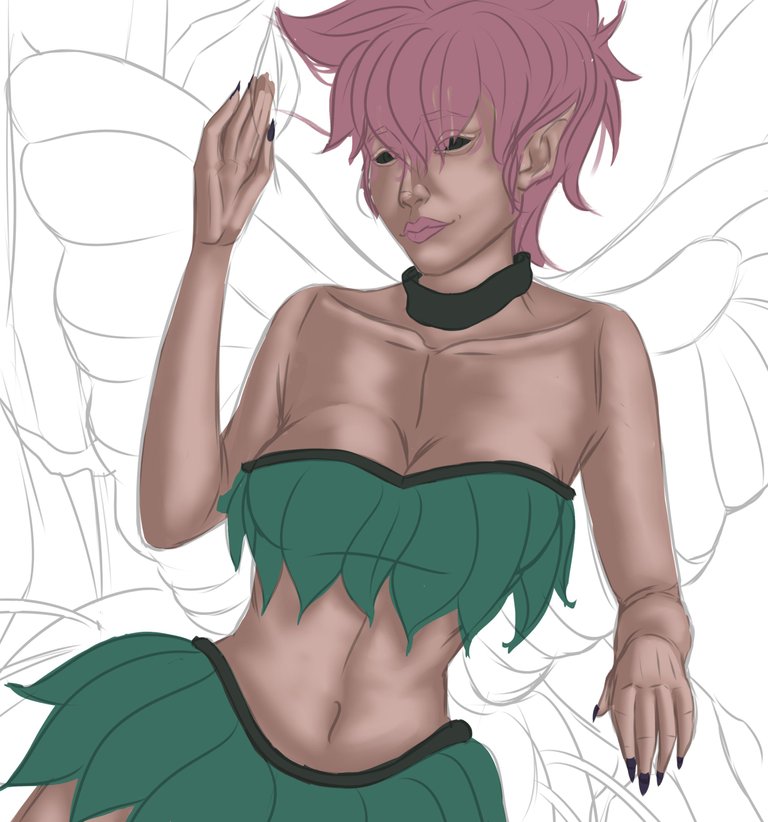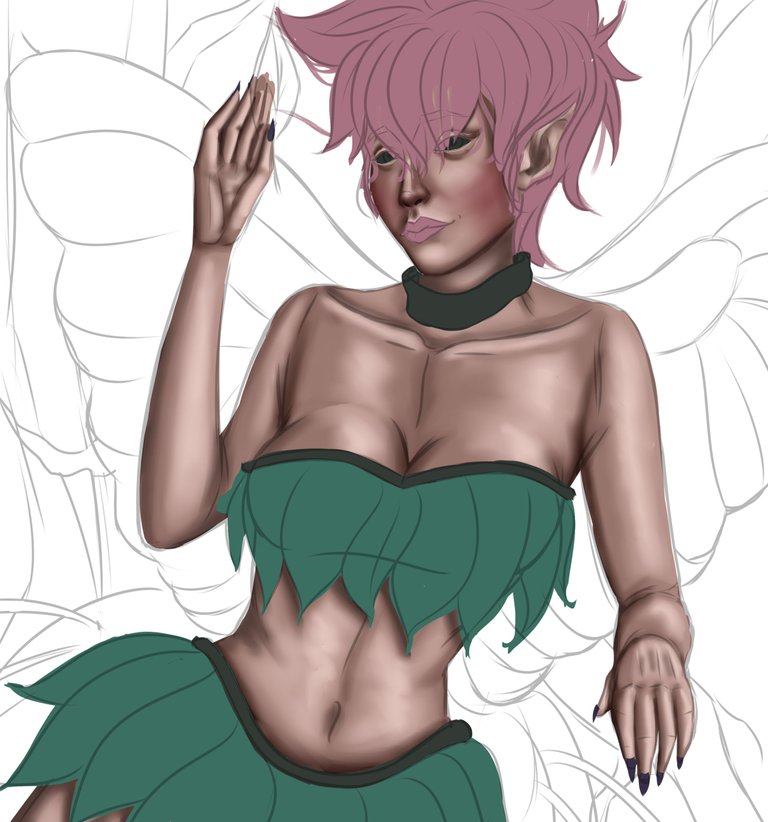 Finishing with the skin I moved on to the eyes, where I applied shades of black, dark green, orange and intense yellow to create a very striking look; not too intimidating, but at the same time hard to forget. The creation of the Enchanted Pixie costume was something that I loved to do as I was able to try some brushes with irregular tips that I hadn't tried before and that gave me a very cool texture and very similar to what would be the texture of tree leaves.
Terminando con la piel me pase un poco a los ojos, donde aplique tonos de negro, verde oscuro, naranja y amarillo intenso para crear una mirada muy llamativa; que no fuera muy intimidante, pero que a la vez fuera difícil de olvidar. La creación del traje de (Enchanted Pixie) fue algo que me encanto muchísimo realizar ya que pude probar algunos pinceles con puntas irregulares que no había probado y que me dieron una textura bastante cool y muy similar a lo que seria la textura de las hojas de árbol.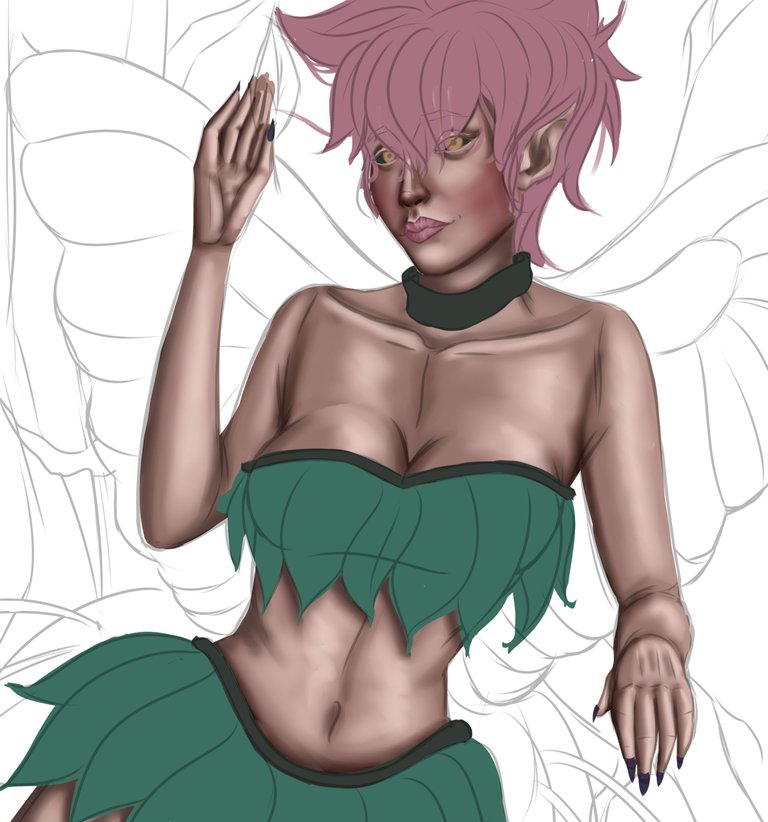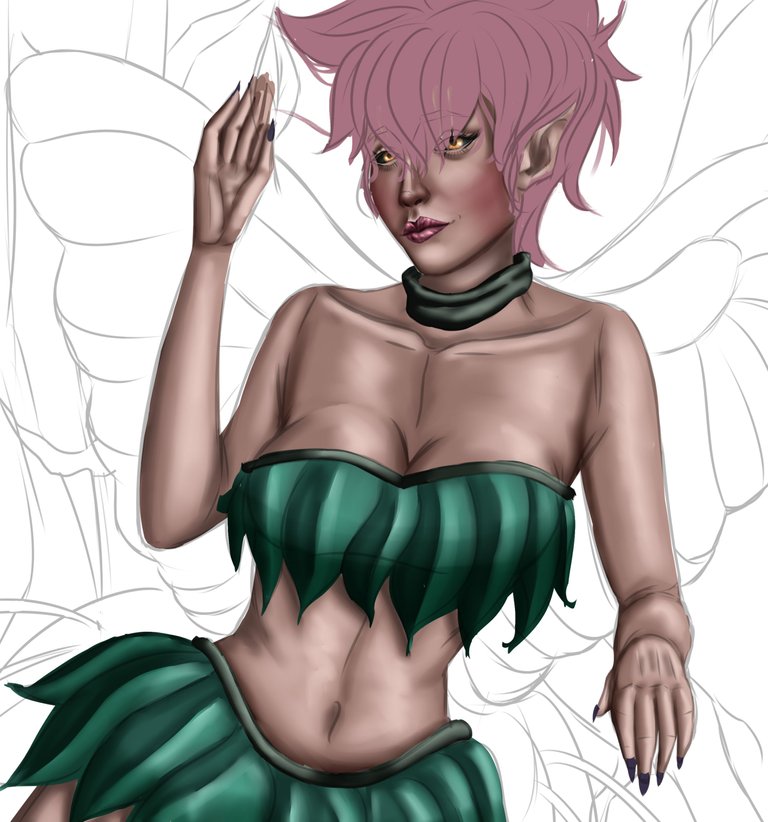 The next step in the painting process was the creation of the hair, here it takes me much longer than in the costume, although it's hard to believe it hahaha, it turns out that the tone I chose as a base for the hair was too light; therefore, I had to spend some time trying darker and darker tones in lower areas to create a much more realistic relief and volume. Once I managed to get the right look for the hair, the rest was much easier with some layer modes; then for the wings I stuck a little bit to the character of (Enchanted Pixie) and decided to create those wings with a quite big size, with quite light colors and with the help of the watercolor brush to blend them better.
El siguiente paso en el proceso de pintado fue el de la creación del pelo, aquí me demora mucho mas que en el del traje, aunque cueste un poco creerlo jajaja, resulta que el tono que elegí como base para el pelo era demasiado claro; por ende, tuve que pasarme un rato probando tonos mas y mas oscuros en zonas bajas para crear un relieve y volumen mucho mas realista. Ya cuando logre conseguir esa apariencia adecuada para el pelo, lo demás fue muchas más fácil con algunos modos de capa; luego para las alas me apegue un poco al personaje de (Enchanted Pixie) y decidí crear dichas alas con un tamaño bastante grande, con colores bastante claros y con ayuda del pincel acuarela para que mezclaran mejor.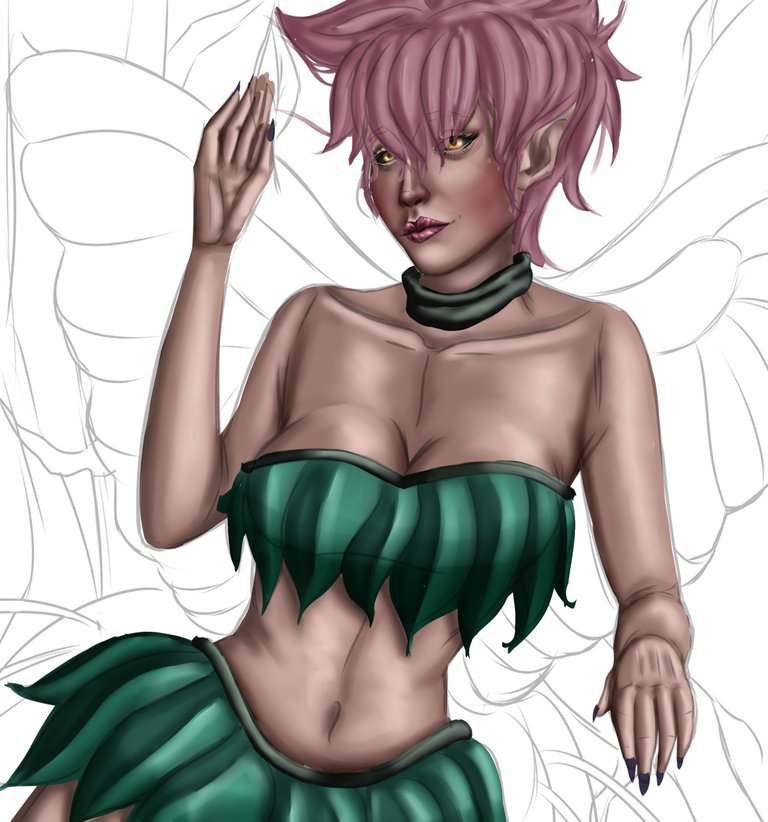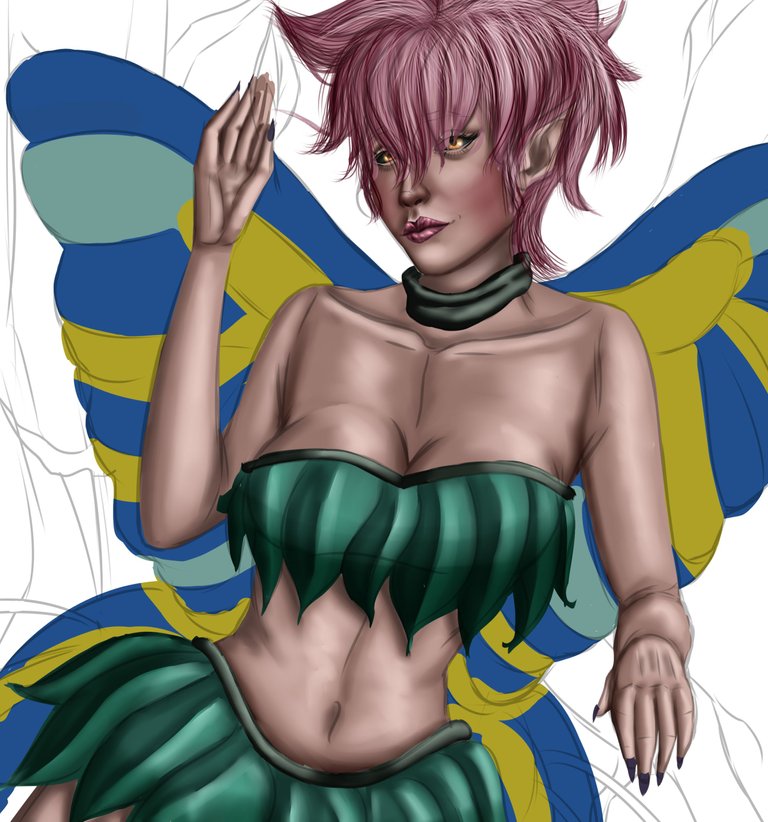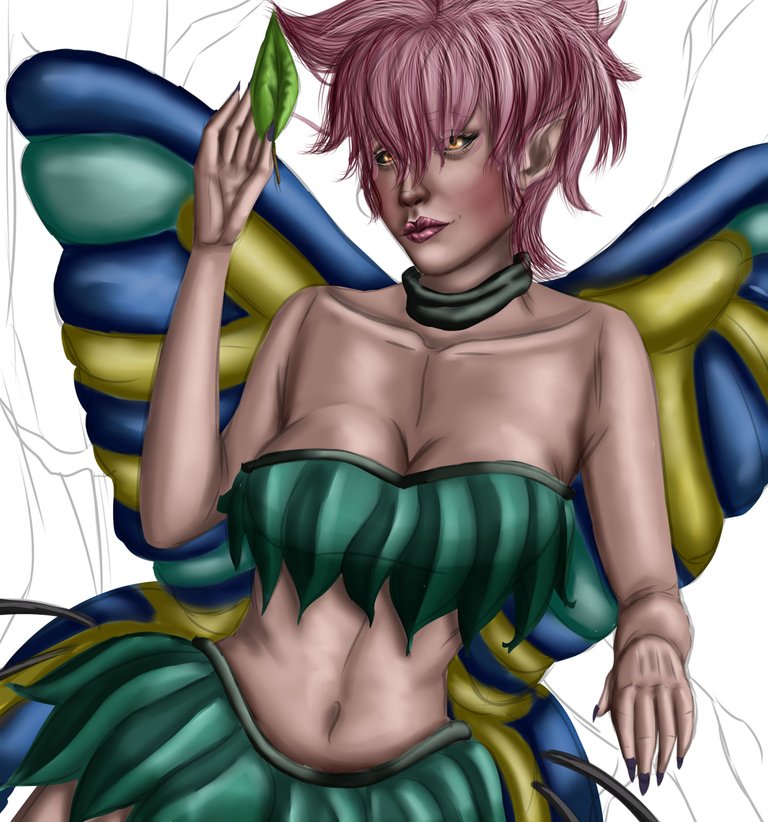 Already for the final part of my drawing and with the character of (Enchanted Pixie) almost ready, I decided to move on to the creation of the tree and the branches where our character is; first of all, I painted a little blue in the background as a base for a sky to accompany the drawing, since I thought that this way it would look much better and more natural. Then with a rough brush I began to texturize a little the branches of the tree, this took me some time because I wanted it to look very very good; after finishing with the branches I began to create the leaves of the trees with a lot of patience and also at the same time I was creating some layers in modes (Bright) to illuminate certain zones.
Ya para la parte final de mi dibujo y con el personaje de (Enchanted Pixie) casi listo, decidí pasarme a la creación de el árbol y las ramas donde se encuentra nuestro personaje; primero que nada, pinte un poco de azul en el fondo como base para un cielo que acompañara al dibujo, ya que me pareció que así se vería mucho mejor y mas natural. Luego con un pincel de punta rugosa comencé a texturizar un poco las ramas del árbol, esto me llevo algo de tiempo pues quería que quedara muy muy bien; luego de terminar con las ramas me puse a crear las hojas de los arboles con bastante paciencia y también al mismo tiempo iba creando algunas capas en modos (Bright) para iluminar ciertas zonas.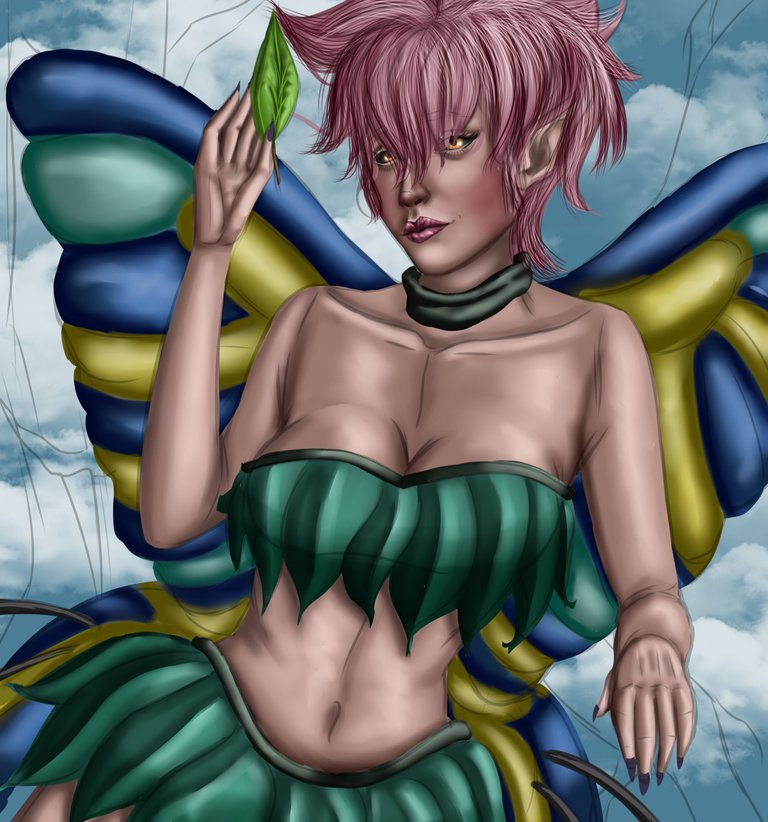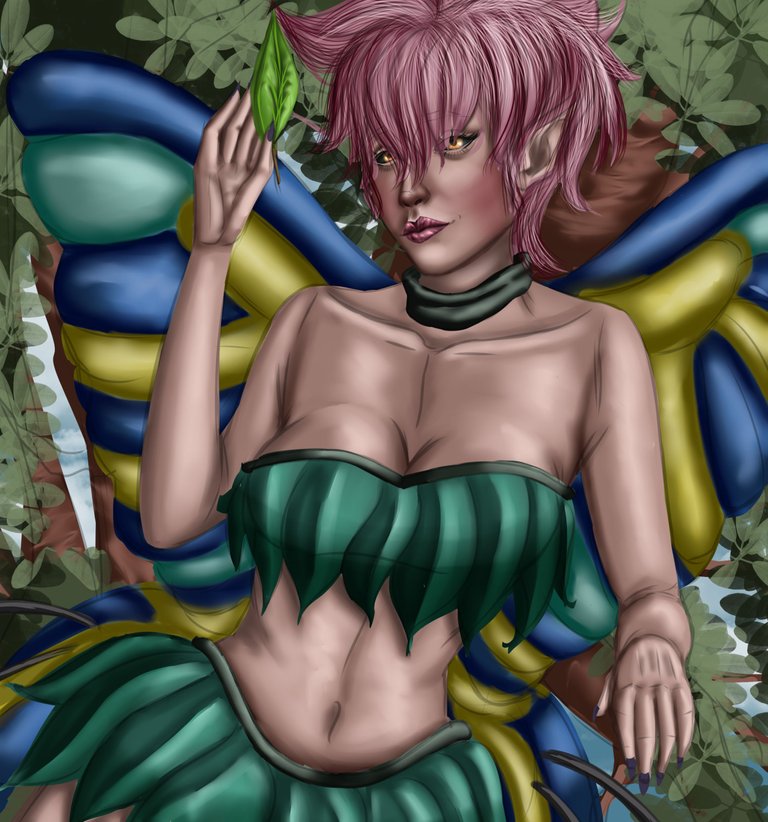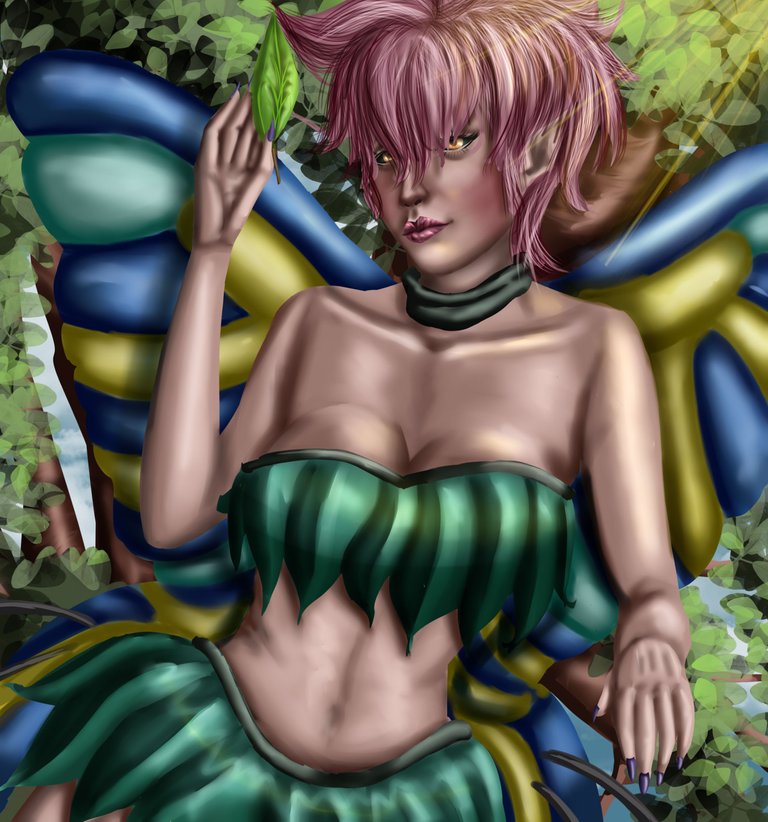 MATERIALS / MATERIALES
Sai Paint Tool Program
Huion inspiroy h610 v2 tablet
Programa Paint Tool Sai
Tableta Huion inspiroy h610 v2
This has been all for today my dear artists and card game lovers, I must say that I had several days that I was not so excited with a work hehe, especially because I have had several problems in recent weeks and I have not been able to draw as often as I would like; but this was a work that I put a lot of love and effort and I love how the final result was. I hope you also liked it, and if you did, please let me know in the comments; best regards and see you next time.
Esto ha sido todo por hoy mis queridos artistas y amantes del juego de cartas, debo decir que tenía varios días que no me entusiasmaba tanto con una obra jeje, sobretodo porque he tenido varios inconvenientes en las últimas semanas y no he podido dibujar tan seguido como me gustaría; pero esta fue una obra que le puse bastante cariño y esfuerzo y que me encanto como quedo el resultado final. Ojalá a ustedes también les haya gustado, y si fue así por favor háganmelo saber en los comentarios por favor; un saludo y hasta la próxima.
---
---