Smart investment tips for Splinterlands - Part 2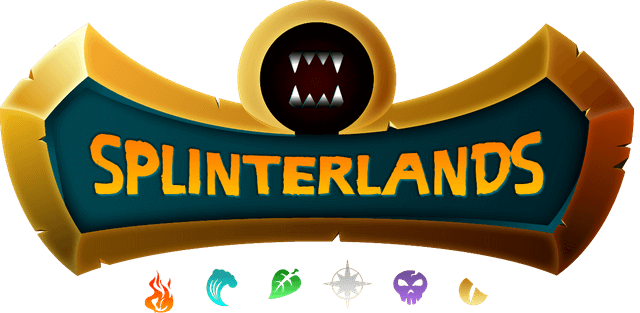 Hello Everyone !!
I am back with yet another personal suggestion on smart investments in Splinterlands. I know my earlier post was not well appreciated but if you want to take a look, here is the link.
Part 1 was more for beginners who just started to play the game. This one is for players who have higher level of summoners.
We all know that it is very important that you level up your monsters and summoners to do well in Splinterlands. I will suggest some monsters where holding your upgrade may be more fruitful. This blog is keeping reverse speed ruleset in mind. High level players may find this ruleset very tough.

1. Molten Ogre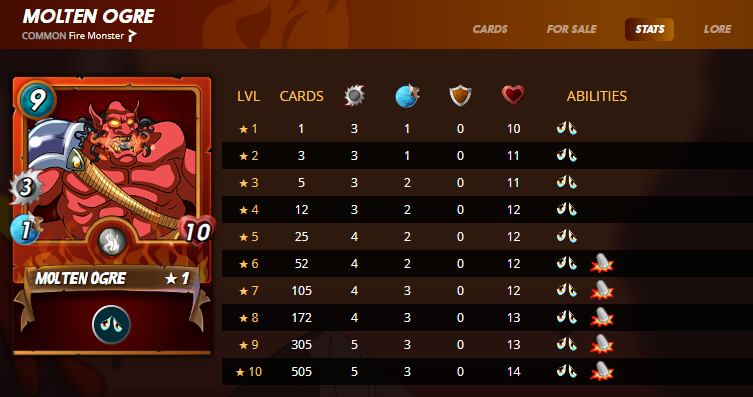 I personally feel that this monster should be upgraded till level 2 and just held upgrades directly till level 6. I arguably don't see its stats changing very positively in between 2 to 5 levels. Instead it takes away your option of using him in reverse speed ruleset. At level 6 it gets the trample ability where I am ready to compromise on the reverse ruleset usage benefit.
2. Ettin Spearman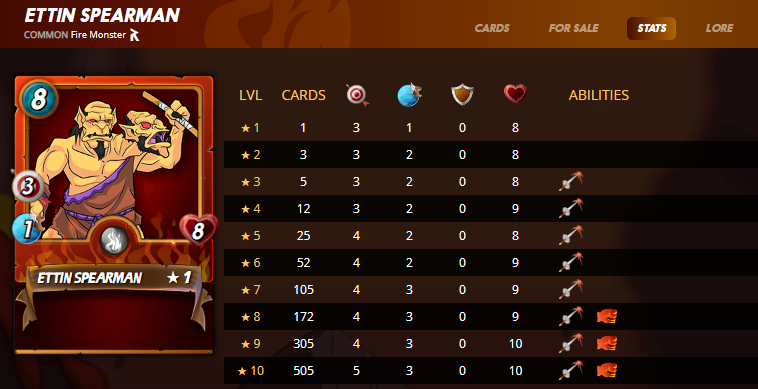 Similar to Molten Ogre, I would hold upgrading this monster until I am able to take it to level 7 directly. I prefer it having 3 ranged damage at speed 1 instead of speed 2 with 1 increased speed, health, damage or even the pierce ability.
3. Flame Monkey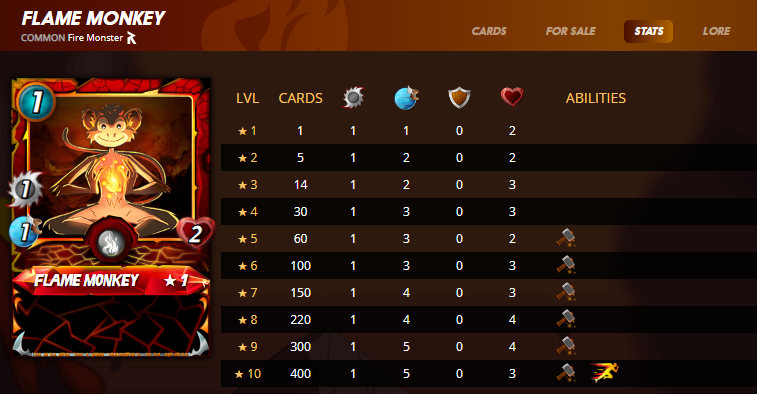 Very similar is the case with flame monkey. I don't find its stats changing very usefully from level 1 till level 5. It gets the repair ability with 3 speed at level 5. Till then I prefer using it at level 1 with 1 speed. Next milestone is level 7 where speed becomes 4 and health too increases to 3.

4. Captain Ghost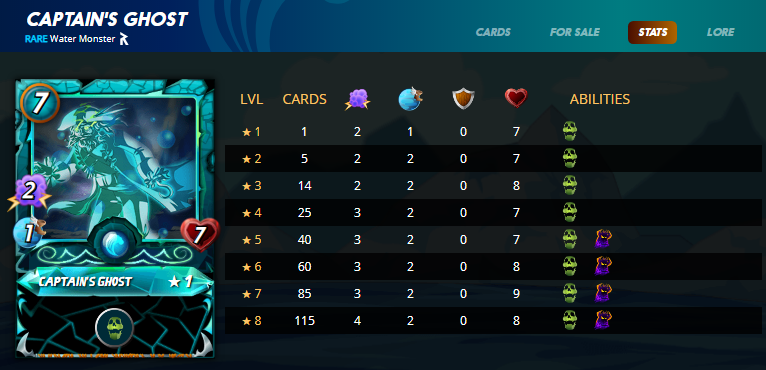 He is so useful at level 1 itself. High health, 2+1 magic damage, affliction ability. Perfectly suited for reverse speed ruleset. Only upgrade it when you can take it to level 5 directly. Oppress ability and 3+1 damage is when I give away the reverse ruleset usability of this monster. Anyways I have spirit miner and ruler of seas at speed 3. So a variety at low speed is good.
5. Albatross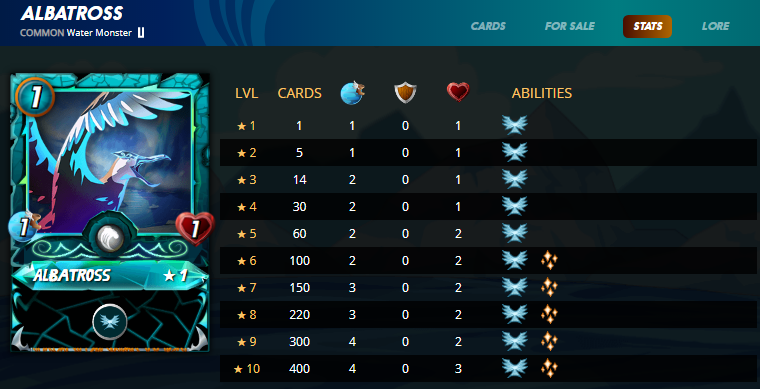 Upgrades to this monster only make sense at level 6. Personally for me the journey from BCX 1 to BCX 99 is just useless. And just
a tank heal at 100 BCX. I would rather never upgrade him and upgrade Crustacean King instead.
6. Khmer Princess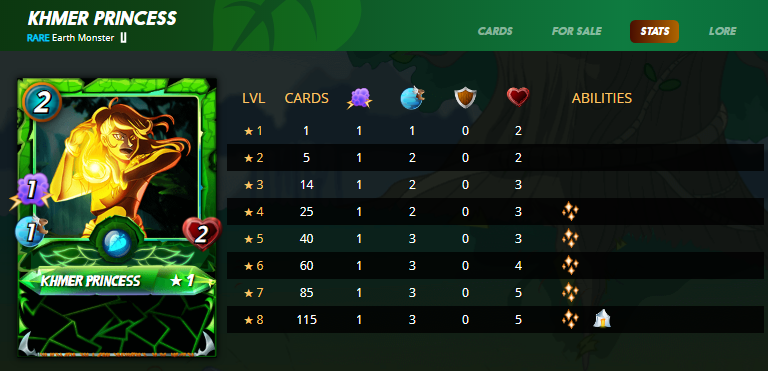 Yet another monster which has 1 speed. Takes 4 BCX to reach to speed 2. I personally will only upgrade it directly to level 4 where I will really see the benefits of upgrade.
7. Sporcerer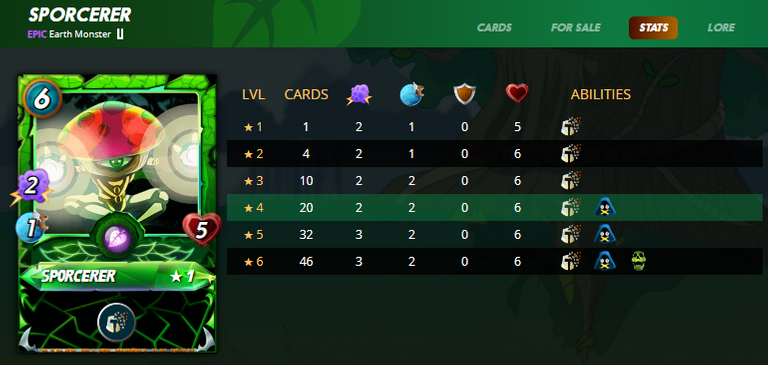 I like this one again with Dwelvin dragonscale in the reverse speed ruleset. Upgrading him from level 2 to 3 isn't very beneficial. It should directly go to level 4 after level 2.
8. Spirit Druid Grog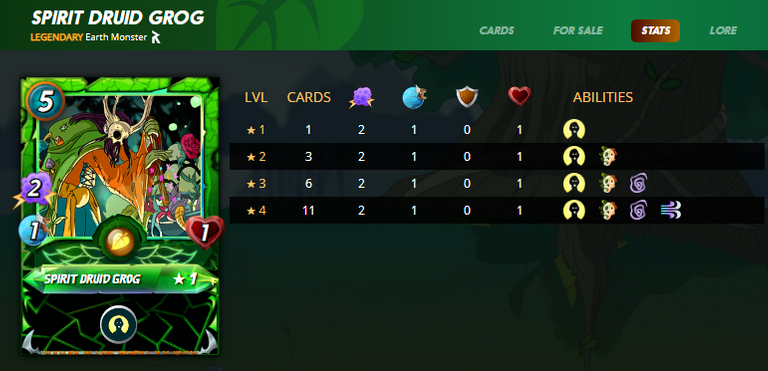 This monster is also my choice for reverse speed ruleset only till level 2. At level 3 even if he himself remains at speed 1, he slows down enemy monsters. Thus does not help me. I do have black dragon, diamond dragon and mystic serpentine for that.
9. Barking Spider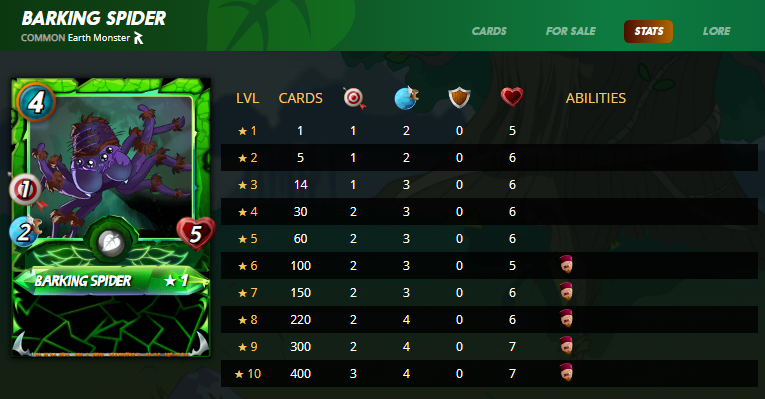 There is absolutely 0 benefit of upgrading this guy from level 4 to 5. It does not change even a single stat for you at the cost of 30 BCX. Complete waste.
10. Cave Slug
Cave Slug is 1 speed monster till level 3 after which it acquires +1 speed and +1 health at level 4 and 5. This monster should jump from level 3 to level 6 directly when it loses the stats acquired at level 4 and 5 but gets scavenge ability which is awesome.

11. Animated Corpse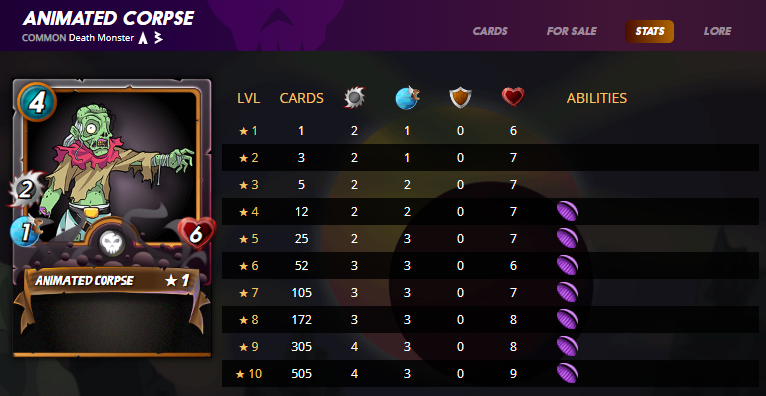 Level 3 is a very bad position to keep this monster into. Level 1 and 2 allows you to play him in the reverse speed ruleset. If at all you want to upgrade him, go to level 4 directly when a useful ability of void is acquired.
Surprisingly I noticed I have him at level 3. That's the stupidest thing I did. I'm taking him up to level 4 as soon as I complete this post.
12. Haunted Spider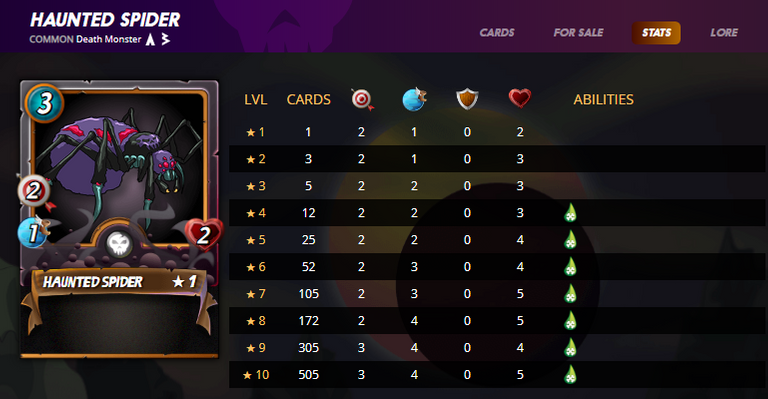 This is an amazing one. I would never spend my money to upgrade him had he not acquired the poison ability at level 4. Skip level 3 for him if at all possible.
13. Maggots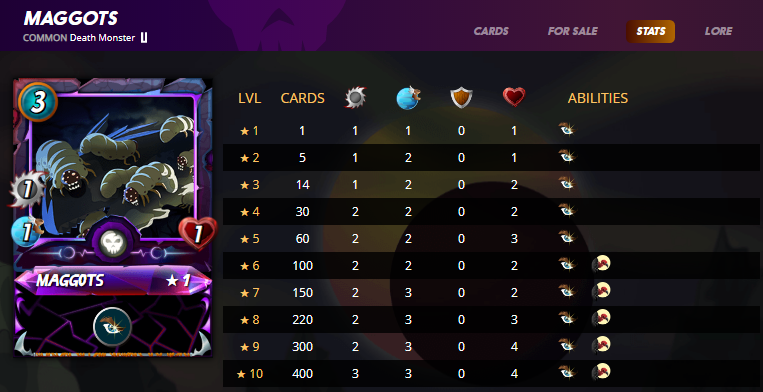 I don't even find this monster useful. In that if it just moves from attack speed 1 to 2. That is a waste of 4 BCX in my opinion. Level 6 is where I would think of using him.

14. Enchanted Defender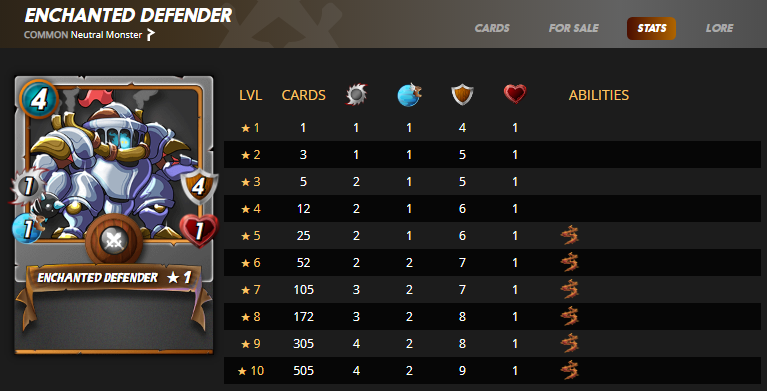 Extremely useful monster to save yourself from the sneakers. At level 5 it even gets thrones. Good to use in reverse speed ruleset till level 5. Pair him with armor smith like I mentioned in my earlier post.
15. Sand Worm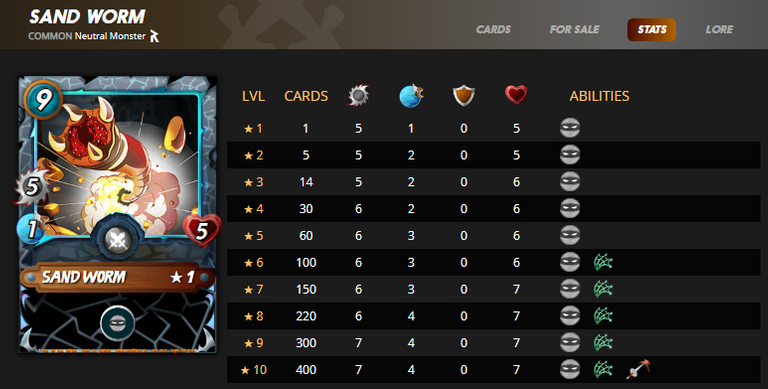 I had too many of this guy but I never upgraded him. I upgraded him direct at level 5 where he got to speed 3. Till then I happily kept him reserved for reverse speed ruleset.

I agree that some of my comments or analysis can be arguable. Even smallest of speed difference can make you win or lose a battle. But the point is that you never chose a monster because it has attack speed 2. It is often chosen for other benefit instead. But if it remains at attack speed 1 it can definitely be chosen for its slow speed. Obviously in the specific ruleset.

Special thanks to @flauwy for his creative work for Splinterlands community. Refer this for his work. Thanks for that huge upvote on my last post.
Thanks to @clove71 for that untamed pack. I know you missed my last post and thus tagging you explicitly in this one. You are an amazing person helping and encouraging the new players in the community. I would not have continued this long had you not given me the Flesh Golems and those beta cards to make my Water Splinter strong.
Thanks to @stever82 also for your support. Your blogs about Splinterlands are interesting to read.
---
---