Today I visited my publisher, we started working on a new project, but I am not talking about it today. I scanned some stuff and took a few subject pics today, for the said project, and while doing that I noticed this piece of paper. It was framed and hanging on the wall, but enclosed by the rubble of other interesting pieces, thats why I didnt notice it before in that room.. I was amused and immediately clicked to make a digital copy for myself. I collect that stuff, you know. My hobby!
What it is, and where did it come from? Actually, I am not in the know! It looks like a back cover of a vintage magazine to me. The content is very curious for the Russian-speaking auditoria, and especially for the history-lovers... (and maybe for @trincowski). Here we are talking about what (supposedly) a modern educated Russian woman with progressive views should have wanted. "Russian women should seek to be elected to the Duma [Russian parliament], and work there for the benefit of the newly-established republic". After emperor Nicolas II was thrown from the throne, Russian republic existed from March to October 1917; obviously this sheet of paper should be attributed exactly to this time.
A wonderful piece of history ... In November 1917, the Bolsheviks seized the power in Russia, and since then Russians had to forget about parliament in Russia, the freedom, and a lot of other things.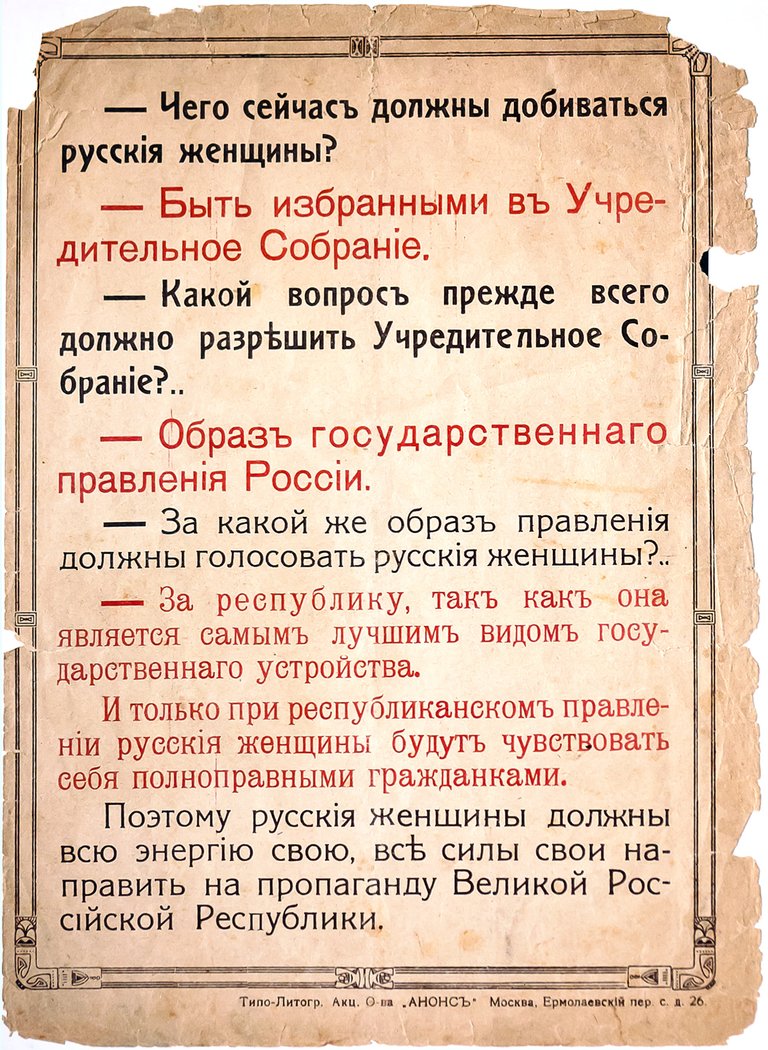 Сегодня, бывши у издателя (мы начали заниматься новым проектом, о к-м я не стану рассказывать в этом посте) я наткнулся на интересную штучку. Она очень понравилась не только мне, так как ее нарочно поместили под стекло, в рамку и на стенку -- я не видел ее раньше лишь потому что она скрывалась под завалами других не менее интересных матерьялов).
Этот листок бумаги, очевидно, задняя обложка какого-то старого журнала. Шрифты - аутентичные, уже они одни указывают на время, когда это было отпечатано: начало ХХ века. Итак... речь здесь идет о том, чего (якобы) должна хотеть современная образованная русская женщина, имеющая прогрессивные взгляды. Русские женщины должны добиваться быть избранными в Думу (Русский парламент), и работать там на благо республики. Республика в России существовала с марта по октябрь 1917 года, с очевидностью, данный лист бумаги можно датировать этим временем. Прекрасный кусок истории!.. В ноябре 1917 года власть в России захватили большевики, с тех пор о парламенте в России пришлось забыть. Как и о многих других вещах.
---
Thanks for stopping by!