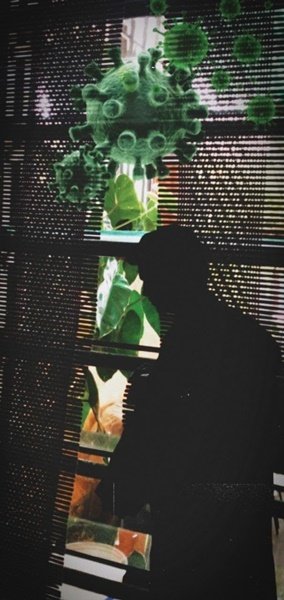 With this poem I try to show my very particular vision, interpreting what is happening around my neighbourhood and how the neighbours are behaving in the face of the current situation, both the pandemic and the difficult economic situation we are going through as a country, I am in Venezuela, in Guanare, a small town in the province.
I place myself as a witness facing the quarantine in the midst of this anguish and uncertainty, making a poetic interpretation of my surroundings and how my state of mind comes to the surface as the days go by.
I thank @riverflows for creating these initiatives that allow a different interaction in the face of a global problem.
---
From quarantine
The horizon is a statistic
a timeless bird
that lengthens the voices that have been silenced,
the news remains petrified,
waiting for fear to show itself,
maybe there's a cry that breaks the afternoon,
blends with the wind,
when it lifts leafy figures and dances on the porches,
carpeting the freshly waxed floors,
to bring rages to the surface,
confront nature
for this time calls for tears and smiles,
to quicken the pace of waiting.
Let the windows open
and the birds fly,
let the nights and days parade by,
while the horizon is painted with grey thoughts,
let voices thunder,
let the earth be sprinkled with bubbling glances,
of routines broken by weariness,
let the rains come
and children jump in that wet freedom,
raise their arms
and their dreams in a game of escape,
until the clouds make way for the moon.
The night is a pause,
a parenthesis to be filled,
a clock that stops,
a prayer,
a song,
a desire that throbs in insomnia.
Again,
statistics say there is one less neighbour
and the cry is a sick planet,
a rumour that spreads in prayers.
In the mornings the neighbours wear their masks
on their way to the market,
display the freshly bought fruits,
comment on the news,
where routine wears its finery
to spread hope.
The air travels long distances,
before passing in front of my window,
where I see the clouds covering their face with the wind,
they parade without encouragement to release the rain.
The nightmare walks with its unpolluted face,
it knows that its kisses cut the breath,
they disunite families, friends
cut history and send anonymous acrostics.
Smiles barricade themselves,
the wind blows again,
they drag indifference like a challenge to death,
but this nightmare lifts routines,
lifts the view, turns off life.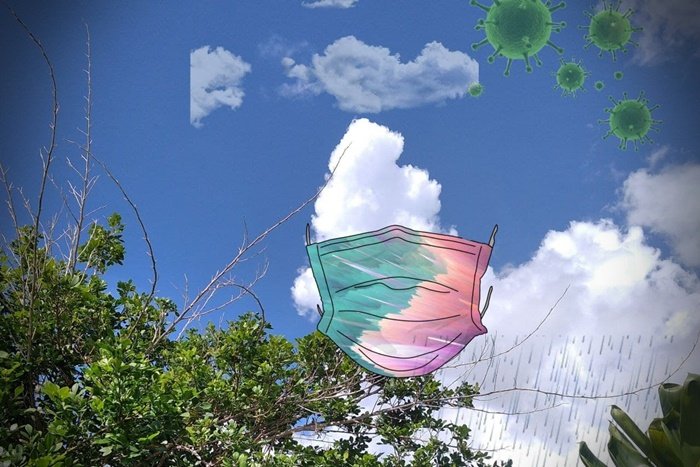 ---
Con este poema trato de mostrar mi visión muy particular, interpretando lo que sucede en los alrededores de mi vecindario y como los vecinos se comportan ante la situación actual, tanto de la pandemia, como de la difícil situación económica que atravesamos como país, yo me encuentro en Venezuela, en Guanare, una pequeña ciudad de la provincia.
Me coloco como un testigo que afronta la cuarentena en medio de esa angustia e incertidumbre, haciendo una interpretación poética de mi entorno y como va aflorando mi estado de ánimo con el paso de los días.
Le doy las gracias a @riverflows por crear estas iniciativas que permiten una interaccion diferente frente a un problema mundial.
Desde la cuarentena
El horizonte es una estadística
Un pájaro sin tiempo
que alarga las voces que se han silenciado,
las noticias permanecen petrificadas,
esperando que el miedo se muestre,
tal vez haya un grito que rompa la tarde,
se mezcle con el viento,
cuando levante figuras con hojas y baile en los pórticos,
alfombre los pisos recién encerados,
para que afloren rabias,
confronten la naturaleza
porque este tiempo requiere de lágrimas y sonrisas,
para que acelere el paso de la espera.
Que se abran las ventanas
y vuelen los pájaros,
que desfilen las noches y los días,
mientras el horizonte se pinta de grises pensamientos,
que truenen voces,
que la tierra se salpique de miradas burbujeantes,
de rutinas rotas por el cansancio,
que vengan lluvias
y los niños salten en esa libertad húmeda,
levanten sus brazos
y sus sueños en un juego de escape,
hasta que las nubes abran el paso a la luna.
La noche es una pausa,
un paréntesis por llenar,
un reloj que se detiene,
una oración,
un canto,
un deseo que palpita en el insomnio.
De nuevo,
las estadísticas dicen que hay un vecino menos
y el llanto es un planeta enfermo,
un rumor que se extiende en oraciones.
En las mañanas los vecinos lucen sus tapabocas
rumbo al mercado,
exhiben los frutos recién comprados,
comentan las noticias,
donde la rutina viste sus galas
para extender la esperanza.
El aire recorre grandes distancias,
antes de pasar frente a mi ventana,
por donde veo las nubes cubriendo su rostro con el viento,
desfilan sin ánimos para soltar la lluvia.
La pesadilla se pasea con su rostro impoluto,
sabe que sus besos cortan la respiración,
desunen a las familias, a los amigos
cortan la historia y envía acrósticos anónimos.
Las sonrisas se atrincheran,
el viento vuelve a soplar,
arrastran la indiferencia como un reto a la muerte,
pero esta pesadilla levanta las rutinas,
levanta la vista, apaga la vida.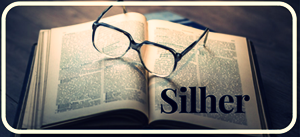 Here is the link for those who want to join the challenge.
Aquí dejo el enlace para el que quiere unirse al desafío:
Click aquí
Le hago la invitación a @elemarg25 y al amigo @eleazarvo


The images used are of my authorship and were taken with my Xiaomi Redmi 8 phone, they were edited with the PicsArt application.
Las imágenes utilizadas son de mi autoría y fueron tomadas con mi teléfono Xiaomi Redmi 8, las mismas fueron editadas con la aplicación PicsArt.
Translated with www.DeepL.com/Translator (free version)